Jacks Monterey celebrates Mardi Gras on Tuesday, March 5, with a special Fat Tuesday three-course menu from Executive Chef Danny Abbruzzese available from 6-9pm. Dinner starts with a "N'Awlins" muffuletta salad with Molinari cured meats and giardiniera, followed by a "turducken" gumbo with free-range turkey, chicken and duck with andouille sausage and brick roux, then with French Quarter butter rum pudding to finish. $29, wine pairings additional $20, 649-7830 for reservations. Also look for live jazz by John Harris on piano and vocals.
And what's Fat Tuesday without king cake? Stock up on the signature sweet of Mardi Gras at Sweet Elena's Bakery. Available on Tuesday, March 5.
Bon Ton L'Roy's Lighthouse Smokehouse on—you guessed it—Lighthouse Ave. in Monterey hosts their Mardi Gras party on Saturday, March 9 and stocks it with gumbo, etouffee, catfish, oysters, barbecued shrimp, red beans and rice, andouille sausage, tasso ham and more. When it comes to sandwiches, expect po' boys (shrimp) and muffuletta on house made bread. Down a few Louisiana beers or maybe a hurricane and you're set. Alligator performs zydeco to add to the fun. Things kick off at 7pm. 794 Lighthouse Ave., Monterey. 375-6958.
Oldtown Fish & Chips is now open in Salinas. The new outpost for longtime favorite fusion spot Fish & Chips comes after the closure of the Alisal location earlier this year. Over the years, the menu has become a bit of surf and turf, with seafood and menudo the restaurant's signatures. Britain's classic fried fish getting top billing, but appears alongside calamari, shrimp cocktail and Mexican aguachile, campechana, mariscada and tostadas. The menudo (available daily) is Jalisco-style and joins other Mexican plates available for breakfast, lunch and dinner. 18 E. Gabilan Street, Salinas. 422-3011, fishandchipsalisal.com.
You can score a BOGO entree—that's buy one, get one free—if you bring a recently mailed flyer to El Torito Mexican Restaurant on Cannery Row. The dining room was recently refurbished to provide even more stunning views of the bay. There are some new menu items, as well, part of their grand reopening. 600 Cannery Row. 373-0611.
March brings the arrival of a new featured burger at Knuckles Sports Bar inside the Hyatt Regency Monterey Hotel & Spa. The "HAM" burger tips its hat to breakfast and features a thick cut of ham steak, fried egg and hash browns on top a beef burger patty, lettuce and tomato.
Monterey's Alvarado Street Brewery & Grill has added new seasonal selections to the cocktail menu. Bartenders James Wall and Kelly Kuhn bring competition cocktails from their turns in the 7D Mixology Throwdown at Seventh & Dolores Steakhouse to the brewery's menu. Wall's "Mrs. Brightside" features gin, Aperol, ginger liqueur, grapefruit and bitters served up, and Kuhn's "Cobbin' Fever" has bourbon, a Trash Tiki-inspired corn cob syrup, Ancho Reyes liqueur, lime, housemade grenadine and epazote served on the rocks. The third new addition is bartender Tracy Doman's "Clouds of Smoke" with mezcal, Cynar, orgeat and lemon, served up and topped with a tart cherry-Falernum foam. (All cocktails $12.)
Looking to up your home entertaining talents? Join Stationæry for a pair of cheese board styling workshops on Thursday March 7 and Friday, March 8 from 7-9pm. Owners Anthony and Alissa Carnazzo welcome Kara Elise—author of Toast—to share tips for hosting dinner parties and putting together the perfect platter of cheese. $15, includes cheese and Champagne, tickets at thestationaery.com.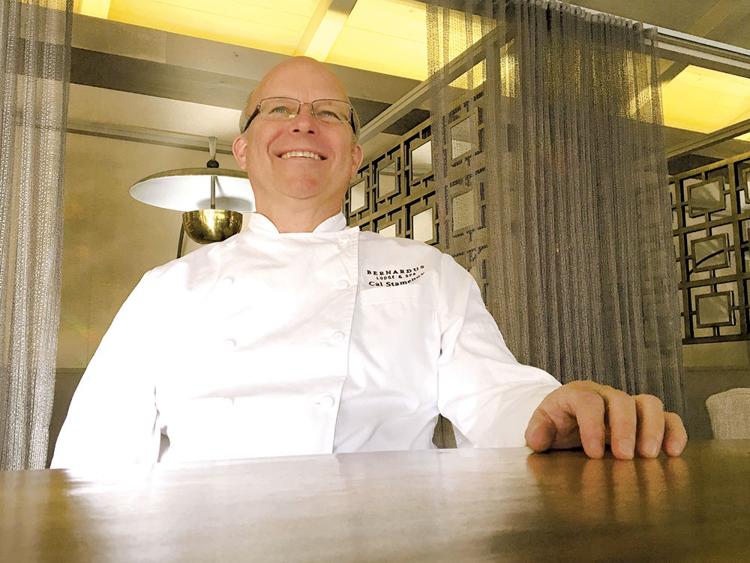 Executive Chef Cal Stamenov is opening up the kitchen at Bernardus Lodge for the third annual chicken and brisket dinner on Thursday, March 7, from 6:30-9pm. The evening starts with a reception on the terrace with live music and Southern-inspired cocktails, then step into the exhibition kitchen furnished by Sub-Zero and Wolf in the Harvest Room for a meal featuring Stamenov's famous fried chicken (prepared three ways) and savory smoked Wagyu beef brisket paired with wines from the Bernardus cellar. $88, reservations required, call 658-3400.
The second round of semifinals for Seventh & Dolores Steakhouse's 7D Mixology Throwdown is Monday, March 11, from 8-10pm. This round pits Andrew Boggan (formerly at Tarpy's Roadhouse, now at Pour House in Chico) against Josh Perry (Cultura Comida y Bebida) with tequila the featured spirit. The winner will face Olana Sullivan in the finale on Monday, April 8. $20, tickets via Eventbrite, 21+ only.
Pebble Beach's Stave Wine Cellar explores little-known wine-producing countries and regions with its next tasting evening—Vinous Obscurities—on Tuesday, March 12, at 6pm. $25, 644-7997 to sign up, 21+ only.
On Wednesday, March 13, Anton & Michel teams up with Madera's CRŪ Winery for a special wine-pairing dinner at 6pm. The evening starts with passed hors d'oeuvres (with 2017 CRŪ Viognier from Paso Robles), then dinner features beet salad (with 2015 Vineyard Montage Chardonnay from Arroyo Seco), crab-crusted halibut (with 2017 Albariño from Edna Valley) and beef tenderloin (with 2015 Monarch from Paso Robles), finished off with chocolate mousse (2016 Sierra Madre Pinot Noir from the Santa Maria Valley). $95, 624-2406 for reservations.