For Ernie Francis Jr., the only real drama took place during the opening lap. Otherwise the two-time Trans Am champion had an uneventful run on his way to the checkered flag in round three of the 2019 season at WeatherTech Raceway Laguna Seca.
Francis started from the pole and led for almost the entire distance on Saturday, piloting the Frameless Shower Doors Mustang his first of the year in Trans Am's top class. The race was caution free, which allowed him to build up a sizeable lead over the second place Pennzoil Camaro of points leader Lawrence Loshak.
"It was a clean, easy race for us," Francis says. "We were able to hold our pace."
Because the race was uninterrupted by yellow flags, it ended at 45 laps in the series' 70 minute or 100 miles, whichever comes first, sprint format. But the first and final laps provided the most tension.
When the green flag dropped, Francis spun his tires. Loshak took advantage and edged into the lead at the first turn and stretched it to several car lengths by turn five. But the advantage didn't last long. Francis regained the top spot before the end of the lap.
"I had a good start, but the car full of fuel would not turn," Loshak points out. "There was nothing I could do. Win streak broken."
Loshak won flag to flag at Sebring and also captured the second round at Road Atlanta. He came into Laguna Seca with a 19-point lead in the championship race over Chris Dyson. He retains the series points lead.
"I might not have won the race, but I won the weekend," he observes.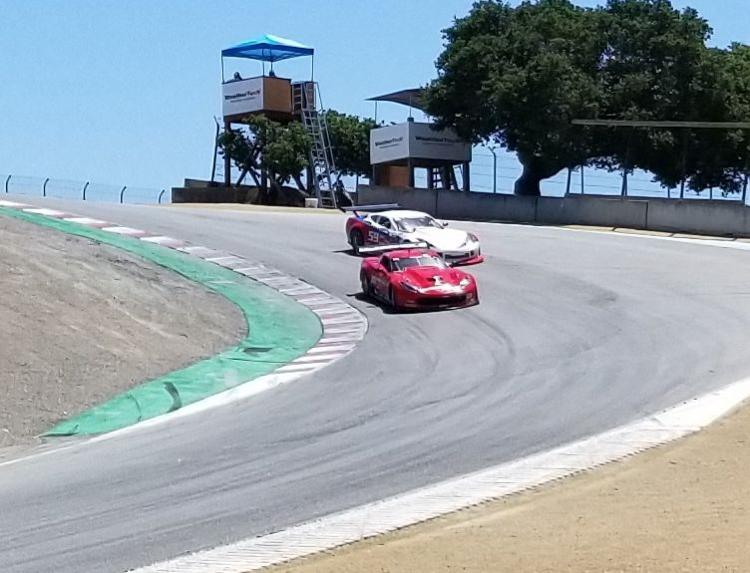 The battle for fourth raged almost the entire way, with a last lap pass deciding the matter. Amy Ruman in the McNichols Corvette and Simon Gregg, driving a Derhaag Motorsports Corvette ran nose to tail throughout. With the checkered flag looming, Gregg got caught up in slower traffic exiting the Andretti hairpin. Ruman stretched out an advantage that looked insurmountable.
But things changed in the final two laps. This time it was Ruman who was slowed and Gregg closed in. Exiting turn 11 and heading onto the front stretch, he slipped inside of Ruman's red Corvette and held on to the position.
"I can't believe it went to the last lap," Gregg says. "For awhile I couldn't get by her. She kept covering the inside."
Tomi Drissi in the Axalta Camaro finished third. Ruman settled for fifth.
Saturday's race marked the return of Trans Am to Laguna Seca after a 15-year absence. On Sunday the TA2 cars take their turn, with another 70 minute or 100 mile feature race.
After Laguna Seca, the series moves on to Lime Rock in Connecticut.