For those still mourning the retirement of The Most Interesting Man in the World, there is some small consolation, and it happens right here in this corner of the globe, serendipitously enough.
It is… Water + Leaves (324-4058), aka The Most Interesting Coffee-Tea Place in the World.
Thickening the serendipity, or at least adding some irony: Of all the places you'd expect to find it, next to a public bathroom on the far back corner of Fisherman's Wharf would not be the place.
It sits a serious walk from the nearest parking, in a place known most for tourists, clam chowder barkers and seafood pasta. But the family behind it doesn't see it as a bad spot. Instead, they see those qualities as differentiation points, and further make it a place well-suited for what Italians call una passeggiata, or a little stroll, ideally accented by a coffee or tea and a treat.
Did I mention the team behind it is Italian? A photo of an old-school Monterey Italian immigrant fisherman decorates a wall in the back; Owner Joe Delecce has run the next door jewelry store for 20 years. At the urging of his tea – and coffee-obsessed son and daughter-in-law (respectively) he transformed the dilapidated storage space with the cute deck into a sleek and colorful space with minimalist design. Italy native Denis Boaro, whose projects include certified green restaurant Basil Seasonal Dining in Carmel,Gusto Gourmet Pizza and Pasta in Seaside and importing coffee, is general manager consulting on operations, employees and vendors.
The deck is one of the unique elements of intrigue, coming equipped with views of the beach and the harbor that few coffee shops can compete with, plus colorful stools and a high wood counter. (For a photo slideshow of the place, visit www.mcweekly.com/edible.)
Also intriguing: the tea – and coffee-making machinery, which have anchored the place since it opened two months back.
The espresso maker is an imported three-group La Marzocco that's way nicer than my car – and, at $20,000, worth several multipliers more too. The two $50,000 eachAlphadominche tea steeping machines, meanwhile, bring on laboratory-like chambers, touch screens and a connection to an international server to make sure whatever tea is in the vertical tube gets treated with the ideal steam pressure, temperature and steeping time to maximize flavor (a chamomile, for instance, would need a lot less time than a mint). Under – or overdoses of those variables means weaker or overly heavy flavor profiles. I may never look at my teapot the same way.
Opposite those contraptions, huge vats of honey await a chance to sweeten the deal, a half dozen total, with flavors like wild flower, sage and raspberry.
I was thinking iced tea ($3.75) on my most recent visit so it was a choice of three for me – a blueberry, black and citrus green. The citrus green proved earthy, zesty and balanced, but would've been incomplete without a helping of the honey I had to have: poison oak honey.
A big wood-framed blackboard runs down the other offerings. The loose leaf teas ($4.75 each) range from jade cloud to white ginseng to peach blossom. Bag teas ($3.75) like oolong and matcha come from fair-trade brand Rishi. The Wrecking Ball coffee, from beans roasted daily and delivered from San Francisco thrice weekly, goes by liquid ounce ($2.50/12-ounce, $3.26/16) and whole bean or ground pound ($16).
Cold brew ($4) does the cool and smooth side opposite espresso ($2.75-$3.75), macchiato ($3-$4/4-ounce), cappuccino ($4-$5/8-ounce), lattes ($4-$5/12 and 16-ounce), mocha ($5, $6) and Americano ($3, $4).
A half dozen juices and smoothies include unconventional items like the verde mandole (bananas and kale, which is much better than it sounds), buon Giorno (carrots, beets, orange, apple lemon) and fragole (strawberries, dates, vanilla).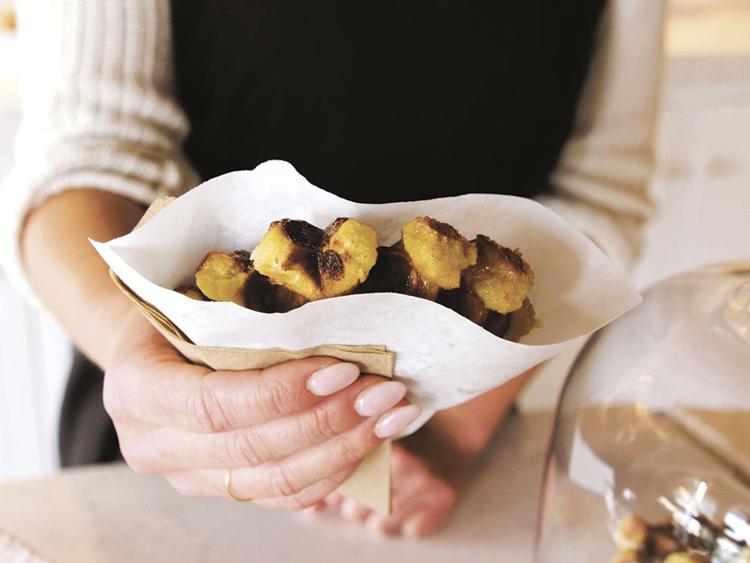 Then there are pastries brought over from the superlative Parker Lusseau's Monterey location every morning and robust croissant sandwiches they make in house. I dug the organic turkey-Swiss with ripe tomatoes and thick slices of avocado ($7.50), which was dynamite after some time in the toaster oven at work.
Boaro, a longtime organic advocate, sources from Earthbound and Golden Rule Produce on the foodstuff front.
The overall idea: a place that bridges coffee and tea with top-flight editions of each. And there's an opportunity there: the coffee market has commercial companies (Starbucks, Peet's, etc.) and specialties (Acme, Verve, Blue Bottle) who do coffee well (or very well), and have tea, but it's an afterthought. The region's worthy teahouses don't often offer coffee at all. Water + Leaves looks to meet that need as it honors its name, with tools that I've never seen elsewhere.
"Nobody's doing this," Boaro says.
Hours are 9am-close (usually closer to 6pm weekdays and 9pm weekends); the possibilities are endless.
Or at least they're interesting.
~ QUICKBITES ~
Alvarado Street Brewery & Grill (655-2337) celebrates two years in brew biz with a series of special events. A week later its new production brewery-tasting room debuts in Salinas. Get more on the blog, www.mcweekly.com/edible.
Matt Zimny jumped from Affina in Carmel (250-7744) to jeninni kitchen + wine bar (920-2662) in Pacific Grove. At Affina, co-owner/co-founder/executive chef Nico Izard is back in the kitchen and pushing the spot toward to its original bistro identity. "It's been good," he says. "Last weekend was huge."
Budweiser is trying to change its name to America until election is over.
il vecchio in Pacific Grove (324-4282) has installed 66 solar panels that will generate about 21,000 watts. "Most of our electricity is used for refrigeration," owner Carl Alasko explains. "We hope that during daylight hours our electric bill will drop to zero and pile up credits for nighttime use." In related news, il v's epic fixed price workers lunch continues noon-1:30pm weekdays.
True to its name, Breakfast Club (394-3238) has discontinued dinner service, going back to 6am-3pm.
Serious carnivore and Weekly contributor John Bays is all about the burritos at El Rancho Market on Reservation in Marina (384-5151). He unloaded some lengua, chile verde and carne asada versions on us and the three large burritos carried a ton of payload for $17.
Corkscrew Cafe (659-8888) returns to being open 11:30am-9pm daily. Tuesdays all bottles of wine are half off.
Martinelli's Company Store (768-3938) is open for business at 345 Harvest Drive in Watsonville, with a grand opening celebration coming Saturday, May 21.
Last week Carmel City Council considered the ambitious new market-wine bar concept from Carmel Belle for the city center space Seventh and Dolores, and agreed to "table the item until the Planning Commission's restaurant subcommittee can meet and look at whether our food use definitions need modification. And for the business owners to hone the business concept."
Aesop: "No act of kindness, no matter how small, is ever wasted."