The future tastes pretty good. It tastes like crispy fried stingray, coconut custard pancakes, sheets of bacon-like pork "floss," bubbling beef lo shu fun ramen with silver needle noodles and sardine roti slathered in savory yellow curry.
It tastes like frog legs in spicy-sweet Asian barbecue sauce, steaming crab dim sum, Japanese-style charred pork spare ribs, richly oceanic prawn mee soup and garlicky yu choi greens.
These are the flavors of the future for a couple of reasons. One, it's already tomorrow here in Kuala Lumpur, Malaysia, where I'm mowing my way through all those meals. Two, I'm here as part of an odyssey that is built in large part around the future of work, wherein professionals like me and my fellow Remote Year participants, armed with laptops and a Wi-Fi signal, make a living wherever we might be in the world.
Following Kuala Lumpur, month by month, we will be in Chiang Mai, Thailand; Hanoi, Vietnam; Marrakesh, Morocco; Split, Croatia; Prague, Czech Republic; Belgrade, Serbia; Lisbon, Portugal; Lima, Peru; Medellín, Colombia; Bogotá, Colombia; and Mexico City, Mexico.
I will continue to contribute where I can at the Weekly (but no longer serve as managing editor), while cultivating other writing projects and developing a wine brand and a coffee business.
Meanwhile, a new food-and-drink section debuts in the Weekly next week, with all sorts of digestible elements and vibrant voices.
In exchange for $2,000 a month, Remote Year furnishes an apartment, a workplace, travel between cities and so much cultural and group-bonding programming that I feel like I'm back in college (while working full-time). It's been an overwhelming week to start, one that feels both like a minute and a month. We've trekked up 272 stairs into a cave temple as part of an annual Hindi festival, conducted a crash course in Malay slang, done walking foodie tours of Chinatown, dished meals at Pit Stop Community Kitchen, hiked Sungai Chiling Waterfall, happy houred on a helipad and braved a Fear Factor-style eating contest featuring sheep intestine, so-called "stinky beans," spicy cow lung and, gulp, bull penis.
When our group took some time to check in at the end of our first week with a single word each, the vocab included "inspired," "grateful," "curious," "conflicted," "sleepy," "auspicious," "liberated," "hyped," "stressed," "fresh," "fascinated" and "verklempt." I get all that and then some. My word was "overfed."
I NEVER PLANNED ON BEING A FOOD-AND-DRINK COLUMNIST. It just so happened that at some point the newspaper needed a food critic, then a food editor, then a columnist (among other things). And that, more than anything else, has been my job for the last 13 years: doing what the newspaper needed, in service of a community I love dearly and a mission I hold close to my heart: "To inspire independent thinking and conscious action, etc." (Emphasis on the etc.)
But it turns out the food beat is the best beat ever. Not because Monterey County's ingredients are so damn good, or because I came into it as the foodie revolution was lifting off, or because I had ringside seats to the birth of mom-and-pops like Bistro Moulin and over-the-tops like Pebble Beach Food & Wine, or because I got to pick the brain of people like Thomas Keller, though I ate all that up. Instead, it was the personality of food-and-wine folks (as many characters as calories), the universality of food (not everybody votes, but everybody eats) and, most mightily, the boundless heart of the hospitality industry (just about as big as it gets).
At last month's homespun John "Spud" Spadaro Hospitality Award ceremony at the Elks Lodge in Monterey, co-organizer "Cousin" Johnny Aliotti stood in a room full of industry lifers and nailed it on the frying pan.
"It's treating people like you want to be treated," he said. "It's a smiling face who remembers your name, takes care of you, who makes you feel good, who goes above and beyond, who you remember for their service and sacrifice."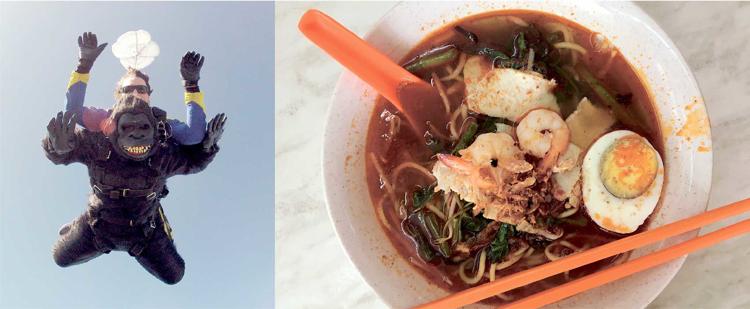 THIS JOB HAS TAKEN ME SOME INTERESTING PLACES – into autopsies with the county coroner, into a crowd of millions for Barack Obama's first inauguration, into a rodeo ring to fight a bull, into a gorilla suit to jump out of a plane. It took me into the mind of Ed Leeper, the late, great activist-agitator-artist whose capers included soliciting urine "contributions" from an array of local artists and marinating the late U.S. Sen. Jesse Helms' portrait in the resulting broth.
In keeping with the theme, Leeper gave me a Polaroid of himself that he inscribed "MARK, YOUR (sic) GOING PLACES."
(For a longer compilation of stories I've written, visit mcweekly.com/a/markcanderson; follow @MontereyMCA on Twitter and Instagram to see what stories come next.)
One summer it took me to Cooperstown, New York, to see Frank Thomas inducted into the Major League Baseball Hall of Fame. I wrote a cover story about him after he teamed with local brewer Jeff Moses on Big Hurt Beer; we all became friends and I drafted a working speech for Thomas' induction. He didn't use it, and instead spent 20 minutes running through a laundry list of thank yous.
I could similarly fill this entire space with thank yous, for the countless teachers, friends and foils who have helped me in so many ways.
Instead I'll trust those souls know who they are – including the very special team at the Weekly, my legion intern army very much included, where the many honors we've earned pale in comparison to the privilege of striving by your side – and limit the thank yous to three: to my first and best editor (my mom), my best friend (my dad) and those kind and brave enough to stomach my writing for so long (my readers).
You are better than I deserve.
A FUNNY THING HAPPENED WHEN I WAS AN EAGER EDITOR of Monterey High School's Galleon newspaper and I told pro journalists I wanted to be like them some day (and like the one and only Mr. Hoffman). They told me, simply and unanimously: Do not do it. Run the other way.
I understand by now. This is not for everybody. I've seen many capable writers and editors chewed up and spit out by deadlines and reporting demands that can prove all-consuming, where you can always do more, and sleep seems a luxury.
Fortunately for me, this writing thing is not a job.
It's a calling I can't unhear, a compulsory outlet for the voice in my head, an affliction and a benediction.
Those journalists did add something else, though.
If you must be foolish enough to pursue journalism, they said, don't bother with journalism school, but travel the world, live life, gather experiences and keep writing.
So I did, as soon as I could.
And so I do now, all over again.