A toy Australian shepherd mix peers through the glass door of one of about a dozen rooms. With captivating, droopy eyes, the dog – whose former family named her Kaigun – gazes at people walking by.
It's a rainy day in May, and a handful of people browse through the white hallway as classical music plays in the background. They peek from room to room and stay cozy thanks to the rooms' heated floors, inhaling air that has been purified 14 times in the past hour. They are looking for pets. Future companions.
This place is nestled in a state-of-the-art adoption center, tucked in the back of the SPCA for Monterey County, a nonprofit that dubs itself "the heart of animal rescue" locally.
Inside, Kaigun trembles, not because it's cold, but perhaps because she isn't used to being alone. Just a day ago, her former owners gave her and her brother up due to an illness in the family. Earlier that day, she was separated from her sibling after he was adopted.
But hope seems to find its way into the SPCA.
That same day, a Monterey woman who lost her longtime pet a month prior comes in search of a new companion. She found Kaigun listed for adoption on the SPCA's website. By the end of the day, she has signed papers and takes her new best friend home.
When it's time to leave the shelter, Kaigun can barely contain her excitement, with her behind fishtailing all the way to the parking lot and into her new owner's car. As they drive off, Kaigun, looks out the window from the back seat, her eyes pinned to the SPCA.
This is one of numerous success stories at the SPCA, but not all stories end like this. In gradually increasing amounts over the past four years, animals go there to die.
The nonprofit's mission is to "assure compassionate and humane treatment of all animals," regardless of health, age, behavior, breed or species. Sometimes that means euthanasia.
• • •
Outside the SPCA facility, neighboring the administration offices and some dumpsters, a square walk-in freezer stores dead animals.
The bodies are placed inside barrels and stored in the freezer. Once a week, a service contracted by the SPCA picks up a load and cremates the remains in Sacramento.
The animals in this freezer were lethally injected by SPCA staff in a room, which the SPCA declined to show the Weekly on a tour. But staff members, speaking on the condition of anonymity for fear of retaliation at work, describe what happens in there: One staff member is in charge of restraining the animal, and another administers the injection.
After being injected, the animals take their last breath within seconds.
In 2015, 366 cats and dogs with treatable behavioral and medical conditions ended up in this freezer. Another 540 cats and dogs, categorized with manageable diseases – meaning they were unlikely to get healthy without significantly more time and care – were put down by the shelter. In total, 2,725 animals were lethally injected, frozen then cremated last year – 49 percent of the shelter's cat and dog intake.
Those numbers were in line with numbers from 2014, when 589 treatable and 535 manageable pets were euthanized, out of the 2,716 total that were put down. The number of animals killed by the shelter in 2014 made up 50 percent of the shelter's admissions.
Since 2008, there have been more animals euthanized at the SPCA than adopted, except in 2011, when 1,944 animals were given new homes and 1,905 were put to rest.
In both 2013 and 2014, more than half the animals taken into the SPCA were put down. (Owner-requested euthanasia is not taken into account in these figures.)
"We save many of these animals but as of yet, we cannot save all of them," outgoing SPCA Executive Director Gary Tiscornia says. "These are the decisions we have to make."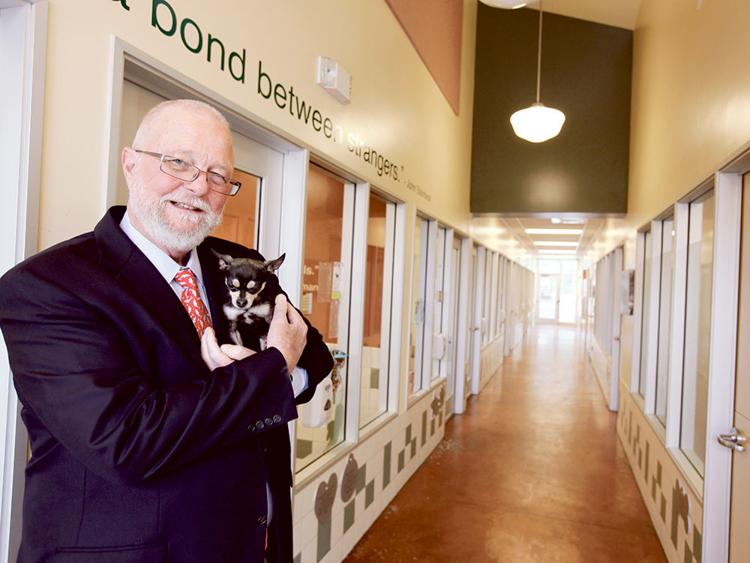 Despite a shining public image fueled by vibrant newsletters and fundraising events, extensive outreach and educational programs with thousands of participants – and an acclaimed 16-year career of its retiring director – the SPCA's euthanasia rate has significantly increased over the years, particularly when compared to other similar shelters in the Bay Area and Central Coast. (See table, p. 26.)
Euthanasia rates increased along with the intake of animals into the shelter. For comparison, in 2008 there were 4,651 animals in the shelter and last year there were 5,498. Every year, numbers steadily increased, and Tiscornia alludes to the policies of Monterey County's and Salinas' animal shelters as possible culprits, in addition to an influx of feral cats, which are almost always euthanized at the SPCA due to behavioral issues.
Some other shelters boast online that their success at adopting more animals – and euthanizing less – is due in part to aggressive partnerships with animal rescue organizations. But locally, animal welfare groups hint at a strained relationship with the SPCA.
It is widely believed by people in the animal welfare system – including the SPCA's incoming executive director, Scott Delucchi, who starts July 11 – that a heavy reliance on rescue groups can save all but the sickest and wildest animals.
Last year, at the SPCA, 46 percent of the animals euthanized were considered treatable, with manageable diseases, or were feral cats based on staff's standards. The rest were categorized as unhealthy and untreatable. None were considered healthy.
Tiscornia says it's important to look at external factors influencing his organization's numbers, not just the policies within his nonprofit. Here he is referring to a sterilization program run out of the Salinas animal services shelter that releases feral cats back into the wild after being spayed and neutered.
This, he says, has influenced the nonprofit's high euthanasia record, as it received more feral cats.
But in 2014, the number of feral cats made up only 5 percent of the SPCA's total animal intake and were 10 percent of the animals euthanized. And last year, feral cats were 6 percent of the intake and 12 percent of the animals killed.
• • •
Perched on the top of a hill off Highway 68, the SPCA's adoption center stands surrounded by barns with chickens and pigs and a few corrals that confine half a dozen horses on the 200-acre property.
Inside the adoption center, visitors encounter a closed-off area holding cats, rabbits and other small pets. The space is serene.
The cats and rabbits are for the most part asleep. But in the corner, a small cat named Bolt darts out of its private room and into the secured hallways where a visitor tries to pet him. This is the most action visitors see on their brief stop.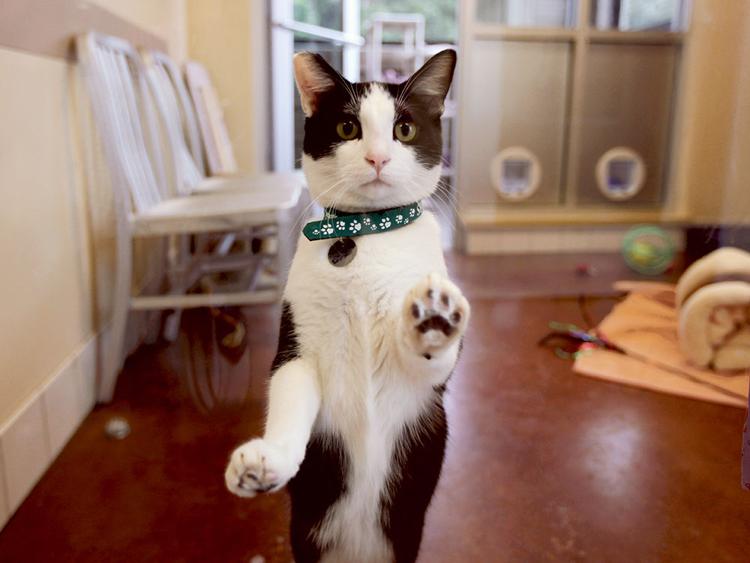 Outside the lobby, a handful of big dogs bark at visitors behind their fenced kennels. Next to them is another adoption room, where Kaigun was housed.
These are the places where the animals who are ready to be adopted are lodged. They've come into the shelter's care after being abandoned by their owners, evacuated due to natural disasters, or in some cases, been victims of crimes. The SPCA helps prosecute hoarding and animal neglect cases, among other animal-related misdeeds.
When people think of the SPCA, an adoption center often comes to mind. And it's true. One of its priorities is to bolster adoption efforts, and it has done so by remodeling its now-manicured adoption center.
But beautifying the adoption center has not been enough. In 2014, nearly 1,000 more animals were put down than adopted. Last year, the number of animals euthanized was just 20 fewer than those who found a loving home.
Tiscornia, who retires after 16 years at the end of June, explains those ratios this way: "At the end of the day, the pet's adoptability determines its fate," he says.
In other words, an animal's looks, health requirements and cuddliness improve its odds, based on the community's standards.
But the animal's fate also depends, at least in part, upon the SPCA's standard of what makes an animal adoptable – and the efforts it exhausts before lethal injection.
Tiscornia says that in seven years, no healthy animal has been put down at the SPCA.
"We have only euthanized sick and behaviorally damaged pets," he says.
For the public, that is hard to know: This data was provided to the Weekly upon request, but isn't available on the nonprofit's website. Based on this data, since 2012, on average about 20 percent of the animals euthanized at the SPCA were suffering from treatable medical and behavioral conditions, with good chances to recover from issues like breathing problems or hissing when touched, if given the proper medical attention or training.
"We will make our very best effort to get animals adopted, but we reserve the right to euthanize it if the animal is highly stressed or has a medical issue," Tiscornia adds.
• • •
In mid-May, the SPCA rescued a dog and her puppies – all suffering from mange, a treatable skin disease caused by parasitic mites nibbling at the skin and leading to severe itching, hair loss, scabs and lesions.
This disease can be easily contracted by humans, so the mom and her puppies are not ready for the adoption floor.
Tiscornia describes this recent rescue, via email with a photo of the despondent puppy attached, as a situation when the SPCA sometimes opts to put down a sick – but treatable – canine.
"If this were a 9-year-old dog with the possibility of recurring mange, the public would not adopt him," Tiscornia says. "These are the decisions we need to make."
Tiscornia blames in part the community's expectations for pet adoption, and the desire for animals to be healthy, young and trained. SPCA employees contend that many animals don't get the time, space and tender loving care they need to reach the adoption floor.
Still, the nonprofit continues to pride itself in its open-door policy: taking all animals in need – wild, neglected or sick as they may be – into their care.
"We never turn down an animal," Dawn Fenton, the SPCA's education and outreach manager, says. "We make it work."
Inside the shelter there are 277 spaces to house dogs and cats, whether they are on the adoption floor or in the process of being treated and moved there.
This number does not include wildlife, livestock or so-called "pocket pets" like rabbits, guinea pigs, rats and pigeons. Fenton says there are hundreds of animals in the SPCA's care on any given day.
In 2014, the SPCA cared for 2,482 wild animals, most of which were injured or displaced by human activity. For context, the San Diego Zoo houses 3,700 rare and endangered animals. Animals in the SPCA's care include horses, chickens, pigeons, snakes, rabbits, rats and even bald eagles, as it is one of few shelters in the state to take in wildlife.
According to current SPCA employees, sometimes animals who are dropped at the shelter come in hungry and scared and act out as a result, and are not given enough time to relax, and deemed unadoptable and eligible for euthanasia.
Tiscornia disputes this, and says all animals are given a cooling-off period of one or two days.
If an animal acts out, they could be candidates for the Take the Lead program, where some 200 youth group members train the animals.
The SPCA has two other foster programs beside Take the Lead: a Salinas Valley State Prison inmate training program launched in May; and its Foster Friends program, with 38 foster families.
If the animal is not taken into a program, it gets 24 to 72 hours to settle before being reassessed, Tiscornia says. Employees say sometimes this isn't enough, and that more substantial foster programs are needed to buy animals more time.
The behavioral assessment of a pet is mandatory, because it could be a liability for the SPCA to put a violent pet up for adoption, Tiscornia adds.
"We don't want the animal to suffer holding on to the promise of a new home," Tiscornia adds.
Once the animal is trained, treated and deemed adoptable, it moves on to the adoption room. If it's a small dog, it will be housed in the heated room with Bach and Beethoven playing in the background.
• • •
When Salomon, a 10-year-old poodle, was brought to the SPCA a couple of years ago, he was evaluated as snappy and yappy. He was slated for lethal injection, says his owner, Beverly Decker of Carmel.
The Pacific Grove nonprofit Peace of Mind Dog Rescue learned about the senior poodle's case from the SPCA, and requested to have Salomon transferred to their shelter, a Victorian house with a backyard for dogs to roam free. Once there, he received veterinary care and was placed in one of its 100 foster homes. A few weeks later, Decker, a former SPCA volunteer, decided to take Salomon home permanently.
"I think the SPCA thought he was behaviorally distraught and that's why he couldn't be adopted there," Decker says. "[Salomon] is a very sensitive dog and can get feisty, but can be very sweet."
In this case, a partner foster program was able to give Salomon – a dog the SPCA categorized as behaviorally damaged, and therefore unadoptable – an extension to the shelter's cooling-off period.
When there are strong relationships with an array of rescue groups, the chances for animals finding a home – even in difficult cases – improve. Tiscornia says the SPCA holds and adopts animals that have "a good chance of being adopted" and rely on rescue agencies only for the animals that can be better cared for because of medical or behavioral issues, mainly breed-specific concerns like hip dysplasia for German shepherds or breathing problems for pugs.
"One of the key reasons for euthanasia is behavior," Tiscornia says. "Issues like jumping on people, obnoxious behavior."
Peace of Mind Dog Rescue's executive director and co-founder, Carie Broeker, says she wishes the SPCA sent more senior dogs to their care.
At her shelter, funds go to treat senior dogs' medical issues – usually about $1,000 per dog – and another group, Animal Friends Rescue Project, cares for at-risk shelter animals and has hundreds of volunteers running foster programs.
In 2015, the SPCA transferred 356 animals to local rescue groups, and 72 pets to out-of-county rescue organizations.
Tiscornia says the SPCA vets animal rescue organizations carefully, and is cautious when transferring animals due to past experiences with hoarding cases.
"Some other shelters transfer out immediately after the holding period ends to contain costs, sometimes to locations out of state that may or may not have been vetted," he says.
In the past, San Diego rescue organizations have shown interest in dogs at the SPCA, but Tiscornia says the trip isn't always worth it for the pets.
"Sometimes it doesn't make sense to put the dog through the transfer," Tiscornia says. "It is just about what is best for the animal."
In 2014, the Salinas shelter and the county shelter transferred a total of 1,395 more animals to local and out-of-county rescues than the SPCA.
Broeker says the Salinas and county shelters are very active in notifying Peace of Mind about potential canine candidates for her program; the SPCA – not so much.
The incentive for the SPCA to do so would be a case like Salomon's. Current employees say the most common reason for a treatable dog to be put down is because they are "under-socialized." Peace of Mind covers medical expenses for senior dogs, who can come in blind, suffering from cancer, or missing a leg. Despite these conditions, dogs are usually adopted within two or six months.
The rescue group also has about 500 volunteers and 100 foster homes in action. The SPCA, which has about 400 of its own dedicated volunteers, currently has 45 animals in the care of a foster family.
"The SPCA reaches out to us, but just not on a regular basis as the other shelters do," Broeker says.
In 2014, when the SPCA euthanized 2,716 animals, PMDR received three senior dogs from the nonprofit, compared to 16 from the Salinas shelter and 13 from the county.
In six years, Broeker says, her rescue group has only euthanized one dog for behavioral issues after the dog bit a person.
"We do the evaluation of the animal first [at the shelter], then we do foster care and then adoption," Broeker says.
Joan Bruno-Campagno, a senior animal care technician at the county shelter, says the mutual aid relationship between her facility and the SPCA is basically non-existent.
"We work more with other SPCAs that are out of the county," she says. "They help us out tremendously, and without their help, our euthanasia rate would be much higher."
Last year, the county put down 40 percent of the animals that came into their care. The year before, it was 38 percent. For the county shelter, which has 78 kennels, the criteria for euthanasia often relies on space, so they count on other shelters and rescue groups to save animals.
"If 10 animals come in and [we] don't have space, what do I do with them?" Bruno-Campagno says. "I will go to the end of the world to find a rescue for an adoptable, friendly animal, but if all else fails we have to euthanize it."
That is their reality and they are forthcoming about their kill rates.
"I don't contact [the SPCA], and they don't contact me," she says, "we don't have a rescue relationship with them."
• • •
Before the Beethoven music, frequently filtered air and cat condominiums were built, there were rusty, crowded cages and barely enough reserves to keep the SPCA financially alive for 11 more months.
When Tiscornia came in, he deployed his managerial experience to turn things around – quickly.
Today, the organization is in great financial standing with a $6.5 million budget, 72 employees and 400 volunteers.
Last year, Weekly readers donated $94,169 to the nonprofit as part of the annual MC Gives! fundraising campaign to subsidize the cost of spay and neuter surgeries for families who can't afford it.
"In addition to preventing unwanted litters, spaying and neutering can help improve a pet's long-term health, which is a benefit that should be available to all animals," the SPCA wrote as their plea for donations in the fundraising campaign.
The money they raised was a fraction of the $9.5 million in donations, gifts and contributions it received in 2015, according to the SPCA's latest form 990, filed by nonprofits with the IRS in lieu of tax returns. From that money, $5.2 million went to animal care, outreach and education programs, more than $500,000 to fundraising costs, and administrative expenses of $454,023.
As the budget improved year after year and the euthanasia rate ticked up, so did Tiscornia's annual salary, which is currently $292,342 – a 37-percent increase since 2007.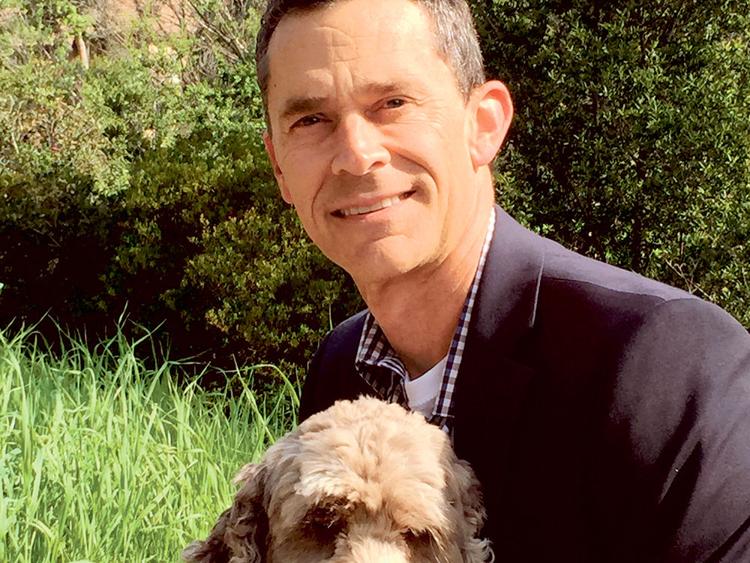 Tiscornia, 70, is set to retire July 8 and will leave the nonprofit in the hands of Scott Delucchi, who has worked at the Peninsula Humane Society in San Mateo for about 17 years. The euthanasia rate there dropped significantly during his tenure.
Delucchi says he is coming with an open mind and is excited for the new opportunity. When asked what he hopes to do locally that has worked for him in San Mateo, he says it will remain to be seen. He says factors that helped the Peninsula Humane Society may not be successful here.
The single biggest reason for his success in San Mateo, he says, was decreasing the intake of animals into the shelter. In 12 years, the intake of dogs and cats declined by more than 4,000 a year. He did so by low-cost spay and neuter options, which the SPCA already offers. (Last year, the SPCA performed 3,479 such operations.)
Delucchi's shelter also has a program called Hope, which helps about 200 animals every month – 2,400 a year – with extra medical care and training. An equivalent program could help hundreds of the more than 800 treatable and rehabilitatable animals the SPCA had to euthanize in 2015.
Another key issue is transparency with donors and people who leave their animals at a shelter.
"We try to be real transparent with people who bring in animals to us," Delucchi says. "We don't want to give the impression that we will save all of them. So we tell people that a shelter should be your last resort. You should exhaust all options before you bring them here."
While Delucchi has improved the animal rescue standing at his shelter, and aspires to continue the legacy Tiscornia has built over the years, he says there are a lot of moving parts in Monterey County that present it unique challenges which he has yet to fully explore.
While the SPCA depends on the community to adopt, donate and support, the community depends a lot on the SPCA for its bountiful services.
"If we closed, could you imagine what would happen?" SPCA spokesperson Beth Brookhouser says.
At the end of the day, a pet's chance for a happy ending relies heavily on the public's re-examination of what makes the animal adoptable or not.
And the ways the SPCA and other shelters translate those standards.