The Huffington Post compiled a list of "The Craziest Unexpected Art Finds of 2013," including an Alexander Calder necklace bought at a flea market for $15 but worth $300,000. There's a perennial pop-up gallery in Baltimore called Unexpected Art Space. But the unexpected art we're talking about is in the vicinity of our own real lives. We're talking about the pervasiveness of art on the landscape of Monterey County, art that doesn't reside in usual sanctioned places like galleries, museums, cafes and boutiques.
What definition of "unexpected" are we using? Hospitals have long bought and displayed art for therapeutic and aesthetic purposes, but when people have cause to go to a hospital, are they thinking about seeing art? Or when they're going to the post office to mail a package? Murals are ubiquitous public art, but not as unexpected as, say, a defaced advertising billboard. Graffiti can be unexpected, unwanted even, but many don't consider it art. Just to complicate matters, famed contemporary realist painter and Salinas resident David Ligare writes, "There are things that the late [guerilla artist] Ed Leeper and I would agree on, one being that anything can be art."
To see things like Ligare or Leeper is not just an exercise in finding art in unexpected places, but in looking at the world more intently and, at the same time, more openly; of seeing patterns but noting abnormalities and curiosities; of seeing our world with wonder. And even adding some of our own creative imprint to an otherwise static or mundane spot. Like the post office.
What follows is a list compiled with the help of a swathe of the county's residents who are paying attention to the landscape and noticing the creative touches upon it. But it's by no means comprehensive. This is where you come in. Go to the Weekly's Facebook page to post your own pictures and/or descriptions of unexpected art. Or maybe you know of things – like the crazy little Banksy-inspired graffiti across from the Golden Star Chinese Restaurant in South Salinas – that can fill in some blanks. That should give us a bigger-picture mosaic of unfettered creative life in Monterey County. Happy hunting.
~ ~ ~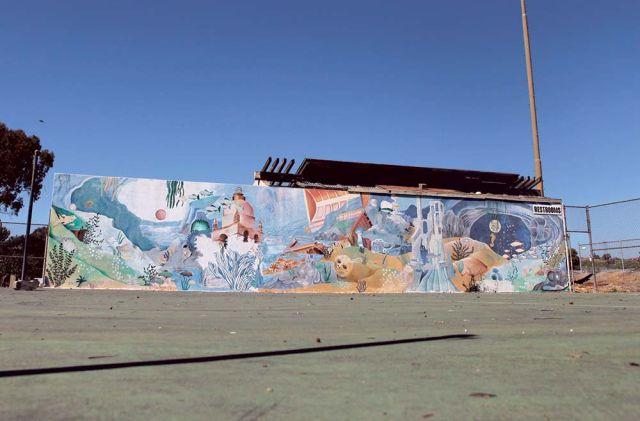 Location: Cutino Park, Noche Buena Street and San Pablo Avenue, Seaside
Medium: Outdoor mural
Artists: Unknown
Description: Murals can be likable for their crude but earnest expressions of positive esprit and community values. But this one is on mushrooms. It's beautiful but perplexing, with impossible perspectives, and surreal and fanciful juxtapositions. Why is a waterfall erupting out of a treasure chest? Is that giant jellyfish hovering above Big Sur? I imagine Cutino Park b-ballers suddenly noticing these strange inconstancies, falling into the mural's visual rabbit hole and getting hit in the head with the ball.
Location: CSUMB University Center Ballroom, 6th Avenue, Seaside
Medium: Indoor mural
Artist: Merlin Hardy
Description: This giant mural, called "Los Californios," is one of three saved from Fort Ord's former soldier recreation center, Stilwell Hall, which was crumbling into the ocean tide below. Thieves have tried to steal at least four Stilwell murals.
Location: Steinbeck Institute of Arts and Culture (Sherwood Hall), North Main Street and Bernal Drive, Salinas
Medium: Monumental outdoor sculpture
Artist: Claes Oldenburg
Description: It's gotten a lot of attention since its restoration, but deserves mention for its pedigree and hidden locale. Oldenburg's big yellow "Hat in Three Stages of Landing" are public, famous, whimsical and nearly obscured unless you're on the Sherwood Park lawn. Which you have many reasons to be. It's a vast, urban, open-space playground.
Bonus: Inside Sherwood Hall, check out the tapestry at the top of the stair landing.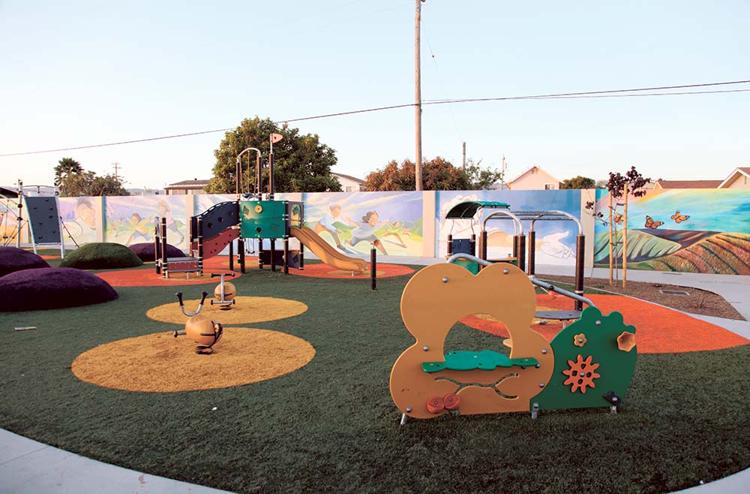 Location: Pajaro Park, San Juan Road and Brooklyn Street, Pajaro
Medium: Outdoor mural
Artists: Kenji, Jose Ortiz, Parajo kids
Description: This new 5-acre park is bordering Watsonville, separated by a bridge across the Pajaro River, just our side of the Monterey County line. It's a wonderland. And not least because it's 600 feet of colorful, lush wall mural – a collaboration between the Arts Council for Monterey County and CSUMB's Visual and Public Arts Department – of mariachi skeletons, butterflies, fieldworkers and utopian scenes of children playing. Remember that scene in Pink Floyd's The Wall, when "the wall" tramples across the landscape, dividing and destroying? This is the opposite of that.
Location: Fort Ord Dunes State Park, Divarty Street and Highway 1, Marina
Medium: Graffiti
Artists: Various
Description: There are a few spots on the former Fort Ord/current CSUMB for unexpected art. The one called "the abandoned pool" is impressive, gritty and well known for wild-style graffiti. The empty barracks are filled with deteriorating soldier art, but the buildings are structurally hazardous and illegal to trespass. (My wife, Enid Baxter Ryce, has documented nearly all of it at fortording.com.) The Divarty Street-Highway 1 overpass that leads to Fort Ord Dunes State Park is a tunnel lined with layers of shifting messages and art, sprayed and scrawled like the murmuring and shouting of a crowd on the walls, a disorienting and eyecatching portal to the natural beauty on the other side.
Location: Monterey Conference Center, 1 Portola Plaza, Monterey
Medium: Photographs
Artists: Ansel Adams, William Garnett, James Gorman
Description: You might already know about the city of Monterey's ever-changing Alvarado Gallery on the second floor. Or the David Ligare painting oddly situated at the top of the escalator on the third floor. Or the awesome "Monterey Mural" mosaic by William W. Granzio on the exterior. Or the sumptuous Emile Norma wood sculptures of two dolphins. But you probably haven't noticed the black-and-white photographs in the hallway near the bathrooms on the second floor. They are aerials of the Bay Area and crowd shots, commissioned by the Foundation for Environmental Design for its 1966 conference on natural beauty. They're on loan from the Monterey Museum of Art.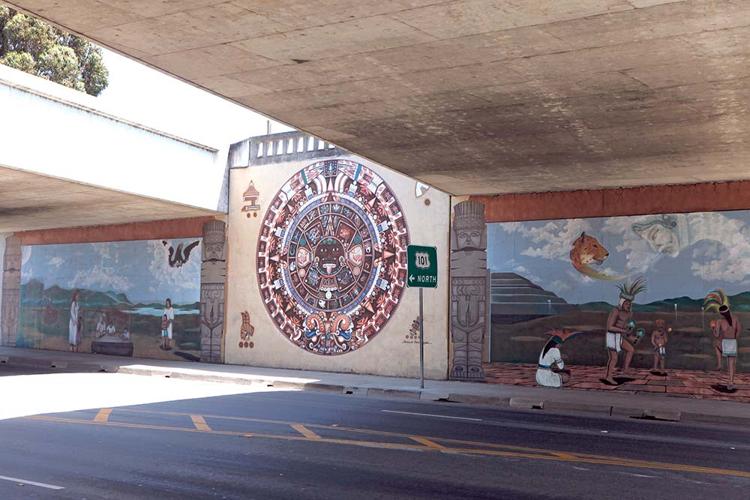 Location: East Alisal at Highway 101 overpass, Salinas
Medium: Outdoor mural
Artist: Unknown
Description: Underneath the highway, there are two sets of murals painted onto the walls that face one another across the four lanes. I can barely describe the scenes they depict, but they are as impressive and captivating as they are fleeting to passing traffic, filled with Día de los Muertos skeletons, gods, what look like religious ceremonies and a giant Mayan calendar.
Location: Oya Salon, 201 Lighthouse Ave., Monterey
Medium: Mixed media
Artist: Hanif Wondir
Description: Local DJ, musician and graphic designer Hanif Wondir is not the first artist to show at this hip hair-styling spot, but his opening party (for the show dubbed Fly Magnetic, comprised of spacey and spiritual portraits of demi-humans and dancers, created by hand and finished by software) might have been the most soaring of them all, with a DJ spinning bouncy De La Soul to pump up the good vibes and able bartenders satiating the masses. (Another marital disclosure: He's the husband of Weekly Assistant Editor Kera Abraham.)
Location: Lalla Grill, Del Monte Center, Monterey
Medium: Textiles
Artist: Tracy Parker
Description: Lalla Grill is a swanky spot that comes in handy as a pre – or post-movie (or no-movie) food and drink stop. Plus, it puts up contemporary art on the regular. Right now that would be radiating explosions of deteriorating textile art from eco-conscious Tracy Parker, self-described as an "earth-based creative guide, artist, environmental designer, shamanic energy healer and native spirit dweller."
Location: County of Monterey Office Building, 168 W. Alisal St., Salinas
Medium: Painting
Artist: Various
Description: Maybe you're there to pay off a speeding ticket that went into collections. Or to get a marriage certificate. Or to untangle a property tax mess. Whatever brought you into the graceful, Art Deco-inspired County of Monterey office building, you're going to see art first. And lots of it. The building represents the main seat of government for the same county supervisors who administer the Arts Council, so it's the equivalent of decorating their home.
Bonus: Next door at the county courthouse, a California vignette mural of a blind Lady Justice above the metal detectors may go undetected.
Location: Steinbeck Post Office, 100 W. Alisal St., Salinas
Medium: Walnut woodcuts
Artist: Richard O'Hanlon
Description: This post office houses two 1936 Works Progress Administration woodcut pieces – "Cowboy & Horse" and "Cowboy and Bull" – by one Richard O'Hanlon that hover on walls above people morosely waiting in line. A Destination Salinas printout asks onlookers: "What was this artist's connection to Frida Kahlo?" If you answer that he taught her English when she and Diego Rivera came to San Francisco, you would be right.
Location: Art Max, 680 Broadway Ave., Seaside
Medium: Outdoor mural
Artist: Unknown
Description: There is a bitter and ironic twist to this mural, a crazy pastiche of creative accoutrements like a violin, a palette, sheaves of paper, musical notes, theater masks and ballerinas. That's because the creative repository of Art Max is closed down. There are interesting touches on the mural, like the digital leotards on one outstretched ballerina, and the rain gutter drain seamlessly painted over.
Location: The Independent, 600 Ortiz Ave., Sand City
Medium: Wheat paste poster
Artist: Shepard Fairey
Description: In August of 2011, local curator and collector (and, once again, artist) Andrew Jackson assembled an awesome show of Shepard Fairey prints in time for the West End Celebration. Fairey was a no-show, but he sent one of his iconic Andre the Giant posters and instructions for Jackson to use adhesive wheat paste to stick it to the top of the Independent building. It's still there.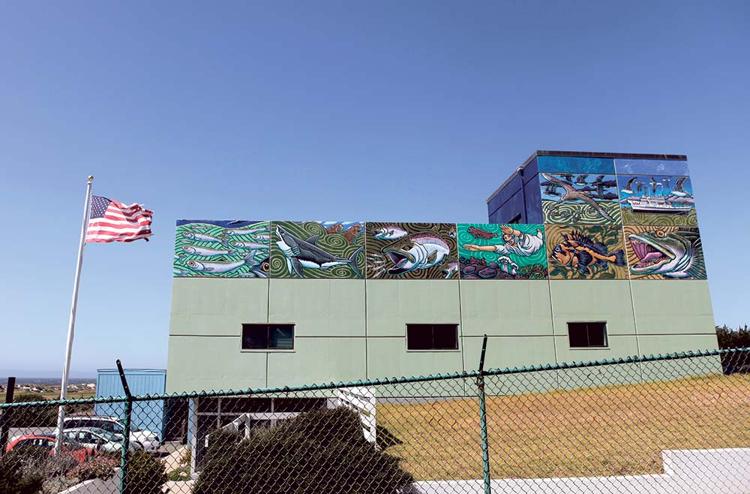 Location: NOAA Fisheries' Southwest Fisheries Science Center, 1352 Lighthouse Ave., Pacific Grove
Medium: Outdoor paint
Artist: Ray Troll
Description: Painter Ray Troll has an affinity for animals, especially those that inhabit his native Alaska and the ocean. That's on display at the NOAA building near the scenic Asilomar Coastal Trail and Point Pinos Lighthouse: 32 colorful oceanic painted panels wrapped around the top of the building, the fourth designated Pacific Grove Historical Mural Project.
Bonus: Find the first three of P.G.'s historical murals. Hint: Start at the Rec Trail.
Location: Monterey Regional Airport, 200 Fred Kane Drive, #200, Monterey
Medium: Various exhibits
Artist: Various artists
Description: Our namesake airport is an oasis of small, human – and humane-scale commercial travel. But did you know that up the stairs and across from the security checkpoint, is art? Right now they're showing Wind, Wiggle & Wonder: A Toy Show, nostalgic displays of antique toys. Another floor up, a marvelous exhibit of photos and text called Against the Odds: Pioneering Women of Monterey County, as well as youth art from the Art Beat Youth Festival.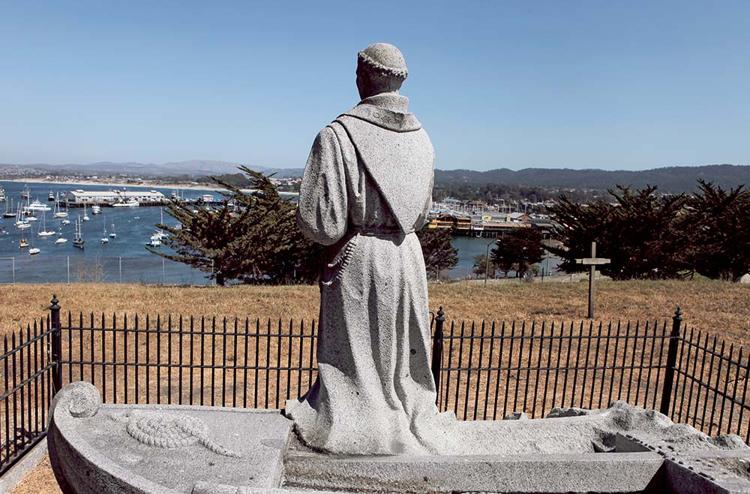 Location: Defense Language Institute, Lower Presidio, Monterey
Medium: Granite monument
Artist: J.W. Coombs
Description: The Lower Presidio Museum contains military artifacts, as one would expect. But across from that, on the lawn, is a Gothic statue of Franciscan Friar Junipero Serra in the spot where he purportedly gave his first mass upon arriving in Monterey on June 3, 1770.
Bonus: Also nearby, a crucifix stuck in the ground marks the spot of the first European to die in California, Alex Nino, a Spanish Moor sailor.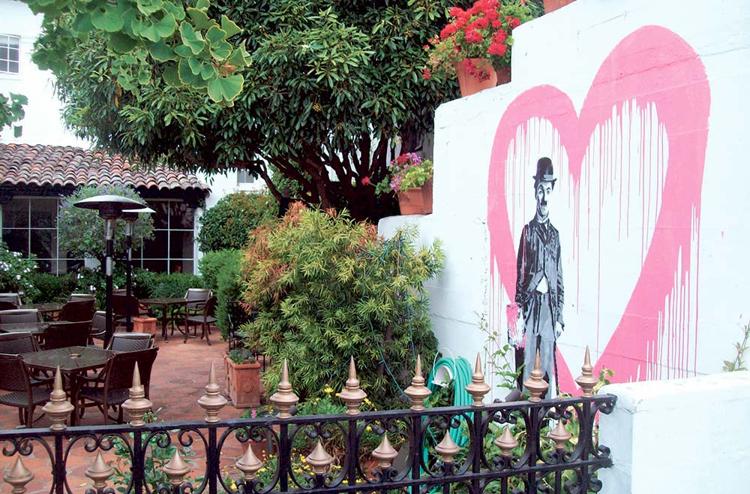 Location: Cypress Inn, Seventh Avenue between Lincoln and Dolores, Carmel.
Medium: Stencil, graffiti, paint
Artist: Thierry "Mr. Brainwash" Guetta
Description: He fooled us. He fooled Carmel. But he tipped us off that he was a trickster. Mr. Brainwash? Ha ha. You got us, Thierry. If you had seen the Banksy-involved documentary Exit Through the Gift Shop, you would have known that when Monsieur Brainwash came as the featured artist of the Carmel Art and Film Festival in 2010, he was playing a trick on uncritical art-celebrity-worship. We saw the film after he had spilt town, but he left behind a treacly stencil of Charlie Chaplin on the wall that's still there in the hotel's courtyard. A kiss-off.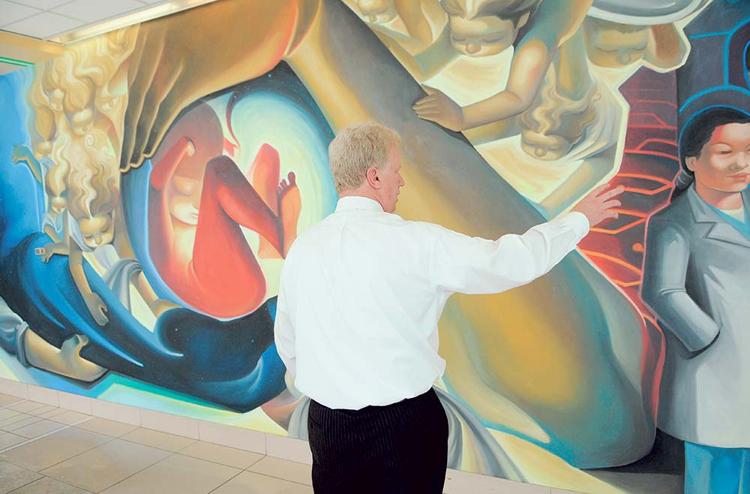 Location: Natividad Medical Center, Constitution Boulevard and East Laurel Drive, Salinas.
Medium: Varies
Artist: Various artists
Description: Entering this hospital is like walking into a movie in which everyone's disappeared, the lobby monitored by security cameras. That gives you plenty of space to take in the ag photos, murals and paintings.
Bonus: Community Hospital of the Monterey Peninsula has a rich art collection spread out over its serene walls.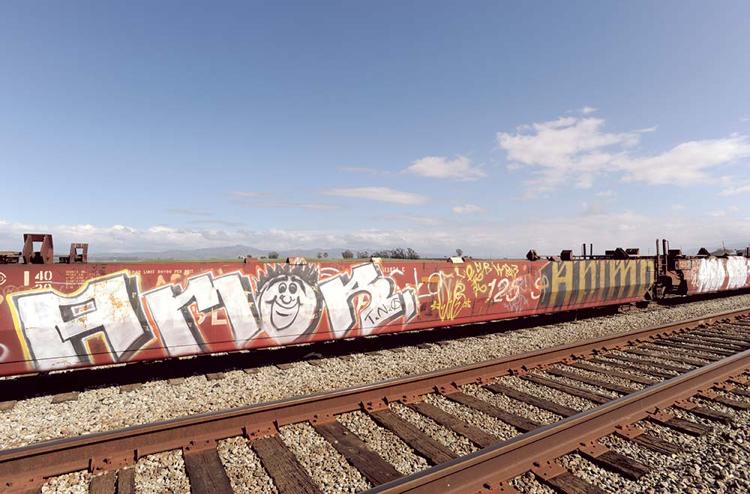 Location: Trains
Medium: Spray paint
Artist: Various artists
Description: Trains have a long tradition in illicit graffiti art. In New York, they were used to carry the artist's (or writer's) work to the audience, instead of the audience coming to the work. That urban tradition survives in Monterey County with various freight trains carrying not just their payloads, but colorful or messy messages from, presumably, young people yearning to be seen and heard.
Location: Highway 1, Moss Landing.
Medium: Sculpture
Artist: Unknown
Description: As you're heading north into Moss Landing, approaching the power plant smoke stacks, on the east side of the highway, behind two sets of fences, set up high on a manmade ridge, are dolphin sculptures. I don't know the first thing about them, but there they are, a brief and curious glimpse that someone went to a great deal of trouble to give passing motorists.
Bonus: If you can find out more about these, be the first to post the enlightening information on our Facebook page.
Location: Oldtown Salinas
Medium: Various
Artist: Various artists
Description: Oldtown is so rich in unexpected art finds that it deserves its own art walk. Oh, wait. It's every first Friday. Art here is like a transfusion of culture, filling otherwise empty windows (like the long-shuttered Dick Bruhn's and the Greyhound Station) with color and style. There's a bubble wrap Spider-Man atop the 4Word Art Gallery/Downtown Book Sound. Every month, new kids' art adorns the busy interior of Maya Cinemas. V-Luxe Vape & Art sounds like an obvious place to find art, but it's not an obvious place to find. At all. But check it out at 319 Main St., #8, as well as the skateboard store neighbor, lined with skate deck art. It's closed for repurposing, but the Amtrak station contains, inside, 1941 train murals by John A. MacQuarrie. Outside, on actual trains, graffiti appears. And then there are the random sculptural installations of artist Martin Zuniga on sidewalks and street corners.
Location: Salinas fields
Medium: Cutouts
Artist: John Cerney
Description: You see them in various fields around Salinas: big cutouts of farmworkers and growers, merrily going about the work of bringing us the produce we eat. They're idealized, like billboard advertisements, and got drawn into a fruitful debate about how art can influence people's perception of reality when painter Warren Chang painted a commentary of such called "Imitation of Life." In it, Chang painted a more realistic depiction of field workers in which they're not smiling, comfortable, well-dressed and obedient, working underneath Cerney's looming cutout. It's an excellent contrast in the power of art.
Bonus: Cerney's cutout painting of the old farmer in the hat suggestively holding two heads of lettuce is hilarious and, hopefully, unintentional.
Location: Chualar Union Elementary School, 24312 Lincoln St., Chualar
Medium: Outdoor mural
Artist: Jose Ortiz
Description: This mural is in the recognizable style of Ortiz (who also provided art for a Weekly cover years ago). Kids, Aztec gods and goddesses, workers, students, land – all stylized, magical realism working through it like a dream. This mural's primary color is blue, which makes the sparse ochres and oranges much warmer.
Bonus: Look across the street at the wooden fence with its childlike messages of peace.
Location: Old U.S. Highway 101, Gonzales
Medium: Sign painting
Artist: Various
Description: Get off at the 313 exit on Highway 101 South (also christened here Bracero Memorial Highway), head to town, and you'll be greeted by a blue welcome sign painted with pictograms that spell out "Bienvenidos Gonzales" – an ice cream cone for the "I" and two stalks of artichokes for the "L," etc. Off in the distance is the white Gonzales water tower – that's depicted as the "O" in the sign.