Patrick Dunne's first night on April 29 as a Covid-19 patient at Salinas Valley Memorial Hospital was, in a word, "terrifying," Dunne says. "I didn't know which way it could go."
Nurses dressed in their "space suits," as he describes their personal protective equipment, were by his side constantly over the four nights and five days he was hospitalized. They made sure he was getting enough oxygen so he could properly breathe and checked the fluids he was receiving and made sure his vitals remained stable.
"The people were super and very dedicated," says Dunne, a 75-year-old Salinas resident who recently retired as president of Palma School. "If it wasn't for them I may not have made it so I'm very thankful."
That there was a Covid-19 ward of SVMH nurses in "space suits" all goes back to the start of 2020 and the intensive planning that began after the World Health Organization announced on Jan. 9 of a pneumonia-like virus emanating from Wuhan, China. It wasn't long before Monterey County Health Officer Edward Moreno and Epidemiologist Kristy Michie were receiving daily updates from the California Department of Public Health. They in turn were updating the four hospitals in the county: Community Hospital of the Monterey Peninsula, Mee Memorial in King City and Natividad and Salinas Valley Memorial in Salinas.
Representatives from all four hospitals began planning on how they would work together should this mysterious coronavirus come to Monterey County. It did come officially in March, and after Moreno issued a shelter-in-place order on March 17, the first two hospitalizations were reported on March 29; cases locally remained at what doctors say were manageable levels. That continued through April and early May.
Then came Mother's Day, and within two weeks cases began to increase in a more pronounced way. The numbers fluctuate, but they have been on an upward trend. Moreno said on July 20 he doesn't see that trend changing anytime soon. Hospitalizations began creeping upward into the teens, then 20s, peaking on July 16 at 54. (It dropped to 43 by July 20.) That has the hospitals' doctors worried. Three doctors from CHOMP, SVMH and Natividad were alarmed enough to make a plea to the mayors of the county on July 10, calling on them to step up enforcement efforts. And this week, for the first time, the four hospitals are embarking on a public information campaign to educate residents about the importance of keeping up shelter-in-place and face-covering efforts.
There are enough beds and ventilators as of now, but medical workers don't want to reach a point when there aren't. SVMH Infectious Disease Specialist Allen Radner is nervously eyeing rising numbers of cases among inmates at Monterey County Jail, and prison inmates in Soledad. The very sickest incarcerated patients are transported to hospitals – as of press time, two Monterey County Jail inmates are hospitalized for Covid-19, down from four – putting more of a strain on first responders, healthcare workers, the number of beds, PPE supplies and even medications.
Covid-19 will be with us for a year or more and case numbers, hospitalizations and deaths will rise and fall, Radner says. The goal is to find a balance by doing enough sheltering in place, physical distancing and wearing face coverings to slow the spread of the virus so hospitals don't get overwhelmed.
On the same day that the three doctors made their plea to mayors, Natividad's Chief Executive Officer Gary Gray had a message for the Natividad Board of Trustees during their monthly board meeting, where a few staff members sat distanced from each other around a boardroom table wearing masks, and trustees attended via Zoom.
From behind his mask, Gray said, "It's important to understand the situation is not getting better."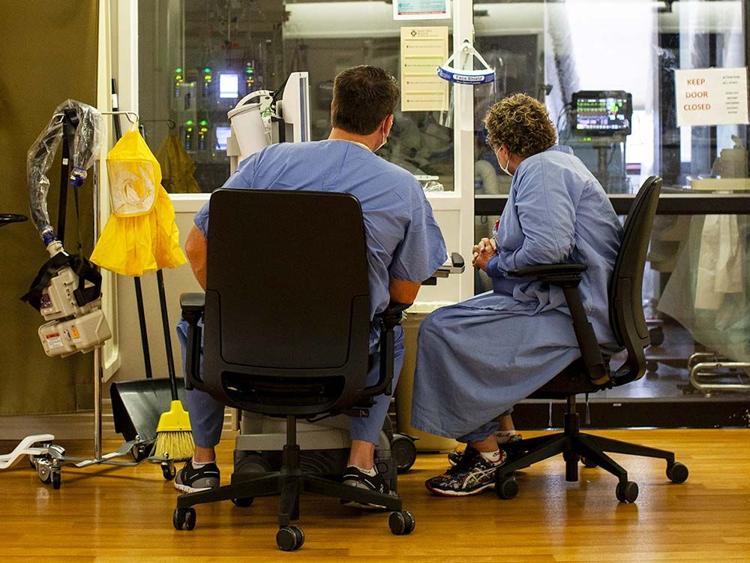 IT'S THE MEDICAL WORLD'S VERSION OF PLAN FOR THE WORST, HOPE FOR THE BEST. Each time an epidemic somewhere in the world threatens to spread beyond borders into more and more countries and communities, Monterey County's four hospitals start planning, should whatever viral outbreak is happening make its way here. The hope is that those plans created by doctors, nurses and administrators will never have to be launched into action.
Initial planning among the four hospitals for what was at that time thought to be a new coronavirus was already in motion in Monterey County as the virus was spreading from China to other countries.
The doctors, nurses and administrators were conferring. How many beds would be needed countywide should the virus turn into an epidemic or even a pandemic? How many ventilators? How much personal protective equipment was on hand? How much should be ordered?
On March 12, the Weekly published a story outlining how Covid-19, which hadn't officially been reported in the county yet, was already shutting down events and creating havoc because of the uncertainty, as well as hospital preparations underway.
Martha Blum, an infectious disease specialist for CHOMP, said at the time the hospitals of Monterey County were prepared. Hospitals have disaster plans that mean they can increase the number of ICU beds as needed or transfer patients from overtaxed hospitals to less-impacted ones.
The uncertainty of the disease and the many unknowns about it pushed hospital and county agencies to make plans for a surge of patients, and in fact they were required to do so by the state. Even the county's small rural hospital, Mee Memorial, was required to buy PPE and other supplies with money it didn't have for a potential surge that didn't come. But that doesn't mean it won't come.
BRACING FOR OVERRUN HOSPITALS, OFFICIALS ENVISIONED A MASSIVE TENT on a 55,000-square-foot alternative care site to house up to 350 patients. It would be constructed at Joby Aviation's property at the Marina airport as a place to serve patients who required hospital-level care, but not so sick to need the full supplies of a brick-and-mortar hospital. After an early surge never materialized, Joby needed the space back for the factory it's building and those plans were set aside. The concept of an alternative care site somewhere in the county could be materialized if necessary in the future, say county and state officials.
Sheltering in place was working, Moreno would tell reporters on regular briefing calls throughout the month of April. The number of days it took for case numbers to double had decreased from every day before SIP to every five days after, Moreno said on April 3. Residents just had to keep up staying home.
The political pressure – as well as noted health benefits of working and living in community – mounted. Calls on officials to reopen businesses and put people back to work increased throughout the spring just as the weather was getting warmer and summer holidays approached.
Less than two weeks after Mother's Day weekend, on May 22, Monterey County experienced a jump of 22 new cases in one day. Two weeks after Memorial Day: 62 cases. Then came the return of indoor dining on May 30, later in June Father's Day, and by June 27 the cases made a dramatic jump to 101 cases. On July 4, just two days after the state announced Monterey County was on the state's watchlist, cases saw their biggest increase so far: 149 cases. There are dips and peaks, and as of July 19 there were 135 new cases, followed the next day with only five. (The data is based on when the County Health Department receives test results, meaning they do not correspond to test dates or onset of symptoms.)
The trend that got local hospitals worried, however, was when they began to see a surge in patients earlier this month. After a high of 26 patients on April 18, patient levels dropped down to a low of two on April 28, then began climbing slowly upward. (There were 43 patients as of July 19.)
ICU patients, which never reached higher than five from March through June, increased to seven on June 23, climbed to 11 on June 27. The number dipped down to six several days later, but by July 18 it was up to 12, with 93 beds still available.
It doesn't seem like those numbers would make doctors nervous. But on July 10, Blum from CHOMP, Radner from SVMH and Craig Walls, chief medical officer of Natividad, told the county's mayors they were worried, and joined a virtual meeting of the Monterey County Mayors Association to ask for help on enforcing SIP and mask-wearing guidelines.
"Ignoring this will be a catastrophe," Radner told the mayors.
"Anything you can do [to enforce social distancing]," Walls said, "you are saving the lives of your constituents."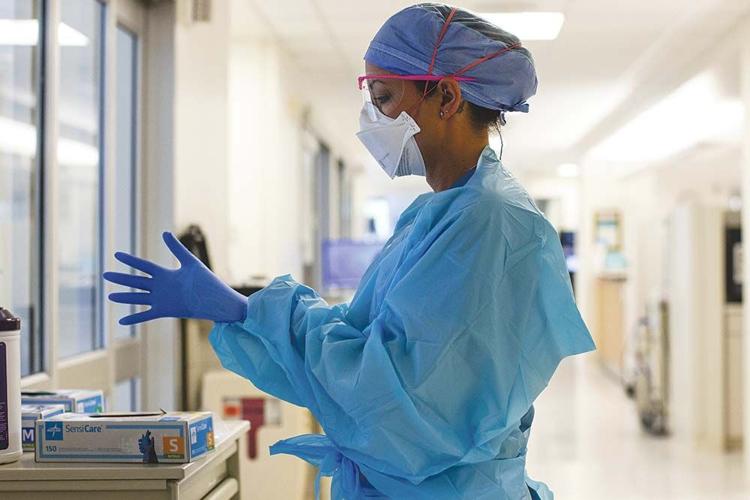 BESIDES BEING AN INFECTIOUS DISEASE DOCTOR, BLUM IS ALSO A MOM OF SCHOOL-AGE CHILDREN. When schools first shut down in March, another mom asked her, on a scale of 1 to 10, how worried was she?
"I was telling her 3.5 to a 4," Blum says. The county was doing "all the right things," by issuing the shelter-in-place order. "I wasn't as worried as I am now."
On the same scale, as of mid-July, she says she's now at a 7. People aren't following shelter-in-place or face covering orders as much as they should and she feels the problem isn't getting the same level of attention, "but it's as important as ever to do all the same things."
Radner, who visits critically ill Covid patients at SVMH as well as Natividad and CHOMP, says he became concerned when hospitalizations began to increase from two or three patients per hospital to the high teens to now consistently over 20 patients. Since at least 5 percent of Covid-19 patients need ventilators, that means a greater number of critically ill patients who are in need of mechanical ventilation.
The raw reality is that some of those people are going to die – researchers disagree on what the percentage is, but emerging research suggests the rate of death among Covid-19 hospitalized patients is much higher than that of the flu; in a three-week period in mid-April, for instance, there were 15,000 counted coronavirus deaths in the U.S., compared to 2,250 for the same time period in a peak flu season.
The increasing number of Covid-19 patients also threatens operations in the rest of the hospital. As happened in late March and April, elective surgeries and procedures could be postponed. Radner and other doctors worry about patients with chronic conditions or those who need emergency medical help unrelated to Covid-19 putting off treatment or become fearful of entering clinics and hospitals.
One of the biggest challenges is that patients who do go on ventilators don't go on for a few days, they stay on for weeks. The national average for ICU stays in normal times is 3.8 days. A heavily sedated Covid-19 patient on a ventilator can spend three weeks or more in ICU.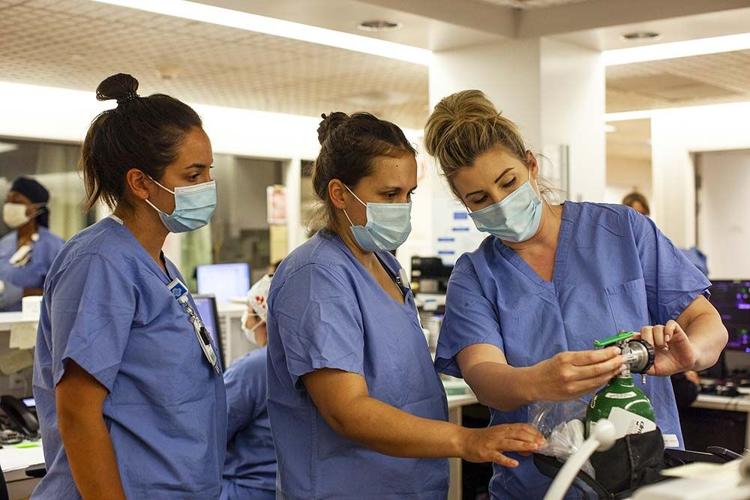 JOHN RIDDELL HAS BEEN PREPARING FOR THIS PANDEMIC – or an emergency like it – for years. The director of engineering services and safety at CHOMP and his staff together have been training and conducting drills at the hospital to prepare for numerous possible scenarios where massive numbers of patients need care all at once. "As you can imagine, this is my bread and butter," he says.
The engineering staff created a surge plan for the hospital, identifying areas that can be transformed into units that can be converted to care for more patients. They've constructed more oxygen lines and outlets for increased numbers of ventilators. Riddell calls it a bittersweet time because of Covid-19's tragic nature.
"I don't want to say we're enjoying it, but it's very meaningful for us that we can come into action and do our part to care for our community in these dire circumstances," he says.
It's also been a stressful time, as staff members carry the weight of not just caring for critically ill patients, but the weight of caring for themselves and their families. Hospitals are looking for ways to keep their employees from burning out.
"We take care of patients, but we don't always take care of ourselves," says April Ritchie, director of women's and children's services at Natividad. Ritchie launched programs within the last year to help nurses deal with occupational stress and depression that are being used now during Covid.
In February, Natividad rolled out an interactive screening program for depression developed in partnership with the National Foundation for Suicide Prevention that helps connect participants anonymously with professional counselors. Other initiatives include providing links to videos on meditation, yoga and other stress reduction techniques.
In addition to what hospitals are doing internally, the community has offered help and support through donating meals and making masks for employees to wear out and about when they're not at work wearing authorized PPE. There's something everyone in the community can do, Ritchie says.
"Just basically wear a mask and follow the guidelines," she says. "The less people we have who are sick and needing hospital care, the better."
---
Covid-19 TIMELINE
JAN. 9, 2020
The World Health Organization announces a pneumonia-like disease in Wuhan, China.
Jan. 21
The first case of Covid-19 is confirmed in the U.S. in Washington state.
Jan. 30
By this date, Monterey County health officials have investigated three potential cases of Covid-19 and found zero infections. Five cases in the U.S. have been confirmed.
Feb. 2
Health officials confirm two cases of Covid-19 in San Benito County, in a man who recently returned from travel to China and his wife.
Feb. 6
A 57-year-old woman in Santa Clara County dies after experiencing a flu-like illness. Her death would not be attributed to Covid-19 until April.
March 4
With California's first reported Covid-19 death, Gov. Gavin Newsom declares a state of emergency.
March 5
The Monterey County Health Department announces the county's public lab will begin testing for Covid-19.
March 6
There are no confirmed cases of Covid-19 in Monterey County, but the county Board of Supervisors declares a state of emergency as the impacts of the virus spread across the country.
March 7
California health officials issue guidance on large gatherings. The first wave of event cancellations in Monterey County begins.
March 13
The Monterey County Office of Education announces all K-12 schools in Monterey County will close for the remainder of the month. There are 157 confirmed cases of Covid-19 in California.
March 13
Monterey Bay Aquarium announces is will close at least until March 27.
March 15
Gov. Newsom calls on bars and pubs to close temporarily, and orders restaurants to cut their seating by 50 percent. There are 335 confirmed cases of Covid-19 in California and six deaths.
March 16
All 12 cities in Monterey County have now declared a state of emergency. By this date, 96 people in Monterey County have been tested for Covid-19, and zero tested positive.
March 17
Two cases of Covid-19 are confirmed in Monterey County. Health Officer Edward Moreno issues shelter-in-place orders that take effect at midnight that night and are scheduled to last until April 8.
March 21
The first Covid-19-related death of a Monterey County resident, a man in his 50s, at Watsonville Community Hospital, is reported. There are 11 confirmed cases of the virus in the county, and 12,528 confirmed cases in California.
March 26
Monterey County schools announce they will remain closed at least until May 4.
March 31
Monterey County schools announce they will remain closed at least through the remainder of the school year. A second death is attributed to Covid-19, of a 97-year-old woman at CHOMP. There are 40 confirmed cases of the virus in Monterey County.
April 8
With 64 confirmed cases of Covid-19, the Monterey County Health Department begins reporting the ethnicity of infected patients; about 60 percent are Latino and 30 percent are white, consistent with the county's demographics overall. A third person, who is 92, dies from the virus.
April 14
Monterey County has confirmed 100 cases of Covid-19.
April 30
An order requiring people to wear face coverings in public places in Monterey County takes effect.
May 4
A new shelter-in-place order takes effect in Monterey County that allows some activities, like golf and construction, to resume. There are 235 confirmed cases, and six deaths attributed to the virus in Monterey County. This marks the beginning of "Stage 2" reopening.
May 15
A 74-year-old and 89-year-old die from coronavirus, bringing Monterey County's death toll to eight.
May 26
Monterey County Board of Supervisors votes 5-0 to ask state officials to grant a variance allowing Monterey County to expedite reopening of certain sectors. The supervisors have support from the executives of all four of the county's hospitals. There are 429 confirmed cases of Covid-19 in the county, and 99,090 in the state. The incidence of the virus is 28.6 per 100,000 population in Monterey County.
May 30
The California Department of Public Health approves Monterey County's request for a variance to advance into "Stage 2.5" of reopening. Sectors that may now reopen, with guidelines for safety in place, include: dine-in restaurants; barbershops and hair salons; schools; libraries for curbside pickup; childcare; cleaning services; car washes; dog walking; pet grooming.
June 12
Monterey County's next stage of reopening begins, with hotels, campgrounds, wineries and bars, gyms, zoos and museums allowed to reopen. There are 865 confirmed cases of Covid-19 in the county, with a single-day increase of 51 new cases, the second-largest increase reported to date.
June 16
Monterey County exceeds 1,000 cases of coronavirus, and 12 deaths. Latinos are disproportionately impacted, accounting for 80 percent of the cases, but only 59 percent of the county's population.
July 2
An increase in Covid-19 cases puts Monterey County on Gov. Newsom's watchlist for potential re-closure of some businesses, including indoor dining, aquariums and bars. The incidence of Covid-19 is 137.3 cases per 100,000 population; at the time the variance was granted, it was 28.6 per 100,000. There are now 1,748 total confirmed cases; 63 percent of those have recovered. The county has three days to show progress on controlling the virus to be removed from the watchlist.
July 6
Newsom announces that six counties on the state's watchlist, including Monterey, must go into a more restrictive SIP as "Covid-19 cases continue to spread at alarming rates." There are 2,692 cases in Monterey County, 1,328 recoveries (49 percent) and 15 deaths.
July 8
Monterey County bars and indoor dining are ordered to close for three weeks, at least until July 22.
July 13
Newsom announces additional SIP restrictions for the 30 counties on California's watchlist, including Monterey. Gyms, hair and nail salons, tattoo parlors, offices in non-essential sectors, places of worship and malls are ordered to close after a surge in cases. Over the previous two-week period, California reported 109,910 positive cases, one-third of the total since the state of the pandemic, and 1,104 deaths (out of 7,040 since the state of the pandemic). In that same two-week period, California has experienced a 27.8-percent increase in hospitalizations and a nearly 20-percent increase in intensive care patients.
July 21
There are 3,379 confirmed cases of Covid-19 and 21 deaths in Monterey County, and 227 patients have been hospitalized. The incidence is 257.3 per 100,000. That is higher than the rate in other counties including Alameda (103.2), Sacramento (131.6) and San Diego (145.3). The highest incidence rates are in Colusa County (332 per 100,000) and Los Angeles County (313).