To capture the sprawling, shifting and complex organism that is Monterey County's visual arts scene is a daunting prospect. So we asked a number of people from the arts community to describe it from their own perspective. We talked with a teacher, a student, a nonprofit director, a gallerist, two artists, a curator, a director and a collector. Taken together, their insights offer something like a collage, one that shows us there is more work that can be done, but that there is also much cause for hope – and no shortage of surprises. Here are 10:
Little old monterey county can do potentially big things.
David Ligare may be Monterey County's painter laureate, a neo-classical artist slated for a big retrospective at the Crocker Art Museum and an accompanying book. He is also a student of history.
"I believe that any society, no matter the location or the ethnic makeup, has the potential to do really extraordinary things. Both fifth century BC Athens and 15th century Florence had a population of about 50,000, yet they created some of the greatest cultural works in all of history. There is this potential but it has to be inspired and encouraged by the leadership, otherwise it all lies fallow."
Art classes are actually returning to schools.
You would be forgiven for believing arts in schools is an oxymoron. Budget cuts have starved curriculums and expelled teachers. Enrichment is a lost art. But no longer, says Paulette Lynch, the executive director of the Arts Council for Monterey County.
She points out there's been a convergence of three things set to change what we know about arts education: 1) "No Child Left Behind," which narrowed school curriculum to focus on standardized testing – and in doing so, squeezed arts out – is giving way to an emphasis on inquiry – and project-based learning; 2) there is more money for schools in the 2013-14 state budget that Jerry Brown signed into law; 3) that same budget institutes a new kind of K-12 funding called the Local Control Funding Formula, which Lynch says gives more consideration to the schools most in need.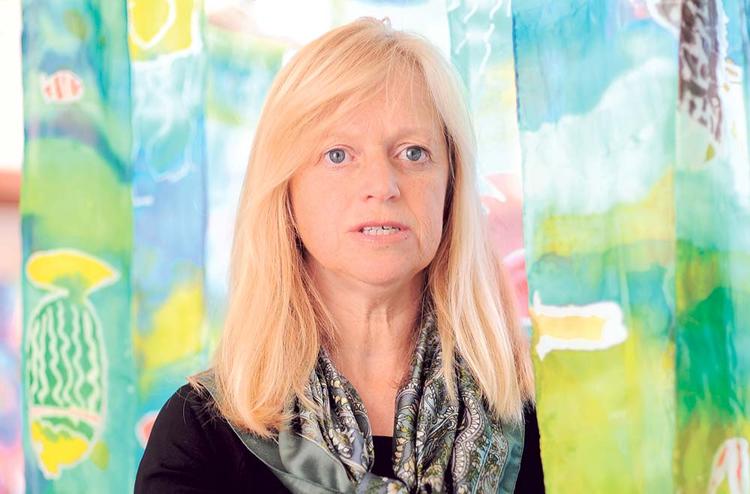 Lynch sees evidence of the change already. She says when the Arts Council first implemented its Professional Artists in the Schools program in 1988, they were supplementing art curriculums. By the time she got to the Arts Council in 2004, teachers had been let go to the point where they were the art curriculum.
"Most of the time we [had] to call schools to provide artist teachers," she says. "Now my arts education director has been getting calls all month."
Their work is going to be bolstered by more good news: The California Arts Council received an increase, from $1 million to $4 million, in the last budget.
"What starts in the schools spills out all over," she says. "Everything is positive. I really feel vindicated."
Artists will continue to keep coming and living here.
Artist Tracey Adams has lived in Carmel for 22 years, but her art – music-informed, geometric, organic and abstract paintings – tends to live elsewhere, like Palo Alto, Seattle, Chicago and Boston.
"My work is a stretch," she says. "I think the appeal is a little bit more urban than here."
She says she would be further along in her art career if she lived in New York City or another large city, but she loves living here. Other artists did too, including Edward Weston, Judith Deim, Ansel Adams, Ellwood Graham, Armin Hansen, E. Charlton Fortune, Emile Norman.
"This is my home. I love the outdoors, the forest, the physical beauty of the ocean," Adams says. "The ocean provides nourishment to me."
She makes fewer sales, but she teaches yoga and pilates to supplement her income. And relationships to people, as well as the landscape, can be just as rewarding; she's had beneficial ones with the team at Monterey Museum of Art, and she's been represented by Carmel's Chris Winfield for 22 years.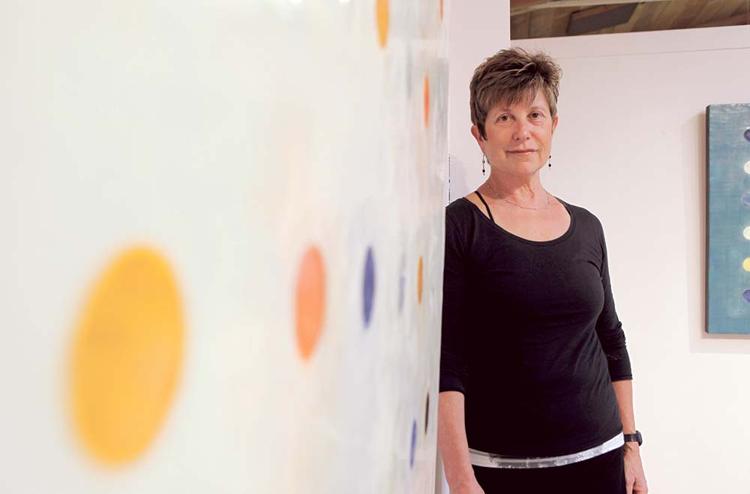 Clever collaboration trumps ugly economy.
If the arts illness in Monterey County was the Great Recession, the Carmel Valley Art Association demonstrates the formula for a cure: teamwork plus talent plus location plus focus. The group is 10 years old, with 50 members, co-owned and housed by John and Shelley Aliotti at their Valley Girls Gallery in the Village.
"From the time we opened our doors we've done very well," says Jim Pederson, gallery manager and CVAA co-founder. He ascribes that to the deep roster of local talent, which offers buyers much variety; the artist cooperative staffing at the gallery, which lets visitors talk with artists instead of sales people; and the groups' adherence to teamwork over politics, which adds cohesion. And it doesn't hurt to be in Carmel Valley.
"We now have 22 wine tasting venues in the village and excellent restaurants, so we are a destination," he says. "And that's happened in the last few years."
Not all galleries throughout the county can tap that kind of tourist foot traffic – Pederson estimates that half their sales come from visitors from Europe – but other lessons can be gleaned. Artists Ink in Salinas has marshalled many talents into an exciting and active organization that's collaborated with Teatro Campesino, National Steinbeck Center and the guerilla theater group Baktun 12. The smallish Seaside Artists Studio Tour survives by virtue of its artists banding together once a year and keeping an invisible scene, literally, on the map.
Risky business can be good business.
If downtown Carmel, as an art locale, is its own planet, the Carl Cherry Center for the Fine Arts is one of its moons – a vibrant and beautiful moon. It's tucked away in a woodsy north-east residential part of Carmel, so people have passed it before even spotting downtown. But when people want art (and theater and film and music, etc.) that is contemporary, substantial, experimental, challenging and fresh, they find it. Like the nude figuratives of the recent Figure and Ground art show, which was paired with a stage performance of a one-woman play that featured nudity; or the heady and abstract art show that accompanied the Joseph Campbell festival.
Executive Director Robert Reese says newness is their mission.
"The types of exhibits we've done would not necessarily be an exhibit you would see in downtown Carmel," Reese says. "We've tried to be able to show art without worrying too much about whether it's going to sell."
So although the Cherry is an outlier in content, intent and geography, it has changed the Carmel cultural landscape. It has its own gravity. Years ago the former Alternative Cafe in Seaside pulled off that same trick with awesome success. SOMOS Gallery and Media in Salinas still is. And finding success on one's own terms can be rewarding in a way that a sales leger can't measure.
Art collecting is coming back, and reaching out.
Eric Del Piero and his wife Teresa are longtime art collectors, especially of Monterey Modernist paintings.
But not recently.
"It's been a long dry spell since the big recession. As far as acquiring and living with art, people were precluded from it to pay other bills," Eric says.
He believes that's changing.
"I think as the economy improves, the ability of people interested in collecting increases. It's not going to be just well-heeled people; I think there's going to be a resurgence of people who are middle class going back out and collecting."
He says he's seeing more people at live auctions, and that Christie's and Sotheby's are teaming up with transactional websites to conduct online auctions for those who can't fly out to New York. And last month, Arts Habitat, Monterey Museum of Art and Carmel Art Association held a discussion called "This Business of Art," paneled by MMA Executive Director Charlotte Eyerman, Santa Cruz Museum of Art and History Director Nina Simon, and others, aimed at instructing serious artists how to position themselves for success and sales. It will take people with disposable income to complete that loop.
The biggest museum is taking some of the biggest risks.
Karen Crews Hendon is a relatively new transplant. She brings a perspective honed from the dynamic Los Angeles art scene to her job as the chief curator at the Monterey Museum of Art. (The museum's executive director, Charlotte Eyerman, also comes from L.A.) Hendon thinks they are not alone.
"It's my sense that more people are moving here, adding to the mix, to the scene," she says. "It's new people, perspectives, artists, galleries, entrepreneurs, enthusiasts – especially in the last year and a half."
Some of the new ideas she would like to import to the museum: art that's interactive, meaningful, that engages both the historical and the contemporary, that crosses disciplines, "like art and technology, or music and conservation."
"I also feel a responsibility to push the boundaries, to make people think and feel in ways that haven't been explored before," she says. "That may make people uncomfortable and I understand that. [But] art can be everywhere and it doesn't have to stay neat and tidy on a wall. It's about turning [the museum] inside out."
With a museum as important as MMA, their direction creates a powerful wake.
The next generation of artists are getting ready.
Lila Staples has taught art history and museum studies at CSU Monterey Bay for 14 years, and has served as chair of the Visual and Public Art Department for the last few years. From her perspective, she is afforded a look into the future of local art by virtue of her classes, most of which have a component that requires students to serve and work off campus.
"Our program is unique in terms of attracting young emerging artists attracted to community activism," she says.
The local art community has stepped up, with artists coming to speak to students, and local museums waiving admission fees. Staples estimates that after graduation, many students stay, at least in the short term, to work at the Aquarium, Pacific Grove Museum of Natural History, Monterey Museum of Art and the National Steinbeck Center.
Justin Thornton is a former CSUMB art student, a current intern at Youth Arts Collective and is on his way to an art school in Sante Fe.
"It's hard to find mentors [here] but once you find them, you'll really get to know the whole community," he says. "The first jobs I did for free just to get to know everyone. Then the [paid] jobs started coming."
Staples sees a give-and-take.
"It's a really healthy relationship we have with the [local] arts community," she says. "They've been warm and welcoming to our students and in return I think our students have contributed enormously in young, 21st-century thinking and perspectives."
Monterey county arts are getting more inclusive.
Trish Sullivan is the catalyst behind Salinas-centric art happenings like the First Friday Artwalk in Oldtown, the Uno/One Salinas Arts Festival, the Bailando con la Muerte (Day of the Dead), and Portal Galleries. She's also one of the organizers of Artoberfest, Salinas and Salinas Valley's artists studios tour, and runs her Oldtown art/book/curiosity store called 4Word Art Gallery.
Trish Sullivan is a one-woman industry of the arts in Salinas. And she feels optimistic.
"I think we have a lot of stuff going on," she says. "[It's] a lot more inclusive, a wider variety of art, a lot more things happening for young people, a lot more acceptance of art outside the mainstream. It's not a bunch of blue hairs in an exclusive setting."
The fresh brand of inclusiveness she's seeing includes street art, lowbrow art, graffiti art, stuff that is revitalizing art among young people at spots like SOMOS Gallery and V-Luxe Vape & Art in Salinas, and the bounty of variety coming out of Sol Treasures in King City.
And Sullivan, like others throughout the county, are not waiting passively to put art in the forefront. In September her First Friday Artwalk celebrates its 10-year anniversary with special live music, interactive kids art, a flash mob and a few surprises.
There is an artist in each of us that wants out, now.
Art is not the domain of the privileged. Arts patronage can be as easy as simply looking, asking questions, reading. Carmel is home to one of the most concentrated few blocks of art galleries in the country. Various local museums and art centers have long offered affordable art auctions and raffles (especially of smaller pieces) by reputable artists that can serve as primers into buying art.
There are several avenues into making art, too. On Meetup.com, the Monterey Drawing & Painting Group, Seaside Paint & Sip (with 66 "sippers") and the Monterey Bay Photographer invite people of varying skill levels to hone and share their work. Many artists offer workshops of varying cost to guide amateur hands along their creative paths. And Beverly's Fabric & Crafts and Michaels are both hubs of amateur and professional arts and crafts. The state of visual arts in Monterey County remains thankfully in flux, subject to everyone's own involvement in it. So jump in.