It was the first day of last month, on a rural stretch of Highway 49 just south of Mariposa, near Yosemite. Sunrise was still a half hour away when brief gunfire shattered the quiet of a drizzly morning and several lives at the same time.
A Merced man later identified as Brian Ballasch, 35, was driving away from Mariposa when Sheriff's Deputy Rudy Mirelez attempted to stop his vehicle for erratic driving. According to police, a brief chase ensued, followed by a short-lived shootout, in which Ballasch allegedly fired shots that tore through Mirelez's chest and face.
Around two years before the shooting, Ballasch was at the center of repeated, frightening and unforgettable outbursts at CSU Monterey Bay. Classmates and faculty report events that fit into a sad cautionary tale about what appears to be a clear case of post-traumatic stress disorder (PTSD) – and how to better deal with it. According to multiple witnesses, he yelled in at least one professor's face and, at various times, said things like, "You must listen to me. I've seen people die." On other occasions he scribbled intense threats on assignments he was turning in. He acknowledged PTSD resulting from three tours as a Marine in Iraq to classmates.
According to multiple sources, at one point he threatened CSUMB staff so fiercely a tenured professor – with a year sabbatical and a major grant on the way – switched careers, citing a lack of university protection as a major consideration.
Now, as Ballasch faces nine felony counts, including three for attempted murder, the fallout is dramatic, albeit incomplete, including scores of surgeries for Deputy Mirelez, who survived. It is also instructional – and inspiring. One former classmate, in fact, is turning her terrifying interactions with Ballasch into fuel for her life's work.
Ballasch's mental fitness for trial will be considered by the Mariposa Superior Court in two weeks, a week after Veterans Day. A university's – and a country's – ability to diagnose and treat the symptoms of combat also faces a reckoning.
The questions that persist include one made plain in Ballasch's case, and in an era haunted by veteran violence and campus shootings (see sidebar, p. 22): If we are unable to sufficiently treat someone so openly struggling with mental illness, how can we hope to help those who suffer quietly?
• • •
The words were some of the most powerful in a film soaked with intensity.
Retired U.S. Army Capt. Luis Carlos Montalván, who was awarded a Purple Heart for surviving an ambush, talks to documentarian Ben Selkow as part of Buried Above Ground, which screened at the Carmel International Film Festival Oct. 24.
"I had an old sergeant who taught me sage words," Montalván says. "He said, 'Smile, be nice. But always have a plan to kill everyone in the room.'"
Montalván recounts being slowly suffocated by an absence of treatment post-deployment.
"Not having an outlet for talking to therapists was killing me," he says. "I saw so many people get killed… little kids scarred by bomb blasts, faces blown off, suicide bombers, marketplace bombs with body parts laying everywhere.
"I did my job, I was the leader… but there's no training for that."
Some 450 million people – or 8 percent of the world's population – will develop PTSD. As Buried demonstrates, many of the cases will be triggered by non-combat trauma, whether from domestic abuse, natural disasters, accidents or rape.
But a staggering amount of military personnel deal with PTSD daily. The U.S. Department of Veterans Affairs estimates PTSD afflicts almost 31 percent of Vietnam War veterans, as many as 10 percent of Gulf War veterans, 11 percent of veterans of the war in Afghanistan and 20 percent of Iraq War veterans – hundreds of thousands all told.
An additional thought from Montalván doubles as a tagline for the film: "What if the worst thing that ever happened to you felt like it was still happening?"
• • •
A sharp noise rang out, and Brian Ballasch dove to the ground. He clutched for his waist, looking for a gun that wasn't there. So reports his former boss Bryan Imrie, owner-operator at Yosemite Ziplines and Adventure Ranch in Mariposa.
It was as if Ballasch was trying to respond to a conflict 7,400 miles away, to a trauma a decade old. The offending sound wasn't a sniper's shot or a bomb, but a slamming door to a porta-potty.
Imrie hired him after a friend recommended he apply there. Imrie says Ballasch seemed "instantly" like a great guy, with a detail-oriented focus, the brawn to handle the gig and a willingness to work on his admittedly less-than-stellar customer service instincts.
"Military hires had worked out well for me," he says. "And the job is tough enough to do: We're talking 100 degrees, backpacks, picking people up. Veterans make good team players."
On a second occasion, the loud clacking of a zip line carriage against its stopper made Ballasch throw himself to the ground again. Imrie says Ballasch conceded maybe he wasn't ready for the gig, and wouldn't accept a paycheck for his work because he didn't feel he earned it. Checks sent to the Merced address where he was believed to live with his grandma were returned. (Weekly calls to that address went unanswered.)
Co-worker Ryan Vincent saw Ballasch was "wound pretty tight – not much of a sense of humor." After Ballasch told him of tours in Fallujah, Iraq, going door to door in Humvees, Vincent invited him over to have dinner with his dad William, who served three tours as an infantryman in Vietnam.
Ballasch told William he had seen friends blown up in front of him. One instance occurred during a tour with the U.S. Marines' Tow Platoon Headquarters and Service Company, when he saw best friend Lance Cpl. Michael Probst killed by an improvised explosive device in Iraq's Al Anbar province, according to a news report. Ballasch also told William he felt abandoned by the Department of Veterans Affairs, "like all the VA did was give him psychotropic drugs, not counsel," William says.
William penned a letter to U.S. Rep. Jeff Denham, R-Turlock, and suggested a bill to establish more services for returning veterans, including civilian job training and psychological care, rather than immediate reentry. He hasn't heard back.
"PTSD has been around since war began," Vincent says. "They indoctrinated us into attacking machine gun nests and then expected us to be calm. You can't take a guy out of a combat zone and then just put him in American family life."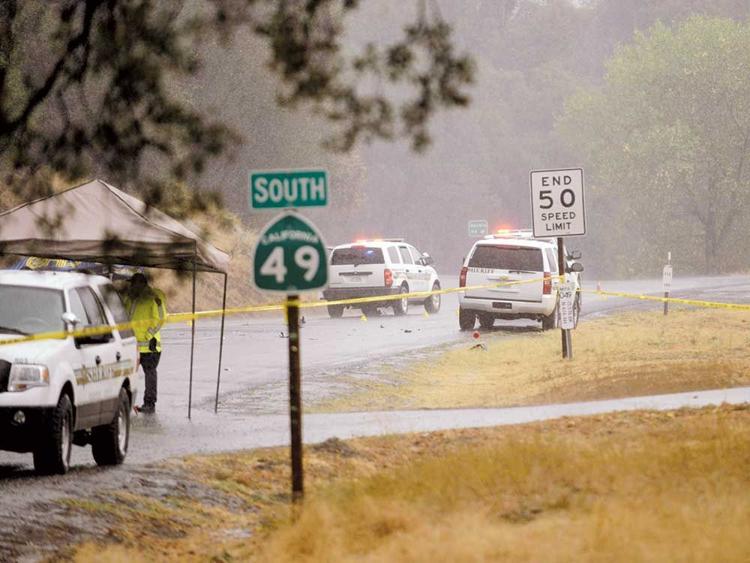 • • •
In a tiny town like Mariposa, with around 2,000 residents and zero stoplights, Ballasch's name is known.
His parents own a home there, though they don't reside there anymore. Ballasch attended the local high school and was involved in sports while growing up.
On Oct. 1, his name rattled the tight-knit community.
Just before 6am, Deputy Mirelez tried to stop Ballasch for swerving, but Ballasch wouldn't pull over. Mirelez radioed for help, and three more deputies joined the pursuit.
The chase didn't last much longer. Two deputies who initially followed detoured to set up a road block. Ballasch wrecked into the patrol cars as he turned to avoid them, crashing into a ditch.
Seconds later, he stepped out of his totaled car and began to shout at the deputies, police say. He then opened fire with a .45-caliber handgun, according to the sheriff's office report, striking Mirelez in the mouth and chest.
Deputies returned fire, striking Ballasch in the elbow and right ear. Once hit, Ballasch dropped his weapon and was immediately arrested.
When the news spread, some in the small local law enforcement agency were shocked to recognize Ballasch's name from high school.
Local Mariposa Gazette reporter Carol Reiter, who reported on the shootout, says an event like this is unprecedented in her small town. "It just does not happen here," she says.
• • •
Hours before the shooting, an officer-safety advisory on Ballasch circulated through the Merced Police Department. Merced Police Lt. Matt Williams says he first received a call from the San Benito County Sheriff's Office the previous day, Sept. 30. The caller told Williams that officers should be careful around Ballasch if seen and to not "BS him." It was a warning to police, but nothing else, Williams says.
The advisory stemmed from the concerned members of a veterans support group Ballasch belonged to. Williams says the members called authorities to say they were worried about him, that he was "wound pretty tight." The warning added Ballasch might be traveling home to his native area armed with a weapon.
But Williams contend there wasn't enough to require law enforcement to check on him or contact him for questioning, so his officers did not. They did not circulate the officer-safety bulletin beyond the Merced PD either.
"He wasn't a threat at that point," Williams says. "We don't just do welfare checks on people. Did I have information about a specific threat? No, I didn't."
The next morning, Mirelez – a deputy Williams knows personally – was critically injured, allegedly by Ballasch.
"We all beat ourselves over it. I beat myself over it, and not a lot bothers me," Williams says.
He says he repeatedly asked himself if there was anything he could have done.
"Ultimately I realized there was no way to predict what people are going to do," he says.
The officer-safety advisory was shared with the Mariposa Sheriff's Office, about an hour from Merced, only after tragedy struck the small town.
Unfortunately, this was not the only occasion in Ballasch's sad saga when a warning wasn't better recognized.
• • •
As a student, Ballasch was the outlier of a tight-knit group of mathematics majors at CSUMB.
He would sit in the back of the classroom, away from chit-chat between classmates, and rarely approached anyone.
His classmates figured he was shy. But signs of trouble began to peek out when classmates would engage him in conversation and Ballasch would make offending remarks and vaguely allude to scarring experiences from his time in Iraq, one of his classmates, Alfred Brown, recalls.
Classmates would thank him for his service, and brush off his ill-mannered comments, but Brown says if you ticked Ballasch off once, that was it for the relationship.
"He was a man driven by his emotions," he says.
Another classmate, who also served as a teaching assistant in one of Ballasch's classes, recalls a specific comment.
"I remember one time he said that he has a lot of demons in his head when he sleeps," Daniel Serrano says. "That stuck with me."
Ballasch wasn't close with many classmates, but admitted to dealing from PTSD.
"He said he had it under control," Serrano says.
Once, during a Fall 2013 upper division service learning class, where social justice issues would be part of in-class debates, Ballasch snapped.
"Everyone was having a nice debate, but during the interaction, Brian started making racial comments. He said there should be a separation between Mexicans and white people because they affect the outcome of white people," Serrano says.
The discourse lasted 30 minutes.
"It was the first time in my life that I experienced racism," Serrano says.
After that altercation, Ballasch became more isolated from the class. He talked even less with his classmates and would storm out when comments he disagreed with were made. Serrano says he stopped wanting to go to class because of Ballasch's behavior.
During the spring 2014 semester, Ballasch's attendance became spotty and he became more prone to aggression, Serrano adds. That session Ballasch had three classes with math professor Rachel Esselstein, a longtime CSUMB staffer who enjoyed a legacy of positive student reviews. Serrano was the teaching assistant in one of those classes.
"When grading his homework he would write super long paragraphs in response [to assignments], saying it was bullshit," Serrano says.
During this time, classmates witnessed glimpses of violent episodes, and Serrano and Brown say there were also a lot of rumors about his behavior. Both heard from a classmate that one night, Ballasch punched through his vehicle's window to get a set of keys out.
One day Esselstein refused to grant Ballasch special timelines for turning in homework and completing quizzes. When that disagreement helped lead to a low score on a quiz, Ballasch lost it, screaming, red-faced, just inches from his professor, according to classmates.
Serrano also recalls Ballasch screaming at Esselstein during office hours.
"I came in and asked if everything was OK, and she said, 'Yes,' but I could tell she was terrified," he says.
Ballasch once told Esselstein he would make sure she never came back to the mathematics department, Serrano says.
Esselstein was vocal about her concerns on campus and Serrano says she brought up Ballasch's threats and erratic behavior to the department head. The primary advice from College of Science Dean Marsha Moroh and Administrative Support Coordinator Anne Baldwin, according to multiple sources, was that Esselstein not talk to Ballasch, a tricky task given the small department and the three classes he was taking from her.
"Rachel tried to help, but she couldn't get the help that he needed," Brown says.
Esselstein filed at least one campus police report. In February 2014, campus officers were called to assist her. Police were aware that Ballasch had been sending emails to Esselstein complaining about her teaching methods. The police report also states the dean knew about her discomfort with Ballasch, though it doesn't specify Dean of College of Science Moroh or Dean of Students Christine Erickson.
At one point Esselstein canceled class, something she hadn't done in years. Eventually security was stationed outside of her classroom, and Andy Klingelhoffer, who is a member of the school's Care Team – a team meant to identify potential students in crisis to come up with a collaborative response to the issue – sat in on the class. According to witnesses, Klingelhoffer saw Ballasch storm out of class and slam the door.
The threats scrawled on his homework – which included "I'm trained to take out a dictator like you" – continued. Three graders asked to be removed from any responsibilities related to Ballasch's work. It was all made that much more intimidating because it was happening around the time of the 2014 UC Santa Barbara student shooting that left six dead and 14 injured in Isla Vista.
Esselstein soon left her Monterey Peninsula home, her longstanding work with the Sea Otter Research and Conservation program at Monterey Bay Aquarium, her tenured post, a sabbatical in the year to come and a $1.5 million grant to help local elementary schools in large part, according to multiple sources, because she did not feel safe.
Professor Rafael Gomez, who served as a CSUMB faculty rights advocate with the Monterey Bay chapter of the California Faculty Association union, says the administration violated her contract – and she could file a grievance if she decides to do so. According to her contract – and the contract of every CSUMB faculty member – it is the duty of CSUMB to defend its staff when they feel unsafe.
"I attended meetings with the administration and pointed out that according to our contract, it was their responsibility to protect her," he says.
The university did not take her concerns as seriously as they should have, Gomez says. From the perspective of a faculty member, he says the school's response was "unacceptable."
Gomez contends CSUMB did not have the necessary counseling services or experienced people on staff to treat troubled veteran students.
"The basic issue here is [CSUMB was] not prepared to deal with that type of student," he says.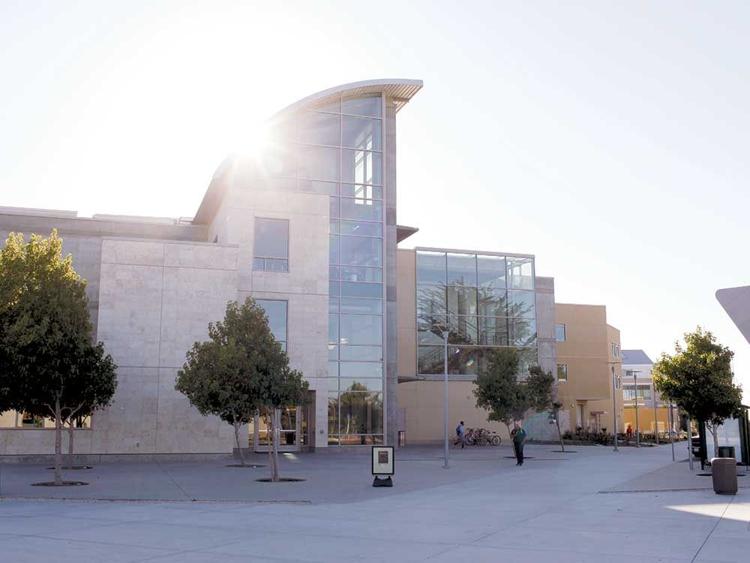 MENTAL HEALTH AWARENESS
---
It takes more than a plan to prevent a violent act. It takes education and prior detection of the problem. Numerous national and regional charities offer information on how to treat certain mental health issues. One local charity, AIM for Mental Health, aims to fill a void in mental health research in the Monterey Peninsula for young people. On Nov. 15, the Aim for Awareness Walk & Rally in Pacific Grove includes a two-mile walk that will end with a cluster of informational booths from regional mental health services. Registration donation is $10 for youth 18 and under and $25 for ages 19 and over. All proceeds will be used for finding better treatment and cures for child brain and mental health disorders. More at www.aimformentalhealth.org. Other national mental health resources appear here:
National Institute of Mental Health (NIMH) www.nimh.nih.gov
National Center for PTSD (U.S. Dept. of Veterans Affairs) www.ncptsd.va.gov
National Institute of Neurological Disorders and Stroke www.ninds.nih.gov
---
• • •
Even with Ballasch in jail, one of his fellow math majors spoke only on the condition of anonymity because she and her family are so concerned for her safety.
During a spring 2014 outburst, she remembers, "He said, 'I've been in war.' He said, 'I've seen things you have never seen,' and 'You better listen to what I have to say.' He kept saying, 'I've seen my friend die.'"
She remembers being struck by the university's understated response to reports of the shouting matches. But it wasn't until she was across the country that she became so unnerved she alerted CSUMB's Math Department Chair Hongde Hu and her advisor, Assistant Professor Judith Canner.
She was spending the summer of 2014 before her senior year studying statistics on the East Coast. Ballasch emailed her to share graphic designs he made for a math club T-shirt and poster. His self-given name for his design persona: The Mathematics Demon.
She didn't pay any attention to the sender's email address as she fired off a quick reply saying she didn't have the authority, access or bandwidth to help.
When subsequent emails started rolling in, she realized who was sending them quickly.
One reads: "Hopefully you guys get it: I am a human being that deserves equal respect no matter what you or others may personally think of me or what I've done here or in the past. All I want is to make it through this; alone if that's necessary. All I ask is that you please try and avoid injuring me further, as you can obviously see it's hard on me."
Another: "I do in fact want to be [at CSUMB]; even after all the stuff some of you have put me through… Someone please help me get through this."
Still another: "I'm about sick and tired of the way I've been treated here by both the faculty and the students."
Hu and Canner told her they would take care of it, and to not respond.
One reason the math major expected more action from administration was because seven people were cc'd on the email, including the university provost and other professors.
When the time came to return to campus, she had nightmares. "I was scared, I didn't feel protected, I didn't feel my school had my safety in the forefront of their minds," she says.
She has since graduated with honors and gone on to pursue her master's in biostatistics, which she plans to use to identify broad patterns in illness and medicine.
When she heard what happened that early October morning, she felt crushed.
"I hoped so much he would get help and lead a happier life and not feel so stuck," she says. "I was really sad for him and the deputy who got shot."
Then she felt something else.
"I felt a new calling," she says. "It was a moment when God told me, 'This is what you should do.'"
She hopes PTSD research can use a mind like hers to crunch data and identify greater patterns.
"We have so much data, not only in trends of human behavior but how the brain is working behind the scenes," she says. "With that data, it's important to have people professionally trained in statistics to advance public safety and health."
• • •
Something noble appears on the CSU Monterey Bay Student Support webpage titled "Distressed & Disruptive Student Behavior": "Our most distressed students are ambassadors with special sensitivities to who can help us all, if we listen."
That evokes the biggest question for campus officials who were aware of what was going on: Who was listening?
The Weekly called and emailed Dean of College of Science Marsha Moroh, Math Department Chair Hongde Hu, Dean of Students Christine Erickson and President Eduardo Ochoa asking for insight into how the university dealt with Ballasch's outbursts.
Moroh responded, directing the Weekly to senior Office of the President spokesman James Tinney, adding, "We should all speak with one voice."
Tinney cited a federal law commonly known by its acronym, FERPA. The Family Educational Rights and Privacy Act, as the U.S. Department of Education website lays out, "protects the privacy of student education records."
"We can't even confirm disciplinary action was taken," Tinney says.
He did acknowledge the demands of weighing student opportunities and safety.
"It's challenging to find a balance between providing access and difficulties students might have and protecting our safe environment. As we cast a wider net [in recruitment], we're going to have more students who are troubled."
He says conversations include talks at the faculty senate level: "There has been a discussion. Disruptive, troubled students on this campus – and every campus – is recognized as a problem. We've tried to lay out in concrete terms where people can go for resources."
The primary place he recommends: the "Distressed & Disruptive" webpage. As of last week it has a new tab: "Assisting Students in Distress," which lists four types of indicators (academic, safety risk, physical, psychological), protocols on who to contact in the case of reportable circumstances and an invitation to "See something. Say something. Do something."
Tinney adds CSUMB makes a point of reaching out to veterans, offering services and celebrating them at graduation, which makes sense for a former military base with its own veteran Fort Ord Alumni Association.
"We figure it's part of our legacy," he says.
• • •
If convicted, Brian Ballasch could face a minimum of 45 years in prison.
But his attorney Katherine Hart has been building up a defense where his PTSD plays a major role.
For a couple of weeks now, two court-appointed doctors – a psychiatrist and a neurologist – have been evaluating his mental state. The doctors' reports are scheduled to be made public during a Nov. 17 hearing, where a judge will determine if Ballasch is mentally fit to stand trial.
While Ballasch remains in custody at the Stanislaus County Jail, Hart hopes she can seek treatment for him at a state or local hospital. She believes his mental illness may go beyond PTSD.
"I think he is in a serious mental situation," she says. "It's looking to be a very complex case."
After his first court appearance – days after the shooting – Ballasch shouted. "If the family is here, I hope you are OK," he yelled, according to a local TV report.
But despite showing remorse, Hart says she feels Ballasch is unable to comprehend the gravity of the allegations. She says he refuses to cooperate with her – and even yelled in court that he wanted her gone.
Hart worries that, while in custody at a small county jail, he is not getting the treatment he needs.
That would fit with a pattern.
ARE LOCAL CAMPUSES READY?
---
The number of campus shootings nationwide continues to escalate. Since 2013, there have been at least 153 school shootings in the U.S., according to Everytown for Gun Safety. That's nearly one a week.
That hit home in late September, when a family member flagged a threatening voicemail from 56-year-old Hartnell student Cary Palmer. A Sheriff's Office statement reports "he mentioned shooting the college." During a welfare check at Palmer's residence, deputies seized a cache of weapons, including high-powered rifles with attached scopes, an "AR-style" assault rifle, a tactical shotgun, three handguns, a compound bow and 905 rounds of ammunition.
Less than two weeks later, on Oct. 9, Monterey Police responded to a hoax bomb threat at Monterey Peninsula College.
Some local colleges better prepare students for threats than others.
CSUMB works with the Text Alert System and has an outdoor emergency siren system across campus. When students enroll, they are automatically registered to the school's alert matrix, which notifies students of any emergency via text. Similarly, Hartnell College's Everbridge Mass Notification contacts students and faculty via email, text and phone in case of an emergency. All faculty and students are automatically enrolled.
Monterey Peninsula College relies on an Incident Command Center that is activated when there is an emergency on any of the three MPC campuses; security monitors updates via police radios and coordinates with the Monterey Police Department. Then the Text Alert System program sends students and faculty texts to notify them about the incident. The major difference: the alert system is automatic for faculty but opt-in for students, meaning they have to go online to join. An unscientific poll conducted by MPC student paper El Yanqui found very few students know it exists. Yanqui Managing Editor Michael Beck is among those who would prefer a different approach. "It's much better to be in an opt-out system because you get participation and can actually get a hold of people," he says.
---