"Days and Nights is really a lightning rod," composer Philip Glass says. It seems to attract energy, as a gathering of thinkers, a creative performance revue, a contemporary music showcase.
---
---
Next week, Sept. 25-28, Glass' Days and Nights Festival returns to Carmel, Big Sur and Seaside for its fourth year. Each of his namesake festivals is done in support of his dream of building a legacy performance and meeting hall in Big Sur called the Philip Glass Center for the Arts, Science, and the Environment. This year's events wholly embrace each of the center's three pillars, and throw in humor to boot.
"These topics are so big they can't be by themselves. We take parts of things and put them together," Glass says.
It comes together in four days of music, poetry, film, science, environmentalism, storytelling and dance, sometimes in the same performance. Like in the films of former Christian Brothers monk Godfrey Reggio, or in the playful hijinks and sudden swells of emotion of radio host Ira Glass' dance performance. It's such a medley that even Philip Glass (a working, whirling dervish who travels constantly) struggles to keep it in order.
"It happens in many ways; on the stage [or] in the minds of the audience," he says. He has help. While he's curated the nighttime portion of the festival, the daytime programming has been given over to the chair of CSUMB's Cinematic Arts department, Enid Baxter Ryce [full disclosure, with a touch of bragging: she's my wife], who's assembled a lineup of films, an animation and puppetry workshop, talks and a social event, all free to the public.
"[The festival] is paying for the filmmakers to be there," she says. "They're doing these free events, giving free [or discount] tickets to students. It's pretty staggering to think about the talent that's coming to our community because these foks have decided to invite them. They're making a commitment to here, to us."
Days and Nights packs in a lot of stuff into its… days and nights… but somehow it all makes sense.
Day 1
PHILIP AND GODFREY, TOGETHER AGAIN
The first day begins in Seaside and ends in Big Sur. At 2pm on Thursday, at CSUMB's Cinematic Arts studio, visionary film director Reggio is set to talk to film students, as he did last year, and screen his short film Evidence. (Take note: he is a profound thinker and speaker.)
"I found the [film studio] an energized place," Reggio says. "It speaks well for the program… to have an institution that recognizes that genius, virtue, [intellectual] capacity doesn't exist by virtue of economic [advantage] but exists in us all."
Evidence is scored with Glass' music and looks like a precursor to their latest film, Visitors (showing later in the evening), like when the camera slowly pans across the faces of kids and it looks like them watching us watching them watching us, etc.
Jaron Lanier is also set to talk, but more on him in a bit.
Later that day, Reggio and Glass reunite at Henry Miller Memorial Library at 8pm for a screening of Visitors (which has been championed by Steven Soderbergh). The duo appeared at the library last year to screen their Powaqqatsi, a propulsive film that feels like a roar of ideas. Visitors seems a slower, more enigmatic and meditative film. There are thousands of shots in an average length feature; there are 74 indulgent shots, mostly in gorgeous digital black and white, in Visitors.
Reggio has a refreshing ability to stay open and engaged to meaningful stuff while not being moved by artifice or criticism. His film promises to be a work with a singular goal of inspiring thought and feeling. That's all Reggio cares about.
"The critics have called [Visitors] the most expensive screensaver ever made, they've called it ridiculous, they've [ascribed] the most lofty comments I can conceive," he says. "I want to warn the public that comes to Visitors that this is an animal of a different stripe. I welcome them. I love the film. For some it will be a deprogramming."
Godfrey and Glass, two sages in their 70s and still making vital work (Glass just did an opera about Walt Disney) will speak before the film, then do a Q&A afterward.
Day 2
JAMMING (MUSIC AND WORDS) IN BIG SUR
"We're not a research center. We're a cultural center," Glass says.
The second day of the festival simply shifts gears. Glass brings together some of his talented musician friends to accompany the poetic sojourn of spoken-word performer Jerry Quickley. The poet can do a personal, political, funny and funky style of verse, one that can add warmth and soul to this evening under a roof of stars at Henry Miller. He'll be backed by four musicians: Glass, Matt Haimovitz, Tim Fain and Jaron Lanier.
Glass will be on keyboard. Cellist Matt Haimovitz has played in the Philip Glass Ensemble, and gained attention by touring nightclubs across the country playing Bach cello suites, and by doing his own take on Hendrix's "The Star Spangled Banner." Violinist Tim Fain, who's also played in the Philip Glass Ensemble, performed music in the films Black Swan and 12 Years a Slave, and brought his multimedia solo show to Sunset Center last year.
Jaron Lanier is a writer and a classical music composer, but he's also a prominent computer scientist. He left Atari in 1985 to sell virtual reality goggles and gloves (he's credited with coining the term "virtual reality") and work on Internet2 (another Internet stream used exclusively by researchers and educators). He wrote You Are Not a Gadget and Who Owns the Future before landing on Timemagazine's 100 most influential people list in 2010. He'll be playing rare instruments.
"The fun part is I really can't explain it," Glass says. "What I'm trying to do is [provide] an intersection of how things meet. These are the kinds of people I like to hang out with."
Day 3
SCIENCE IS REAL
Evidence suggests that science is cool again. Note: CBS's nerd-friendly hit TV show The Big Bang Theory, Neil deGrasse Tyson's own TV show Cosmos: A Spacetime Odyssey, STEM (science, technology, engineering and mathematics) curricula in schools. And then there's Brian Greene.
"Brian Greene is a real science star," Glass says. "He's the real thing."
He's a theoretical physicist, a string theorist and co-director of Columbia University's Institute for Strings, Cosmology and Astroparticle Physics. He founded the World Science Festival in 2008, then proceeded to decipher the science for the rest of us in TED Talks, TV shows and appearances, and books like The Elegant Universe and Icarus at the Edge of Time. That last one is a children's book and has been turned into a video/music/storytelling performance, scored by Glass, that is the main event at the Sunset Center. (Free for kids 14 and under, $10 for students with ID.)
The day begins 2pm at Sunset Center with a free screening of H2O MX, presented in partnership with Ambulante, a film festival centered around social issues. H2O MX is an artfully shot and urgently told Spanish-language documentary about Mexico City's water issues. At 4pm, CSUMB Cinematic Arts animation professor Soyeon Kim leads a spaceship-themed puppet and animation workshop in the Sunset Center lobby, followed at 6pm by a pizza party for kids. Then the performance hall fires up Reggio and Glass's short nature film Anima Mundi.
"One of the best experiences in cinemas I've had," Reggio says of that film. "It's a real delight on the big screen."
That's followed by a Q&A with Reggio, before Icarus takes flight.
Greene himself is narrating Icarus while Michael Riesman conducts the futuristic retelling of the Greek myth. In this instance the boy is aboard a trans-galactic hyperspace flight with his father before he sets out on his own to explore a black hole. The driving music and the special effects-laden video help illustrate the real physics, as well as the story.
"I wasn't particularly good at math as a kid," Glass says. "I was told 'Philip, you better stick with music.' And I did. I wrote three operas about scientists. But science has been an infatuation of mine since I was a kid. My point of view is that the arts and sciences are inseparable."
Day 4
AND NOW FOR SOMETHING COMPLETELY DIFFERENT
At 1pm on the final day, at Sunset Center, Enid Baxter Ryce presents Planet Ord History and Ecology, one of the most direct addresses of environmental concerns (as well as locally derived content) in the entire festival. It's comprised of CSUMB student films that explore Fort Ord from myriad angles, a mini film festival tucked inside the bigger festival.
"I think it's going to be a good year," Glass says. "I think the film part is going to be a very good part of it."
Then Ira goes on. Maybe you've heard the promo on public radio: "This is Ira Glass. Ever wonder what happens when you combine a radio host, two dancers, a theoretical physicist, a composer and an assortment of filmmakers and world-class musicians? Ok, probably not, you've never wondered that."
Ira Glass (yes, Philip is his cousin) is coming to the festival in a touring show called One Radio Host, Two Dancers.
The award-winning host and producer of radio show This American Life, with the laconic enunciation and slightly stuffy tone, is stepping out of the radio control booth and onto a stage with two dancers, Monica Bill Barnes and Anna Bass. He will tell stories. They will dance. Two mediums, Ira Glass has said, "that have no business being together."
There will be sparklers, costumes changes and batons. It looks to be funny, smart and, according to the Philadelphia Metro, ridiculous. But even Philip doesn't seem to be in on all arcana that his cousin may pull off.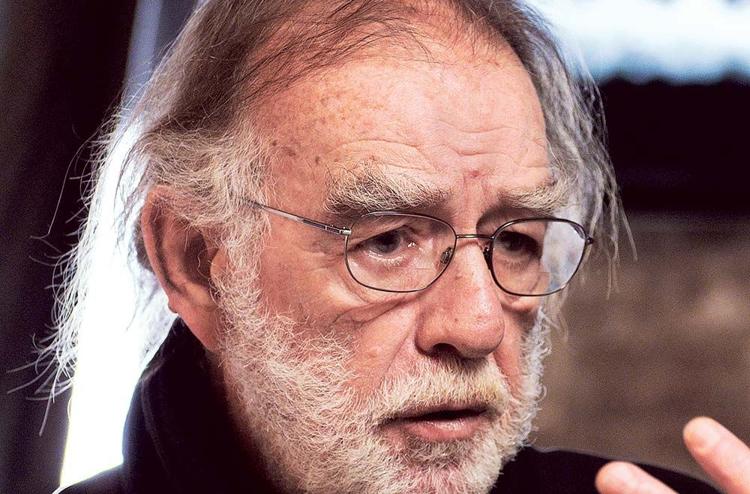 "He takes his stories [from] This American Life and stages them," Philip says. "I was in Ira's show once. He asked if I could write him a 45-second opera, a one-word opera. It was hilarious. [Ira's] a storyteller. That's why everybody knows who he is. The stories are wild."
Just another story in the big, rich landscape of contemporary culture.