Comic books are a physical manifestation of a lot of people's imaginations. They have embodied our fears (evil tyrants, mutations) and our hopes (goodness prevails, science saves). They were once shunned and censored for their so-called mind-corrupting qualities, but have since been lauded as a sophisticated visual and textual medium and promoter of reading. Because the means of publishing has gotten cheaper and more accessible, the range of stories told through comics has stretched outward to reflect and embrace more audiences, even people who didn't think they were fans of comics.
Eric Mora, the Steinbeck Center's marketing director and one of the organizers of its third annual Salinas Valley Comic Con, says that when he was younger, his "bookish" and "awkward" manner typecast him as a stereotypical comic geek. He wasn't.f
"I was kind of a convert," he says.
One of his first jobs out of college was tutoring sixth – and seventh-graders who were reading shamefully below their grade level. Comics, he noticed, enticed and guided them along with exciting visuals, encouraging them to read on their own terms. Although the intellectual and educational merits of comics are well-founded now, that doesn't diminish the joy and engagement they give fans.
The evidence of it is apparent. In its third year, the Salinas Valley Comic Con has outgrown the confines of its birthplace of the National Steinbeck Center (they've reported that it's the most-attended event they've had) and is moving to the immense, airy space of the Student Center at Hartnell College.
"It allows us to do more," Mora says. "We're planning to fill the space."
Like last year, Friday starts things off lively with a free kick-off party at 4pm with panels, vendors, food and Pokemon lures. Then on Saturday and Sunday they open the center to 30 vendors – from Pacific Grove's Imagine Art Supplies to Richmond's Fairytale Fox Designs to Salinas' Tragic Hero Comics – and all-day panels and workshops happening off the big hall in smaller conference rooms.
The "Spotlight on Chunky Girls" (2-3pm Sat) brings back the makers of the comic book that stars full-bodied women superheroes. Between 3:15-4:15pm on Saturday, Jonathan Osburg, who uses comics to teach writing, theory and criticism at Monterey Peninsula College, sits on a panel titled "How We Teach Graphic Novels."
He pondered the duality of humans when he was just 8 years old and saw a cover of the superhero comic Ghost Rider: "I couldn't get my head around how something that scary could also be good. It was my first philosophical awakening."
The Salinas Public Library will create a pop-up reading station stocked with comics and graphic novels from their collection. It's fortified by an exhibit of comic books from UC Santa Cruz's collection. To nurture a family-friendly vibe, there will be face painting, a sidewalk chalk art contest led by Hijos del Sol, and cosplay contests grouped by age category.
Special guests include Andrew Farago, curator of the Cartoon Art Museum in San Francisco; Lalo Alcaraz, author of the nationally syndicated strip La Cucaracha; John Clapp, San Jose State University professor of design and children's book illustrator.
Some of the comics' content, though, is intended for mature (or at least older) audiences.
Comics artist/writer Alex Schumacher will talk 11:30am Saturday about life as an indie comic creator. He hints at his take on it: "If anyone is writing or drawing comics for the money they're certifiable, [or] a greenhorn in for a rude awakening."
One of his creations is a monthly comic strip called Mr. Butterchips, about an angry and crude grinder monkey based on the one that used to take nickels from kids on Fisherman's Wharf back in the day. In Schumacher's hands the monkey is still wearing its bellman's cap and vest, but is now also gripping a beer, smoking a cigarette, and giving us the finger while trash-talking everyone.
"[He's] a great vehicle for satirizing customer service positions, the economy, [the] disappearing middle class, etc.," Schumacher says.
And that's cool. Underground comics icons like Robert Crumb (Zap Comix, Weirdo) and Harvey Pekar (American Splendor) also mined a more pessimistic and cynical mentality to great acclaim.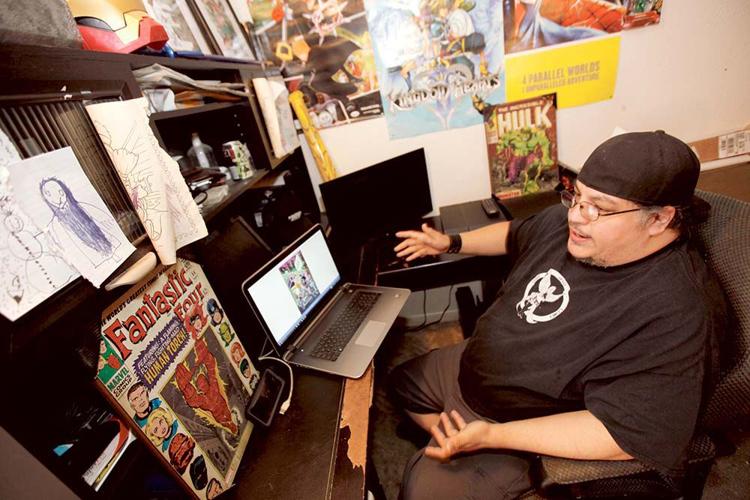 Last year, the con opened on the same day as Star Wars: The Force Awakens. That was a coincidence that organizers parlayed into a force for synergy, bringing in the 501st Legion officialStar Wars fan club who dress as stormtroopers. This year, the con opens the same day as Rogue One: A Star Wars Story. Again, a coincidence, Mora says. But expect a return of the 501st.
There's a strong Latino comics contingent coming by way of the Latino Comics Expo, founded by Javier Hernandez and Ricardo Padilla (11:30am Sat, 11am Sun).
"That's equally important in literature overall," Mora says. "To read things other than the American-European canon and go beyond what we normally see."
Salinas comic creator Bridgett Spicer (Squid Row, Randie & Ryan) is all over this year's con, as a behind-the-scenes volunteer, a vendor who will be tabling her own work and merch, and a workshop panelist for, among others, "Think It, Plan It, Draw It" (3:15pm Sat).
Here she is on the capacity of comics: "For me, comics is a way to interpret the world… to process life. Whatever interests me or perturbs me, gets into my comics. We see ourselves, as a society, in our storytelling. And comics puts visuals to that narration. It's a very powerful medium."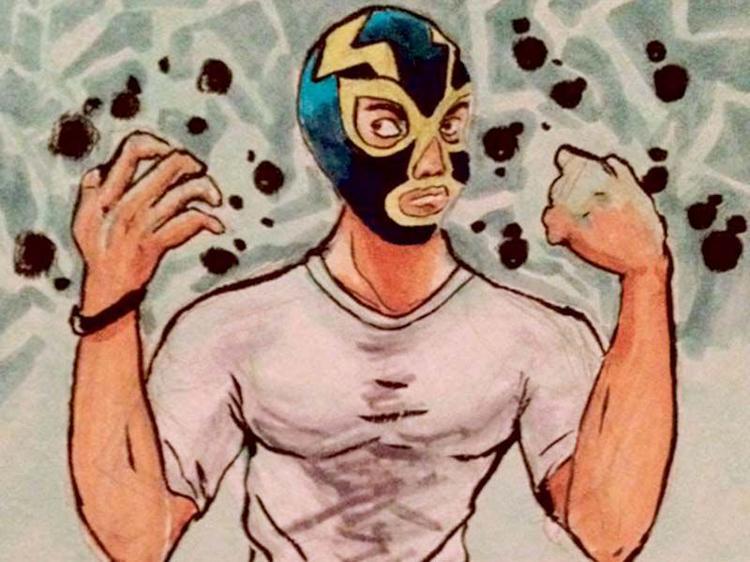 Meanwhile, Andy Warner, whose comics have been published by Slate, Fusion and The Nib, and who's taught cartooning at Stanford, appreciates how a comic con's vibe unifies the diverse voices of the medium.
"I love the community that comes together around comics," he writes from his home in San Francisco. "You spend a lot of time hunched over a drawing table in this job, and it's wonderful how conventions bring everyone together."
SALINAS VALLEY COMIC CON 2016 4-7pm Friday, 10am-5:30pm Saturday and Sunday, Dec. 16-18, at Hartnell College Student Center, 411 Central Ave., Salinas. Free on Fri; $5/Sat or Sun ages 8-12; $15/Sat or Sun ages 13 and up; $25/Sat and Sun all ages. 775-4721, www.steinbeck.org.