A flatbed truck converted into a bus carried 55 braceros – farm workers on temporary visas – from labor camp in Chualar to celery fields in the Salinas Valley on September 17, 1963. The bus collided with an oncoming train, killing 32 and leaving the rest mangled and injured.
The tragedy in Monterey County garnered national headlines and the bracero program, which was maligned by Cesar Chavez and the farmworker movement that rallied around him, was soon killed by Congress. The legacy of the braceros has remained in a cloud since, often remembered by the painful conclusion.
In the narrative of social justice in the fields, the bracero program – which brought more than 2 million men from Mexico to work the land in the United States from 1942 to 1964 – has long been one derided as one that exploited immigrant workers. It was also viewed as bad for domestic workers, who saw their wages decline.
While the past is unchanging, our interpretation of it constantly shifts as the domino effect of historical events leads us in surprising directions – often coming back to what had long been overlooked or not fully understood.
Now Ignacio "Nacho" Ornelas, a historian from Salinas, and Daniel Ruanova, a visual artist from Tijuana, are trying to reshape the narrative of bracero history, using their transnational collaboration to show the powerful impact braceros had on the Monterey Bay area, and the United States as a whole.
"My goal isn't to dismiss the farmworker movement or any of the work done organizing in the fields," says Ornelas, who at 38 is both a historian at Stanford University's Special Collections and University Archives Department and a Ph.D. candidate in history at UC Santa Cruz. His dissertation is loosely titled "The Struggle for Social Justice in the Monterey Bay Area, 1930-2000."
"I want to add an additional narrative to the story, a narrative that shows braceros not as victims, but as men with agency looking to build a future for themselves and their families," Ornelas says.
~ ~ ~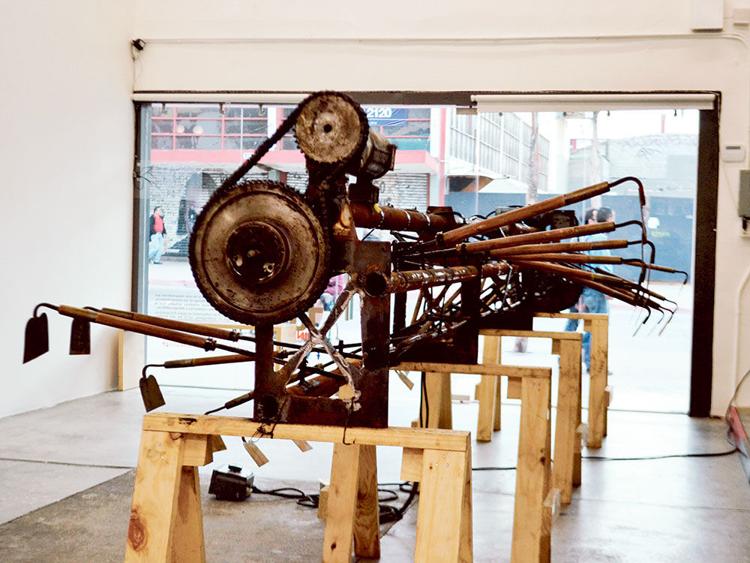 The story of the braceros – meaning "manual laborer" or "strong armed" in Spanish – starts in the ramp up of the U.S. war effort in World War II. Most able-bodied American men were sent to battle, and more than 100,000 Japanese-Americans, many of whom worked in agriculture, were forced into internment camps.
Facing a labor shortage, President Franklin D. Roosevelt's administration came to an agreement with Mexico to offer temporary work visas to their citizens. But after many fieldworkers were kept in sordid conditions and ended up indebted to company stores in the first incarnation of the bracero program during World War I, the Mexican government demanded braceros receive adequate food, shelter and transportation in the second incarnation of the program.
After that program ended in 1947 and undocumented immigration into the U.S. increased in the early 1950s, the U.S. government came to another agreement with Mexico in 1952: They would continue the bracero program in an attempt to stem the flow of immigrants without papers by giving sanctioned pathways to men looking to work. Under the agreement, braceros were not allowed to strike but they were also not allowed to work as scabs to break strikes.
And here is where the narrative splits. Many Mexicans from impoverished countryside communities in Guanajuato, Jalisco and Michoacán saw the program as a more secure alternative to getting to the U.S. than migrating without documentation.
Yet, a burgeoning farmworker rights movement, led by the Mexican-born intellectual and activist by Ernesto Galarza, was adamantly opposed to the bracero program, claiming it undercut domestic workers trying to organize.
As the farmworkers movement increased in strength, politicians had difficulty continuing to the support the bracero program. In 1961, President John F. Kennedy said the bracero program was "adversely affecting the wages, working conditions, and employment opportunities of our own agricultural workers."
Growers claimed that without the program, ag production would shrink and prices would rise. But after the tragedy in Chualar and a decade of organizing in the fields, Washington D.C., decided against the growers.
As the United Farm Workers' official history describes the program's demise: "Farmworkers, led by Cesar Chavez, were able to call upon allies in other unions, in churches and in community groups affiliated with the growing civil rights movement, to put enough pressure on politicians to end the Bracero Program by 1964."
~ ~ ~
From the ceiling in Bracero Cocina, a high-end Mexican restaurant in San Diego, hangs the "Mexican Labor Agreement," a mechanical sculpture with 32 cortitos – short-handled hoes that became emblematic of the bracero program, the quintessential tool they used before cortitos were banned for contributing to back injuries – attached to a drivetrain powered by large gears.
After spending three years in an art district outside of Beijing with his wife, Daniel Ruanova came back the the Americas embracing the identity he had long tried to shun: a border artist, or in his words, a "border rat."
Upon his return in 2013, a restaurateur and childhood friend asked Ruanova to create the conceptual theme and an artistic centerpiece for Bracero Cocina. With a newfound sense of artistic direction he started studying the history of the braceros.
"I started to reach out to all of the academics I could find online that were looking for a different narrative than the politically-correct narrative that is now is the Mexican-American history in the United States," says the 39-year-old artist. "The only person who got back to me was a young guy who had his personal life invested in the idea, and it was Nacho."
Ornelas had already begun documenting the oral histories of 16 braceros in the Monterey Bay region as a graduate student at UCSC. When he started working in the archives at Stanford, he had access to photos commissioned by the anti-bracero and labor-rights activist Galarza to document the scourge of migrant labor on temporary work visas. What Ornelas saw in the photos was not a sodden mass of men in sombreros, but men with volition looking for opportunity.
"My grandfather was a bracero and when I was a little kid and he would always tell me stories of his work that captivated me," Ornelas says.
"But when I first started documenting oral histories of former braceros, the narrative I expected was still what I knew from the literature, even with my grandfather's history. It was the narrative of how exploited, of how taken-advantage-of braceros were, but when I sat down with these men in their late 70s and early 80s, they told me a different story."
A few scholars have called braceros slaves or indentured servants, Ornelas says, but he refutes that as hyperbole.
"I'll never deny that exploitation occurred. The research is there, there was lots of exploitation over the years – 22 years worth of it," he says. "But that doesn't take away from what they contributed to this country and their families."
Ornelas could have continued writing papers and giving presentations to academics, but he was looking for a way to bring his interpretation of the braceros beyond the ivory tower and to the greater public, where many descendants of braceros had already made significant contributions to their communities by holding office, running businesses and working as educators.
That's when the established artist from Tijuana contacted him, wanting to explore the history of the men who participated in a program that has long been derided.
"I told him, 'If you really want to learn about the workers you have to come out to Salinas and touch the soil and talk to the braceros,'" Ornelas says. "Daniel gets it, and through his art he wants to honor the braceros."
The 32 cortitos on the mechanical sculpture Ruanova created for the high-end restaurant are for each of the 32 braceros who died in Chualar in 1963.
~ ~ ~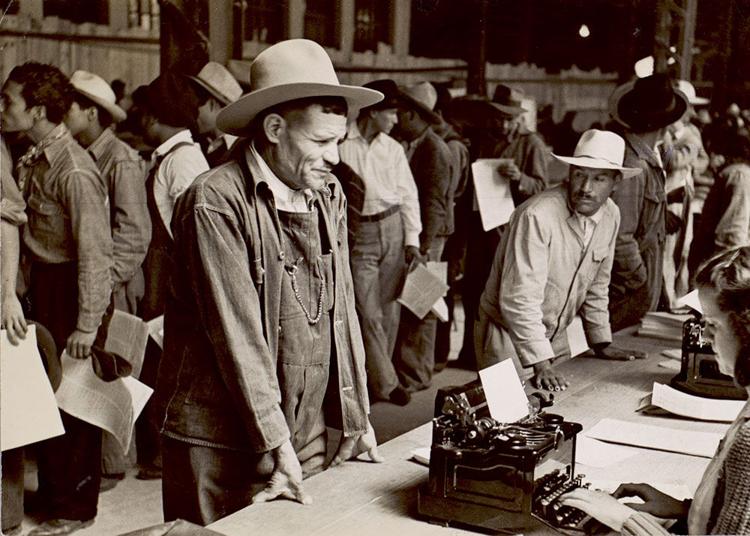 In late 2015, Ornelas and Ruanova launched the Bracero Legacy Project, with fiscal sponsorship from Stanford University, to bring a new popular analysis of the braceros to the public. The braceros weren't a submissive class willing to embondage themselves, the duo contends, but they were akin to the steelworkers who made New York skyscrapers – they built the agricultural land of the West.
When the braceros first arrived to the Salinas Valley in 1942 Monterey County had a total agriculture production of nearly $17.5 million, Ornelas says. By 1964 when the program was terminated the value of county ag production skyrocketed to $152.7 million.
"When I was a teacher, I found a lot of kids were embarrassed about their heritage," says Ornelas, who worked as a U.S. History teacher at Alisal and Everett Alvarez High Schools in Salinas before he went to graduate school.
"I'm tired of people thinking, 'Oh my God, look at these workers, look how depressed they were, we should be sad for them.'' Ornelas says. "No, wait a minute: There's an alternative story here of workers who went through a very important journey in their lives, and that's what we're showing through art and education."
The Bracero Legacy has multiple aspects. The "Mexican Labor Agreement," the sculpture in San Diego, is made so affluent diners are confronted with the ley it takes to bring food to their tables. Ornelas' grandfather always told him work in the fields took lots of ley, literally meaning "law" but colloquially meaning grit, toughness and self-sufficiency.
Ornelas and Ruanova are also producing a documentary, Searching for the Bracero's Legacy. An eight-minute teaser is currently available on Youtube, and they hope to release a full-length documentary in the coming year. In the documentary, they interview Monterey County Supervisor Simon Salinas and former Watsonville Mayor Ana Ventura Phares, both children of braceros.
"The history of the braceros is hardly taught. This region still doesn't recognize their labor," Ornelas says. "Their pay and work conditions might not have been great, but they took the opportunity available to them. Many were able to send kids to college – bracero have sent kids to Princeton and Berkeley. If you look at them at the second generation they have been very successful."
Ornelas and Ruanova have also presented the collection of photos commissioned by Galarza that was once hidden in the Stanford archives. That happens in events like a May 6 talk at the Steinbeck Festival in Salinas, and the May 19 Strawberries and Justice Festival at UCSC.
"We're doing public intervention with archival photography. We're using photos from Ernesto Galarza, who sent out photographers to vilify the braceros. I think it is great redemption," Ruanova says. "Most of the pictures we have of Méxicanos are sombreros with feet, who are ashamed in the lens. Most of these experiences were, in the end, positive for the braceros."
As part of the Bracero Legacy Project, Ruanova is looking to establish an artist in residency program in Oldtown Salinas in the coming year. Also in their sights is the creation of a permanent memorial at the site of the Chualar tragedy off Highway 101. Like in San Diego, there will be 32 cortitos, but in this case it will be an arresting sight to remind the thousands who pass by every day: Remember the braceros.