SCOTT ATHERTON KNOWS TREACHEROUS TWISTS OF ASPHALT ALMOST AS WELL AS FAMED DRIVER HURLEY HAYWOOD – the bumpy confines of Long Beach, that wicked loop at Virginia International known colloquially as "The Bitch" and Laguna Seca's famous Corkscrew.
But Atherton's battles are not won or lost on the track.
"You're always one phone call – and now email – away from some really good news or really bad news," he says. "Even on its best days, motorsports is a difficult business."
As president of IMSA, Atherton's races play out on leather boardroom chairs or during routine conference calls. He and his staff are driven by one goal: to keep the brand relevant.
It's a contest IMSA is currently winning, and in a big way. The sanctioning body celebrates five decades this season. It is synonymous with the finest sports car and endurance racing in the U.S. Some of the world's top drivers team up to challenge a race schedule that runs from January to October on courses from Florida to California. There's the grueling 24 Hours of Daytona, the 12-hour span at Sebring, a 10-hour Petit Le Mans at Road Atlanta, all the way down to 1 hour and 40 minute sprints in Detroit and on the streets of Long Beach.
The series stops at WeatherTech Raceway Laguna Seca Sept. 13-15.
But all of this takes management – track agreements, television deals, the establishment and enforcement of rules and regulations. "A sanctioning body provides a stable, consistent platform," IMSA Senior Director of Race Operations Mark Raffauf says. "We're the umpires. The competitors choose to participate, we provide opportunities."
IMSA's front office staff consists of groups that oversee competition, another specializing in marketing and communications and a third involved in administration – which sounds rather mundane, but involves such critical roles as licensing qualified drivers and ensuring track agreements are in place and teams properly registered.
But nothing can influence relevance – the difficult balance between money, technology, other advancements, format and safety on the one hand, tight, thrilling races on the other – more than the rules and regs.The money flowing into Formula 1, for instance, has created a situation where just two teams vie for the title, with the rest of the field playing an also-ran role. By declining to modernize, NASCAR produces great racing, but there's little relevance in carbureted engines.
"It is without question the most difficult and thankless job IMSA has," Atherton explains. The engineers want to push forward, drivers look for greater stability and speed, sponsors demand a car that runs up front, garnering television exposure – there's a lot of shoving involved, and decisions can take time. Already IMSA officials are working with nine auto manufacturers on new technical regulations for the 2022 season and beyond.
"Cost becomes a major variable," Raffauf says. "It has to be perceived as high tech, but still has to be affordable – that's the hardest thing."
"We've been careful to cap the level of development and sophistication to keep it sustainable," Atherton adds.
That wasn't always the case.
In the early '90s, after two decades of top racing in all of its classes, the cost of staying competitive in IMSA's more advanced prototype class began to spiral out of control. Smaller teams could not keep up, and as they dropped out the big factory operations began to call it quits – including Porsche, which had been the darling of IMSA's first decade.
"The cars became incredibly expensive," Haywood points out. "From my standpoint it was a smart move. It would have bankrupted Porsche."
Then the wheels came off. IMSA began to founder.
IMSA had begun with a conversation between a disgruntled Sports Car Club of America executive, John Bishop, and NASCAR's Bill France Sr. Bishop and France had visions for sports car racing to rival what was going on in Europe. In 1989 Bishop sold IMSA to a couple of businessmen from Florida. Mike Cone and Jeff Parker moved the operation from Connecticut to Tampa. Cone and Parker sold out to Charlie Slater in 1994. International Motorsports Group purchased the series two years later – and crushed its identity, re-branding IMSA as Professional SportsCar Racing, sanctioning events through the SCCA and U.S. Road Racing Championship.
Atherton refers to this era as sports car racing's darkest hours.
"By '96 a lot of people went somewhere else," says Raffauf, who had joined IMSA's front office staff in 1974. "New ownership every 18 months was bad for business."
And things got worse when the USRRC pulled out three races into the 1999 season. Worried about the future of road and endurance racing, the France family developed a new sanctioning body, racing under the NASCAR Grand Am banner.
"The Frances have a big picture view," Raffauf observes. "The Frances have over the years been unjustly portrayed" – the lowbrow aspects of NASCAR with fans waving Confederate flags has something to do with this – "you have to give them credit."
Meanwhile Don Panoz, a businessman, sports car builder and owner of Road Atlanta, fancied an endurance race at his track based upon rules governing the 24 Hours of Le Mans. The first edition of Petit Le Mans wrapped up the Professional Sports Car Racing season and was such a success, Panoz purchased the rights to IMSA and in 1999 launched the American Le Mans Series.
Laguna Seca signed on with ALMS and became a staple on the tour.
ALMS proved to be a hit, as did NASCAR's Grand Am. The two series ran similar classes, but separate races – a clunky arrangement that lasted until 2014, when the sides merged under NASCAR ownership and IMSA sanctioning.
"IMSA has had some high highs and low lows," acknowledges Atherton, who helmed ALMS. "It was a long road back."
The high highs include the legendary sports car races of the '70s, the prototype battles of the mid – through late '80s and the run of ALMS. "But," Atherton adds, "it didn't achieve its true pinnacle until right now."
The merger came after Jim France – Bill France Sr.'s grandson – Atherton and Panoz started to talk and realized that, just as in the original conversation that begat IMSA 50 years ago, they held similar ideas about what sports car racing should look like and which direction it should head.
"The France family – one of the things I have learned is you never question their vision," Haywood says. "He was steadfast in his determination to make this work. The end result is what we have now. We have great racing."
Not only that, the GT cars are familiar – Mustangs, Corvettes, Mercedes AMGs, Ferrari 488s, Porsche 911s, Acura NSXs and the like. And in the top tier prototype class, engines are derived from the street version of cars like Cadillacs and Audis.
"We are the most relevant form of motorsport," Atherton says.
"I GOT ON THE RADIO AND SAID 'I'M RUNNING OUT OF GAS!'"
Hurley Haywood is recalling his most memorable race at Laguna Seca. It was Oct. 3, 1976 and he was piloting a Porsche 934/5 owned by Vasek Polak around the track and doing well – up to that point.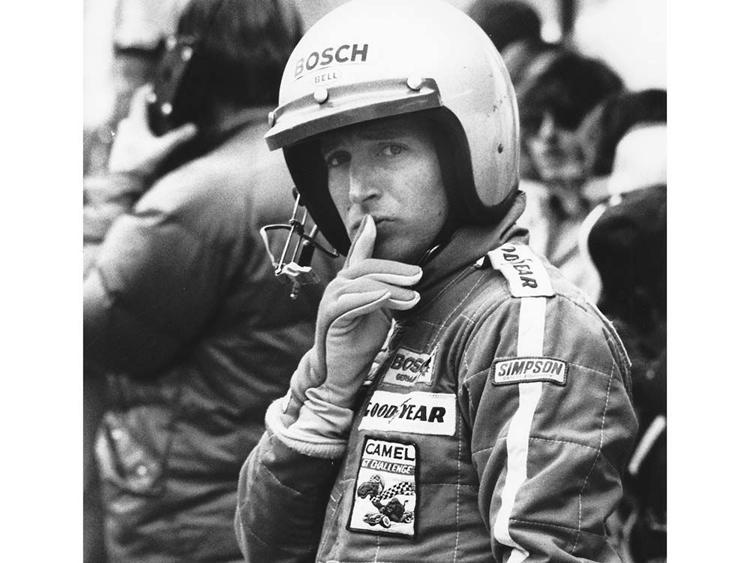 It stands out for the legendary driver in part because Polak had repeatedly asked Haywood to race one of his cars at what was then branded simply as Laguna Seca Raceway. "He was impressed how quickly I was able to come to terms with the [Porsche] 917," Haywood says.
Caught in between regulations that varied from series to series and across continental lines, the factory had prepared a few 934/5s – also known as 934 ½ or "baby 935" – for teams in the US. And Haywood had a chance to put it up front.
What is now WeatherTech Raceway Laguna Seca was a different track back then. Instead of a hairpin leading to a quick infield jaunt through turns 3 and 4, the course took off from Turn 2 straight uphill to the sudden and fast left hander that is Turn 6 in the current layout. The cars hit the corner at 200 miles per hour.
"Get it wrong and you were flying to Salinas," says Raffauf, also the author of a book on the series' early years. "You had to have balls. They were the guys."
Driving race cars in that era wasn't for the timid. Seventy-three race car drivers died in various competitions during the 1970s alone. Safety precautions were scant and most development was geared to make cars faster – often faster than the tires could carry them or the guardrails contain them.
"You had to have a lack of imagination," Haywood explains, "because if you could imagine what could happen if a tire blew when you were doing 230 down Mulsanne Straight [at Le Mans], you probably wouldn't do it."
During the 1986 edition of the 24-hour race at Le Mans, a tire on Win Percy's Jaguar exploded, sending the car airborne with big chunks of its bodywork tearing away. He survived the spectacular wreck. Others in the past weren't so lucky.
"In my era it was dangerous," Haywood says. "But that was our job. We accepted the risk."
The job, as he explains it, involves finding the limits of a race car's capabilities. And while technology evolves and safety improves, the driver's role remains the same. It just happens to be something he excelled at.
Between 1969 and 2012, Haywood took the checkered flag 38 times. He claimed five Daytona 24-Hour titles, three wins at Le Mans and two in the Sebring 12-Hour event. Twenty-eight of these wins came in IMSA-sanctioned events. But he also collected victories driving in Trans Am, Grand Am and other series – mostly behind the wheel of a Porsche.
Along with driving partner Peter Gregg, Haywood won the first IMSA GT race, held in 1971 at Virginia International Raceway. The pair went on to take the IMSA GT championship that year, and Haywood repeated the feat on his own in 1972.
"Hurley is the consummate product of IMSA," Raffauf says.
Haywood's achievements over 40 years behind the wheel earned him Grand Marshal honors at this year's Rolex Monterey Motorsports Reunion. It caps a momentous couple of years. He published a book, in which he came out as gay – a fact hidden from the public throughout his career. A documentary called Hurley, also covering his life, was released. And he was honored at this year's running of Le Mans.
And now he reigns at Laguna Seca.
Haywood won at the track, but not on that Sunday afternoon in 1976. Late in the race, he came on the radio to warn his crew that the car was desperately low on fuel. The team had miscalculated how much he needed to finish. Haywood was forced to coast into the pits for a splash of gas. He wound up with a third-place finish and some obvious regret.
"We would have won that race," Haywood laments.