The 2016 Brompton World Championship USA race at Laguna Seca began with a running (or Le Mans) start and our Brompton bikes fully folded up 50 yards away.
In other words, it started with complete chaos.
At the opening gun, racers – many wearing ridiculous bright-colored suits and ties – run to their bikes, unfold and assemble them, then start riding.
It helps to have practiced this in advance. I (art director/production manager of the Weekly) learned how to fold and unfold a Brompton just the day before, and borrowed a bike from Brompton the morning of the race. And I couldn't remember what color it was, so I ran around looking like a puppy who lost its mama. As everyone else sprinted off, the process of elimination finally revealed my ride.
The collapsible bikes were created in London with the city commuter in mind, so the Brompton World Championship USA at Sea Otter Classic has urban-oriented rules. Required race attire includes a suit jacket and tie with no bike clothing (i.e., spandex) showing. I found my vintage blue plaid skirt suit at a thrift store in Santa Cruz. When I first tried to ride my bike in it, I found the skirt was too long so I got out the scissors, needle and thread and did some hemming. (A side note: My mom thinks my skirt was too short when I raced, but I reminded her, there were shorts hidden under there.)
Once I found my bike, I tore up the opening hill. The top of the racetrack affords great views of the Salinas Valley and Fort Ord that I'd not seen before, but I had to try to ignore the views as I raced down the Corkscrew. My friend on the sidelines yelled at me, "Tuck it!" and I bent my body down into my bike for better aerodynamics – and flapping suit tails – as I flew down the big hill.
The realization that victory was possible struck me on lap three as the announcer said, "Here comes the second-place woman, she just got on this bike yesterday and she's closing the gap!" Wait – I thought – that's me!
Raucous music blared from the speakers. The crowd cheered me on. On the fourth and final lap I grabbed a glimpse of the leader (in her snazzy red skirt) and realized I was gaining. I was in contention. Winning meant a trip to London. The last big uphill favored a local rider like me with a lot of hill experience. I made my move.
As with much bike racing, the festivities headed quickly to the beer tent for a winning toast, where goofy suits mixed with slick tailored outfits, tattoos, beards and stories from the track.
• • •
Brompton's range of models includes multi-geared and upright models, unique colors, luggage options and more. All are easy to ride, fold and stow. Toting the bike to London, I got funny looks on the plane as I loaded the bike into the overhead bin. TSA agents wanted to know more as I put the bike through the security screener. Wherever I went, people wanted demonstrations of how to unfold the bike, and I offered test rides.
I joined other winners from 15 countries – some 500 racers all told – on a flat, scenic course that circled around the mall and past Buckingham Palace. Racing in London was a thrill, but despite my success in the U.S., jetlag and the flat course kept me from the front. But the camaraderie and a chance to bike around London were a win. (Plus all the side contests, like fastest bike folding and best outfit offered other small victories.)
This year Brompton won't do a race on the main track at Sea Otter, but will feature "roller racing" at its booth for the first time. Roller racing is as old as bike racing and involves head-to-head sprints on stationary bikes balanced on rollers. It often involves beer drinking, side bets and cheering crowds.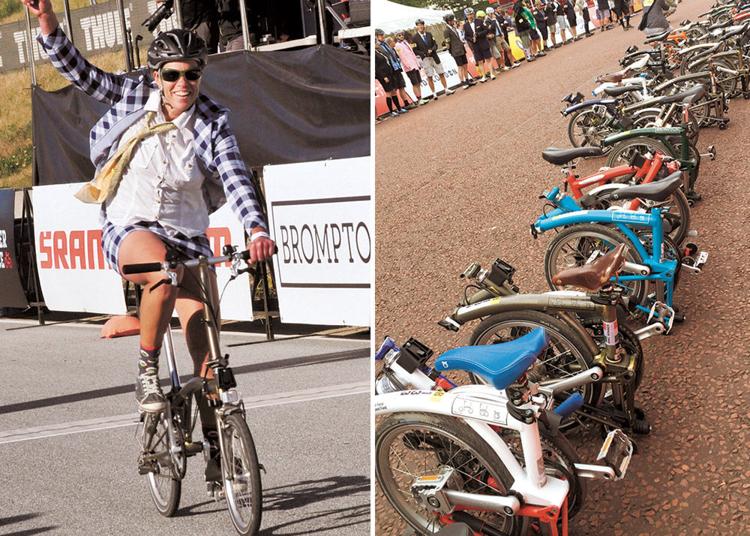 It's the latest in an evolving event series. "Over the years, we've seen just about every two-wheeled thing imaginable," says Richard Fries, event announcer at Sea Otter Classic since 2000. "But without a doubt, the funnest experience proved to the Brompton race in 2016. The expanse of Laguna Seca framing the frugal and humble figures of that event fostered contagious smiles.
"It also helped they raced like demons."