There was a time when cheese, bacon or special sauce were some of the more exotic ingredients layered on a burger – or so the story goes.
Americans were never completely bashful about toppings or fillings. If the field of burger archaeology existed, scholars might dig up references from the 1920s to the chili burger. Not long after, fried egg became a thing. By the 1950s, Good Housekeeping was recommending apple slices and Texas restaurateurs were staking claim to the San Antonio bean burger, a monstrosity involving refried beans, Fritos and Cheez Whiz.
It gets worse. Writing in the San Antonio Express-News, Edmund Tijerina notes that the inspiration for this crime against humanity – not exactly his words – came when a customer told one Felix Stehling (of Taco Cabana fame) about a California place that smothered burgers with refried beans and guacamole. For some reason Stehling decided the processed cheese goo would be a nice substitute for avocado.
And in the polyester decade, Good Housekeeping sunk so far as to suggest whipped cream cheese studded with – their words – "bacon-flavor vegetable protein bits."
Yet even through those decades, the most popular burger remained relatively basic. While a few distinctly regional variations emerged, onion, tomato, lettuce, pickles and ketchup or mustard were the most popular add-ons. It was still a sandwich, more comfortable in diners and on backyard picnic tables.
"I think the burger is just a very perfect food," says Leslie Brenner. "A simple burger is a splendid treat when it's well executed."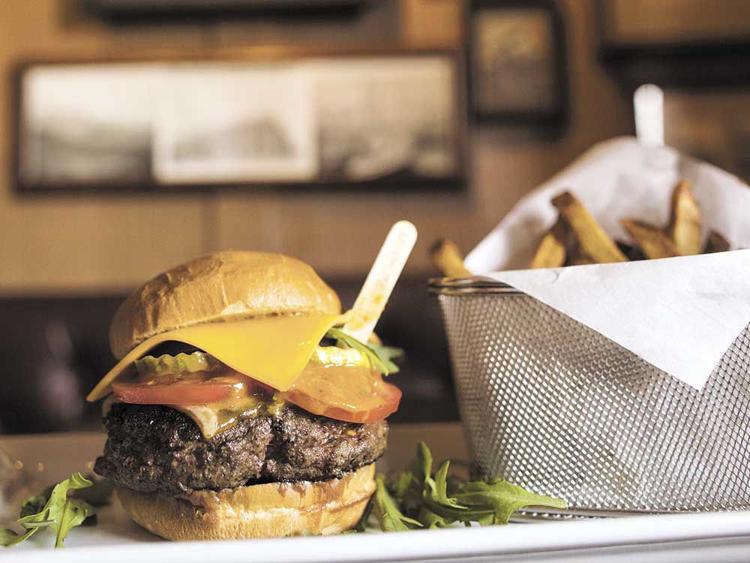 Brenner is the former food editor for the Los Angeles Times and former restaurant critic for theDallas Morning News, now a consultant with Rebees, a company working with boutique hotels, restaurants and other retail operations on something called "experiential place creation." Although she acknowledges that some fine dining chefs tampered with the rudimentary burger lineup on occasion, Brenner credits one chef for the gourmet burger explosion.
In 1999, a French farmer-turned-activist bulldozed a McDonald's under construction in the small town of Millau. Chef Daniel Boulud of New York's db Bistro Moderne responded by showcasing the American burger not as regimented fast food, but as a culinary marvel – sirloin and braised short ribs, with shaved black truffle and foie gras resting on a bun crusted with Parmigiano Reggiano, all for the then-whopping price of $27.
What followed was an unprecedented burst of boundary-shattering creativity that bordered on anarchy.
At The Porch in Dallas, chefs turned out something called the Stodg Burger. A bun slathered in foie gras, dry-aged beef topped with thick slabs of bacon – apple or whatever of-the-moment wood smoked – aged cheddar and a gently fried egg, along with other stuff crowded the plate. The upscale Pappas Bros. Steakhouse chain introduced a full pound of Wagyu beef on a Kaiser roll with trimmings for $75. Manhattan's Serendipity 3 sought to trump other creations with their Le Burger Extravagant.
The $295 example of burger excess featured Wagyu beef, herbed truffle butter, shaved truffles (just in case you missed them in the butter), cave-aged cheddar and – to top things off – caviar and a delicately fried quail egg. It was considered so precious, kitchen staff held the thing together with a gold toothpick.
"All of a sudden people were looking for something unique," recalls Bert Cutino, chef and co-founder of Monterey's legendary Sardine Factory. "And there are so many things that work with beef."
Not all gourmet burgers are pushed to such ridiculous extremes, of course. At Seventh & Dolores in Carmel, Chef Todd Fisher puts together a patty from dry-aged meat which carries a mild gaminess. He adds bone marrow to bring a richness and savory depth.
"It's a decadent, beefy burger," Fisher observes. His emphasis is on the character of the meat.
Cutino's take on the gourmet burger at Sardine Factory is equally subdued – ground dry-aged sirloin and short rib.
"I'm more concerned with the flavor of the beef itself," Cutino agrees. "When you're going to charge $20 or more for a burger, it has to have some quality to it. But the burger is still comfort."
Just why Boulud's act of defiance unleashed a gourmet burger onslaught is a matter of conjecture. A number of factors came into play during the 2000s that influenced both chefs and America's dining public.
The terrorist attacks of 9/11 and subsequent wars caused some to seek comfort in familiar dishes, or so it was reported at the time. Newspapers in several cities reported a turn to comfort foods or home cooking. Writing in Better Life Unlimited in 2006, clinical psychologist Margaret E. Woltjer cited post-9/11 surveys indicating 15 percent of Americans sought comfort in dishes like macaroni and cheese and hamburgers. Another 14 percent claimed to be reaching for more candy.
So the comfort food bump might have been limited, but it did have an effect. "Two months after the terrorist attacks, 1 in 10 Americans had gained weight," Woltjer wrote.
The economic crash of 2008 and long recession that followed meant a greater demand for less expensive entrees, even at fine dining destinations, where a $25 burger suddenly looked more appealing than a $50 steak.
At the same time, however, there was a growing awareness of regional cuisines. A new class of diner – foodies – emerged. They were more global and experimental, yet at the same time more interested in authenticity, an oxymoron explained in Foodies: Democracy and Distinction in the Gourmet Foodscape. Authors Josée Johnston and Shyon Baumann, both sociologists at the University of Toronto, argue that foodies define themselves by their value of cultural knowledge, of the traditions associated with cuisine, of the source and handling of ingredients and culinary customs. To set themselves apart from the masses, they seek what is trendy or distinct.
In other words, anyone can go to a burger chain. Only foodies can truly understand the source and quality behind a gourmet burger.
And in this milieu, Fisher says, "Chefs started taking burgers seriously."
People crave comfort foods, their memories of childhood – that's natural. "And there's something to be said for the home burger," Fisher continues, "but it can't compare to a burger made with that level of care."
So Chef Tim Wood at Carmel Valley Ranch blends brisket and short rib with chuck, grills a slab of bacon in maple for texture and a rustic, smoky sweetness and melts on artisan, organic cheddar for his Big 3 Cuts Burger. At The Cork & Plough in King City, Chef Travis Childers prepares a patty of beef draped in pulled pork and slaw – similar to the classic Carolina burger, but with a punny title: "The Pork & Cow." Nepenthe in Big Sur dresses their burger in a wildly popular "Ambrosia Sauce."
Meanwhile, at Montrio Bistro in Monterey, Chef Tony Baker labels his creation stacked with tomato-onion jam, sharp American cheese and his intense 48-hour bacon The Ultimate American Burger.
"Like a little black dress, you can dress them up or dress them down," Brenner says of the burger's versatility. "The biggest mistake you make is to make it so tall you can't fit it in your mouth."
The gourmet burger craze begins to fray along those edges where ingredients start to clash or the edifice is stacked so high it teeters like a Jenga tower on the verge of collapse.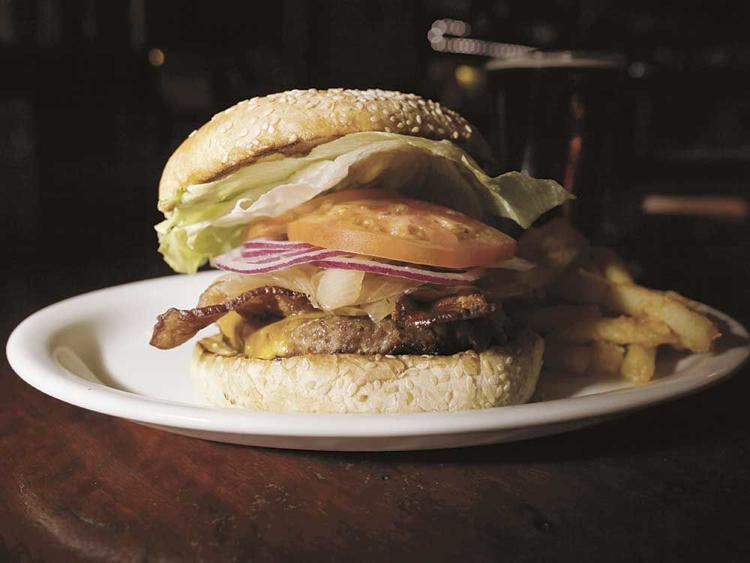 A cheeseburger with lettuce, tomatoes, pickles and fried ice cream appeared at the Florida State Fair. Perhaps this inspired the folks at McGuire's Irish Pub in Pensacola, Florida to dump vanilla ice cream and chocolate sauce on their otherwise nice mound of Angus. San Mateo's Rave Burger tops five inches, thanks to a tangled mess of onion strings. The challenging 9 Pounder served by BGR The Burger Joint in Washington, D.C. includes two full heads of lettuce, four pickles, probably a bushel of other condiments and checks in at 15 pounds or more.
Reportedly it comes with a helping of Maalox on the side.
"I feel like there's a point where you can go too far, but I don't know what that is," Fisher says. There are ways to ramp up the couture – foie gras, crab, macaroni and cheese – without losing control of the beast. But, he warns, "You can put so many flavors on it, all of a sudden it doesn't have a direction."
Cutino agrees.
"Yeah, we can build it up until you can't eat it," he says. "But if you go too extreme, you're losing it. You might as well throw the burger away."
And that would make Burger Week rather pointless.