The first patent for a bicycle – then called a draisienne – was granted in 1818 to Charles, Baron von Drais, of Sauerbrun. It had a giant front wheel, nearly as tall as its inventor, that could be steered. A fresh development came for the renamed vélocipède in 1863 in Paris: pedals.
Cycling and associated gadgets have come a long way since then. That evolution is on display this weekend at Sea Otter Classic, a celebration of all things bicycle.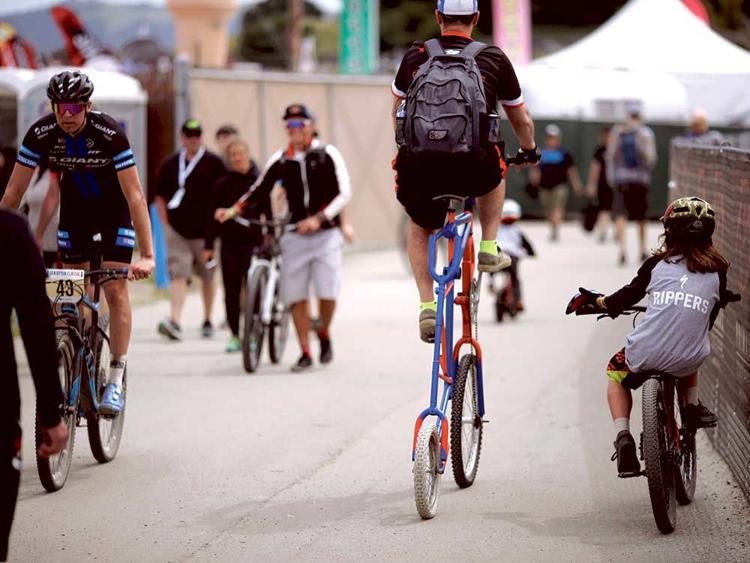 There are races for pros and amateurs, with cross-country routes on Fort Ord National Monument's rugged terrain, and zippy courses on the newly renamed WeatherTech raceway at Laguna Seca. There are also e-bike races, the return of the fun-to-watch Brompton folding bike races, kid-friendly events, and some 500 vendors touting thousands of bike-related products. The expo is a mecca for bike aficionados, whether you're shopping or just ogling gear.
If you're post-race or just there to watch, hit up the beer garden next to the track for race viewing while you sip and scoop up Sierra Nevada swag. Here are some highlights to check out among the shiny bike toys and races throughout the event.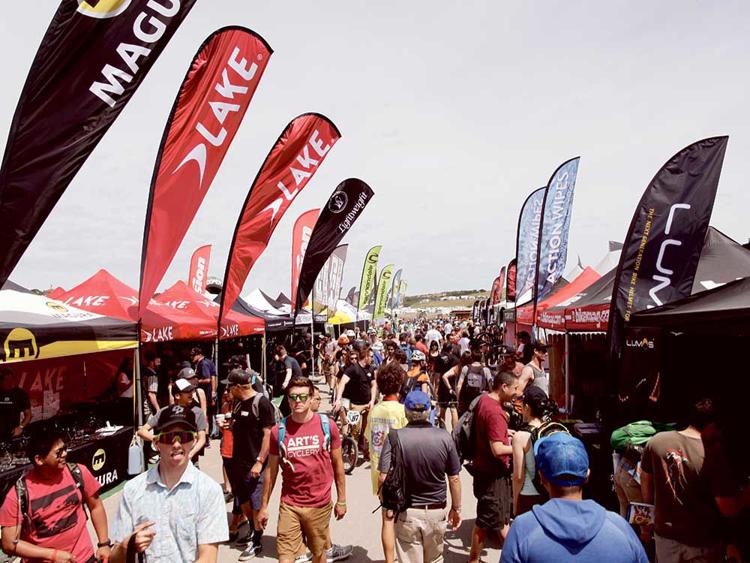 ---
Visit Ibis, a homegrown Central Coast company with headquarters in Santa Cruz. The company hits Sea Otter Classic with newly launched technology for its mountain bikes. This includes the versatile Ripmo, a 29er with an inch longer travel – good for going fast downhill – and already winning races in Europe. Make sure you check out the new adventure/gravel bike, Hakkalügi MX, which is so perfect for riding all types of terrain.
---
If you want a motor to boost your speed or keep you from sweating, test ride some e-bikes at the expo. One e-bike by Pesu has a motor response time of 10 milliseconds – the fastest in the world.
---
Hone your moves at the Chain Reaction Cycles Skill Zone where a pump-style track is set up. There's a kids' version too for the little ones. Don't forget your helmet as that is required to participate.
---
Do a YouTube search of Danny MacAskill, and take a look at one the best riders in the world, and some beautiful cinematography. (Check out "The Ridge" and "Way Back Home.") MacAskill is known for unbelievable bike skills, jumping, transitions, mountain biking steep ledges and more. At Sea Otter, you can watch him perform and sign autographs. This year he will ride a new bike designed and made in Santa Cruz at Santa Cruz Bikes that's just gone on the market with his name.
---
Virtual reality meets athletics with Everysight, which makes Raptor AR smartglasses, the first consumer-focused augmented reality smartglasses for cyclists, triathletes and early adopters. They display real-time rider information such as speed, power and heart rate. The transparent real-time information is beamed out in front of you as you ride so that you never have to take your eyes off the road or trail. Try them out on a demo course near Everysight's booth.
---
Clothing deals abound. Keep an eye out for booths with big bins of socks, clothing and even parts. Proceeds from all purchases at Trips for Kids booth supports the nonprofit that helps get kids into a recreational and healthy environment through bicycles.
---
The 44 student athletes who comprise the Salinas High School mountain bike race team, the Cowboys, will be volunteering at Sea Otter throughout the weekend. They'll hand out programs, hold up placards indicating which age group is racing, and check in on the kids' zone, where riders are as young as 2. "They'll be watching little children on the track, and if they fall over, go get them," Assistant Coach Jim Warwick says. "It's cute as heck." In exchange for their efforts, the team members get Sea Otter passes and T-shirts – and the team gets a very meaningful $1,200 donation.
---
You can bike to the festivities – or you can drive, but then you also have to park. Parking isn't fun, but if you drive a Subaru – the company is the main sponsor of the classic – there's a special parking lot close to the action. Follow signs as you drive in.
---
Your better choice is to bike in and avoid the parking hassle. Take the scenic but hilly climb up South Boundary Road. A word of caution if you return that way: Exiting traffic at the end of the day is usually heavy. A better alternative is to complete your day by biking home through Fort Ord National Monument, which offers both trail and paved (but car-free) options.
---
If you do bike in, remember to bring a pack sizeable enough to carry home your purchases and swag, including unexpected items (you just might win free bike shoes!). A comfortable pair of sandals to swap out from bike shoes while exploring the venue is also highly recommended.
---
Here's a newfangled take on a shoe cobbler: Vibram invites you to bring in a pair of shoes (they need not be cycling shoes – street footwear is welcome) for a re-sole with the company's signature Megagrip, Carrarmoto or other treads. Master cobbler Gino Conti will be on hand.
---
Be on the lookout for quirky innovators. While items such as suspension hubs and spoke airfoils may or may not last in popularity beyond one season, the people behind their inventions are passionate about them; having a conversation might ignite your own creativity, or at least provide a few minutes of entertainment.
---