A Whale Tale
Absolutely beautiful, just like Seaside! ("A Seaside wall gets a new humpback whale mural, thanks to a cannabis dispensary and three local artists," posted July 15). Chris Sierra | via Facebook
A great way to bring art into everyone's lives. Onward with more murals for Monterey County.Dave Filbin | via Facebook
Just beautiful! Maury Treleven | via Facebook
I'm not sure about the dispensary business in general, but I sure appreciate what they're doing for the area. Their overall improvements to the building are wonderful. It's time for the other business to step up too; let's show some pride for our community! Nikki Parks Simon | via Facebook
Jumping Through Hoops
Pronunciation is irrelevant here ("Spanish heritage of rodeo shines through in Salinas event's pronunciation," July 18-24). Be aware that nearly every animal welfare organization in North America condemns rodeo due to its inherent cruelty. Rodeos were outlawed in the United Kingdom (England, Scotland, Wales) in 1934. Can the U.S. be far behind? The late Cesar Chavez had this to say (from a 1990 letter to Action for Animals): "Racism, economic deprival, dog fighting and cock fighting, bullfighting and rodeos are cut from the same fabric: violence. Only when we have become nonviolent towards all life will we have learned to live well ourselves." Pope Francis has said much the same in his 2015 Encyclical on Climate Change. Words to live by. Eric Mills | Oakland
Editor's note: Mills is coordinator of Action for Animals.
Drip, Drop
Supervisors John Phillips, Luis Alejo and Chris Lopez ignored the facts with their false arguments in support of Cal Am's desal ("Cal Am cleared to break ground on desalination plant," posted July 17). They blindly repeated Cal Am rhetoric that its desal is the only solution to our water supply needs. It's not. The expansion of Pure Water Monterey could give us all the water we need for decades, but Cal Am's $123 million profit would take a serious hit. That's the problem.
PWM uses recycled water. It's superior environmentally. County leadership failed on this decision and caved to Cal Am and special interests. Are these three supervisors just looking to their next campaign contributions? Amy Anderson | Carmel
In our ongoing battle for our own public water agency, Supervisors Mary Adams and Jane Parker vote on behalf of their constituents and the three supervisors from north and east county always vote in favor of Cal Am.
This voting pattern is not due to lack of information, but can be easily explained if one looks at the campaign contributions the three supervisors receive from businesses and/or PACs that have been very vocal in their support of Cal Am. These campaign contributions are perfectly legal but the inherent message is that if a candidate receiving such a contribution votes in favor of Cal Am there will be further contributions. And if the vote is not in favor of Cal Am, an opponent will be well-funded. This is why we need to get private money out of politics. Until we do, nothing is likely to change. Jeanne Turner | Monterey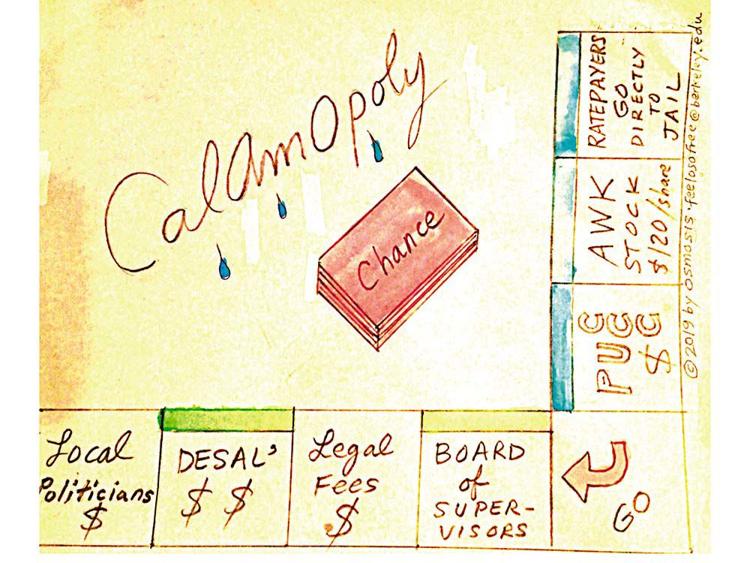 Alan Estrada | Carmel
Race and Class
It's illegal to select (or not select) a candidate on the basis of race. The suggestion that Hartnell should appoint a superintendent even partially because of race is contemptible ("Squid grades the process for hiring a new superintendent at Hartnell College," posted July 22). Superintendents aren't hired to be local heroes or role models for all the kids in the district. They are hired to administrate. Professional merit and personal integrity are the only relevant considerations. LULAC should retract their statement and instead say something along the lines of, "May the best person for the job get the job, regardless of race, ethnicity, or any other immutable characteristic." That would advance the cause of anti-racism a lot more than their current position. Joshua Converse | Seaside
Bridge to Somewhere
That's a nice picture of Bixby Bridge in this week's issue ("Etc. Photo," July 18-24). The last thing we need in Big Sur, or anywhere else, are more drones destroying everyone else's experience. Don't encourage the jackasses by publishing their pictures. Andrew Passell | Pacific Grove
Proud of Pride
Beautiful ("Monterey Peninsula Pride march draws more than 1,000 people," posted July 21).Emanuele Bartolini | via Instagram
Looooove a pride mom hug. Melissa DiForti | via Instagram
Baked Good
Awesome place! ("Alta brings a new, fresh flavor to Monterey's historic Cooper Molera adobe," July 11-17). Been there multiple times. Chef Ben Spungin's creations are just as much art pieces as they are delicious treats. The whole staff is warm and inviting. Ten out of 10, would recommend. Bryan Blaushild | via Facebook
I LOVE this place!
Kim Luis Solano | via Facebook