ON A GLORIOUS SPRING DAY, wisps of white clouds drift across a blue sky above the bright green landscape dotted with yellow mustard and purple lupine along Highway 68 near Monterey Regional Airport. Across from the entrance to York Road a farm gate is open, waiting for invited guests to enter. At the top of an oak-studded ridge is part future exclusive home development and part social experiment. Developer Nick Jekogian, CEO of New York-based Signature Group Investments, has dubbed the project Walden Monterey, borrowing from the seminal work by Henry David Thoreau, who retreated to nature for two years and published Walden or Life in the Woods in 1854.
"I went to the woods because I wished to live deliberately, to front only the essential facts of life, and see if I could not learn what it had to teach, and not, when I came to die, discover that I had not lived," Thoreau wrote.
The quote is on the homepage of the Walden Monterey website. What's not on the website are the words that come just a couple of lines later: Thoreau says he wants to live "Spartan-like." Elsewhere he calls the chasing of money and things "a fool's life." Thoreau would have loved the beauty and peacefulness of these hills, but paradoxically, the very people who Thoreau might think are pursuing a fool's life are Walden Monterey's target market. The 22 lots, averaging 20 acres, will go on sale later this year for $5 million each. The target market is Silicon Valley's 1-Percenters.
As for Spartan living, on top of the $5 million, owners will plunk down more money to build homes powered by renewable energy. The requirement is one of only two rules in Walden Monterey. The other rule: Owners cannot cut down a single tree, which will be challenging, since many lots are studded with oaks. Jekogian estimates there are a million trees on the 600-plus acres.
To introduce potential customers to Walden Monterey, Jekogian is inviting small groups of people for day-long gatherings he likens to participatory TED talks where "big picture" issues are discussed. "The hope is what we talk about here in nature can have global impact," he says. On this day, the topic is disconnecting in nature.
Jekogian plays a jovial host, tapping into the high energy that sustains him on ultra-marathons and multi-day races covering 280 miles. The 15 guests gathered around a long table under a 200-year-old oak tree include some business leaders, like a woman who is founder and CEO of a global digital marketing and software company, and a man who runs a sustainable clothing company. Nearby is a silver Airstream trailer where Jekogian stays when he visits from New York, and several yurts for overnight guests. Below is a breathtaking view of Monterey Bay.
How, some asked, do you live apart and change the world?
The Airstream is a step up from how Jekogian first experienced the land two years ago after buying the "distressed" project, originally destined to be Mediterranean-style villas connected to the Tehama Golf Club just over the hill.
Developer Alan Williams, who is serving as construction manager for Walden Monterey, suggested Jekogian camp out to get a feel for the land. The New Yorker, who hadn't paid much attention to nature before, did it – "because I'm not one to say no."
Camping there was a defining moment. "I have to do something different," he remembers thinking. "I can't do another golf course development."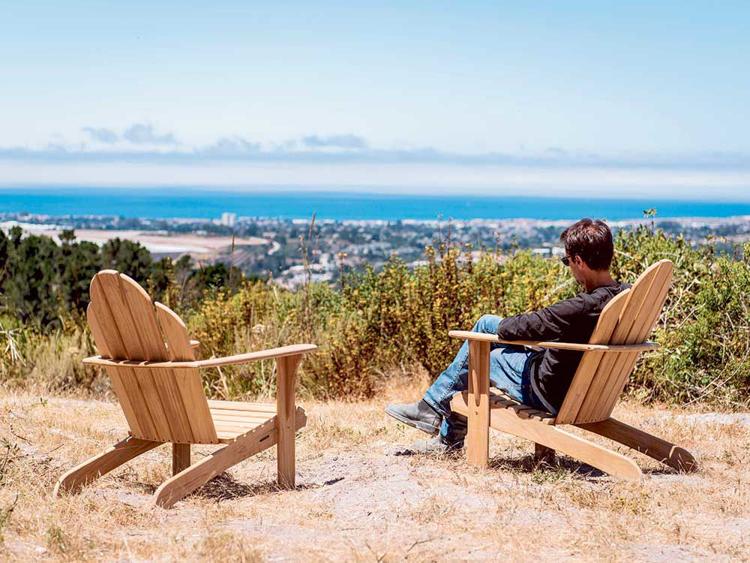 The group split into small groups that switched around throughout the day. And while the discussion touched on Thoreau's "tonic" – the healing effects of disconnecting in nature – there were underlying tensions, like tech-minded folks bringing up building technology into the space. (Jekogian himself suggested a GPS app that would map every tree on the property.)
There was a dichotomy of creating an exclusive private enclave while just miles away people are struggling to keep a roof over their heads and food on the table. How, some asked, do you live apart and change the world for the better at the same time?
Beyond those tensions, people wondered, with just two rules, how would they be enforced? What to do about the fact that most of the homes will be second homes that owners rarely visit? What if they want to rent out their homes? How to manage the communal areas that include a play area for children, a community garden, a communal table and a writer's retreat, modeled after Thoreau's cabin in the woods?
"I personally think creating a culture can replace having a lot of rules," Jekogian told the group. "I think what we're doing here really does matter. That tree there is really more important than a big expensive house," he said, pointing to the old oak tree. "The things that are more important are the things that have been around 200 years."