---
---
Charles Planet recalls a day when riders in the Amgen Tour of California struggled against vicious heat. He says temperatures raged in the 50s all day – he's French, so that translates into triple digits Fahrenheit. The team support car ran out of water bottles, so the driver found a gas station to buy more.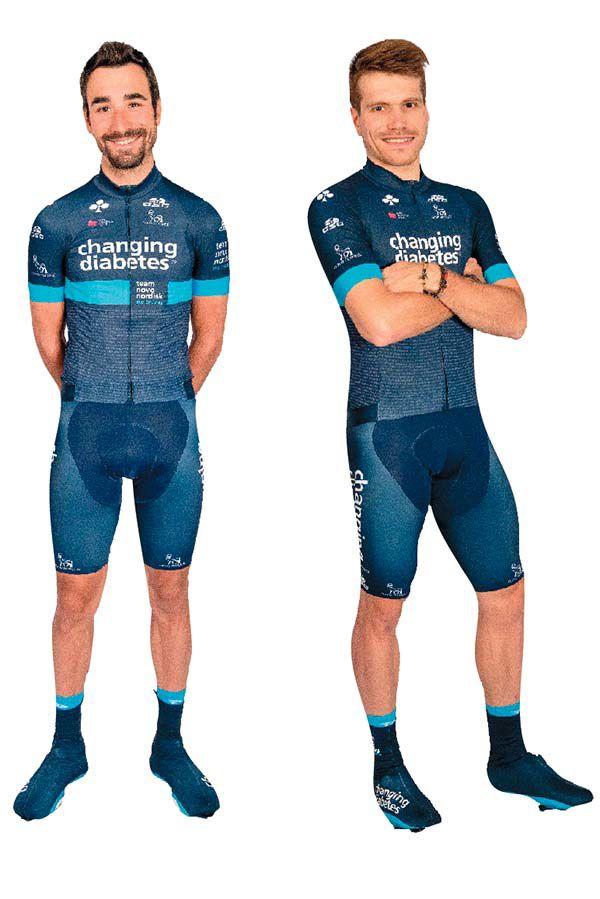 "I just wanted to stop," Planet says.
But Planet, along with David Lozano and the other riders in Team Novo Nordisk, tend to shrug off obstacles that come along in racing, as well as in life. They are part of the first professional cycling team in which every rider is diagnosed with Type 1 diabetes.
Planet learned the news when he was 10 years old. That didn't stop him from mountain biking as a child. Before joining Team Novo Nordisk in 2013, he was part of the French National Mountain Bike Team Relay Championship. Now 25, he has an eighth place overall finish in the 2018 Tour de Estonia to his credit.
Lozano was already a professional and rated as Spain's top mountain biker when he was diagnosed at 22. When he broke the news to his team, however, they revoked his contract. Now Team Novo Nordisk's climber, the 29-year-old can also boast of a stage win in the 2018 Tour du Rwanda and eight top five finishes.
The Weekly caught up with Planet and Lozano at Los Laureles Lodge in Carmel Valley, the team's Amgen Tour of California training base, before the race started on May 12.
Weekly: How difficult is it to manage diabetes during a race?
Lozano: I think it's difficult when you start, but we've been doing this for six years. You have constant CGM [continuous glucose monitoring].
Planet: You always know your sugar levels.
What drew you to racing?
Lozano: I love cycling. I was doing judo and hockey before, but I was too much of an individual for hockey, so my dad bought a bike.
Planet: I went to a mountain bike race when I was 6. The following week I was in a club.
Do professional riders still ride for fun?
Lozano: Yeah, you wait for those days to just ride and enjoy – especially in the offseason. You go with a friend and end up doing four hours on a bike, but there's no pressure.
Planet: I mountain bike even in the season. In the offseason, I put the road bike in the garage.
What happens at the end of a day of racing?
Lozano: When you finish, you have some time to eat – you want some real food. You do a debrief with the managers and then have some dinner.
There's a lot of eating in this sport.
Lozano: Yeah, we eat a lot.
Planet: Today I burned 3,000 calories. In stage two we'll burn 6,000 calories.
Lozano: That's 20 donuts.
Planet: More than 20. To be honest, it's simple food.
Lozano: Some pasta, some protein. You try to avoid strange food. Cycling is hard enough.
On TV, the peloton looks slow. Does it get boring?
Planet: When you look on TV it looks slow. But it's crazy and stressful. People are yelling at each other.
How do you keep the team together in that mess?
Lozano: You said it – it's a mess. I'm not usually in the middle. Sometimes they have to come back and bring me up for a climb. The other teams respect you more if you can stay together.
The crowd gets pretty close. Is that a problem?
Lozano: They are pretty respectful, especially in California where the roads are wide. In the Pyrenees the roads are narrow and they've been waiting there for two days. When we come they are excited, so I understand. But we are exposed.
I've watched riders crash and get back on the bike all scraped up and bloody. How do you do that?
Lozano: It's about motivation. You try to stand up fast and continue. I remember when you crashed and broke your elbow.
Planet: I jumped back on the bike. I didn't know my elbow was broken and then [simulates arm flopping off the handlebar]. I just crashed again.
Lozano: One time I broke three ribs and got back on and finished the race. It's adrenaline. And you really want to finish.
How will the team fare in the Amgen?
Lozano: The important thing is to find opportunities. We need to find our moment.