---
---
When someone scribbles "K" on a baseball scorecard, it indicates that the batter struck out. When George Faue stepped from the mound on opening night for the Monterey Amberjacks to close out his fifth inning of work, he had already recorded 14 strikeouts.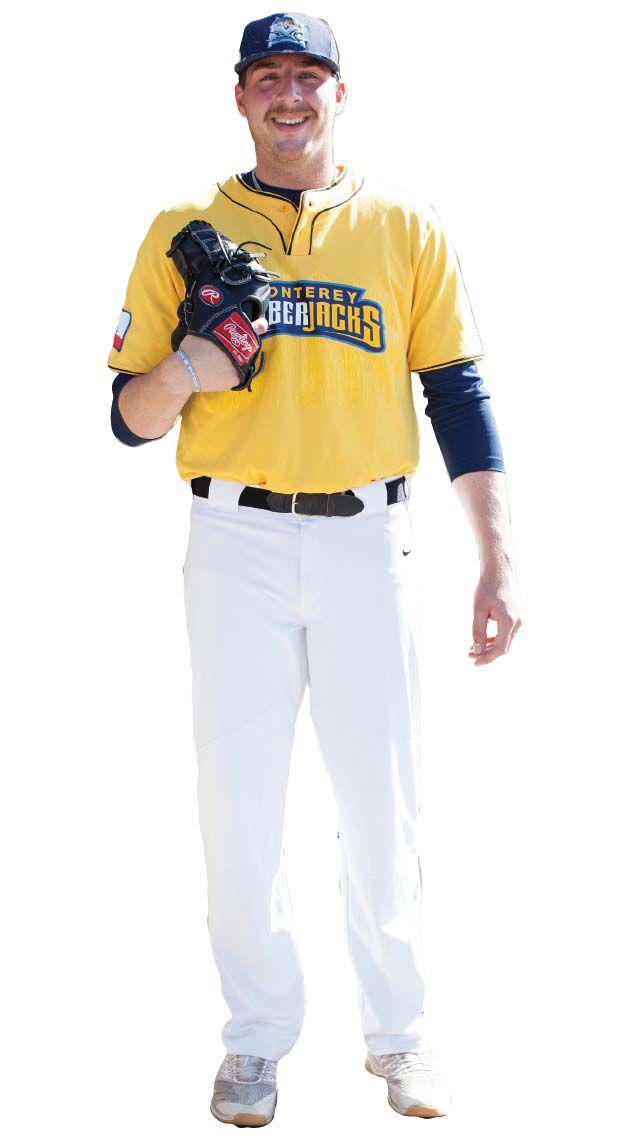 If you do the math, the tall left-handed hurler's feat is even more impressive. Three outs per inning, five innings pitched – that's 15 outs recorded, all but one by a K.
Just a few months earlier, Faue was busy selling cars near his home in Corcoran, Minnesota. After playing college ball at Northern Illinois University and earning a degree in corporate communications, he caught on with the Normal, Illinois franchise in the Frontier League, considered the most prestigious of the independent minor leagues.
Baseball at this level is more desperation than career path. The independents are rungs below the teams affiliated with major league clubs. Players stay with host families. They carpool to road games. They earn maybe enough to buy some necessities. But each year, some are signed to a contract with teams under the major league umbrella.
Faue didn't make it in his first try. He took the job selling Lincolns after being cut from his Frontier League squad, looking to gain sales experience toward an eventual career in medical sales. "They loved me," he says.
Now he's part of the Pecos League. It's a packed schedule, with home games on the weekends and road trips during the week. And if the auto dealership loved him, his Pecos League foes probably feel just the opposite. So far, Faue is taking full advantage of the opportunity. He has a 4-0 record, a miniscule 2.10 earned run average and has fanned 55 hitters in 30 innings pitched – a lot of Ks.
The Weekly caught up with Faue in early June, just before the Amberjacks' second homestand.
Weekly: How's it going so far?
Faue: It's off to a good start. I think we look really good. Our pitching staff is legit. We have guys who hit with power, guys who can get on base. It's going to be up to us, but I can't complain.
Yeah, you struck out 14 in your first five innings.
It was pretty remarkable to go out there and do what I did. That's the most I've ever struck out in a game – at any level.
So why are you with the Amberjacks?
After I got released I sent out a bunch of emails. Two or three days after moving home, Cip [Amberjacks manager Ciprano Garza] called. Basically it's the only opportunity I had. I figured I'd run with it. Hopefully it leads to another door opening, and then another. If you make it, life is glamorous. But the journey is rough. Right now there are seven of us staying with one host family. If we could find more host families, that would be ideal.
At least you have a shot.
Monterey is a beautiful place to play. This is my first time in California. I'm from a small town, where you live down a dirt road. I drove out here with my mom and we did the tourist thing in L.A. Being from Minnesota, pitching at High Desert – that was the hottest I've ever been.
What are road trips like?
They're pretty laid-back. Yesterday we didn't play until 7pm and the hotel checkout was 11 in the morning. So we went to see a movie.
Do you watch baseball movies?
I always liked The Rookie – a left-handed pitcher who never had the chance and then he gets an opportunity and makes it. I like the ones that are real, like 42 about Jackie Robinson or 61*about Roger Maris and Mickey Mantle.
What is it about baseball that keeps you in the game?
I don't know – I fell in love with it at such an early age. When I was 3 years old I was already playing with 5-year-olds. It dictated my life, where I went to college. There's just something about being between the lines. These guys [gestures to the field] – until a few weeks ago I didn't know them at all. Now we are close. It's that camaraderie.
Sophomore year in high school I almost quit. My friends were all playing on the golf team, so I wanted to play golf. My dad said no. He said, "Trust me, you'll thank me later." I thanked him later.