---
---
Lester York moved his family to Moss Landing in 1957 when son, Jim, was 8 years old. The pastor founded the small community's only church on a boat in the harbor, then later moved the growing congregation – and the entire York family – to an old steamship building on Moss Landing Road.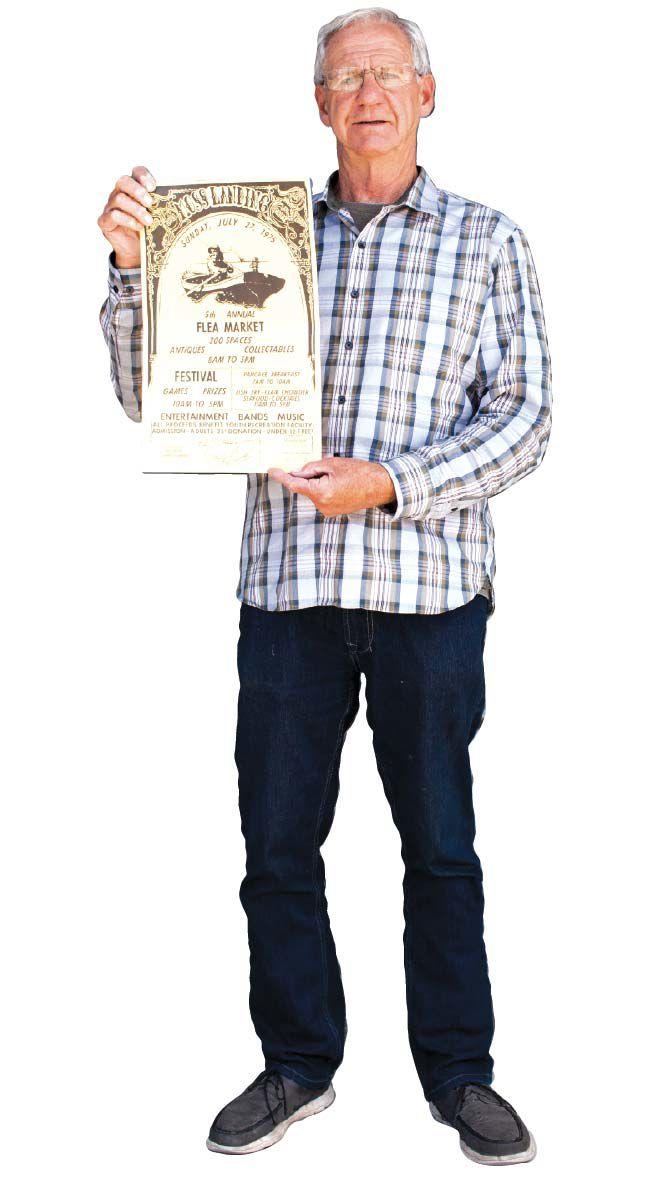 The former U.S. Marine corporal, who was discharged at the end of World War II, was what's known as a tentmaking pastor – one who receives little to no pay for serving a congregation, instead supporting themselves through a job or business. In Lester's case, he was never paid for serving Harbor Chapel Community Church. He supported his family through a junk hauling business and later opened the popular pottery spot, Little Baja Imports.
He also founded the Moss Landing Chamber of Commerce. It was Lester's idea to create a street fair in 1970 as a way to raise money to build a youth center. Jim has warm memories of the fair's early days – kids on bikes and families enjoying carnival games and hot dogs. It started out as a small festival, until a few years later antique booths were added and it grew in size until the annual fair was often referred to as the antique capital of the world.
Now living in Prunedale, Jim followed in his dad's footsteps in ministry, first as a youth pastor of Harbor Chapel then taking over as senior pastor when his dad died in 1990. He ran his own business for 25 years in Santa Cruz, York Gallery and Framing, where he sold his own photographs. He sold the business in 2004 but continues to work as a professional photographer – his favorite thing to photograph is the natural beauty of Moss Landing. Several years ago he joined the Moss Landing Chamber board and is an active organizer of the fair, now in its 49th year.
Weekly: Tell me more about your dad.
York: He was a very easy person to follow. He was one of these kinds of leaders who never had to show any kind of authority. People liked him. He would say, "Let's have a street fair," and everybody goes, "That's a good idea!"
My dad helped everybody – he did whatever needed to be done. A hard, hard worker. This guy could manhandle a refrigerator onto a truck himself. No gloves, no hand truck. He was a tough, tough man, and when you saw him as a minister you'd say, "He's a minister?" His hands had (thick) calluses. They were like rocks. He wasn't a tough guy, he was a gentle man.
Besides the ministry, did you join your dad in his local businesses?
My dad hauled junk metal. We were so poor we were [popular '70s TV sitcom] Sanford and Son, and I'm "Son." (Laughs.) I left Little Baja in 1978 when my younger brothers were old enough to start taking that over.
What was the first Moss Landing Street Fair like?
We had all kinds of little games and mini bike races. It was more of a fun festival kind of a thing. For the little kids, it was the funnest day of their life. Our church ran it with some strong community people. We ran all the food for years and then we started giving that up to other nonprofits as it got bigger. One of the biggest attractions early on was the fish fry – it was fish and chips, run out of one of the church windows.
Did the youth center ever get built?
The [chamber] decided they wanted a community center. After we [Harbor Chapel] realized the money wasn't going to a youth center we decided to build our own gymnasium. We were still running the food at the street fair… we used the profits to build a nice gymnasium onto our church and we ran that as the youth center.
A favorite memory from your youth?
I worked at the gas station that's now the Whole Enchilada. I had a '57 Chevy with a surfboard on top I parked out front. I thought I was pretty cool.
What's your favorite part of the fair now?
I love meeting people. You can tell I'm a yackity-yackity guy. I just love seeing all these people having a great time. I'm not a very nostalgic guy, but I still feel a lot of nostalgia because we put so much time into it.