---
---
Despite coming from a musical family, Sandy Robinson was always drawn to visual art rather than audible art. Moving from crayons to watercolor, then later in life to acrylic and oil, the mostly self-taught artist now has paintings on display on six continents. Robinson started her creative journey young, before the age of 5, and has been selling her artwork for over 50 years.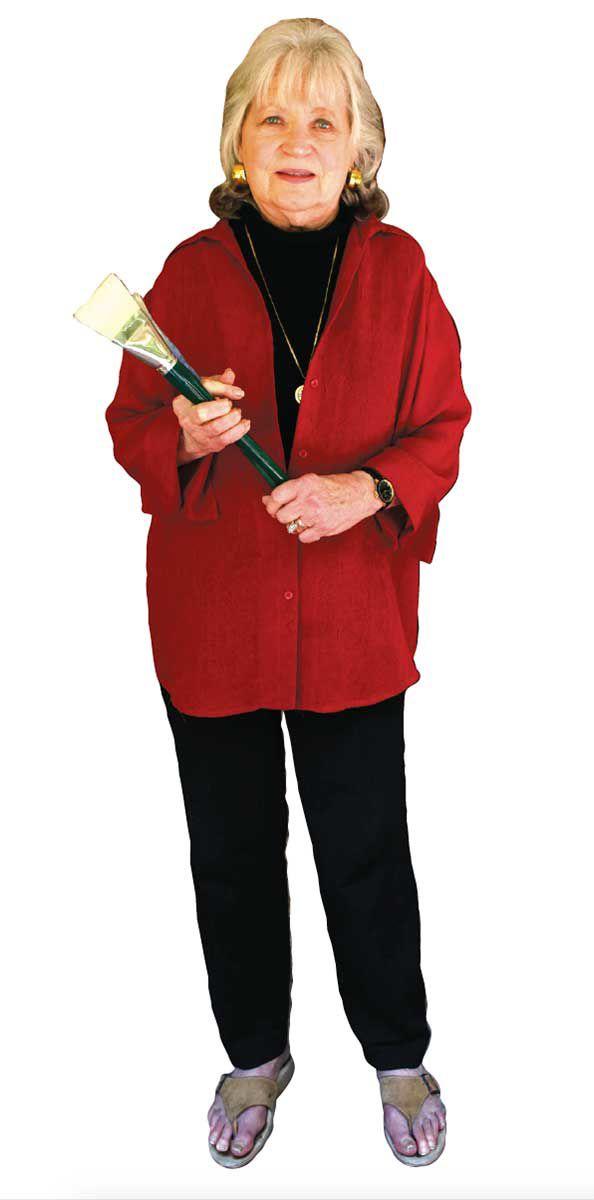 Robinson grew up in Illinois and is now a resident of Carmel, a perfect fit for her love of the ocean.
"I can go down [to the beach] and sit for hours just studying it," she says. "I think it's calming even when the seas are active."
The majority of Robinson's work features the ocean – the waves either on their own, or the scene next to her grandchildren on the beach. She does also whip up a still-life every once in a while to break the pattern, but never tires of painting the satisfying (yet frustrating, she adds) ocean waters.
Her career as a painter began as a gift. As her husband, Keith Robinson, prepared to leave to serve in the Navy in the Vietnam War, he bought Sandy everything she would need to paint, telling her she had a year to develop her craft then show him what she had created when he returned; her father also contributed and made her an easel. During that time, Robinson attended an art class. She was selling her work within a year.
Robinson had originally planned to teach, majoring in elementary education at Illinois State University. But the thought of majoring in art never crossed her mind, partly because her small high school had no art classes. But after she began selling her artwork, the education major didn't stick.
A past participant in multiple juried art shows, Robinson now spends most of her time bringing forth her creative talents from the time she spends gazing upon her main inspiration.
Weekly: What makes the ocean so intriguing to paint?
Robinson: We certainly don't have an ocean in the Midwest, and I'm just fascinated. I respect it tremendously. There's something about it that I was challenged to do it for some reason. I just wanted to paint the sea. I used to come to Carmel before we moved here and we'd visit all the galleries and I used to think, "I can do that."
Did your first painting of the ocean turn out how you expected it?
Oh, it was awful. I didn't understand the ocean, I decided.
So what made you keep going?
They used to do group [art] shows, and I'd have a little bit of everything. I'd have a landscape and a seascape. I did a series of ladies with hats and I did barns. I was doing still-life. I was doing everything. And another artist, a seascape painter, came up to me and said, "What are you doing? Paint what you love and paint what you do best. Nobody wants to see a pretty face in their house, prettier than they are," he said. "'Paint the sea.'" I took his advice, and within a short time I was in galleries.
How do you get artwork into a gallery?
I've just walked in the door and I've been lucky. I usually had photographs with me and if they were interested, I was willing to come back. I didn't want to take up their time.
I'm not in a gallery now, but I do the open studio and I donate to the Bach Festival every year, which I enjoy.
When you look at your old artwork today, how do you view it?
Some of it I still really like. Some of it I'd like to throw in the garbage. It's interesting, I was so proud of my first paintings and they were awful.
What do you consider to be your greatest accomplishment?
Satisfaction that people like what I do enough to want to put it in their home.
What do you do when a piece doesn't turn out how you want it?
I get frustrated. I'm a perfectionist – and I'm stubborn – so I'm determined to make it work, but the best thing for me to do is wise up and put it away.
Do you ever go back to those pieces that aren't working out?
I do. And usually if I let them go for a while, it may take a while to go back, but I can make something out of it. In fact, that's how I began texturing with the acrylics. I made a big, fat mistake and it was something that I didn't like and I tried to cover it up and I took a little bit of Saran wrap and blotted it, and then I saw this great texture I could do with dry-brushing. So I'm a real advocate of learning by your mistakes.