---
---
When people think flamenco, they probably think skirts with layers of ruffles, flowing to the beat of a dancer keeping pace to castanets. They probably think Spanish culture. That may be true now, but that's not always been the case, according to Seattle native Savannah Fuentes, who has been practicing the tradition of flamenco since she was a teen.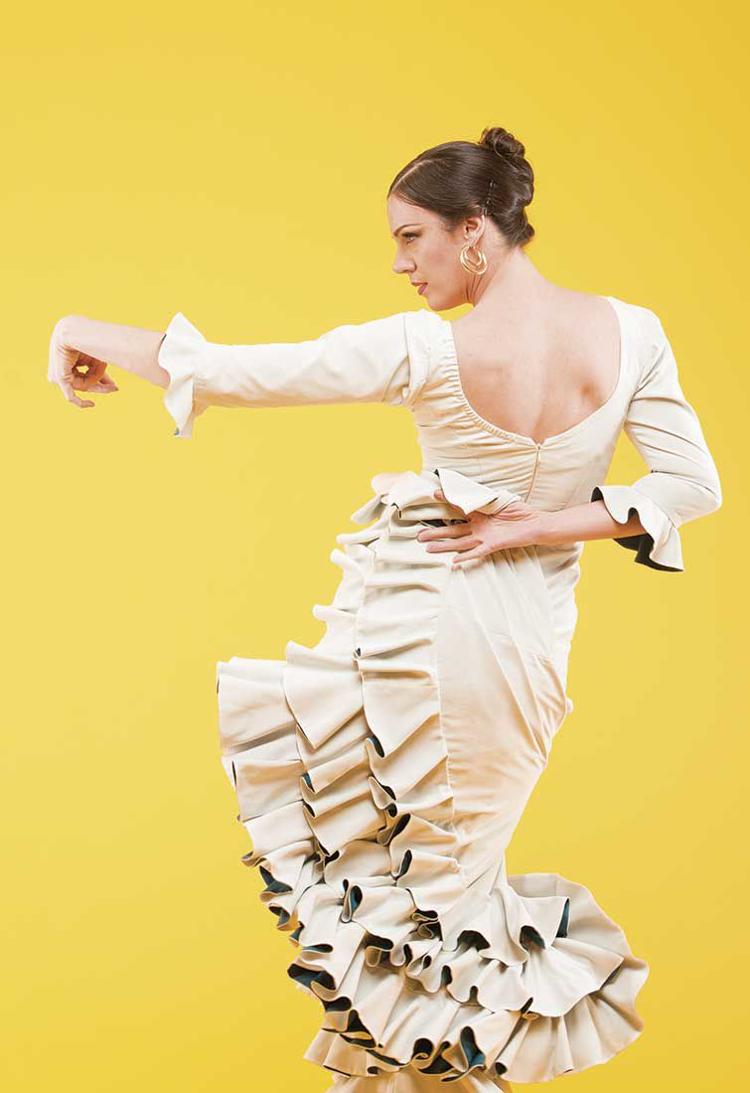 Flamenco is, yes, based in rhythm – that's where that fast-footed dancer image comes in. But it also begins with lyrics, Fuentes adds. "Flamenco is first and foremost an oral tradition," she says.
And that is tied in with the history of the Romani people who created flamenco. They fled the northwest region of India hundreds of years ago, and kept moving. Throughout the years, they ran into other cultures that settled the Middle East and Western Europe.
Unlike many persecuted peoples, they are unique in that they never claimed a homeland or region. Their tradition is to roam – maybe even keep roaming in one region. That nomadic lifestyle means that it's stories – specifically spoken, not written – that connect the Romani people back to their culture.
That strong connection to culture is partially why Fuentes was drawn to the tradition, seeing parallels with her own story. She spoke with the Weekly before her June 19 Carmel performance.
Weekly: Tell me about the history of flamenco.
Fuentes: If you think about Spain and where it is, it's at the top of Africa and the bottom of Europe so there's a lot of exchange of ideas there. That's where some of the Romani people came and fled because they were being persecuted. So flamenco became this very personal thing to them.
Flamenco wasn't a thing you'd ever do in public, like now. It was only between [Romani] and their families.
It only began becoming well-documented in the mid-1800s. Then after the '20s, '30s and '40s, that's when you see – in Spain and Europe – flamenco's growing commercialization and becoming public.
How did you begin your training?
I have a Spanish last name and I'm Puerto Rican. But I had no real connection with my last name. My dad came from a military family and was raised in Germany. So it's funny because he knows how to speak German, but he doesn't know how to speak Spanish. And me, I was born and raised in Seattle. I would say we were an "assimilated" family.
Finding flamenco to me was like my attempt of connecting back to a part of my culture which I didn't know. I grew up seeing these tourism commercials of Spain and thinking, "Oh that's what I am, that's where I come from."
In my late teens and over the years I took classes, and the connection was immediate. I had a child really young – like really, really young – so I kept leaving flamenco. But it always came back to me. I had great teachers and they just kept providing me with things that I needed.
Why is the oral tradition so important in flamenco? Most of us think of the dance first.
Singing is the most important thing in flamenco. Our singing is called letras; it's kind of like poetry. The letras are often sad, but are meant to express a full range of emotions. Everything else follows that. That's why the clapping and moving our feet and rhythm is important too, because it heightens everything. Flamenco is a very intense art form.
Do you have any signatures or markers of the way you dance, that people can automatically identify it's you?
I'm a tall girl and I don't wear very ruffle-y or very loud outfits. People look at me and think that I dance a little left from traditional flamenco. But that's OK. I don't claim to be of that tradition and culture. Anyone can express the art of flamenco, but I can never embody it, because it's not mine.
What music do you listen to, when you're not listening to flamenco?
I like rap music. I like certain salsa music. I like Mozart. I like to listen to Journey. Yeah, anything with mean beats. Rap music is a necessity.
Favorite rap artists?
I like this new girl called Rico Nasty, she's funky. She's not a sexy lady. She's coming up right now. And I'm from the West Coast so I like G-Eazy.
SAVANNAH FUENTES performs Oceans, Flamenco en Vivo at 8pm on Wednesday, June 19. Carl Cherry Center for the Arts, Guadalupe and Fourth, Carmel. $25; $15/students. 624-7491, carlcherrycenter.org