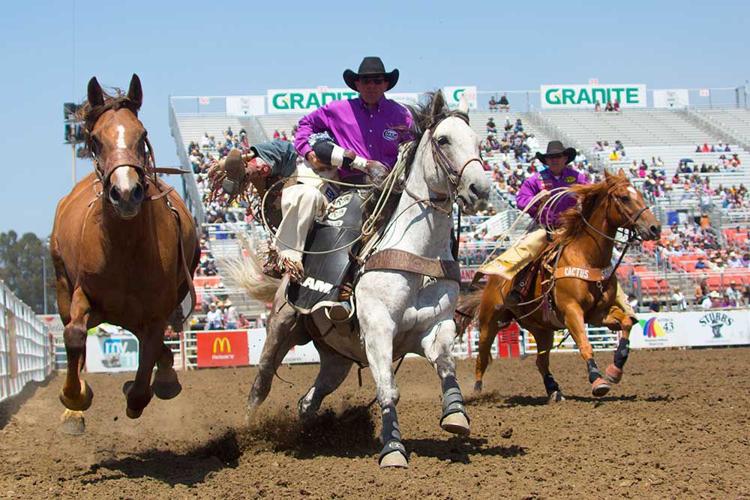 With a climactic slap, the gate flies open. Rider and animal shoot forward, a blur of dark fur and chaps, and the dusty floor erupts in a fury of hooves.
All eyes in the audience glue to the cowboy atop his rampaging steed. In a matter of seconds, he'll emerge victorious, or tumble with arms clenched over his head to avoid getting kicked in the head.
Either way he exits, two men on horseback will help him do it safely.
Fewer people tend to notice them, given that the cowboy action in front of them is generally more exciting. But the rodeo can't go on if these men don't do their job, and fast.
Moving as one, they muscle into the conflict, sandwiching the rider and his mount. One of them grabs the man's jersey in a single fluid movement, helping the cowboy jump off the animal and onto one of their own horses.
Here are some of the coolest parts of the rodeo's genes to watch out for:
They're called pickup men, as necessary to the sport of rodeo as a parachute is to skydiving.
Marysville, California, native Jeff Shearer has worked as a pickup man for over 30 years. He compares his job to that of an emergency responder.
"You have to prepare for any situation that has happened or could happen," he says.
That includes riding up alongside cowboys still on their mounts, keeping a steady grip on the unruly animal, and allowing the cowboy to jump off. To keep ground-bound riders from being trampled, they'll lasso the horse or bull.
A big part of their duties is less visible: caring for all the various creatures that help make the rodeo go.
"We get up fairly early in the morning, and we have to feed all the animals," says Clint Humble, a rancher-turned-pickup man. "Then we get our horses ready."
Spending so much time around other species helps Humble develop his intuition. "It's a lot of instinct, being able to read the animals," he says. "They have different signals to tell you what they're going to do."
He adds that, contrary to expectation, patience is a virtue even in a fast-paced arena. "You wait for them to come to you instead of chasing them down," he says. "It's just a matter of things going a little faster."
Collaboration is also key. Pickup men often work in pairs, paying close attention to each other's movements. Trusting one's partner, in this field, maximizes the capacity of both riders – and minimizes injuries.
"He has to be there through thick and thin," Shearer says. "You have to depend on him, because every situation is life-threatening to the performers and to yourself."
Familiarity and practice help as far as making everybody safer.
"It sure helps to know your partner, their tendencies, just like anything," Humble adds. "Just learning what they do so you can help them more."
Shearer also brings up his four-legged partners, whom he considers just as important as his human ones.
"To be a successful pickup man, it takes a very good horse that is as good at its job [as you are]," he says. "They are the most personable animals in the rodeo arena."
A serious love for the rodeo, and for adventure, also comes in handy when it comes to doing a job like this for as many years as Shearer and Humble have.
"There's an excitement of fixing accidents before they happen," Humble says. "It's all exciting."
At a recent rodeo in Hayward, California, Shearer had to rescue a bareback rider whose arm was caught in the rigging, breaking his wrist in multiple places. Shearer was able to rope the bucking bronc and bring him to a stop – and for the rider, Shearer adds, "save his arm from being ripped in half."
Yes, most anything is possible in the ring – sometimes horses roll over people – and that's the scary part.
"I'm sure nervous," Humble says, describing the moment right before go time. "[It's] the anticipation of what could happen, what might happen."
As recently as last month, three bareback riders in a row were knocked unconscious in Belfuse, South Dakota.
"There's a million things that can go wrong," Humble says. "To keep the cowboys and the animals safe is the most essential thing we can do."