In deep South Monterey County, the Salinas River is a Garden of Eden. Bald eagles perch atop oaks and sycamores. Killdeer flit across the water below, filling the air with birdsong. Families of deer roam the wildflower-strewn banks, and the river, home to scores of crawdads, pikeminnow and the occasional turtle, pools up gently behind one beaver dam after another.
About 20 miles downriver, just south of King City, it changes dramatically. The river runs dry by late spring. The trees thin out. In some stretches, whole curves of riverbank are lined with scrapped cars, remnants of an old effort to bolster the banks for flood control. A 15-foot-tall wildlife fence springs from their base, through Buicks, Chevys and Fords.
The contrast is jarring. But the river isn't dead – it's just gone below ground.
The Salinas River watershed is the fourth largest in the state – behind the Sacramento, San Joaquin and Klamath River watersheds. Even when its waters are invisible, it's still an underground juggernaut feeding a $4.4 billion agricultural industry that provides the country with a bounty of salad greens, strawberries, broccoli and more.
Yet despite the bumper crop reports of this year and last, there are signs the river has reached its limits. Overdrafting has led to increasing saltwater intrusion, threatening growers' livelihoods all across the lower valley.
Faced with the reality of maxed-out groundwater, growers are looking for new recycled water sources on the surface. The parched Peninsula is trying to get in on the action, too. But when officials proposed to share Salinas Valley's treated sewage and agricultural wash water, growers almost immediately threatened to go to court over what they viewed as an infringement on their supply. (See sidebar at right.)
One thing lost in the contention could prove to be a trump card: a very old, almost completely forgotten law that has already allowed two major California cities to take water rights from private users and redistribute them. They're called pueblo water rights, the highest priority water right under California law – and the city of Monterey can choose to invoke them.
According to old maps, Monterey's early pueblo boundaries appear to include a part of the Salinas River, which means Monterey, Del Rey Oaks, Seaside, Pacific Grove, Sand City and Marina potentially have rights to all the water they need, no $400 million seawater desalination plant needed.
As a result, a new focus of the long water-supply debate is the Salinas River. The lettuce curtain is not an abstract idea; it is the river itself. That which feeds us also divides us.
Traveling north up the coast in 1769, Spanish explorer Gaspar de Portola and his party, who were in search of the Monterey Bay, came to the Salinas River after being forced inland by impassable terrain in Big Sur.
"The [Salinas Valley] is very verdant, and the earth is soft and mellow," Juan Crespi wrote on Sept. 26, the day the party came to what is now King City. In the days that follow, Crespi describes herds of antelope roaming the valley floor, a riverbank lined with "an infinite number of roses," and large pools filled with fish "that might weigh as much as 10 pounds each."
The valley's transition from virgin wildlands to mass agriculture began in the mid-1800s and has continued apace ever since, with farmers harnessing the river – and the water below – to create one of the most productive agricultural valleys in the world.
Thousands observe the valley's fields every day. Far fewer view its river, and for good reason: The Salinas River runs almost entirely over private land, and its access points are mostly limited to paths that run down from the few bridges that cross it.
As part of this story, Weekly reporter David Schmalz set out on a series of trips this spring to see the river – all of it – firsthand. With a few friends and in several stages, he traveled more than 150 miles from its headwaters in San Luis Obispo County to Monterey Bay. The longest leg began in early May, where in nine days he hiked from Bradley to Spreckels. It took months to complete the journey, one which provided a personal way to understand a wonky water-policy story through run-ins with breath-taking beauty and at least one angry property owner who became a friend. His journal entries on the trek flow through this story.
May 7-10, miles 90-125
Entering the Salinas Valley, the river turns to sand and the mountains pull away. The trees get smaller, the riverbed widens and the ducks and egrets mostly disappear. The bed becomes covered with bleached crawdads and exposed beaver dams, and wildlife fences crop up on the banks. For miles on end, weaving through thickets of willow and arundo, there is only sand, sand, sand. We come to calling it "the little Sahara."
Yet we can sense life budding in the fields, and coming up off the river in Gonzales one evening, we walk by an asparagus field as its rows are being flooded. We watch the water flow slowly east down the ditches, and then turn our gaze south, taking in the distance we've traveled to get here: As far as our eyes can see, it's all vegetables.
That water seeping in the asparagus field, and the majority of cropland in the valley, comes from hundreds of feet below the surface. It's groundwater, pumped up from the aquifer below.
Salinas Valley growers report their groundwater use annually to the Monterey County Water Resources Agency, but individual growers' reports are confidential and meters aren't required, so the precise amount remains elusive. (For more on how ag gets its water, see www.mcweekly.com/river.)
What we do know: In 2012, 1,867 wells extracted nearly 496,000 acre-feet of groundwater for irrigation.
The water that went to Salinas Valley homes and businesses was about 10 percent that much. The Peninsula's annual demand is less than 3 percent, about 13,000 acre-feet.
That underground water is available to whoever owns the land on top – no fuss over water rights, just a straightforward permitting process to drill a well. All you need to do is extract it and put it to use.
One problem with the groundwater free-for-all: It's led to overdrafting the aquifer by about 58,000 acre-feet per year. When everybody draws from the water table, that creates space for Monterey Bay water to seep in, a process called seawater intrusion.
Saltwater doesn't grow good vegetables. That's at the heart of the Salinas Valley's water crisis, and it's why growers are telling Peninsula officials – who need 10,000 acre-feet of new water by December 2016 to replace what's being illegally overpumped from the Carmel River – to look somewhere else.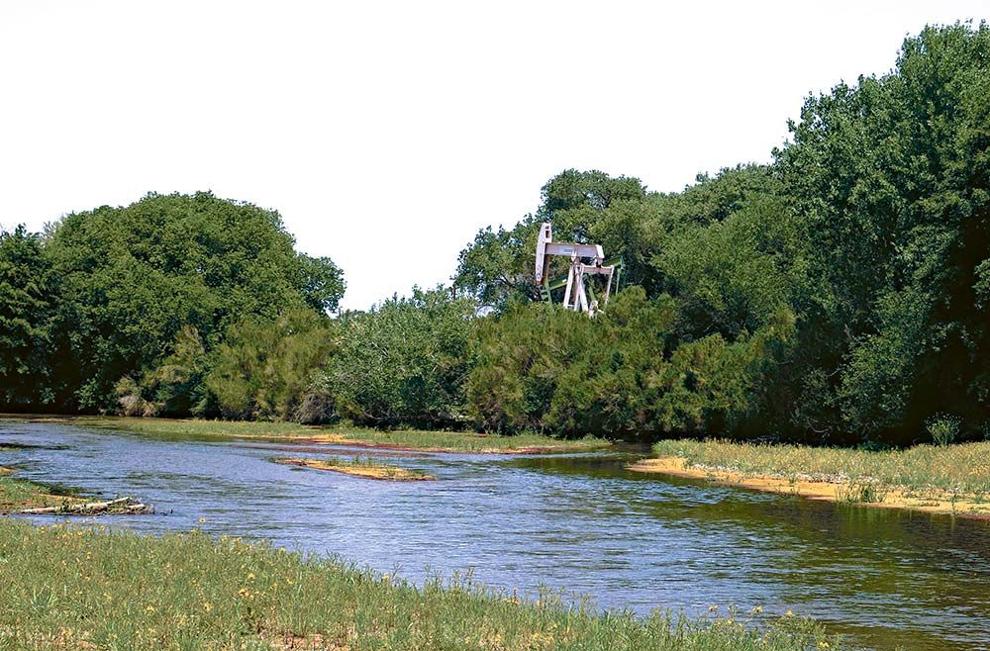 April 13, Mile 18, 140 miles from sea
The first 'STOP' sign we see nailed to a tree doesn't give us much pause, nor does a 'No Trespassing' sign on the opposite bank. We've spent the last two days from the headwaters climbing over barbed wire fences, in and out of the river, and are accustomed to feeling unwelcome. But when we see a dozen other such signs in the next quarter mile, we are on alert.
As we come around a bend of a stunning river canyon, moving cautiously on an animal trail, we see an old man and his German shepherd sitting in his yard, just above the bank of the river. He's talking on his cell.
His shepherd perks up and starts trotting toward us, perhaps sensing the small dog with us. We retreat, and with no other option, jump onto an island in the river, hop to the other side, and climb into steep, thick chaparral.
For two hours, we smash our way up the hillside and down, finally emerging no more than 200 yards downriver. My pants are in tatters and hang off me like shorts, and my forearms are striped with blood that's already dried in the sun. I can't help but wish we'd just walked right by, but in the moment, I felt certain he was armed.
Late last year, Rich Smith went to Sacramento to defend the ag industry's claim to Salinas River water rights. Smith owns Paraiso Vineyards, a sprawling winery on the Santa Lucia foothills outside Soledad. He's also the eminence gris and de facto spokesman for South County growers.
He was joined by Nancy Isakson, president of the Salinas Valley Water Coalition, and Monterey County Farm Bureau Director Norm Groot. They arrived at the State Water Resource Control Board's Division of Water Rights to talk about water rights.
It got contentious immediately. "We were confronted with the question, 'Why don't you just give 'em 10,000 acre-feet?'" Smith recalls. "Well, why don't they just fix our [58,000]-acre-foot overdraft between Salinas and Castroville?"
In other words, though a seemingly small portion of ag water could solve the Peninsula water crisis, the growers are understandably protective. If they agree to give up some of their water now, in a more prolonged drought, they could lose their dibs to that water.
Sewage can be treated and recycled into usable water – but with improved conservation practices, the amount of Peninsula wastewater has been declining. To replace Carmel River water, the Peninsula needs some of Salinas' effluent.
Isakson offers up this analogy for the Peninsula's request: "That's like me going to Donald Trump and saying, 'You've got all this money, and I've just got a little bit. I need to fix up my house. Why can't I just have a little bit [of yours]?'"
May 31, Miles 148-158
We travel the last leg of the river by canoe.
After putting in at Davis Road, the going is tougher than expected – headwinds drive us backward, and the flow of the river seems to lack all momentum. It's shallow in spots and requires knee-deep wading as we push our canoes downriver, against the wind.
But with the return of water, there is also a resurgence of life: We confirm our first beaver sighting since south of Greenfield, and pikeminnow once again flourish.
As we move further north the horizon opens up, and giant machines trundle across the Marina landfill on our left. Quite suddenly, one can feel a departure from the valley, and it's at about the same place that – when looking at old USGS maps – we cross into the old pueblo of Monterey.
Two California cities, San Diego and Los Angeles, saw their namesake rivers getting tapped by private water companies in the early to mid-1900s, so they did something no other city has done, before or since: They fought to prove their pueblo water rights in court.
Both cities won, and now have paramount rights to all the surface and groundwater connected with the San Diego and Los Angeles rivers.
Monterey also has pueblo rights, which were established in 1853 on the heels of the Mexican-American war, when the city's claim to 30,000 acres was granted by the United States Land Claims Commission. But the water rights attached to that claim – which extends from the Peninsula to Fort Ord and Marina – have been collecting dust since.
The Weekly spent hours parsing reports and legal cases, and even visited the county Clerk of the Board office to look through handwritten Board of Supervisors minutes from the late 1800s. Those revealed not much more than proof it's tedious to learn from giant tomes filled with cursive script. But an April 1999 report issued by the California Public Utilities Commission – which regulates private utilities in the state – suggests it matters a lot.
"More than a century-old document submitted by the city of Monterey indicates that the Salinas River may be included in original pueblo boundaries," the report reads.
Then the kicker: "Even though it may take a long time through the courts, it is recommended that the city of Monterey pursue the pueblo water right further."
The idea was first championed by former Seaside mayor and city councilman Lou Haddad, who died in 2006.
After his retirement as a military officer and later a businessman, Haddad became a paralegal and grew obsessed with Monterey's pueblo rights. It was his persistence that twice brought the issue to Monterey City Council. Both times, in 1999 and 2001, the council voted against pursuing the rights in court.
As he dedicated endless hours and letters to the state and the city of Monterey, Haddad made two missteps.
First, he asserted Monterey had pueblo rights to the Carmel River instead of the Salinas River. Carmel is not within the Monterey pueblo boundaries. Second, he pursued those rights himself, without the blessing of the city whose rights he sought to win.
His death leaves few sources who know much or anything about pueblo water rights – including politicians and water officials who have spent years trying to solve an intensifying water crisis.
One rare person who does know about pueblo water rights is Monterey resident and retired Pleasanton and Roseville city attorney Richard Glenn, who appears to be the heir to Haddad's obsession.
"This is a question about political will," Glenn says, "sharing a common resource, and doing what is right under the law."
Glenn feels there's at least a 75-percent chance Monterey could prevail in court, as have San Diego and LA. He also estimates the case could be decided within five years. Besides, he adds, simply trying will provide an immediate indication.
"Right away, the court would either be interested, or not interested," he says.
In rebuffing Haddad, former Monterey city attorney Bill Conners suggested that because the Salinas River doesn't flow through Monterey, rights to that water don't apply. But it's not Monterey's current boundaries that matter, Glenn says, it's the old pueblo's. In looking at old maps, those boundaries include the river near Marina.
One official the Weekly found conversant on the topic is Andrew Sawyer. The assistant chief counsel at California State Water Resources Control Board, Sawyer knows more about the state's water rights than most anybody. Some have argued pueblo water rights might never have existed under Mexican or Spanish law, he says, and remain skeptical San Diego or Los Angeles could win those cases today.
"It's seems unlikely the courts would recognize new pueblo water rights," he says. "In Los Angeles v. San Fernando, the court retained the pueblo right based on the fact that people have been relying on this [water] for a long time."
The legal documents and cursive script collect dust as ratepayers on the Peninsula pay the highest water bills in the state. Desal-plant solutions have received endless discussion. What receives far less attention is the fact that the amount of water the desal plant would supply to the Peninsula is less than 3 percent of what irrigates Salinas Valley crops annually. Another forgotten fact: The Salinas River used to be called the Rio de Monterey.
April 14, Mile 29 of 158
We are caught trespassing once.
It happens as we come out of a canyon in Atascadero, our car within sight, at the very end of a three-day trip. As we walk exposed on the riverbed, a truck crosses the bridge in front of us, and we know we are made.
When we get to our car after some hustling, the truck skids to a stop and a man steps out and asks: "What the hell are you all up to?"
My friends are braver in the moment, and lie: "Oh, we were just checking the river… Wait, we can't be here?"
I sense the man growing angrier, and decide to tell him the truth.
"Sir, we've walked this whole river from Santa Margarita Lake to here, and it's some of the most beautiful country I've ever seen, and I feel blessed to have walked through it."
"Y'all have seen all that?"
"Yessir."
"Ain't nobody seen that. Ain't nobody seen that for years… Y'all done good, y'all done real good."
He then gives his name, Jerry, and his number, telling us to ring him if we ever want a place to stay.
Six weeks later, we take him up on his offer, and he puts us up in a cabin overlooking a lake on his 500-acre ranch. He still calls me a trespasser, but he can't say it without smiling.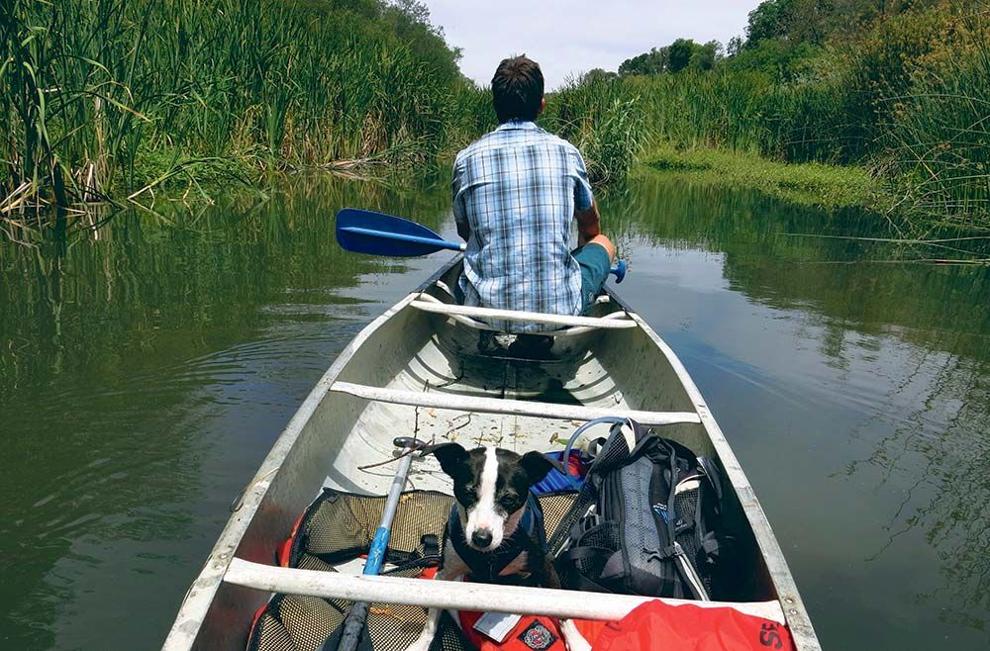 Maybe we can all just get along after all. Maybe.
Representatives from the Peninsula and Salinas Valley got together July 30 to hash out a deal for the hotly-contested effluent (see story, p. 21). There are indications a deal might be close.
That would be something of a historic moment for the county, and underscores what seems plain: Especially when more waste water is factored in and recycled, there is more than enough water in Monterey County for the ag industry to thrive and the Peninsula's hospitality industry to boom.
Martin Feeney is a hydrogeologist who's been studying the Salinas Valley basin for decades, most recently selected by the ag industry to study whether the proposed desal plant will intrude on the Salinas Valley basin. He sees plenty of water to go around.
"There isn't a water supply problem in the Salinas Valley," Feeney says. "The state figured this out in 1946. The rest of it's all been hydro-politics. It's never been about the science."
The long trek from the beginning of the Salinas River to its very end doesn't provide much insight into science or politics, but it provides all sorts of other things – a deeper sense of place, a greater respect for distance and a pair of toned calves.
It also furnishes a metaphor. For its entire 150-plus-mile length, the river sharply divides those who sit on either side. Even where it's dry, barbed wire, wildlife fences and willow thickets make it almost uncrossable.
But as the river finally nears the sea, it disappears beneath a narrow strip of sand, and it's suddenly easy to walk from one side to the other.
In the end, the Peninsula and the Valley are connected.