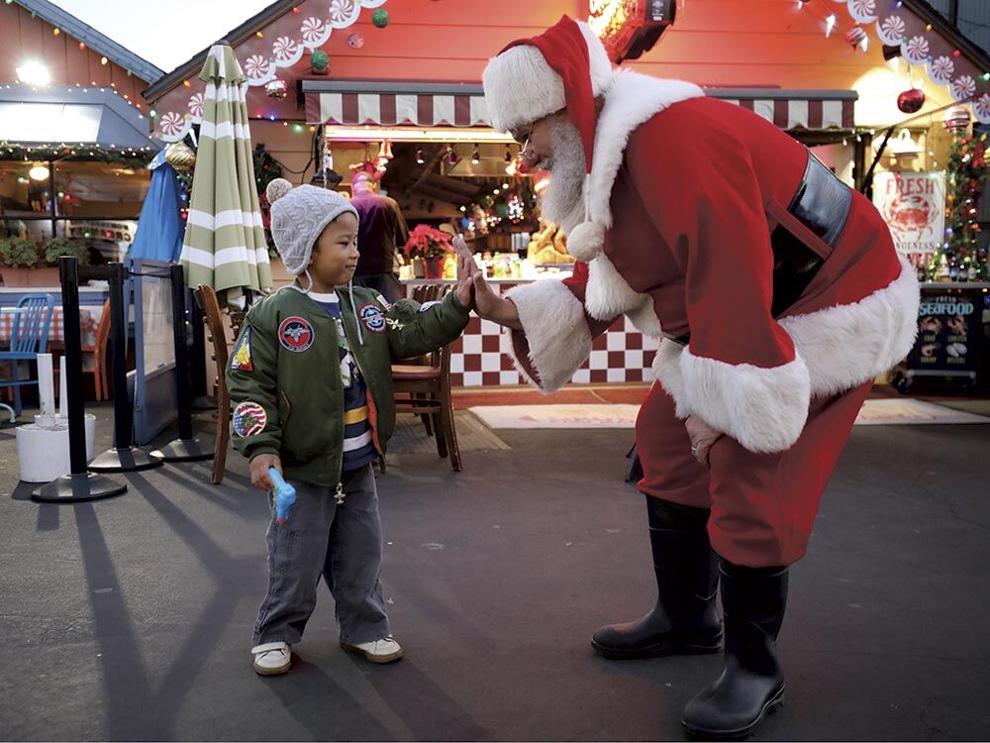 IN 1989, LAW ENFORCEMENT OFFICERS IN SAN JOSE WERE JUST ABOUT TO PLACE SANTA CLAUS UNDER ARREST when they suddenly realized who they were about to put into custody – James Paine, that is Santa James, also known as Monterey's Wharf Santa – was on his way to the Hillsdale Mall, where some 300 eager children were waiting. He wasn't speeding, but he was behind the wheel of a car borrowed from a friend who failed to tell Paine the registration wasn't up to date.
Paine was dressed in what he calls "half Santa" – boots, pants and a red undershirt; the jacket would go on just before he stepped in front of the kids. When officers pulled him over, he refused to get out of the car, afraid of being recognized and causing a scandal. That refusal to exit the vehicle prompted officers to threaten to arrest him.
"You never want to ruin a moment for the kids," Santa James says.
The story – as it should – has a Christmas miracle ending. While the law required them to have the vehicle towed, officers were happy to intervene. They drove Paine to the event, then booked him to appear at the department's own holiday party.
Playing Santa has its perks, but the character also demands a lot. The days can be trying, the suit and padding for that bowl-full-of-jelly physique can be stifling. There are expectations to fulfill, questions to be answered. Santa hears more than wish lists. Children share their hurts and hopes, as well as unexpected messes that jack up the dry cleaning bill (and require Santa to carry a spare suit).
"It takes a lot of patience and a lot of love," explains Jonathan Estey, who performs the role for patients and staff at Mee Memorial Healthcare System's facilities in King City. "It's humbling and addictive."
Estey spends just one day a year as the jolly old elf. The rest of the time he serves as Mee Memorial's operations manager and refers to himself as the "biggest Grinch," since he's responsible for informing staff their decorations cause a fire hazard and must come down. He definitely didn't want to be Santa when drafted into the role five years ago.
"Now I actually look forward to it," he says. "It's great being the most loved person in the world."
Paine began his Santa stint as a teenager back in 1984 and has been at it every holiday season since. He started on a real beard just over a decade later so children could give it a good hard tug.
"YES, THERE ARE SANTAS ON FACEBOOK."
"I bring out Christmas joy," he says.
Estey has a real beard and a problem. It's red, and he has never been able to dye it to a proper shade, so he wears a snow-white fake beard over the real thing.
"This year I found a spray," he says. "I'm hoping it works."
It's hard to pin down just how many people play Santa on a professional level. The U.S. Bureau of Labor Statistics doesn't track elf-related employment and wage data. The International Brotherhood of Real Bearded Santas (IBRBS) estimates there are around 5,000-6,000 in the U.S.
Thanks to a survey by the Tampa Bay Times of 700 professionals around the country, we know what Santa looks like. He's 61, on average, and weighs in at 257 pounds. He's married – 83.5 percent of the survey field – with children, overwhelmingly white (95.7 percent), Christian (62.5 percent), with at least some college education. More than half go through the process of whitening their beards, which are almost universally yanked by kids (surprisingly not at 100 percent, but close).
Sore chins are only part of the pain Santas suffer. Around half have been asked to leave a weapon under the tree. Just over a quarter have been sucker punched and about an equal number walk away with a soiled costume. Despite all of that mayhem, 83 percent of professional Santas place people on the nice list.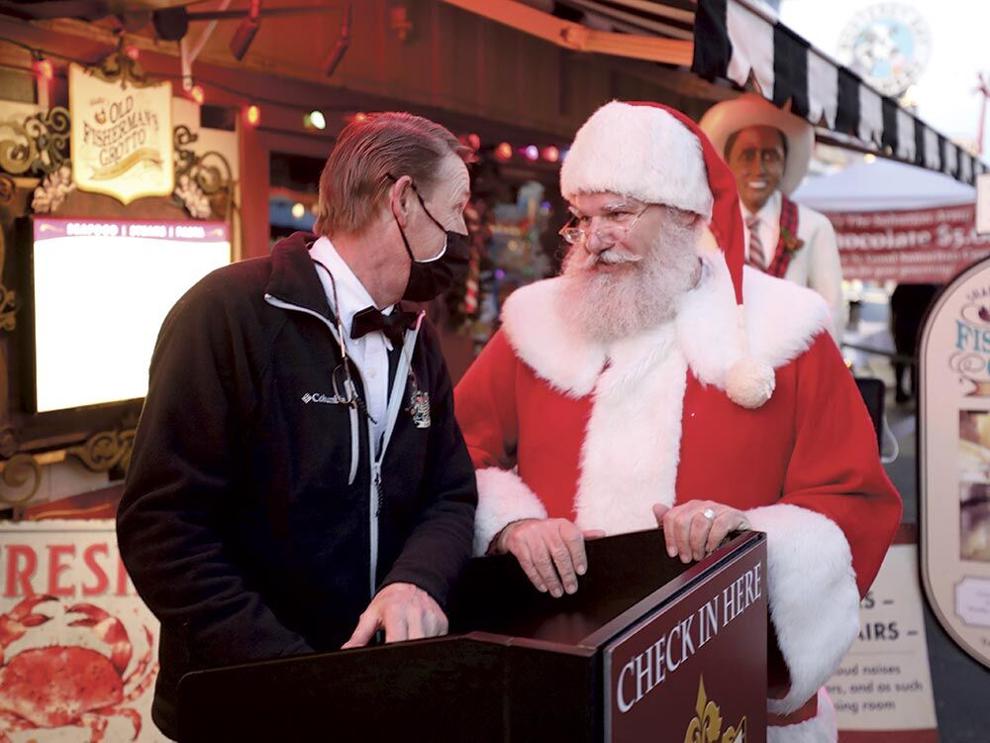 Perhaps that faith in humanity is why they take the part so seriously. Paine begins growing out his beard in July with an eye on a full array well before the holidays. By October he begins applying a solution that makes white hair glisten. Until he shaves and allows his normal hair color to return, the Hollister truck driver considers himself on stage.
"FROM NOVEMBER THROUGH DECEMBER, I DON'T CARE WHAT I'M WEARING – I'M SANTA."
"From November through December, I don't care what I'm wearing – I'm Santa," he explains.
On his rounds for work, if a child questions his identity, Paine will wink and say, "How do you think I learn how to do deliveries?"
Some professionals remain in character throughout the year. According to International Council of Shopping Centers data, the average mall or department store Santa puts in 10-hour days, hearing from more than 150 kids per day. Immersing in the role for months requires much more stamina. In public they must always be ready to burst out with a robust "ho-ho-ho" or ask a wide-eyed youngster if they liked the gift.
Because Santa Claus – or St. Nick, Kris Kringle, Papá Noel, Father Christmas, Sinterklaas, Santa Kurohsu or any of the big guy's other names as he wends the globe – is shared by many cultures, those who step into his boots much know more than Dasher and Dancer, Prancer and Vixen. Finland's Santa rings the doorbell. The Russian version generally prefers blue to red. In some countries he arrives before or after Dec. 25. Paine points out that older children try to stump Santa. On top of the hours and countless selfies, they have to know their stuff.
"If you have the spirit and mentality you can do it," Paine says.
You also need the money. Estey says a decent suit that can withstand his brief schedule enough to last three or four years costs around $250. High-quality suits easily top $1,000, not including high leather boots and Santa's signature belt. A handmade beard that can be glued on for tugability sets actors back up to $1,500.
"MOST PEOPLE TRY TO GET THE WHITE OUT, I TRY TO GET THE WHITE IN."
 There is debate over the first appearance of a Santa Claus. His appearance wasn't defined until Thomas Nast published his famous portraits beginning in the 1860s. The earliest mention of a department store hosting the big guy came around the same time when Macy's in New York began advertising that he would set up shop (seems like there was a lot of joy and retail sales during the Civil War). But nothing is known of his costume, or if he was posted in a "Santa Land." In 1890, a man named James Edgar decked himself out as the Nast version of Santa and set up in a Boston department store. The first modern staging? Perhaps.
By the 1920s red-suited, white-bearded, jolly old St. Nicks were posted in stores across the country. Black Santas have been around at least since the 1950s, but they still account for just a small percentage of the total. (And Black Santas have visited Monterey County in recent years.)
Because the ritual has become so ingrained in American culture, a kind of Santa industrial complex has developed, requiring liability insurance, encouraging continuing education, membership in professional organizations and attendance at conventions. The Northridge Mall Santa is part of a corporate environment that does not allow him to grant interviews to newspapers.
There have even been hostile takeovers, dressing downs by boards of directors and legal Santa spats (once cleverly described as "Santa-mosity") between organizations, of which there are many. In addition to the IBRBS, for example, there's a Fraternal Order of Real Bearded Santas, an International Order of Santas, the New England Santa Society, Illinois Professional Santas and others covering local, regional, national and international bases.
The payoff for seasonal Santas is not the income. The Tampa Bay Times survey found that expectations averaged out at $5,883 for the month of December 2021. Mall Santas and those working with advertising or photography studios can earn more, but most estimates top out around $15,000.
No, they measure their reward in smiles, in wide-eyed children, in adults reliving the happiness of Christmases past, in the families who return each year. Paine once held a 1-day-old child for a holiday photo. This year the girl and her parents will be back for their 10th photo shoot.
"I find it liberating," Estey says. "It's a chance to be a good person – it's a good feeling."
---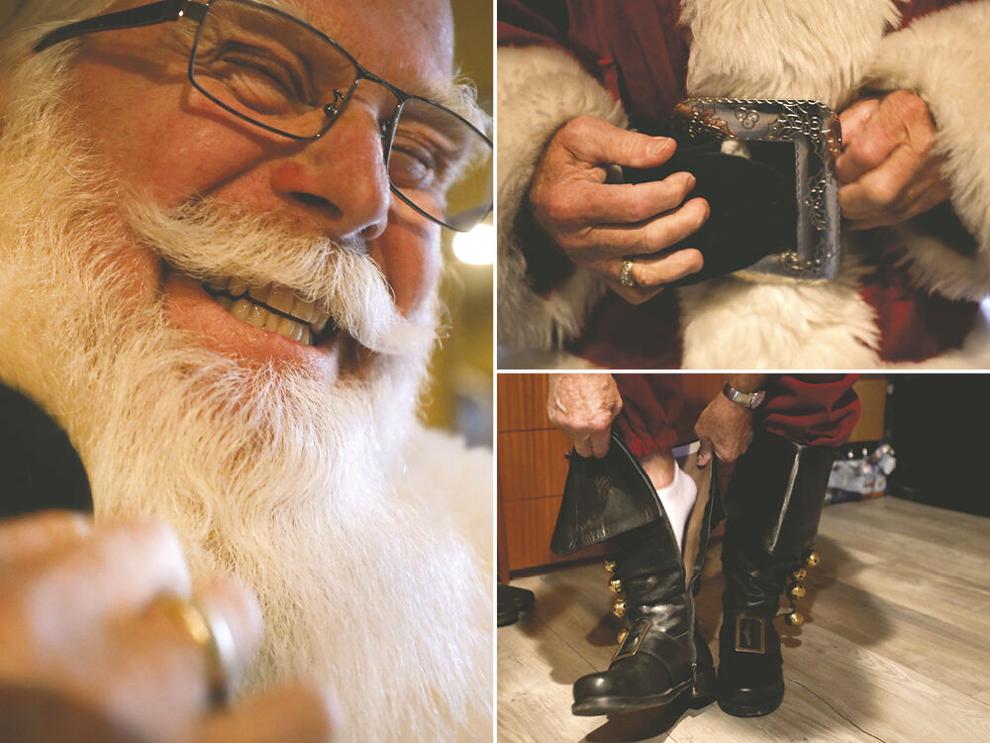 For a local real-bearded Santa, embodying this seasonal totem is a calling – and an important responsibility.
Vern Brischke first became Santa "way back" when he was 20 or 21 years old. But his real career didn't start until later – this year is his 17th in a row.
It is a calling, in a way. Talking with Brischke offers an inspiring peek inside the world of someone who is truly passionate about what they do. "It was something that I kinda knew I was supposed to do," Brischke says. "I think I've always had that in me to make people smile and make people happy… it's something that's just absolutely natural."
A woodworker by year and Santa by season, Brischke attends tree lightings, private parties, corporate events, benefits and more from around Thanksgiving through Christmas Day. He's busy. "Yes, I do a lot of traveling," he says – including around the Central Coast and up to the Bay Area.
Brischke spoke with the Weekly about the highs and lows of the gig – and questions of fashion.
Weekly: Is Christmas your favorite holiday?
Brischke: Oh, I think it always has been. In doing this as many years as I have, it doesn't matter where you are in life today. There's always something you remember from childhood. A special day, a special memory. And so for many people in the world, [Christmas is] just that day that they are a whole lot happier.
What's your favorite part of being Santa?
The surprise element. When people look at you, it's a double-take. It's, you know, "Oh my god, you look like Santa!" Well, I am! I don't look like him, you know? It's all about getting a smile from somebody. As a professional Santa Claus, we are the eyes of the world. It's our job to spread the joy and happiness and get people to smile.
Are you friends with many other Santas? Do you socialize?
Well, the Santa School was great, there were 25 of us there. Yes, there are Santas on Facebook. There's the International Brotherhood of Real Bearded Santas [now known as IBRBS, this is a membership-based "Santa Community" that provides various services and holds a yearly conference]. Probably 600-700 Santas that I'm friends with that way.
Where do you get your Santa suit?
I actually have a traditional Santa Claus suit, and in a traditional suit, the fur goes down the front. Yes, there are all kinds of places where they come from – it depends on whether you're going to be just a one-time Santa Claus or a lifetime Santa Claus. My suit comes from Adele's of Hollywood, and they custom-make them. And they are expensive. I have two suits in case something happens, so I can change out a suit and get it to the dry cleaner.
The other thing that you see a lot of – and it comes from European style – they wear a lot of cloaks now, like in Christmas Chronicles. And they are really neat. Yesterday I was with one of the guys that wore that cloak and he says, "I love it." You've got the velvet pants, the velvet vest, the white silk or satin shiny shirt and then you've got a cloak on – It's a real good look, I like it.
But [when it comes to the beard], I'm not the color that I want to be yet. I'm getting there – I'm different from most people, most people try to get the white out, I try to get the white in. I go every six weeks to get [my beard] bleached white – the whiter it is, the better I feel.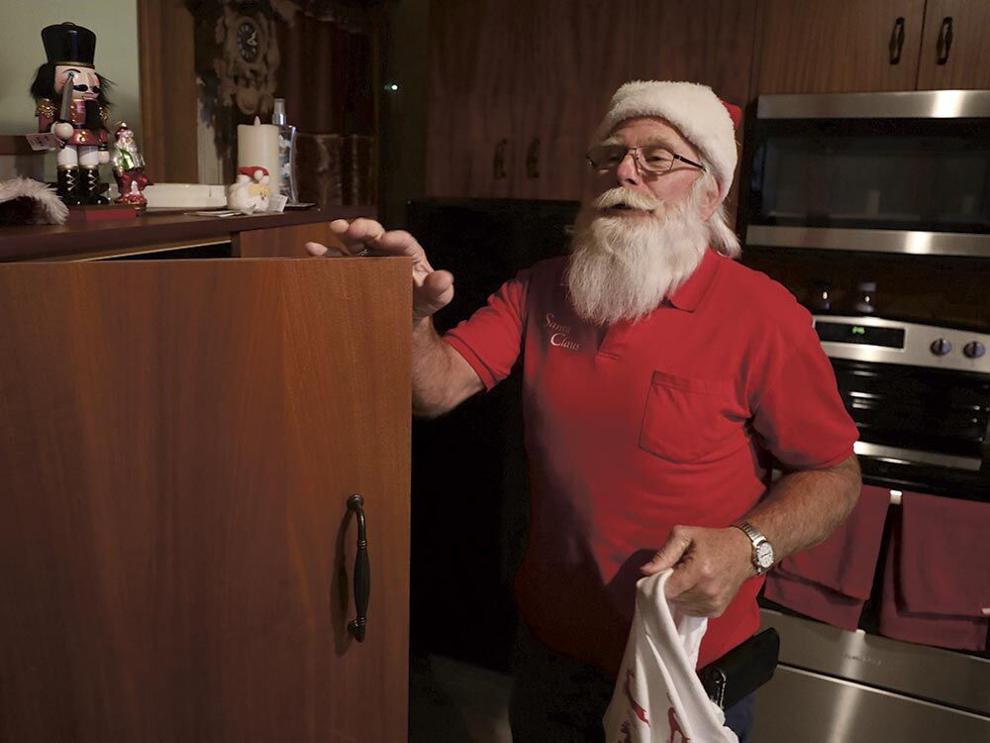 What's hard about being Santa?
The worst part is hearing some things from children – something that's happening in their life. That is extremely hard. One of the things is, "Can you make my mom and dad happy," or "Can you get them back together?" Those make your heart drop.
Typically at the end of the season, after all the venues – you're human, but you absorb all the different emotions that there are. So what happens is, the 26th of December, you're still kind of riding a high, but on the 27th, it hits you like a Mack truck. That's when all the emotions of the whole season come out. And it's hard, it's difficult.