The day this 176-page puppy hits the streets is actually National Puppy Day, whose motto is "adopt instead of shop." Here both are possible: Every bit of the talent assembled to model for the Best Of Monterey County® readers' poll results is currently up for adoption (while they last!; see below), and the Shopping & Services section alone includes 91 categories you can indulge in and support local businesses.
If that's not reason enough to embrace the cute, fuzzy and snuggly issue, consider this: With fires, floods and divisive politics, a lot of factors made this year less than the best. What better to balance out that drama than a reminder of the great things that surround us in Monterey County?
Answer: all the great things contained in these pages, voted as the best by our readers, plus puppies and kittens.
The vote to end all votes.
For the first time in its nearly 30-year history, the Weekly circulated two covers for the same issue, partly because its editors couldn't decide the timeless question: Who's cuter, puppies or kittens? Email puppy@mcweekly.com or kitty@mcweekly.com to make your case; the two most persuasive and inspired responses win $100 gift certificates to Best Of winners.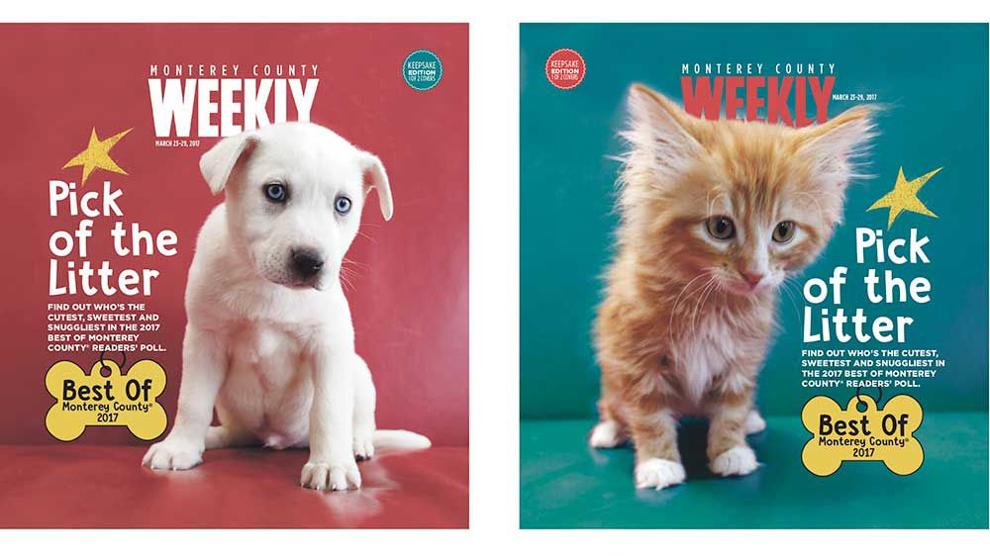 Contributors to Best of Monterey County® 2017 writeups (+their pets' names)
Mark C. Anderson (Winston and Samantha), Marielle Argueza (Sutter, Neil, Dixie, Benjamin and Lulu), Stephanie R. Bacheller (Dante), Kelsey Liebenson-Morse, Nic Coury, Andi Dines, Mary Duan (Oliver and Nigel), Qres Ephraim, Paul Fried, Shiho Fukushima (Pirelli), Ivan Garcia (Princess), Jessica Hardcastle (Ophelia and Cosmonaut), Adam Joseph (Corn Dog), Gabriela Joseph, Sarah Kenoyer, Kelsey Liebenson-Morse, Karen Loutzenheiser (Sumatra), Linda Maceira (Gogo, Chuy and Shug), Pam Marino (Pepper), Keely Richter, Walter Ryce (Baby Kitty), David Schmalz (Sammy), Gabriel Skvor, Wyatt Slate (Chico, Sprout and Bushmeat), Kristin Sollecito (Ringo and Mandy), Stuart Thornton, Nick Rahaim, Sara Rubin, Taryn Yudaken, Bradley Zeve (Frankie)
Editorial direction by Mark C. Anderson
Design direction by Karen Loutzenheiser
Winners' photos by Nic Coury
Editors' Picks photos by Wyatt Slate
---
SPECIAL THANKS to the good saints at SPCA and Peace of Mind Dog Rescue, especially Beth Brookhouser, Carie Broecker, Dawn Fenton and Stacy Dubuc.
---
Meet The Stars
The puppies and kittens who modeled for the Weekly's Best Of photo shoots.