The Weekly's 25th Anniversary Issue: Game-changing local leaders reflect on their most important reminders.
---
QUICKLINKS: 25 Monterey County Movers and Shapers
---
Too many leaders, not enough time (or space, for that matter). Just as the Weekly set out to take a look forward in this 25th anniversary issue, we also wanted to take a little look into the not-too-distant past while still keeping a foot in the present. If we were looking at the ones who would take us into the future, who are the ones who helped get Monterey County to now? The deciders, the leaders, the lightning rods, the dreamers and the doers. We settled on 25. We could have gone much further. We asked them about their touchstones – most everyone (but not all) complied and answered.
Hit us at letters@mcweekly.com to give us your own 25 Who list.
• • •
Rick Antle, 
56
Cofounder and CEO of Tanimura & Antle
For one of the most powerful ag people in California, let alone Monterey County, there isn't one thing he depends on to keep his priorities intact.
There are 2,600 of them.
"My employees' faces," says Rick Antle. "Without them, who am I?"
He does some things to make sure they have more good days than bad, paying an above-industry $14 an hour and providing full medical, retirement, paid holidays, overtime and incentive pay.
Antle and team helped get local ag where it is. They will also help take it where it's going, with the new Wharf Marketplace presenting the area with a mini Ferry Building-style market and great produce while trailblazing advances in pesticide regulation and worker safety.
"Monterey County ag is so progressive, it's light years ahead of the rest of the U.S.," he says. "From that perspective, it's the most advanced area that there is."
Which makes everyone's days better.
Dan Baldwin, 
56
President and CEO, Community Foundation for Monterey County
Behind the operations of hundreds of nonprofits doing good work in Monterey County – from youth education to environmental preservation to violence intervention – the Community Foundation for Monterey County is quietly whirring. The Foundation is a meta-nonprofit, delivering grant money and training programs to hundreds of local organizations that work on bare-bones budgets.
Baldwin has led the Community Foundation since 2010, after 15 years of running museums. His talisman is a button from a 1993 museum opening in Dallas, after he watched a friend patiently spend 20 years getting the Museum of African American Life and Culture built. "It's always been a reminder that you've got to trust your compass, be patient, and bring people along with you," he says. "If you are really true to that sense of direction, you're going to get there."
Ted Balestreri, 
73
Co-founder of Sardine Factory and Cannery Row Company
It can be done. Beat-up oceanfront blight can become a beacon. An embattled plot of land can become a landmark oceanfront hotel. An old-school restaurant can launch a real-estate dynasty.
Ted Balestreri Sr. got the plaque – which reads "It CAN be done," on his Cannery Row Company desk from his son – Ted Balestreri Jr.
The man who founded the landmark Sardine Factory with his longtime partner and pal Bert Cutino – and now estimates CRC's ownership of the iconic New Monterey district as 82 percent – thinks that ambition to overcome is drawn from some simple things.
"I always believe in a positive attitude," he says. "A man who never had a chance never took a chance."
Also: character to know what to do, courage to be able to do it and persistence.
"You have to have a dream," he says, "and have faith in it and keep moving forward."
Anna Cabellero, 
59
CA Secretary of Business, Consumer Services and Housing
Anna Caballero loves rocks. Her homes in Salinas, where she's a resident, and Sacramento, where she's part of Gov. Jerry Brown's cabinet, have displays of turquoise, fossils, geodes and other treasures she's collected through the years. It comes from childhood summers in Arizona, where her uncles would take her into the desert to go rock hunting.
These trips to the mining town her family comes from set her on the path to helping the poor. She saw the abuses suffered by people there, and decided to become a lawyer to right injustices. She came to Salinas in 1979 to work at California Rural Legal Assistance, then made her way to public service, serving on the City Council for 15 years and becoming the city's first woman and first Hispanic mayor in 1998. When the din of public life gets too much, she knows where to turn: "There's nothing better for me than to go out into the desert and walk."
Lou Calcagno, 
77
Monterey County Supervisor
Every morning, Calcagno is up and out by 6am to feed cattle on his Moss Landing dairy, Moon Glow. "That's when I do most of my thinking and relax," he says. "If I don't start working with cattle in the morning, the day doesn't go good."
The dairyman was born on the family dairy next to Elkhorn Slough, back when Monterey Jack cheese was still the region's leading agricultural product. He's carved out that precious early-morning time with his cows as he's watched the county change – and helped engineer that change – over the past 14 years as a county supervisor and 18 years before that as county planning commissioner.
Before getting into public service, Calcagno represented the dairy industry and lobbied in Sacramento and Washington – experience he says shaped his fiscally conservative sensibilities. Calcagno's hinted at retirement, and will make a formal announcement in December, but until then there's North County water supply, trash pick-up and road improvements to work on – and cows to feed.
Mike DeLapa, 
57
Social entrepreneur
Mike DeLapa fell hard and fast for Monterey – as hard and fast as he had for Oregon, where he spent three years starting in 1980 running the Columbia River Estuary Taskforce. He saw how much Oregonians were willing to fight to preserve the natural wonders around them; when he came to Monterey 1989 as general manager of Sea Studios, he took a long look around and found, to his horror, that Monterey County was on the verge of becoming another Los Angeles County: Sprawl was about to abound.
He and a small group of friends kicked around DeLapa's idea of launching an organization to advocate for smart growth and smart land-use policies. He and his wife, Rebecca Shaw, managed to raise $10,000 and launched LandWatch Monterey County.
Throughout the struggles to bring the idea to life, DeLapa always kept in mind the words of former Oregon Gov. Tom McCall, a Republican who fought to keep Oregon from being sprawled to death.
McCall, by then dying, was battling a third initiative aimed at repealing a preservation law he had enacted. On the campaign trail, McCall said this: "If this initiative passes, I might as well have done nothing at all," DeLapa recalls.
"It was a huge statement," DeLapa says. "I always think, 'What would Tom McCall do?'"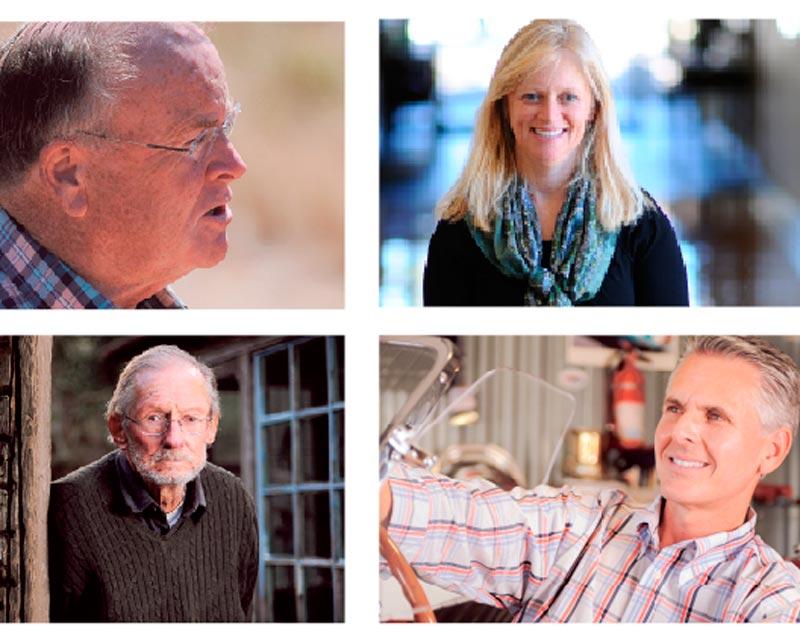 Warren Dewey, 
64
Proprietor of Golden State Theatre
He was doing fine in L.A. He was making the rounds in studios and at record labels as a recording engineer for some of the biggest names around, like Little Feat, Boston, Gladys Knight & the Pip and Sammy Hagar, among others. It had to be a labor of love when, in 2004, Warren Dewey left all that behind to buy downtown Monterey's Golden State Theatre, which had been underused as a movie house, and take over the renovation and management. Dewey tore down the balcony screens and the wall that divided them in half, stripped and rebuilt the place into a palace of performing arts and film. And, for a while, there was none better in the county.
Management of the space was given over to a church and then to a creative crew of bookers and promoters; it's since come back to Dewey, demonstrating that his long, successful run of filling the place with joyful noise and sights was harder than it looked. It's still hosting impressive events, though far fewer than before, and its future as a lively institution is in limbo; Dewey's place in the cultural history of Monterey County, though, is firmly fixed.
Sam Farr, 
72
U.S. Congressman
Sam Farr was born into a place that was idyllic (Carmel) and a family (his father was a California state senator, his mother a volunteer with the League of Women Voters) where the issues of the day were debated over dinner. John F. Kennedy courted his father's support during his run for president, and Gov. Pat Brown sat in the family living room.
"I didn't know these were important things or important people," Farr says.
It was such an idyllic place and time, in fact, that one day his mother told him, "You have to get out of here and go see the world. Not everyone lives like this." At 16, Farr went to Germany with a church group, and saw a country struggling to rebuild itself post WWII era. He later joined the Peace Corps and taught community development skills in Colombia. And after stints on the Monterey County Board of Supervisors and in the state Assembly, he won a special election for U.S. Congress when Leon Panetta resigned to take over the Office of Management and Budget.
He's been an exceptional lawmaker pioneering ocean protection, building coalitions, seeding CSU Monterey Bay and voting against the invasion of Iraq. But it's the mix of people (the memory of his parents and those dinner-table conversations) and place (Carmel) that are the touchstones that keep him going.
Ewalker James,
79
Citizen-Activist
How do you measure a person's effect on a community? In years? In awards? In sweat or sacrifice, friends or joy? Then Ewalker James's effect on Seaside has been enormous.
He was born in South Carolina and, being black, knew segregation intimately. That didn't stop him from serving his country by joining the U.S. Army in 1952. He married Rosalee James, and they began a family. He served in the Korean and Vietnam wars, then retired to Fort Ord in 1972. He decided to serve his Peninsula community.
His list of volunteer work is too long for this space. Highlights: He's served as director of the Monterey Jazz Festival's Education Committee, founded the Citizen's League for Progress and the Seaside Cultural Arts Group. He's devoted energy to activism and justice as director of the local American Civil Liberties Union, and member of the Affirmative Action Committee. He's helped make Seaside neighborhoods safer, walking the streets as a member of the Yellowjackets when drug crimes swelled.
But he counts himself as only part of a team in the fight for what was right, and he's diligent in naming his teammates: Mel Mason, Helen Rucker, Mae Johnson, William Hill, Henry T. Hutchins, Rev. Lusk, Al Glover, Charlie Mae Knight. Generations have benefited from the legacy of their work.
Bill Leahy, 
52
Executive Director of Big Sur Land Trust
In more than a decade of work with the Land Trust, Bill Leahy has overseen the transfer of thousands of acres into conservation and public open space. Big Sur Land Trust is preserving and restoring some of Monterey County's most precious natural assets.
But land acquisitions aren't what fuels Leahy's leadership. Instead, he's steered the Land Trust toward a new mission: "to inspire love of the land and conservation of our treasured landscapes." That means connecting people – particularly youth, communities of color and less affluent county residents – to the landscape.
As the squeeze on state funding slows the rate of BSLT land acquisitions, the land trust is forging new relationships through projects like the Glen Deven Ranch Center for Art, Nature and Inspiration.
A portrait of Leahy's medal-studded great-grandfather, the chief of staff for presidents Roosevelt and Truman during World War II, stares out at him with stern eyes. "He was a really good diplomat," Leahy says – inspiring him of his own humble role, bringing people together to find common solutions in land stewardship.
Ed Leeper, 
85
Serial artist
Ed Leeper has no shortage of magic totems he can turn to when he needs inspiration, or to simply remember what he's about. Such is life as a unique and eccentric provocateur artist who has acted as the area's rabid conscience – or maybe its id – for decades now. He could turn to the stack of gray paper with 6 million hash marks on them to represent each Jew lost to the Holocaust, his first – and most time consuming – piece of "serial art." Or one of the four thick binders labeled "Other Works by Ed Leeper." Or the giant orb of metal and mannequin limbs he erected at the funky Big Sur outpost the Army vet calls Hawk Shadow Military Sub-Station.
But he looks to the collapsable bookcases, the backbone of his most lasting – and loved – work. They carry "Liquid Books," his mobile library. He stocks the shelves with free books from a friend's estate and basks in the everchanging conversations and discovery the work enables. "You just participated in an artwork," he likes to say as folks leave. And Leeper has participated naughtily, justly, loudly, weirdly and gleefully in Monterey County for a quarter century and beyond.
Paulette Lynch, 
53
Executive Director of the Arts Council for Monterey County
Paulette Lynch has so much faith in the power of art – for it to reflect and connect us, to sink in and transform us – that it takes on the dimension of religion with the tenet that "The Arts are the Answer;" her divine "uniform" would be a silk scarf painted by Laurie Myers in the Arts Council colors. As the executive director of the Arts Council for Monterey County, she is a tenacious promoter of the arts, a champion of kids, a catalyst and a facilitator. The council provides funding to more than 50 local arts organizations; they make a strong case for arts education and the arts as an economic engine.
If her contribution to the cultural life of Monterey County came through the Arts Council alone, it would be enough to solidify her place among this list. But there's more. She's the person who snagged the idea of First Night, family-friendly New Year's Eve arts and entertainment parties. The first First Night Monterey happened in 1993. Lynch has helmed the citywide celebrations since.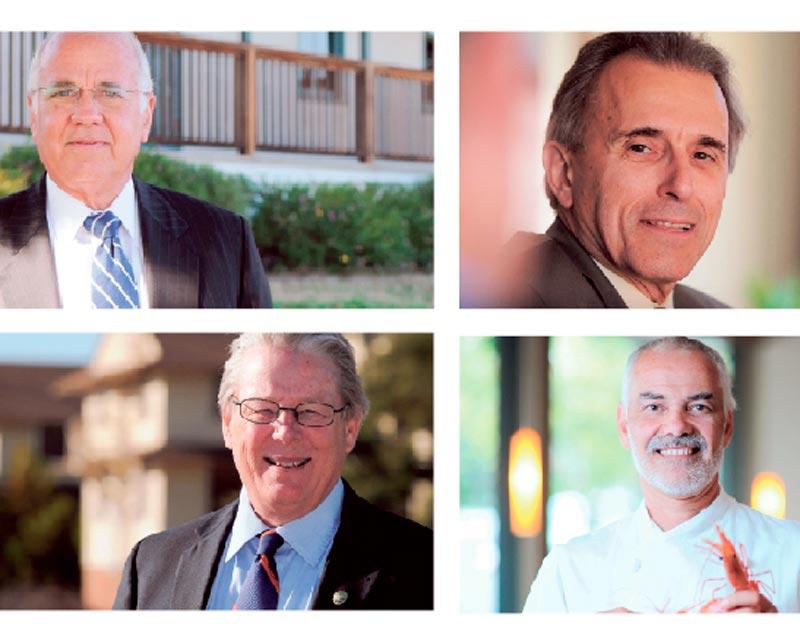 Gordon McCall, 
56
Car community organizer
In a personal garage filled with rare cars and slick bikes, ranging from a 1963 Split-Window Corvette and a 1974 Yamaha TZ750 motorcycle, Gordon McCall has a photo on his desk of himself and his father, taken three months before his father passed away at age 39.
McCall was 8 years old.
"My dad was also business minded," he says. "Unlike many people having their father teach them about replacing car parts, I had to imagine what it would have been like to grow up with a father, what he would have wanted for me."
McCall's name is related to some of the coolest auto events in Monterey County – and renowned worldwide. But in his down-to-earth philosophy, what drives his work – from the Motorworks Revival at the Monterey Jet Center, which he's run for 22 years, to the Quail Motorsports Gathering – was sparked by his volunteer work parking cars at the Concours d'Elegance for 28 years.
"It's a hope we can bring people together," McCall says. "It's an obligation to further ideas as a whole community."
Steve McIntyre, 
55
Owner of McIntyre Vineyards
The California Association of Winegrape Growers winemaker of the year has a plaque on his desk that reads, "Confidence is what you have before you understand the problem."
Steve McIntyre considers it a key talisman to keep him grounded. "Any decision I've ever made in my life where I thought I was totally sure, usually was the wrong one." he says. "Decisions that involved doubt were always the best decisions."
That humble note invites the Central Coast Vineyard Team's Sustainability in Practice (SIP) program founding member and Santa Lucia Highlands pioneer "to keep it real and remind myself there's nothing certain in life."
But there's another item – make that items – that's more ubiquitous in its ability to center him around what matters. Pennies – his grandpa would slip him pennies, hide them around the house for him and his brothers and send them in letters that also included funny cartoons clipped from the paper.
When he sees them now and jingles them in his pocket, he thinks of his grandpa, "Zip" Lew.
"To this day, wherever I see a penny, I like to think in spirit he is still around me," McIntyre says. "If I'm struggling with right thing to do, I try to call upon that spirit. The main thing: Don't be judgemental. We like to size people up immediately, and we're usually wrong."
Fred Meurer, 
66
Monterey City Manager
Getting Fred Meurer to talk about himself is like pulling teeth. Ask him about the highlights of his career, and he blanches at the thought of rehashing things. He was the housing and public works director at Fort Ord (when Fort Ord, with a population of 35,000, was the largest city on the Peninsula), and was given the choice of going to Texas or the Pentagon for his next army assignment when a third choice presented itself: become city manager of Monterey.
That was 26 years ago. He's tried to retire three times since, but now the date is firm: Dec. 31, 2013.
"Whether you're in a uniform or in a suit, it's all about taking care of people," Meurer says. "The leadership and management skills you develop running a base are very transferrable. You have to have a vision for the future and the guts to stay focused on that vision and execute it."
He thwarts the Weekly in its efforts to extract from him what his touchstone is and what it means. He steers the conversation to his wife, Phyllis, a former National Park ranger and the first woman elected to the Salinas City Council. If anything or anyone is his touchstone, it's her.
"She's really far more worthy of being included in this than I am," he says. "You should really be talking to her."
Bill Monning, 
62
State Senator
Before Bill Monning was the Central Coast's most powerful state legislator, he was a lawyer. Born in L.A. but with family ties to Carmel, he moved to Salinas in his mid-20s and met his wife, Dana Kent, while doing legal work for United Farm Workers.
Monning repped field workers for UFW and California Rural Legal Assistance until the early '80s. His next 25 years were spent teaching at Monterey College of Law and the Monterey Institute of International Studies. In his free time he cofounded Global Majority and served on the original advisory board for LandWatch Monterey County.
It wasn't until 2008 that Monning made his play for Sacramento, winning the Assembly in 2008 and again in 2010, then moving up to the Senate in 2012. His legislative triumphs are many, and include this year's procurement of a couple million in state funds for the Central Coast Veterans Cemetery.
What keeps Monning going? His photo of Santa Cruz surf instructor Ed Guzman riding a 20-foot wave at Ghost Tree off Pebble Beach reminds him of the natural power of the region he serves.
Eduardo Ochoa, 
62
President of CSU Monterey Bay
Running a university takes time and dedication. And once a month, CSUMB chief Eduardo Ochoa is reminded of the value of his time in an unusual way: He winds his grandfather's pocket watch.
"He was the first one in the family to become a doctor," Ochoa says. "He was also a teacher and vice principal at a high school, and my grandmother was a grade-school principal. It helps me get connected with this tradition of the Ochoa family."
Ochoa, originally from Argentina, is a champion of education. He has an impressive breadth of knowledge, earning a masters of nuclear science from Columbia University and a Ph.D. in economics at the New School for Social Research. He taught econ, became dean of Cal Poly Pomona's College of Business Administration and spent two years in the Obama administration as U.S. assistant secretary for postsecondary education before joining CSUMB.
"We always stand on the shoulders of our forefathers," Ochoa says. "My parents came here to give us a better life and I'm reaping the benefits. I hope to share that with my kids and other immigrant kids just beginning the climb."
Steven Packer, 
57
CEO, Community Hospital of the Monterey Peninsula
Every hour at a hospital is a matter of life and death, a dramatic concentration of life's highs and lows, from the joy of birth to the pain of illness. Sometimes hospitals are where stories end. But what keeps Dr. Steven Packer going are the stories of hope.
Packer has been CEO of the hospital since 1999 and lived in the area for nearly three decades. The Monterey resident graduated from the UC-San Francisco's School of Medicine. On his desk is a manila folder stuffed with emails, letters and cards. "A week doesn't go by I don't get a letter from some member of our community or other," Packer says. Sometimes those letters are pulled out and read at staff meetings, which boost the morale of a crew Packer's already proud of: "[It's] their singular dedication to eliminating patient harm and providing the safest, best care for the community."
Stephen Palumbi, 
57
Hopkins Marine Station Director
He's the kind of Stanford professor who makes science the domain of the cool kids – a guy so in love with the ocean he dives, swims, sails and surfs it. Oh, and travels the world to uncover the genetic secrets of the life it teems with, from corals to urchins to whales. "Once you have a hammer, everything is a nail," Stephen Palumbi says. "Everything with DNA is something we can work on."
Palumbi keeps the California Central Coast under his lab's microscopes as he probes the question of how local intertidal organisms are responding to climate change. His charisma shines in myriad nature documentaries and publications, and he's an author, too: His Death and Life of Monterey Bay looks at our own shoreline as an exception to the usual pattern of environmental degradation, instead chronicling how the ecosystem rebounded since the industrial heights of Cannery Row.
As we speak, he admires a flock of pelicans soaring across the picture window in his office at Hopkins, which looks onto the beach where harbor seals socialize. That north-facing view of the Monterey Bay is a reminder of what he calls "this selfish need to enjoy the ocean. I want it to be in as good a shape as possible for as long as possible."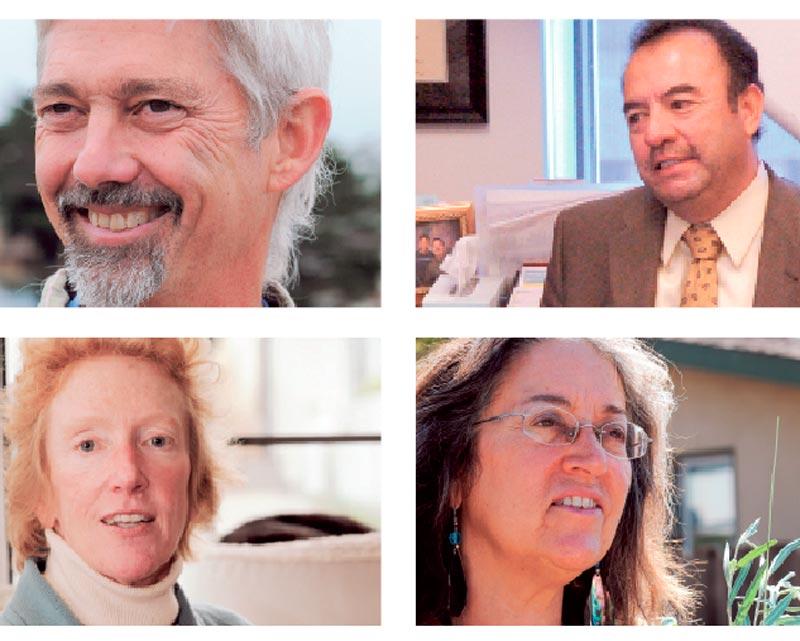 Jane Parker, 
60
Monterey County Supervisor
When Jane Parker says public service is in her DNA, she's not kidding. The two-term supervisor grew up thinking it was normal to run for office – her parents' friends always seemed to be campaigning. The message, instilled by her activist mom and Herald reporter dad: "If you see something that doesn't seem right, get out there and see what you can do."
Parker is a relentless question-asker, promoter of transparency and champion of taking the long view when it comes to issues like expanding the jail or land use. To keep it all in perspective, Parker takes a five-day meditative retreat every quarter. She recalls a mantra she learned at Tassajara Zen Center – May I be strenuous, upright and sincere, easily content and joyous – when she needs to be reminded, "Focus on what's here, what's important and put one foot in front of the other." That's the same process she applied as an activist, and now as a policymaker, where she isn't afraid of dissenting in the name of doing what's right.
Simon Salinas, 
57
Monterey County Supervisor
Simon Salinas was on summer break from his job teaching 6th grade at Salinas' Bardin Elementary School and decided to go for a run. As he was jogging, he came upon two students who were "just sitting around."
"'What do you want us to do, Mr. Salinas? There aren't buses to take us to the Y, and the basketball court is closed.'" Salinas recalls. "Those children were telling me, 'You have to make a change.'"
In 1987, Salinas, along with Supervisor Fernando Armenta, filed suit challenging the city of Salinas' practice of at-large rather than district elections. They won. And in 1989, not long after that encounter with his students, Salinas was elected to the City Council. From there, he went on to serve two terms with the Supes. He served in the state Assembly before returning to the Supes in 2007.
Through all of that, he's kept a picture on the wall of his office, a gift from his then-6-year-old son. It's a drawing of a father and son holding hands and it reads: Train a child in the way he should go and when he's old he will not depart from it.
"When I'm so tired I think I can't go on," Salinas says. "I see it and I remember."
Alan Silvestri, 
64
Film composer, wine vintner
Alan Silvestri grew up in music. He started bands in high school, attended the Berklee College of Music, and toured with Wayne Cochran & The CC Riders when he was 19. He started composing music for low-budget movies before becoming the main composer of the TV series CHiPs. He met Robert Zemeckis while working on Romancing the Stone in 1984, and subsequently composed the music for the Back to the Future films, Forrest Gump (for which he was nominated for two Academy Awards), Contact, The Polar Express and Flight. There have been many other films. But that's not the only reason he makes the list. That paired with his Silvestri Vineyards in Carmel Valley, which employs labor intensive classic French farming, which then results in superb bottles of "Rising Tide" Pinot Noir and "Bella Sandra" Chardonnay (not to mention his wholehearted support of the Juvenile Diabetes Foundation) is why.
Sunder Ramaswamy, 
49
President, Monterey Institute of International Studies
Sunder Ramaswamy traveled a long road to get to Monterey. He was born in New Delhi, India, eventually making his way to Purdue University in Indiana for a Ph.D. in economics. He taught at Middlebury College in Vermont before he was appointed president of the Monterey Institute of International Studies. All the while, his work in development economics took him around the world. He collected artwork, and he keeps many pieces in his office as a reminder of his past travels and future responsibilities.
One of his favorites is a Norman Rockwell painting celebrating the creation of the United Nations. Called "The Golden Rule," it's named after a principle of kindness that resonates. There's the batik of Indian religious figure Lord Krishna, displaying a verse that reminds him that work is its own reward. There's the sketch of Albert Einstein, which urges him to find simplicity in the clutter. "These are things I believe," Ramaswamy says. And they're things that guide him in his mission of making MIIS a leading institution: "I want to make sure we're outstanding."
Linda Yamane, 
64
Ohlone basket weaver and artist
She may be the only living speaker of the Monterey Bay area's mother tongue, Rumsien, and the only weaver of baskets (mostly) adhering to ancient Ohlone traditions. But don't call her the last: Linda Yamane is more like the first in both categories. The Seaside artist is resurrecting the legacy of her ancestors, the Rumsien Ohlone people.
She recently dedicated two and a half years to creating two feather-and-olivella-bead Ohlone baskets, one now on exhibit at the Oakland Museum, the other at the Huntington Library. She's now focusing on two Ohlone baskets that will be put to work according to the old ways: gathering and processing acorns.
Yamane draws much of her inspiration from the iridescent tokens of Rumsien Ohlone life: the abalone used for food, adornment and tools. She makes jewelry from the shells. The glimmering half-moons hang from the willow tree where she works and throw light from her bookshelves, fueling her creative drive to bring back her people's lost culture.
Ted Walter, 
54

Cindy Walter, 

50

Ocean advocates, owners of Passionfish Restaurant

It wasn't easy for Ted and Cindy Walter to pioneer sustainable sourcing. Purveyors laughed. Sushi-chef friends disowned them. Customers flinched at different fish on the menu.

That's forgotten as their passion for fish has earned them an ocean of accolades; tastemakers declare them visionary. (None of this would have happened, though, if the ginger-avocado-crab salad and basil-stuffed trout weren't so good.)

But it really wasn't all that difficult or revolutionary for Ted and Cindy. Cindy's fisherman dad – the one who married the Native American who always talked of stewarding seven generations ahead herself – insisted their sources fish like he did, one fish at a time. His fishing pole is their touchstone.

"Not being too greedy," Cindy says. "Targeting what you want." The same sense of interconnected relationships and gratitude seeps into all they do, from keeping bees to curating incredible and obscure wines for bargain prices.

Most encouraging about their light-impact, high appreciation approach: It's found its way into a young, dynamic staff of its own accord. A month ago they pledged to rid themselves of plastic products for a month. That wasn't easy. But maybe some day it can be. Which is precisely the point.