The legend of Northern California photography, Bill Owens, is celebrating the 50th anniversary of his classic collection Suburbia, now on display in the Center for Photographic Art in Carmel. 
"It's going to be a big deal," says Ann Jastrab, CPA's director before the Oct. 8 artist talk that accompanied the reception and the official opening of the exhibit. "He's a legend."
When released in 1973, Suburbia was a piece of photojournalism, documenting daily life of Americans living in the East Bay. With time, the collection is becoming all the more precious, giving us an insight into the era, customs and lifestyle that is largely going away, with the pauperization of the middle class.
Suburbia has been part of the American dream that finally arrived to 60 million Americans after World War II, where the U.S. was the only functioning world economy that demanded new housing solutions. They came with a certain lifestyle, family model and ways of spending free time. Bill Owens had captured it all—family dinners, baby feeding, work, neighborhood barbecues, a visit to a dentist, creating a visual encyclopedia of the American '60s.
In his Carmel talk, Owens said he was never looking for sensational photos, even though at times he ended up with one in his hands—like young boys playing war with guns that they look real. Police would arrest them right away, Owens says. 
"This is the only time in the book that I've shown a person smoking a cigarette," he says about one of his photos. "I've never done anything to demean my subjects."
Even with portraying sex in the suburbia, Owens is being careful and realistic. The most exhibitionist photo in the book is the one of a young couple sitting in a bedroom, the wife without her bra.
"What I like about this picture is that there are no shades on the window," Owens says, "and there is a child's swing set back there."
That, in way, adds some commentary of the couple's sex life, if anything.
"No shame in this house," Owens jokes.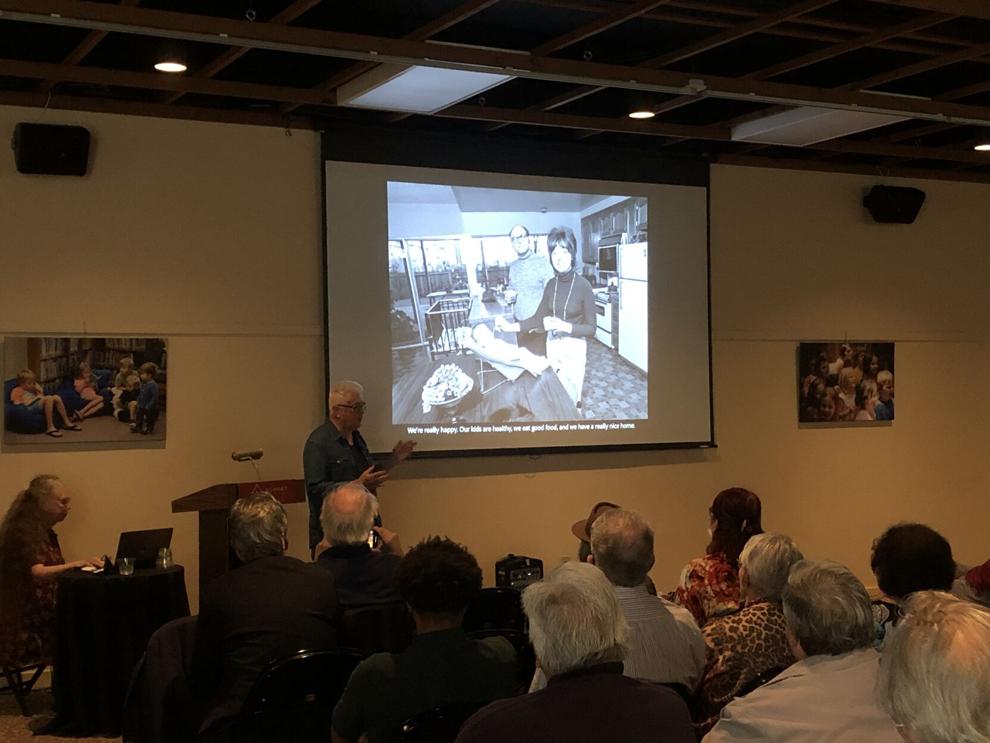 In addition to careful arrangements with his subjects, Owens emphasizes the role of luck in photography: Someone just happens to be on the tree, or someone happens to have a whole toilet on their front porch, for whatever reason. All is serendipity, though Owens is willing to wait a year to photograph a community Fourth of July party from his friend's roof.
"Sometimes you just pull around the corner," he says, "and there's the image."
In 2001, the monograph was included in Andrew Roth's The Book Of 101 Books: Seminal Photographic Books of the Twentieth Century and continues to be celebrated.
This exhibition at CPA features large-scale fine art prints of the essential Suburbia images. There are also 36 small silver gelatin prints ("Baby Bills") from the original negatives from the late 1960s and early 1970s.
Upon becoming a successful photographer, Owens became a beer brewer. In 1983, he founded Buffalo Bill's Brewery in Hayward, one of the first brewpubs to open in California since Prohibition. 
The exhibit is on display until Nov. 13 at the Center for Photographic Art, located inside the Sunset Center at San Carlos and 9th Avenue, Carmel.