Over 100 years ago, artists and other creatives were drawn to the tiny town of Carmel-by-the-Sea as a place of rest and inspiration. Back then it was word-of-mouth that spread the village's reputation far and wide. Today, it's Instagram.
On Monday, June 8, Visit Carmel and the Carmel Public Library unveiled the perfect backdrop to any social media post that simultaneously honors the town's artistic heritage, a temporary outdoor mural called the "Carmel Shell."
The public art located on the side of a facade wall at Paloma Furnishings at the corner of Mission Street and Sixth Avenue was created by local artist Marie-Clare Treseder Gorham. Her design was chosen among other submissions as part of a contest held last fall.
Gorham is a Carmel-based folk artist who incorporates medieval themes and iconography in her work that reflects the style of the California Arts and Crafts movement. Her great-grandfather was William S. Rice, one of the masters of the movement. 
"Carmel and I are alike as we both share a history rooted in the California arts and crafts movement," Gorham said in a statement. "I was able to draw inspiration from details found on many ambling strolls throughout the town and the local landscape with the sea that surrounds it. I was inspired to create the shell as its cohesive crest."
The shell design is accompanied by an "artist inspiration map" which details the historic and artistic points from around the village. The colors were inspired by original murals within the Carmel Mission Basilica. Its pale pink background is reminiscent of the color of Hofsas House, a long-time inn. The Gothic Blackletter calligraphy Gorham used is inspired by the Wayfarer Inn.
"The Carmel Shell mural is a symbol of recovery and rebirth and we wanted to create a permanent symbol for our residents and visitors to be reminded of daily," said Amy Herzog, executive director of Visit Carmel. 
Visitors who snap photos and share them on social media "serve as unofficial brand ambassadors" the press release states. The mural will serve as a "safe and accessible place for visitors to take photos" while being reflective of Carmel's history as an arts colony.
Early in shelter-in-place due to Covid-19, Visit Carmel and the Library created a "Carmel Shell-ter in Place" campaign to promote community solidarity. They distributed coloring pages of the mural's design, instructing people to decorate the shell, cut it out and hang in windows for neighbors to see.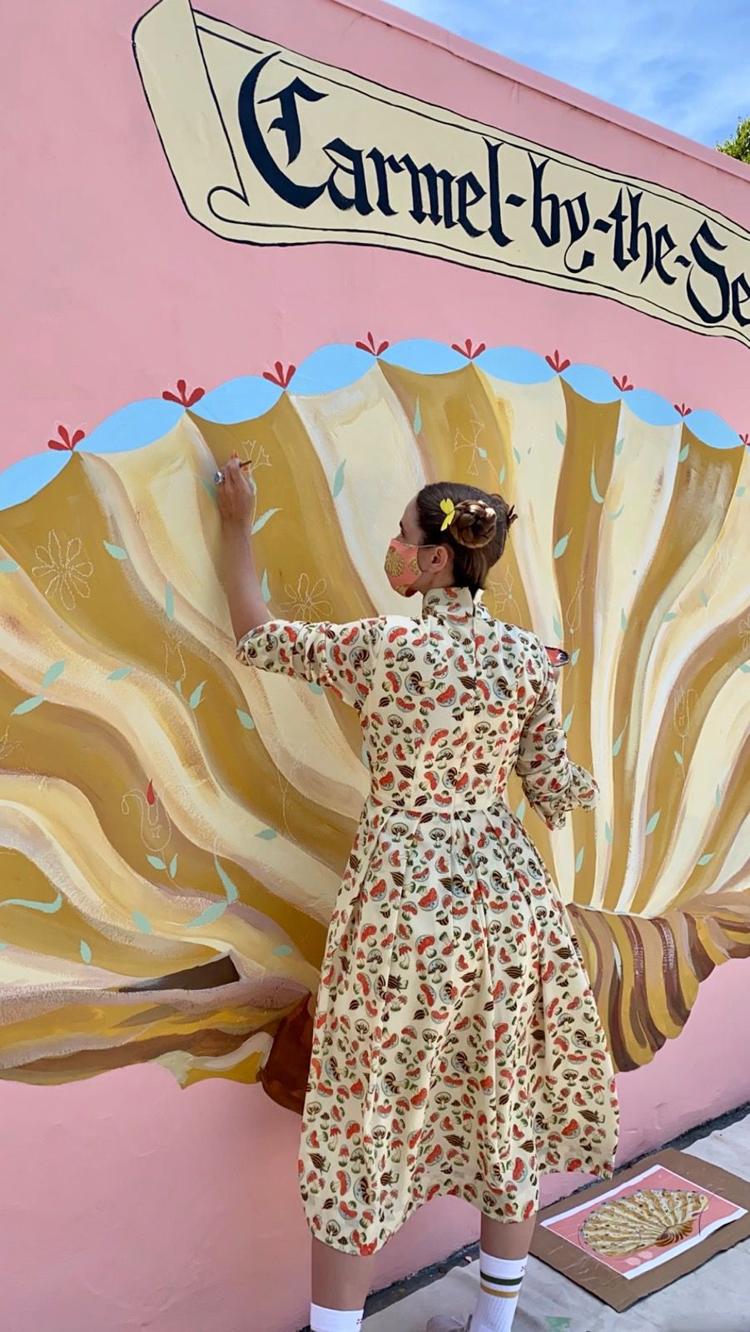 "During this unprecedented time, Visit Carmel has shifted from our visitor focus to that of supporting our community," Herzog said on April 8. "This feels like something positive that can be implemented community-wide, especially using the shell—a symbol that can be unique to Carmel-by-the-Sea and honors a sense of place, heritage and history."