On the Facebook page dedicated to discussing the projectile attacks that have for months terrorized drivers traveling along Highway 101 through Prunedale, there was a sense of relief at the news that the California Highway Patrol had arrested and charged a suspect.
After months of investigation, CHP officers arrested 52-year-old Charles Kenneth Lafferty, a Los Banos man who authorities believe owns more than once residence in Monterey County and worked odd jobs here. He allegedly fired marbles at passing vehicles using a slingshot. 
Lafferty was in custody at Monterey County Jail following his arrest on Wednesday night, Jan. 22, and charged with possession of a silencer, throwing a substance at a vehicle with intent of causing great bodily injury and assault with a deadly weapon that wasn't a firearm. He is charged with 10 counts of felony throwing an object at a vehicle, 10 felony counts of assault with a deadly weapon and one count of possession of a silencer, although no firearm was used in the attacks. In all, 69 attacks were reported and officials say as their investigation evolves, they expect to file more charges against Lafferty.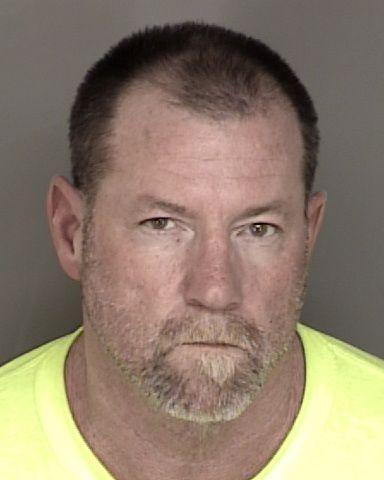 At a press conference at the CHP's Salinas office this afternoon, officials say Lafferty seemed surprised at being arrested. But even after the arrest, investigators remained resolutely tight-lipped about how their investigation evolved and the arrest came about.
Little is known about Lafferty, or how a man who works odd jobs also owns multiple properties in Monterey County. He has no criminal record here. 
At the press conference, CHP Chief LD Maples, commander of CHP's Coastal Division, said it was fortunate that only minor injuries had been reported.
"We felt it was only a matter of time before someone seriously got hurt," he said.
Maples described the case as "very difficult to investigate," noting that it's hard to be reactive for officers who come to the scene of a fast-moving highway, only after a driver whose vehicle has been struck pulls over and calls. 
Also speaking at the press conference, U.S. Rep. Jimmy Panetta, D-Carmel Valley, thanked law enforcement officers for making Highway 101 safer, noting that on his regular drives to the airport he has been pulling down the visor for safety.
"When you have no pattern, no motive and no witnesses—it's quite difficult to ever develop enough evidence to bring it forward and make an arrest," said County Supervisor John Phillips, who represents North County, and who contributed some of his own money to a reward fund to encourage people to come forward with tips about a suspect. "We feel really fortunate there wasn't a more serious injury. The result was a lot of hard work by investigators. We thank you."
In early January, a member of the Facebook group named "Projectile Alley Concerned Resident Stories, Info Alerts" posited that she had conditioned herself to mentally note everything going on around her as she drove on Highway 101, including vehicles parked off the freeway and nearest exits.
Her daughter's windshield was hit on Jan. 11, and she noted the exact time and location of the incident—"Highway 101, near the tree line. Still a needle in a haystack situation, but it's got to help eventually." 
CHP officials say the vehicles Lafferty targeted appear to be random. 
As of Thursday afternoon, the CHP hadn't yet forwarded its case to the Monterey County District Attorney's Office; it's expected, though, that Lafferty will be arraigned on Friday, Jan. 24.