The 11th annual Pebble Beach Food & Wine festival found the Monterey Peninsula hosting celebrity chefs, world-renowned wineries, and elite epicures for four days of food and wine. The Lexus Grand Tastings on Saturday and Sunday showcased snacks from more than 70 chefs and sips from more than 300 wineries.
Fresh and flavorful seafood stood out on Saturday. Ankimo (monkfish liver) mousse with yuzu citrus on a crispy nori cracker from Billy Ngo (Kru and Fish Face Poke Bar restaurants, Sacramento) was perhaps the best bite of the weekend. On the heels of Friday's Hawaiian lunch, Chris Yang and Jordan Keao ('aina, San Francisco) dished up hip Hawaiian fare with a delicious octopus luau.
Lighter bites proved popular picks on Sunday, perhaps aiding in recovery from the gourmet gluttony of the weekend. An avocado, mint, and cucumber shooter from Kelly McCown (The Kitchen, Sacramento) was a refreshing sip to kick off Sunday's tasting. And don't be fooled by the simplicity of John Tesar's duck egg omelet (Knife at The Highland, Dallas)—foodies rightly queued up for this breakfast bite made fresh and topped with lemon beurre monté sauce, creme fraiche and caviar. Crab bhelpuri from Top Chef alum Fatima Ali was one of the standout selections of the weekend's tasting tents, with puffed grains, cilantro, tamarind, and a wealth of spices.
The festival saw the Monterey Bay's most lauded top chefs reunited for Sunday's Grand Tasting. Brad Briske—an alum of La Balena and Il Grillo now at his own restaurant, Home, in Soquel—teamed up with American Abalone Farms for "All the Way Monterey Bay Abalone Steinbeck" farmed red abalone baked Rockefeller. John Cox—formerly of Big Sur's Post Ranch Inn and now leading the kitchen for The Bear and Star in Los Olivos—once again stole the show with an elaborate table presentation.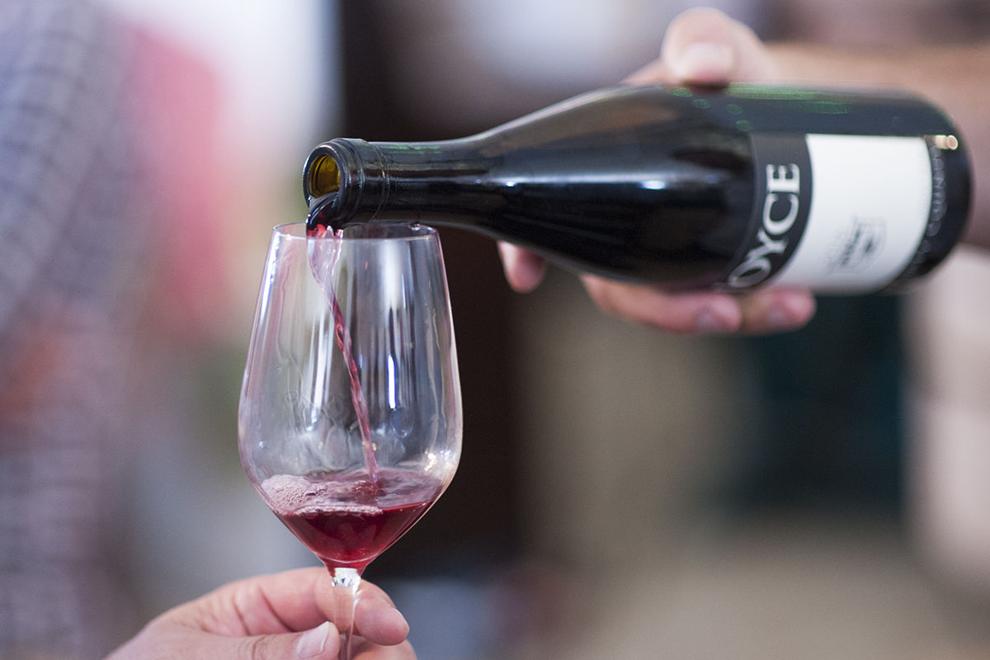 In years past, he's featured caviar served from a whole paddlefish and a towering mushroom marvel. This year, he showcased Santa Barbara seafood, with a table adorned in kelp and crabs to showcase his Santa Barbara rock crab hushpuppies with crab roe "Umami Sauce." And Aubergine executive chef Justin Cogley served a sublime snack of edamame and Alba mushrooms swimming in smoked butter sauce.
This year's lineup included more local chefs than years past, with Eduardo Coronel (Rio Grill) serving a tamal stuffed with huitlacoche "corn truffle" and wild mushrooms, Tim Wood (Carmel Valley Ranch) offering a slider with shaved pork and oyster mushrooms, Fabrice Roux (Roux, Carmel Valley Chophouse, Fifi's) dishing up Syrah-marinated wild Carmel Valley boar ragout atop a Bigoli Gorgonzola raviolo, and Colin Moody and Cy Yontz (Monterey Peninsula Country Club) saturating small bowls filled with local spot prawn, prawn caviar crema, and green chickpeas with hickory smoke for a smoked-out seafood salad on Saturday.
On Sunday, favorites from our hometown heroes included crispy Maple Leaf duck breast with foie gras ganache and rhubarb-cherry puree from Anna Marie Bayonito (Sticks), choucroute garnie with Carmel Valley pork sausage and housemade sauerkraut atop a roasted potato from Sebastian Nobile and Obdiel Luna (La Bicyclette), and a duo of dishes from chefs Todd Fisher and Jeremiah Tydeman (Folktale Winery, Seventh & Dolores Steakhouse): "Mornin' Cluck" with confit hen egg yolk and triple cream parsnip puree topped with chicken cracklings and "Spring Lamb Schmear" with Niman Ranch lamb tartare with Moroccan spices on an activated charcoal pita chip.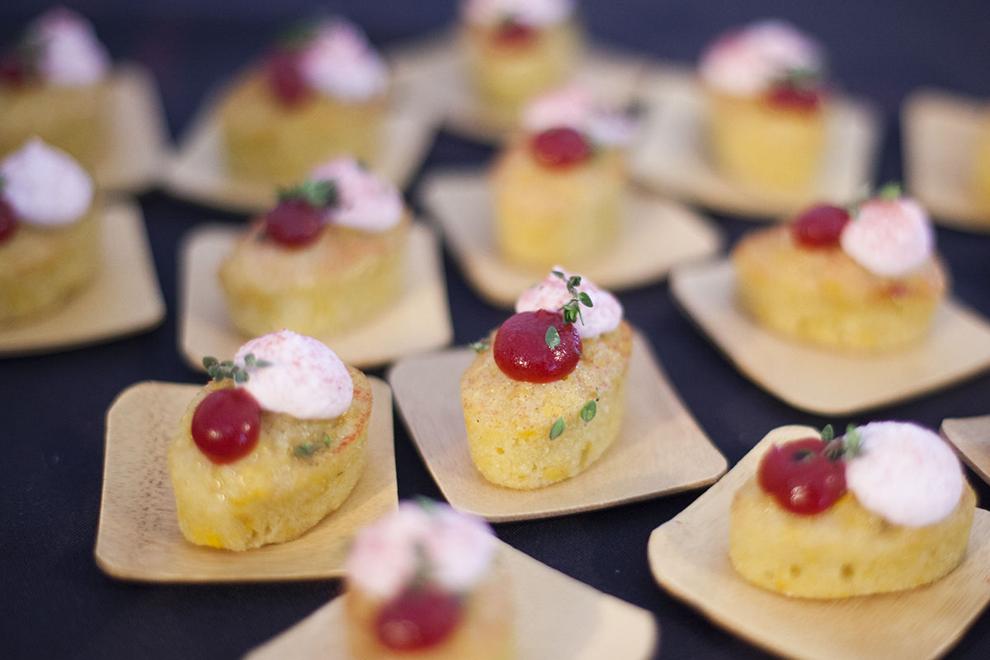 On the sweeter side, Saturday saw Barb Batiste from LA's B Sweet Dessert Bar and Big Boi restaurant serve up two of her signature sweets: a Filipino-inspired pan de sal bread pudding topped with ube butter and a red velvet bread pudding. Michael Fagnoni (Hawks and Hawks Provisions + Pub House) paired sweet and savory with Hudson Valley foie gras mousse with brown butter crumble and strawberry gelee.
Tyler Malek from Salt & Straw—the ice cream shop famous for quirky ice cream flavors served from outposts in hipster hangouts like Portland, Los Angeles, and San Francisco—served a foodie favorite on Sunday: banana cream pie a la mode with parsnip ice cream.