Seaside's hotly anticipated Other Brother Beer Co. and Ad Astra Bread Co. made their debut over the weekend to booming crowds during a soft opening preview. The pair of projects is slated to open on Tuesday, Oct. 21.
Other Brother Beer Co. is an offshoot of Other Brother Company, a Bay Area-based food company founded in 2012. Other Brother beers are already on tap at several local bars thanks to a partnership with Barrel Brothers Brewing Company in Sonoma County. Now, Other Brother's new Seaside brewery and tap room will allow brewing on site. The four partners—Kevin Brown, Evan Loewy, Michael Nevares and Andy Pitts—are avid skateboarders, so the space features subtle nods to skate culture, like skateboard wheels for bar taps. The 24-foot custom curved bar features 24 taps. Other Brother's Bucket Brown Ale, Builders' Oatmeal Stout, Super Custom Common Ale and Junkyard Dry Stout are on draft to start, alongside guest beers, wine and kombucha from Almighty Kombucha. Eventually, look for Other Brother's portfolio to grow as onsite brewing gets underway, then will come release parties and other events in the space. In fact, Tuesday's opening will include the release of Other Brother's newest beer, Seasider SMASH Eureka! Pale Ale. 877 Broadway Avenue, Seaside. otherbrotherbeer.com. Open 11am-10pm Tuesday-Thursday, 11am-11pm Friday-Saturday and 11am-8pm Sunday, closed Mondays.
Ad Astra Bread Co. occupies a stall in the back of the brewery. The new bakery comes from Ron Mendoza and Alaina Musich. Mendoza was previously pastry chef at Aubergine—where his pastries landed him a James Beard Award semifinalist nomination for outstanding pastry chef in 2015—and Revival Ice Cream. At Ad Astra, he's leaning more savory than sweet with a focus on naturally leavened bread. Mendoza has teamed with Beth Ann Simpkins, who earned her chops as pizzaiola for A16 in San Francisco then Pulino's Bar & Pizzeria in New York. The menu includes snacks like almonds, olives and fried chickpeas to pair with a pint. But bread is the standout, of course. There's a beer-friendly pretzel, bread and spreads (cultured butter or ricotta cheese, honey and Calabrian chile oil) and five focaccia flatbreads (tomato, margherita, potato, veggie and mortadella with stracciatella cheese). Loaves—including country loaf, sourdough and whole wheat—are available to take home. Naturally, many of Ad Astra's dishes incorporate Other Brother olive oil and signature California Gunpowder spice blend. And don't worry, Mendoza does have a couple of desserts to satisfy your sweet tooth, including a Basque-style cheesecake and cookie plate. 877 Broadway Avenue, Seaside. adastrabread.com.
And another new bakery is on the horizon across town in Carmel: After passing its final inspections, Sweet Reba's Bakery will be opening in the Crossroads Carmel Shopping Center on Monday, Oct. 28.
Sur Burger in downtown Monterey now has a farmers market happy hour. Grab a quarter pound SUR cheeseburger—customizable at the shop's signature condiment bar—with fries and a soft drink for $7. Available Tuesdays from 3-7pm.
Cult Taco now offers lunch box specials 11am-2pm Monday-Friday. Choose from two tacos ($12), torta sandwich ($15) or salad ($15) with chips, salsa and Coke, Sprite or housemade agua fresca.
With the holidays right around the corner, Rio Grill has new seasonal sweets on the dessert menu. New additions include ginger-butterscotch pumpkin cheesecake and smoked lavender creme brûlée. The Carmel restaurant also has whole cheesecakes and pies available to take home. Choose from pumpkin cheesecake, olallieberry pie or chocolate torte for $30.
The Butter House boasts some new sweet treats. Look for keto-friendly cheesecakes from Marina's Cheesecake Dreamations and Louisiana-style sweet potato pies from Percy's Pies.
Counterpoint Coffee in Seaside has new hours. The shop is now open 7am-5pm Monday-Saturday and 7am-4pm on Sunday.
Twisted Roots invites you to paint your pet on a pumpkin on Wednesday, Oct. 23. Take your pick of a pumpkin from the pumpkin patch and enjoy an evening of painting with your pet on the patio. The most artistic pumpkin will earn a Twisted Roots gift basket. 5:30-7:30pm, $25 (includes one pumpkin, paint supplies, one glass of wine and nibbles), additional wine available for sale, proceeds benefit Animal Friends Rescue Project.
The Portola Hotel welcomes Joyce wine for a fall harvest dinner on Thursday, Oct. 24. Dinner inside the Club Room features five courses from chef Daniel Williston paired with Joyce wines: Bibb lettuce and pork belly salad (with 2017 Dry Riesling), trout amandine (with 2017 Escolle Vineyard Chardonnay), rabbit (with 2017 Submarine Canyon Pinot Noir), roasted lamb saddle (with 2017 James Joyce Cabernet Sauvignon) and chocolate mousse and tres leches cake (with 2017 Tondre Grapefield Syrah). 6pm, $90 (inclusive), reservations required: 649-7874.
PS. October is National Adopt a Shelter Dog Month. Jacks Monterey and Peter B's Brewpub inside the Portola Hotel have crafted a special cocktail to honor of our four-legged friends this month. The Pomeranian Lemonade features Tito's vodka, lemonade and pomegranate juice. $1 from each cocktail sold will be donated to Animal Friends Rescue Project.
The Traveling Winemaker series at The Annex continues with a tasting of canned wines on Thursday, Oct. 24. Canned wines have a bad reputation, but top producers are dispelling this misconception and are now offering quality wines in cans for convenience. Taste canned wines from Sans Wine Company and Winc including Winc Ruza Rosé, Sans Riesling, Sans Sauvignon Blanc and Sans Carbonic Carignan. 5-8pm, $15 tasting fee, reservations not required.
PS. The Annex has Wine-O Bingo on Friday, Oct. 25. Play five rounds of wine-themed bingo for $10 with prizes and $5 wines by the glass.
Morgan hosts industry night on Thursday, Oct. 24, from 5-7pm. Wine industry and hospitality staff are invited to mingle with peers, sample wines and enjoy light bites. To RSVP, call 626-3700 or email deborah@morganwinery.com. And Morgan's monthly Vintage Fridays returns on Friday, Oct. 25, with a chance to sample library wine selections. 11am-5:30pm, $20, $10 wine club members, reservations not required.
The El Pajaro Community Development Corporation hosts Tacos and Tapas on Friday, October 25. The event celebrates 40 years of El Pajaro CDC helping local entrepreneurs reach their small business dreams. The event takes place at El Pajaro CDC's Kitchen Incubator at 412 East Riverside Drive in Watsonville and features 22 different food purveyors, all graduates of El Pajaro CDC's Kitchen Incubator. Feast on traditional Puerto Rican food from Borinken Goodies, pupusas from Dos Hermanos Pupuseria food truck, wood-fired pizza from Fired Up food truck, sushi from Hakouya, tacos from My Mom's Mole, Louisiana-style sweet potato pies from Percy's Pies, paella and Spanish specialties from Ronda Paella y Tapas, grain-free coconut-chia waffles from The Green Waffle and much more. Margaritas, sangria, wine and beer will be available. DJ Steb Montez from KRML Radio will provide the music, and there's a silent auction will feature prizes from hotels, restaurants and other local businesses. 6-9pm, $75, includes five tickets for food and drink with additional food and drink tickets for sale at the event, proceeds benefit El Pajaro CDC's small business programs.
Brew-N-Krew Ale House's Día de Los Muertos brew tasting event is on Friday, Oct. 25. The family-friendly event brings local Salinas vendors together for an evening of live music, food, beer and more at the Salinas PAL Youth Center. Look for food from Tortas Al 100, Tacos Nina, La Salsa Rosalba and Hole Foods Vegan Donuts, and meet Salinas small business owners. 6-10pm, free admission.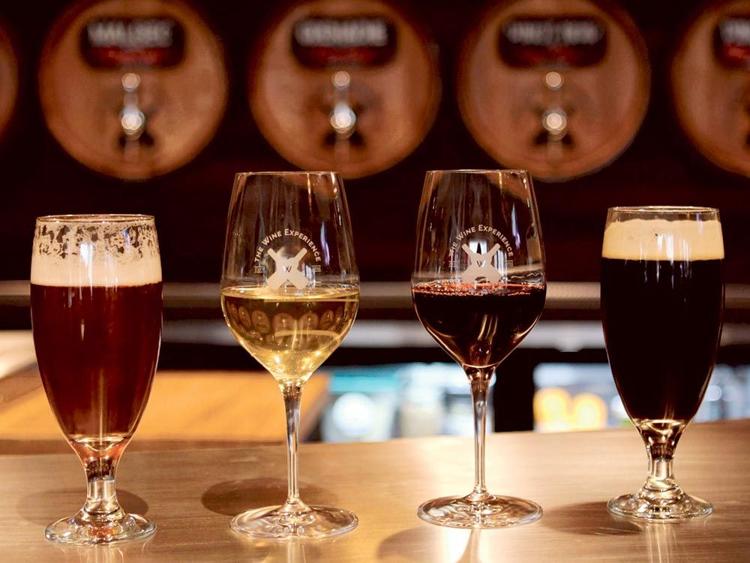 Join The Wine Experience for Flights & Bites on Friday, Oct. 25. Local sommelier Aaron Hoops and chef Nate Dalton from Lazy Nate's Comfort Food team up for five courses of food and wine pairing. Hoops will share wine pairing tips to accompany a menu of oysters, goat cheese crostini, fall salad, pork tenderloin, sweet potato ravioli and chocolate ganache. 6:30pm, $65, reservations required, call 324-4974 or email info@wineexperience.org by Tuesday, Oct. 22, to sign up.
Attention aspiring witches and wizards: Saturday, Oct. 26, is Harry Potter Day at Blue Aces Bake Shoppe from 11am-2pm. The Salinas bakery will have a special menu of Harry Potter-themed treats for sale, including sorting cookies that reveal your Hogwarts house when opened. And with the holidays on the horizon, Blue Aces Bake Shoppe is now taking orders for Thanksgiving. The bakery has unveiled this year's Thanksgiving pie selection: country pumpkin, maple pecan, Dutch apple, strawberry rhubarb, peach cinnamon almond and spiced chocolate cream (all $22.95). Or choose from other seasonal desserts like mini pies (12 three-inch pies for $18), pumpkin cheesecake cake roll ($24.95), glazed cookie platter (24 cookies, $30), gluten-free apple pie crumble ($20.95) and gluten-free, sugar-free and keto-friendly pecan torte ($20.95). More information at blueacesbakeshoppe.com. Call 975-4714 to pre-order for pickup the day before Thanksgiving.
Hahn's last vineyard hike and lunch for the year is Saturday, Oct. 26. Hike the rolling hills of the Smith Vineyard and watch harvest in action. After the hike, enjoy an artisanal lunch overlooking the vineyards. 10am-1pm, $100 (includes logo water bottle and GoVino glass), $80 for wine club members, purchase tickets via Cellarpass.
Don't forget: Waypoint Bar + Kitchen at Quail Lodge hosts its monthly Dinner at Waypoint on Saturday, Oct. 26. Snag a three-course dinner with choice of appetizer, entree and dessert, plus complimentary corkage. 6-9pm, $55, reservations required, 620-8910.
The annual Coco + Vino + Photo at the Center for Photographic Art in Carmel is on Saturday, Oct. 26. The gala event celebrates the perfect pair: wine and chocolate. Sip on wines from Bernardus, Caymus, Chesebro, Joullian, Morgan, Scheid and Silvestri with sweets from Alta Bakery + Cafe, Aubergine, Cheesecake Dreamations, Loco Coco, Lucia at Bernardus Lodge, A Moveable Feast and Patisserie Boissiere. 5-7pm, $50 (includes unlimited tasting and etched logo wine glass to take home), more information at photography.org.
Folktale Winery is turning into Hogwarts and inviting local wizards, witches and muggles for a Halloween party on Saturday, Oct. 26. Come in costume—most creative wins a bottle of Folktale wine—and enjoy an evening of spirited revelry. Start with a glass of polyjuice potion (signature Folktale Brut cocktail) and feast on a dessert bar loaded with all sorts of treats. Additional wine and food will be available for sale. 6-10pm, $65, proceeds benefit AIM Youth Mental Health, 21+ only.
Bernardus Lodge's annual Craftsman Exchange shines the spotlight on local culinary artisans with a grand tasting on the property's outdoor patio. To celebrate Bernardus' 20th anniversary, this year's Craftsman Exchange on Sunday, Oct. 27, includes a tribute to the lasting influence of Executive Chef Cal Stamenov and invites chef Cal's alumni to take part, including Matt Bolton (InterContinental The Clement Monterey, the C restaurant + bar), Jerry Regester (Monterey Plaza Hotel & Spa, Schooners Coastal Kitchen), Ben Spungin (Alta Bakery + Cafe), Jerome Viel (Jerome's Carmel Valley Market) and Tim Wood (Carmel Valley Ranch, Valley Kitchen). Enjoy sips of Delamotte Champagne, BernardusWinery wines, beers from North Coast Brewing Company and sample foods from Monterey Bay Seaweeds, Morro Bay Oyster Company, Sciabica Olive Oil, Swank Farms and more. 1-3pm, $99, tickets are limited so reservations recommended, 658-3400.
Stave Wine Cellar is here to help you get ready for the holidays. The next wine class on Tuesday, Oct. 29, dives into Wines for the Holidays: Staff Favorites Edition. Taste staff favorites for the holidays and learn tips to find the right wine pairings for your holiday dinner, to select a thoughtful gift for the wine lover in your life and to find a special wine to ring in 2020. 6pm, $40, 644-7997, 21+ only.