Basil Seasonal Dining's new culinary team wasted little time rolling out a new menu. Executive Chef Bryce Hansen and Chef de Cuisine Cameron Falls blend Old Word tradition with New World inspiration to craft a menu of Venetian Italian cuisine. New highlights include housemade ricotta and asparagus ($14), local black cod baccalà ($15), charred octopus ($16), English pea ravioli ($19), Bigoli Pasta cacio e pepe ($17), chicken milanese($26), whole-roasted Mediterranean branzino ($35) and more. Dinner is served 4:30pm-close nightly, with lunch available from 11:30am-4:30pm during the week and brunch 11:30am-4:30pm on weekends.
Chef Klaus Georis has debuted a new bar menu for his extended pop-up, The Residency, at Stationæry. In addition to the $55 chef's tasting menu, look for a la carte options now. The menu will change based on Georis' culinary inspirations and his haul from local markets and purveyors. Recent selections have included a oysters on the half shell (half dozen for $18), smoked king crab salad ($18), razor clams ($13) and black truffle pasta ($25). Check out The Residency Thursday-Saturday nights from 6-10pm. Reservations available at thestationaery.com, but walk-ins are welcome.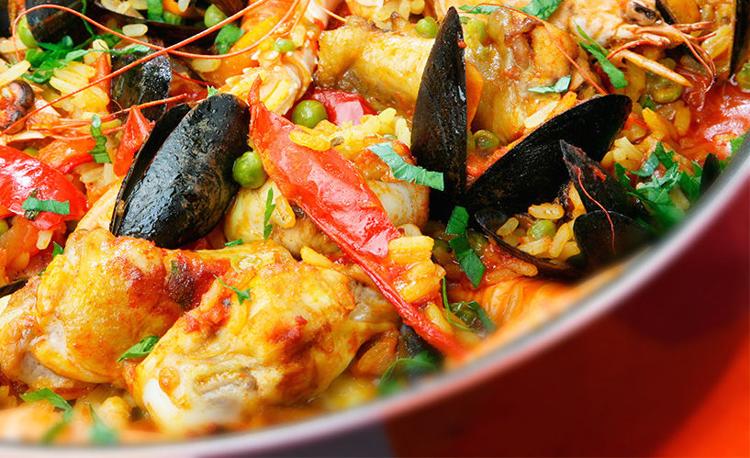 Just in time for graduation—or any occasion, for that matter—Estéban offers paella to go. That's right, you can order paella del mar (clams, mussels and shrimp), a version with chicken and one loaded up with chicken, sausage, vegetables and local artichokes. That's 22 inches of culinary party. Order 24 hours or more (more is better) in advance. Pick up after 4pm, seven days a week. $275 includes finishing touches, because you need Espelette pepper. Call 375-0176 or drop by Estéban in the Casa Munras Garden Hotel, 700 Munras Ave., Monterey.
Carmel's Il Fornaio hosts Cima Collina for a wine dinner on Thursday, May 23, at 6pm. The menu includes a trio of appetizers (baked mussels, grilled pear and fried vegetables) with 2015 Tondre Grapefield Chardonnay, crispy octopus (with 2017 Red Roses sparkling wine), lamb lasagna (with 2016 Tondre Grapefield Pinot Noir), choice of grilled petrale sole or grilled lamb chops (with 2016 Bluebird Red Blend) and flourless chocolate cake (with 2012 late harvest Riesling). $80, 622-5100 for reservations.
Trio Carmel welcomes its newest wine partner into the fold: Karlsen Wine. Trio will be the exclusive home for limited-production wines from Dan Karlsen and Matthew Viotto. Only 1,000 bottles are made for each wine, capturing the unique character of each vineyard. To celebrate the arrival, Trio is throwing a party on Friday, May 24, featuring four tastings and accompanying food pairings by chef Bruce Finch of A Party for Your Palate catering. $25, 10 percent discount for Club Trio members, limited availability, purchase at triocarmel.com/events or call 250-7714.
On Friday, May 24, join Morgan for the first Vintage Friday—a new monthly tasting series featuring library wines on the fourth Friday of the month. This month sees a vertical tasting of Rhône-style wines with a lineup of the 2000, 2006 and 2010 vintages of Tierra Mar Syrah. 11:30am-5:30pm, $20, $10 wine club members.
Cynthia Rowley celebrates the opening of the designer's newest boutique inside the Carmel Plaza with Sip and Shop on Saturday, May 25, from 2-6pm. The afternoon includes wine tasting with Dawn's Dream Winery and 10 percent of the day's proceeds will be donated to CASA of Monterey.
Big Sur Vineyards' Carmel Valley tasting room turns three this weekend. Look for live music in the tasting room on Friday and Saturday evening, plus wine specials all weekend long. On Saturday, May 25, the winery will partner with chef Fabrice Roux for an afternoon of food and wine at Roux featuring Big Sur Vineyards' award-winning Chardonnay and the new release pét-nat sparkling rosé. 1-3pm, $45, $35 wine club members, reservations required, tickets via Eventbrite.
Summer brings the return of the outdoor biergarten at Baum & Blume in Carmel Valley. Enjoy beer, wine and a new biergarten-inspired food menu with savory and sweet hand pies Thursday-Sunday under the summer sun. To celebrate the biergarten's return, look for live music from Tom Faia and Kate Miller on Saturday, May 25, from 4-7pm.
Don't forget, Waypoint Bar + Kitchen at Quail Lodge has its monthly Dinner at Waypoint coming up on Saturday, May 25. Executive Chef Brian Kearns will prepare a special three-course dinner featuring choice of appetizer, entree and dessert. Corkage is also waived for the evening. 6-9pm, $55, reservations required: 620-8910.
Carmel's il Grillo teams up with Castelfeder Winery and Italian importer Lyra Fine Wines for a porchetta party on Wednesday, May 29. The evening features a four-course dinner with wine pairings. Castelfeder's Ines Giovanett is the special guest for the evening. 6pm, $100, reservations highly recommended, call 250-6295.
Spring brings a new seasonal syrup to brighten your coffee at Alta Bakery + Cafe. Manager Kali Grant has retired lemon poppyseed to make way for peanut butter banana.
PS. Ben Spungin and Matt Somerville continue to impress at the new downtown Monterey bakery. Mornings find doughnuts in the pastry case and the afternoon menu now includes toasts—yep, that means Alta's signature "obligatory avocado toast" is now available all day.