Salinas Valley Food & Wine arrives this weekend. Festivities start with the kick-off party on Friday, Aug. 9. Sample beer from local home brewers and wines from local wineries. Food trucks will also be on hand with food for sale (5-8pm, Salinas City Center, $20). Saturday sees a lively street festival in Oldtown Salinas with food, beer, wine, art and live entertainment (noon-4pm, free admission, $65 for food and wine tasting). Look for food from favorite local restaurants and food artisans, including 201 Main, Baja's Bar & Grill, Catering Fresh 2 U, Dolly's Cakes, Forno Bravo pizza ovens, Gutierrez Drive-In, Lula's Chocolates, Nana's BBQ, Oldtown Fish and Chips, Pasta Mia, Pupuseria Marleny's, Salinas City BBQ, Schoch Family Farmstead, Sinaloa, Star Market and Zio's Sausage. And local wineries like Bernardus Winery, Blair Estate Wines, Boëté, Chalone Vineyard, Cima Collina, Delicato, De Tierra, Hahn, Integrity Wines, Le P'tit Paysan, Luli, Marin's Vineyard, Midlife Crisis Wines, Miraflores Winery, Morgan, Odonata Wines, Pessagno Winery, Pierce Ranch Vineyards, Poppy Wines, Puma Road, Scheid, Talbott Vineyards and Wrath will pour current releases. Local breweries—Alvarado Street Brewery, Brew -N- Krew, Firestone Walker, Pacific Grove Brewing Company and Yeast of Eden—and distilleries—Don Elias Tequila, Fog's End Distillery and Tequila Alderete—will also be offering tastes. For more information and to purchase tickets, visit salinasvalleyfoodandwine.com.
Want a sneak peek of Other Brother Beer Co. ahead of the opening of the brewery's new Seaside taproom this fall? The team has released a few kegs malt-forward beers to whet the palate: Super Custom Common Ale—a "steam-style beer with a light rye touch, utilizing a lager yeast fermented at higher ale temperatures for a complex, but easy-drinking light-bodied beer"—and Junkyard Dry Stout, which "offers assertive roast on the nose, laying the groundwork for an easy chocolaty sip with low bitterness and coffee notes on the back end." Both beers will soon be pouring available at Allegro Pizzeria, Post No Bills and Yeast of Eden, plus The Beer Mule in Watsonville and Beer Thirty in Soquel.
PigWizard celebrates the first anniversary of its waterfront sandwich shop and deli on Wednesday, Aug. 7, with a pork party. Chef-owner Jonathan Roberts teases a special menu for the party including a house-cured two-year-old prosciutto, "pizzas" on bacon pan de chapa flatbread, baked oysters, chicharron "PorkCorn" and more. (And while the shop usually makes accommodations for vegetarians, tonight you won't find any veg-friendly options.) 6-10pm, $55, tickets available in store or by phone (641-7316), limited availability, tickets won't be available at the door, ticket price includes all-you-can-eat food and two drinks with additional half-price drinks for purchase.
Join Aubergine for another Thursdays in the Courtyard on Thursday, Aug. 8, from 4-6pm. The happy hour in the courtyard of L'Auberge Carmel hotel features wine, beer and cocktails, plus a la carte snacks from Executive Chef/Director Justin Cogley. Bonus: Each beverage purchase includes two complimentary oysters. Reservations not required.
The Annex welcomes A-Frame Wine Company for a tasting on Thursday, Aug. 8, from 4-7pm. Winemaker Alex Stuempfig will share tastes of current A-Frame releases, including 2018 LaLa Rosé, 2018 Pompette Sauvignon Blanc and 2017 The G Grenache. Retail bottles will be available at 10 percent discount or 15 percent for wine club members. 4-7pm, $15.
The Wine Experience has a Wine and Swine release party on Friday, Aug. 9, at the Cannery Row tasting room. Celebrate the release of owner/winemaker Brent Virgin's 2018 Zinfandel and Syrah from Monterey County, plus a barrel tasting of 2018 Petite Sirah. Nate Dalton of Nate's Plates will be on hand with smoked pulled pork and Zinfandel-marinated tri-tip sandwiches with sides, plus fresh and barbecued oysters on the half shell. 6-9pm, includes complimentary tastes of new releases with food and additional wine for purchase, RSVP via Facebook or call 324-4974 for reservations.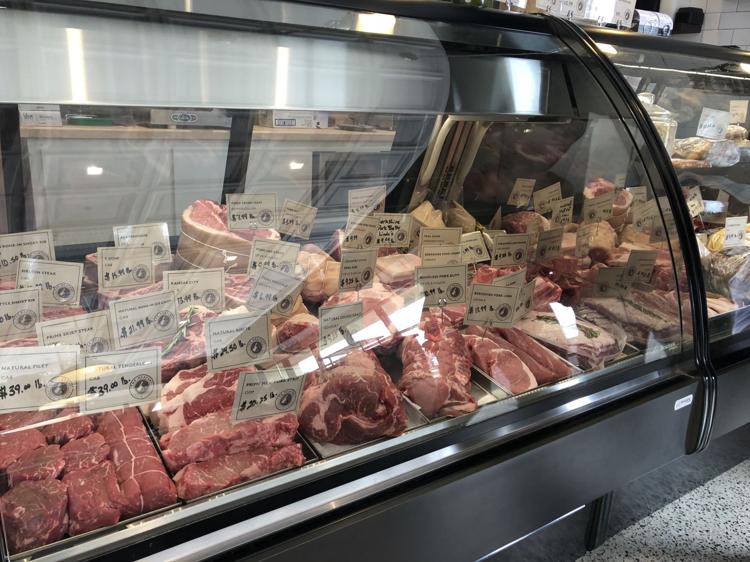 The Meatery's next pop-up on Friday, Aug. 9, pits East vs. West with a menu inspired by Brooklyn's famous Peter Luger Steak House and San Francisco's House of Prime Rib. The menu includes wood-grilled prime porterhouse steak (20 ounces $63, 40 ounces for two $125, served with Meatery steak sauce) and slow-roasted beef prime rib (10 ounces $55, 15 ounces $69, served with au jus and horseradish cream). Dinner also includes an iceberg wedge salad to start, sides (creamed spinach, roasted carrots and choice of fried potato wedges or mashed potatoes) and dinner rolls, and add peach cobbler for dessert ($6). Beer and wine will also be available for purchase. 5-9pm, $30 deposit required to secure your reservation, but it is applied to your final check, 656-8810 for reservations.
Morgan has an open vineyard day at the Double L Vineyard in Salinas on Saturday, Aug. 10. Stroll through the vineyard with Dan and Donna Lee and savor Morgan wines paired with samples of local Zio Brand sausages. Tables will be available for picnicking or bring your own picnic supplies and set up on the lawn. The afternoon includes music and games too. 11am-2pm, 1520 River Road, $25, $10 wine club members (may bring guests at club cost), includes one glass of wine with additional wine available for purchase.
Here's a new one: a coconut speakeasy. Bamboo Magik teases a pop-up featuring fresh, cold coconuts—complete with handmade bamboo straws—at a secret location in Monterey on Saturday, Aug. 10, from 10am-noon. $20, tickets (presumably with location details) available via Eventbrite.
Peter B's Brewpub has another taco takeover on Tuesday, Aug. 13. Celebrate Taco Tuesday in the beer garden with chicken, beef, carnitas or vegetarian street tacos (two for $5 or five for $10), $5 pints of Peter B's beer and $5 El Jefe margaritas on the rocks. 4:30-6:30pm, 649-2699 for reservations.
Also on Tuesday, Aug. 13, Peter B's celebrates the 18th anniversary of its Mug Club. Club members get $5 mugs, a $10 food credit for the evening and half off merchandise all night (4pm-11pm). Not a Mug Club member yet? Visit the brewpub to sign up.
Two tasting events are on the calendar this week at Stave Wine Cellar in Pebble Beach. On Thursday, Aug. 8, there's a "group effort" Grand Tasting that promises a fun night sharing the joys of wine. Each attendee will draw a card with a dollar amount, choose a wine—sparkling, white, rosé, red or dessert—up to that price point to open for the group to taste (6pm, $50, call 644-7997 for reservations). And on Wednesday, Aug. 14, it's Flight Night with Laurent-Perrier Champagnes. Try Laurent-Perrier Rosé, La Cuvée Brut and Tête de Cuvée Grand Siècle (3-7pm, $40, open seating, no reservations required). 21+ only for both events.