In honor of its eighth anniversary, il vecchio has a series of special promotions for the month of September. Mondays, Tuesdays and Wednesdays this month, get 33 percent off entrees from 5-6pm (must order by 6pm, excludes daily specials, maximum party of six). On Thursdays, draft beers and select cocktails and wines by the glass are half-price drinks from 5pm to closing, with a special selection of antipasti for $5 too. Friday is raffle night with a drawing every hour rewarding one lucky diner with their dinner entree on the house. Sundays feature family dinner with herb-roasted chicken with baked pasta and salad for $15 per adult or $5 per child (10 and under). And during weekend breakfast, order any breakfast entree between 8-9am and your dining partner's entree is free (must order by 9am, excludes beverages, includes service charge).
 PS. il vecchio's eighth anniversary also brings new menu additions. New starters include grilled calamari steak ($10.50), a grilled onion (baked in balsamic vinegar and served with goat cheese and crostini, $10) and a grilled Caesar salad ($11.50). New entrees include grilled ahi tuna calabrese (with artichoke, pepper and tomatoes on saffron risotto, $24), snapper baked in paper (with zucchini, eggplant and saffron risotto, $23), grilled ribeye steak (16 ounces, with potatoes Parmesan and sauteed vegetables, $29) and lamb filet (with baked penne fontina and vegetables, $21).
Coffee and cycling enthusiasts take note, Toro Grind has opened in Salinas. The coffee corner inside the Toro Park bicycle shop serves coffee from Verve Coffee Roasters in Santa Cruz. The menu includes coffee and espresso, plus tea and hot chocolate, with options for almond or oat milk as a dairy alternative. The shop also stocks a selection of pastries. 22750 Portola Drive, Salinas. 484-9747, gears4good.org/torogrind. Open 6am-6pm Monday-Friday, 7am-3pm Saturday-Sunday.
Peter B's Brewpub has Sunday football covered. Watch the game on the brewpub's 18 high-definition TVs and snag breakfast specials from 9:30-11am. The morning lineup features $8 breakfast specials—including brioche French toast, huevos rancheros, banana pancakes, smothered breakfast burrito and a traditional breakfast plate—plus $5 pints (excludes imperial and specialty ales), $5 mimosas, $6 Bloody Marys and $9 Tito's brewer Bloody Marys. Available Sundays through December 29.
The Beerded Bean now has student study nights on Tuesdays and Thursdays from 6:30-9pm. Show your student ID for a 10 percent discount. The shop will also shift to light jazz and classical music those evenings to keep a quiet environment for students to work.
Tickets for the 2019 Big Sur Food and Wine Festival go on sale Thursday, Sept. 12. This year's festival lands Nov. 7-9. Favorite events like Opening Night Reception at Ventana Big Sur, Hiking with Stemware, the Sommelier Dinner at the Big Sur Roadhouse and Wine and Swine return, alongside new events like a Tablas Creek 30th anniversary retrospective and a collaboration with chef-author Virginia Willis and the Monterey Bay Aquarium. For more information, visit bigsurfoodandwine.org.
Join Aubergine for a pair of cooking classes this week. On Thursday, Sept. 12, Pastry Chef Yulanda Santos explores petit fours. Learn how to make bite-sized cakes and other sweets for your next party (11am-1pm, $125). And on Wednesday, Sept. 18, Executive Chef/Director Justin Cogley shares tips for plant-based cooking. Master some easy, one-pot vegetarian dishes (11:30am-1:30pm, $145). Call 624-8578 to sign up for either class.
The Hyatt Carmel Highlands welcomes Talley Vineyards for a Forks. Corks. Action! winemaker dinner on Thursday, Sept. 12. The evening starts with a reception on the deck, followed by an intimate dinner in the famed wine room at California Market at Pacific's Edge. Executive Chef Chris Vacca will craft a four-course dinner paired with Talley wines and diners will have the chance to meet the Talley team. 6pm, $130 (inclusive), reservations required, tickets available via Eventbrite.
Stone Creek Kitchen invites diners to explore northern Italy at the next Dinner in the Kitchen on Friday, Sept. 13. The evening starts with a sip of Terlan 2018 Tradition Pinot Grigio, followed a five-course feast that includes shaved apple and arugula salad (with Terlan 2018 Terlaner Classico), gnocchi (with Terland 2018 Winkl Sauvignon Blanc), pork milanese (with Terlan 2016 Vorberg Riserva DOC Pinot Bianco), duck pate (with Terlan 2017 Pinot Noir) and walnut cake. 7pm, $135, communal seating, 393-1042 for reservations.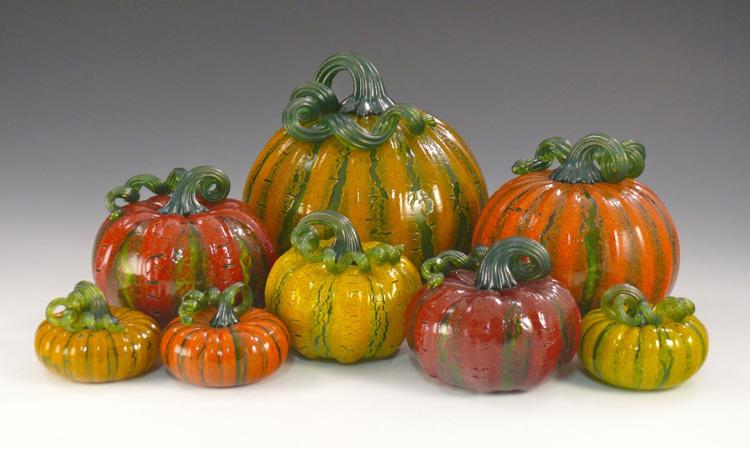 The Glass Pumpkin Patch returns to MEarth this weekend. First up is a glassblowing demonstration and pre-patch preview reception on Thursday, Sept. 12 with seasonal small bites from Carmel Valley Chophouse's Chef/Owner Fabrice Roux and sips from Chesebro Wines and I. Brand and Family Wines at the Leonoff Studios + Gallery in Carmel Valley (5:30-7:30pm, 13766 Center Street, free admission, food and drink tickets available for donation). MEarth's Hilton Bialek Habitat adjacent Carmel Middle School hosts the Glass Pumpkin Patch Showcase—with 1,500 hand-blown glass pumpkins—on Saturday, Sept. 14 and Sunday, Sept. 15 (10am-5pm, free admission). Local chefs and food artisans will have seasonally inspired small bites for sale. Saturday's food lineup includes Matthew Beaudin (Monterey Bay Aquarium), Pamela Burns (Wild Plum Cafe), Sarah Lacasse, Jorden Richardson (Savory Events), American Culinary Federation, Carmel Berry Company, Lafayette Bakery, PigWizard and Sur Carmel, while Sunday will see bites by Aubergine, Carmel Honey Company, Carmel Private Chef, La Balena, Moveable Feast, Michael's Catering, Revival Ice Cream and The Club at Pasadera. The weekend also features live music and kids activities. Proceeds benefit MEarth's work to educate and inspire students through environmental stewardship. More information at mearthcarmel.org.
Put on your lederhosen and dirndl, the ninth annual Oktoberfest Monterey Bay is Saturday, Sept. 14, in The Barnyard Shopping Village. Hosted by Lugano's Swiss Bistro, Oktoberfest celebrates Bavarian culture with dancing, food and German beers. The afternoon also features live music with The Internationals, plus Miss Oktoberfest and Miss Jr. Oktoberfest pageants and a beer stein holding contest. Noon-6pm, $20, children under 12 free, dogs welcome, more information at oktoberfestmontereybay.com.
Galante Vineyards celebrates its 25th anniversary with a special Wine Gang Muster on Saturday, Sept. 14 in Carmel Valley. The winery will have more than 75 wines open for tasting, plus food and a cigar bar. 2-5pm, 18181 Cachagua Road, $50, includes six tastings, additional tastings $5 apiece or six for $20, $20 round-trip transportation (requires advance registration), RSVP to 624-3800.
And Albatross Ridge throws its annual Harvest Party on Saturday, Sept. 14 at the estate vineyard. Tour the vineyard, meet the winemakers, sip Albatross Ridge wines and snack on cheese from The Cheese Shop, charcuterie from Cantinetta Luca and grilled tapas while enjoying live music. 4-7pm, $75, $40 wine club members, includes round-trip transportation from Mid Valley Shopping Center, call 293-8896 for more information and visit albatrossridge.com for tickets, 21+ only.
Carmel Craft Brewing Company marks its first anniversary with live music and a special beer release on Saturday, Sept. 15 from noon-9pm. The Barnyard-based brewery will have a special anniversary ale for sale and will host a lineup of bands throughout the afternoon. Favorite local vendors will be on hand with food specials to pair with Carmel Craft's signature suds Mad Otter Ale and Carmel Valley Blonde.
Dive into the history of salt with the Carlo Overhulser from Big Sur Salts on Sunday, Sept. 15, at the Cooper Molera Adobe. Explore how Native Americans, the Spanish and Chinese harvested salt and hear how Overhulser crafts salt from the Big Sur coast. The lecture sponsored by the Historic Garden League and the National Trust for Preservation starts at 3pm and will be followed by an artisan food fair and plant sale, plus museum and garden tours, from 3:45-5pm. The afternoon will have pop-up tastings of salt from Big Sur Salts, bitters from The Bitter Ginger, elderberry syrup and elderflower cordial mocktails from Carmel Berry Co., honey from The Honey Ladies, jelly from Friends in Cheeses, nut butters from Alma Superfoods, and gluten-free baked goods from Nece's. Space for the lecture is limited, RSVP to info@historicgardenleague.org, open attendance for food fair starting at 3:45pm.
Great bowls of fire: The Carmel Valley Chamber of Commerce's 26th annual chili cook-off is Wednesday, Sept. 18 at Carmel Valley Ranch. More than 20 professional and amateur chefs will compete for the people's pick and the coveted Golden Ladle awarded by a panel of judges that includes past winners Fabrice Roux (ROUX and Carmel Valley Chophouse), Anna Steege (Bernardus Lodge) and Jason Trujillo (Santa Lucia Preserve). Local bartenders will also be vying for the title of best margarita. 5-8pm, $40 advance tickets, $45 at the door, includes all-you-can-eat chili and one beverage, $15 margarita tasting, additional beverages available for sale, more information and tickets at carmelvalleychamber.com.