On Cannery Row, Crêpes on the Row Cafe quietly opened late last month. The menu is split between Salée savory crepes ($6.95-10.95) and Sucrée sweet crepes ($5.95-9.50), with signature selections like the Monterey Special (caramelized onions, feta cheese and sun-dried tomatoes, $10.95), House Special (two eggs, two slices of smoked turkey and extra cheese, $10.95), California Crêpe (cheese, black beans, salsa, sour cream and avocado, $11.95), Papa Johnny (Nutella, banana, almond, coconut and whipped cream, $9.95), King Zaki (Nutella, banana, strawberries and whipped cream, $9.95), Prince Tarek (chocolate, peanut butter and whipped cream, $9.95) and Princess Layla (Nutella, strawberries and a scoop of ice cream, $11,95). Gluten-free crepes are available for $2.50 extra. Also look for panini sandwiches ($11.95-12.95), salads ($3-9.95), bagels ($4.95), avocado toast ($9.95) and various pastries. On the beverage front, there's coffee, tea, espresso, smoothies and bottled drinks. 807 Cannery Row, Monterey. 641-7004.
The Butter House kicked off soft opening last week. For now, owners Benny and Susan Mosqueda are offering a scaled back menu that includes egg combos (with choice of meat including ribeye steak, Spam and more, $11-15), omelets ($13), the signature TBH eggs Benedict (with prosciutto and tomatoes, $13), pancakes ($8-13), French toast ($8), waffles ($7) and house specialties like "Ono" loco moco (ground beef patty, eggs and country gravy over rice, $13), the S.O.S. (housemade gravy over toast or rice, $11), Santa Maria breakfast tri-tip sandwich ($13) and biscuits and gravy ($10). Lunch options during the soft opening include the signature TBH burger with bacon and cheddar ($12), a BLT sandwich ($10) and the Salinas cowboy salad with Santa Maria-style tri-tip ($13). As service settles in, additional dishes will be added to the menu. A sneak peek at some upcoming menu additions: Marciana's breakfast fried rice (garlic butter fried rice with choice of meat and two eggs, $12), fried chicken and waffles ($13), The "BABBS" bacon, apple and Brie breakfast sandwich ($12), the "Elvis" (grilled sourdough with peanut butter, banana, honey and bacon, $10), Susie's banana bread French toast ($14), beef barbacoa hash ($13) and Filipino pork belly adobo hash ($12), plus an expanded selection of burgers, sandwiches and salads for lunch. 1760 Fremont Boulevard, B-1, Seaside. 394-2887, thebutterhouse.com. 6am-2:30pm daily.
Word is Cream and Crumbles is readying for its debut in Pacific Grove. The new ice cream spot inside the White Hart Mansion in downtown PG serves "colorful, creamy confections that compel you to kick back and embrace the moment with family, friends and neighbors." Cream and Crumbles promises a menu accessible to those with dietary restrictions, so selections are nut-free, egg-free and soy-free with options for vegan and gluten-free customers too. This weekend saw a soft opening with a preview of Cream and Crumbles' soft serve ice cream. Follow @crumblesandcreamicecreamshop on Instagram for news on the official opening.
Tortas al 100 is a popular fixture at local events and farmers markets. Now, grab owner Orlando Osornio's tasty tortas at the Salinas Sports Complex on Fridays from 3-10pm or until sold out.
Perfectly Pressed Juice now offers home delivery. Place orders for the juicery's hand-crafted, cold-pressed juices and cleanses by noon on Thursday for home or office delivery on Friday. Call 998-8770 to place your order. Delivery available to Salinas, Marina, Seaside, Monterey, Carmel and Carmel Valley. 
Aubergine hosts another Thursdays in the Courtyard happy hour on Thursday, Aug. 22, from 4-6pm. Enjoy Champagne, wine, beer and cocktails, plus culinary creations from Executive Chef/Director Justin Cogley and team. Each beverage purchase includes two complimentary oysters. Reservations not required.
The Annex welcomes Vitis Jenifera Wines for a tasting on Thursday, Aug. 22 as part of the shop's Traveling Winemaker series. Meet winemaker Jennifer Leslie and try current releases. 4-7pm, $20, retail bottles available at 10 percent discount (15 percent for wine club members). 
Join De Tierra for a release party at La Playa Carmel on Thursday, Aug. 22, from 6-8pm. Taste the 2016 Monterey Syrah and 2015 Vindegard Chardonnay vintages, plus the new 2016 Frannin Red Blend. The night also includes passed appetizers from the La Playa kitchen and live music. $35, tickets available via Eventbrite.
The Joseph Boston Store teams up with Eddison & Melrose for a complimentary tea tasting on Friday, Aug. 23. Taste hand-crafted English-style teas, elderberry teas, Eddison & Melrose scones and honey from The Honey Ladies while perusing the store's garden tea party provisions available for sale. The store will also collect donations to help pay for medical bills for the injuries that the owners of The Honey Ladies sustained in the Gilroy Garlic Festival shooting. 11am-12:30pm, 210 Olivier Street, Monterey, 601-4851 for more information.
Dust off your leg warmers and acid wash jeans: Morgan's next Vintage Friday is going back to the '80s. On Friday, Aug. 23, the winery hosts a tasting of four legendary Morgan wines from the '80s—including Cabernet Sauvignon and Pinot Noir—alongside small bites by Contemporary Catering and a DJ spinning '80s music. 5-7pm, $40, $25 wine club members, 626-3700 for tickets and more information.
Pebble Beach's Stave Wine Cellar has two wine classes on the calendar this week. Wine geeks and curious wine enthusiasts take note of a tasting with Occhipinti Wines from Sicily on Friday, Aug. 23. Taste three single-vineyard Frappati wines from estate fruit and all native Sicilian varieties from Adrianna Occhipinti's certified organic vineyards (6pm, $35). And on Tuesday, Aug. 27, join the Rosé Revolution. Celebrate the wonders of rosé and taste selections from the French master of rosé: Provence (6pm, $35). 644-7997 for reservations, 21+ only.
Stationæry's monthly supper series returns on Friday, Aug. 23. This month brings a summertime lobster boil from chef Amalia Scatena. The family-style menu starts with deviled eggs, panzanella salad, melon salad and carrots before diving into the main event—steamed lobster, shrimp and clams, Andouille sausage, corn on the cob, new potatoes and garlic bread—and finishes with stone fruit crumble for dessert. 7pm, $85, $45 wine pairing. Dinner has sold out, but call 250-7183 or email info@thestationaery.com to sign up for the wait list.
Stationæry also celebrates its first anniversary on Sunday, Aug. 25. The restaurant's anniversary coincides with the Italian summertime tradition of Ferragosto, so owners Anthony and Alissa Carnazzo tease a special anniversary party. Details are coming soon, follow @thestationaery on Instagram.
PS. The Residency—chef Klaus Georis' pop-up at Stationæry—has come to a close as he readies the debut of his Seaside restaurant later this year. But don't fret, Stationæry will be debuting its own dinner service next month. Starting Sept. 19, the chic Carmel restaurant and cafe will extend service to include dinner Thursday-Saturday.
Join Joyce Vineyards for a seafood boil on Saturday, Aug. 24, from 4-7pm. The party kicks off with happy hour at 4pm, then pots hit the tables at 5:30pm. Feast on lobster tails, corn and taters—and don't worry, bibs are provided. $65, includes one glass of wine or beer with additional beer and wine available for purchase, joycevineyards.com.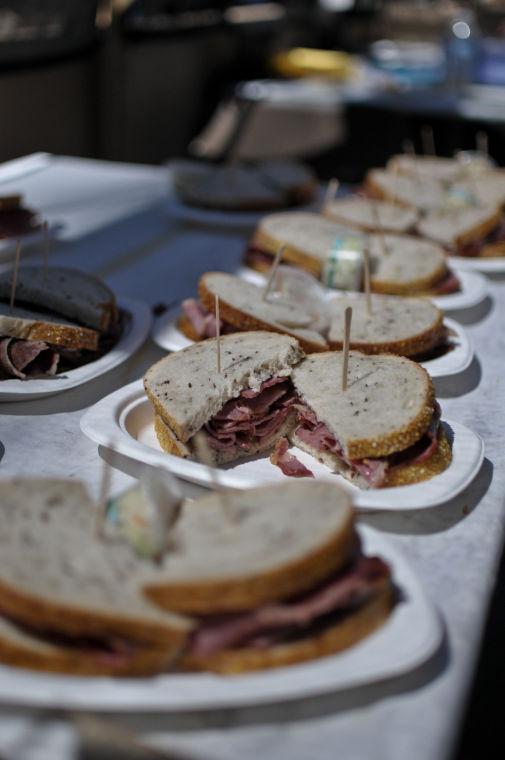 Congregation Beth Israel's 32nd annual Jewish Food Festival is Sunday, Aug. 25. Savor Jewish "soul food" with corned beef, pastrami and brisket sandwiches, blintzes, kugel, latkes, matzah ball soup, chopped liver, knishes, hummus, baked goods and more. The festival also includes arts and crafts booths and live music. 10am-4pm, free admission, free parking at Carmel Middle School with shuttles to/from the festival. 
Monterey's Wild Plum Cafe, Bistro and Bakery turns 20 this month. Chef-owner Pamela Burns is hosting an open house on Sunday, Aug. 25, from 4-6pm. Stop by for a celebratory glass of Champagne, sweet and savory small bites and birthday cake.
Alvarado Street Brewery & Grill hosts a fundraiser for Salinas Valley Pride Celebrations on Wednesday, Aug. 28. From 5-10pm, 10 percent of food sales will be donated to SVPC to support the 2019 Salinas Valley Pride in Toro Park on Saturday, Oct. 12.