La Playa Carmel's bar has reopened as Bud's. The new name honors the late Bud Allen—who owned and operated the bar from 1962 to 1984—and Carmel's bohemian roots. Branding itself as "a local haunt for lore and libations," Bud's features a new menu of cocktails with food developed in partnership with sister property Brophy's Tavern. Many cocktail creations honor Carmel's storied residents: Former mayor Clint Eastwood inspired The Mayor (whisky, bitters, orange and bourbon cherry, $15), Don't Call Me Terrence (rye, vermouth, bourbon cherry and bitters, $15) is a nod to cinema legend Steve McQueen, The Cavalry (rum, lime, simple syrup and egg white, $15) honors the "infamous group of local poker players, writers, bards and raconteurs who founded their alliance at La Playa," and The Ingenue (bitters, lemon, sparkling rosé and St. Germaine, $13) is for chocolate heiress Angela Ghirardelli who first built La Playa with her husband. The Bud's Martini (gin, vodka and Lillet, $15) and Plaiditude (Cognac, Cointreau and lemon juice, $15) honor the bar's namesake. Other drinks celebrate the coastal terroir: The Jade Hunter (absinthe, rye, Cognac, bitters and lemon, $15) honors local cult pastime gem hunting and the Mollusk Mule (vodka, limoncello, ginger beet and lime, $15) is a sendup to the famous abalone. The food menu features calamari ($14), Cobb salad ($18), a prime rib French dip sandwich ($17), a ham, cheese and mushroom calzone ($16), brochette skewers with chicken ($15) or filet mignon ($18) and petite 4.5-oz. ribeye steak frites ($24). Vegetarian options include croquettes ($14), roasted strawberry salad ($16), tomato bisque with a half grilled cheese sandwich ($16) and quesadilla a La Playa with cheese, corn and beans ($14). Corner of Camino Real and 8th, inside La Playa Carmel hotel, Carmel. 293-6100, budscarmel.com. Open daily 2pm-"late(ish)."
Study like a somm at the new Monterey Wine School. Sommelier Pablo Antinao—owner of the shuttered Bakai Wine Bar and Tapas and most recently general manager at Sangria Wine and Tapas in Carmel Valley—is teaming up with winemaker Miguel Lepe, chef Brian Kearns and sommelier Alicia Cuadra-Cutler to launch the new concept "to educate and empower wine enthusiasts in navigating the universe of wine." Plans call for workshops about viticulture, wine making, wine tasting and wine and food pairing. The Monterey Wine School debuts with launch party on Saturday, Oct. 12, from 6-8pm at The Lab inside the Barnyard. RSVP for the free party. For more information on the Monterey Wine School and upcoming classes, call 233-2286 or visit montereywineschool.com.
Something sweet is coming to the Crossroads Carmel Shopping Center: Sweet Reba's Bakery & Kitchen is checking off final inspections and readying to open. The sweet shop from baker Reba Wilson will have whimsical cakes, cookies and other treats. Follow @sweetrebas on Facebook or Instagram for the latest on the bakery's official debut. 206 Crossroads Boulevard, Carmel. 601-7875, sweetrebas.com.
Attention witches and wizards, Blue Aces Bake Shoppe has a new menu of Harry Potter-inspired French macarons for October. This month's macaron menu includes: Sirius blackberry (dairy-free), House Slytherin's sour caramel apple, House Ravenclaw's dark chocolate ganache, House Gryffindor's butterbeer (butterscotch), House Hufflepuff's pistachio, pumpkin juice, Fizzing Whizzbee Punch (citrus punch), Weasley's Firewhisky (cinnamon), Dumbledor's sherbet lemon pucker and Slughorn's candied pineapple (dairy-free). And mark your calendars for the bakery's Harry Potter Day celebration on Saturday, Oct. 26, in conjunction with the Oldtown Salinas Trick-or-Treat event. Special Potterhead-themed mystery treat boxes are now available for pre-order, email blueacesbakeshoppe@gmail.com for more information.
Move over pumpkin spice. Monterey's Alta Bakery + Cafe has debuted a sweet potato pie latte that's a welcome alternative to the PSL. Alta's new seasonal drink boasts roasted spiced sweet potato, oat milk, cinnamon and candied ginger with crispy toasted meringue on top. Add a shot of espresso for $1.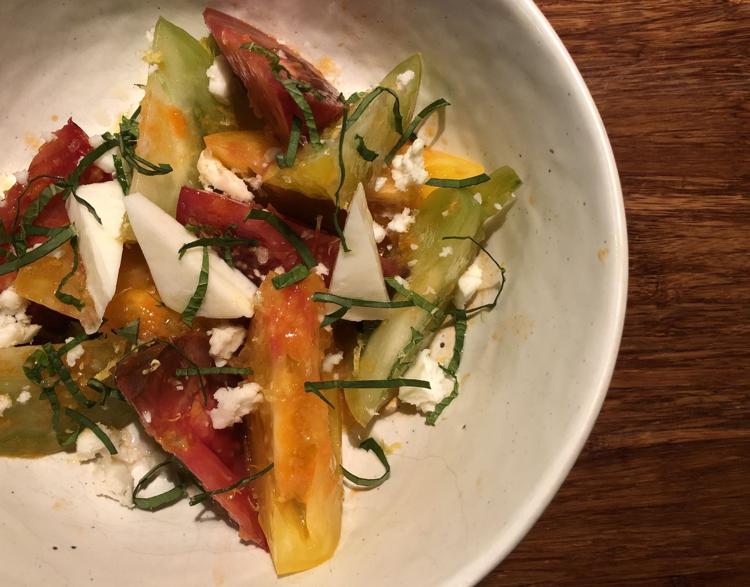 Fall brings new additions to the menu at Pacific Grove's jeninni kitchen + wine bar. New seasonal selections include grilled flatbread with chanterelle mushrooms ($14), an heirloom tomato salad with halloumi cheese ($13), chicken leg confit with creamy potatoes and shawarma jus ($14) and gnocchi with butternut squash and brown butter ($12/22).
Yeast of Eden restaurant and brewery in Carmel has also debuted new menu additions for fall. On the food front, chef Florencio Cruz has added a roasted butternut squash soup and a fall salad with apples, butternut squash and goat cheese to the menu. Head Brewer Andrew Rose has a new seasonal brew—Astral Seasons—that's a mixed-fermentation saison with local Blenheim apricots from Hollister's B&R Farms. And look for two new seasonal cocktails from the bar: Binding Arbitration (bourbon, Cynar, Yellow Chartreuse and lemon, shaken and served up) and Spiced Island Cream (spiced rum, coconut milk, cinnamon and egg white, served up with a sprinkle of nutmeg).
Can't get enough nachos? Nacho Bizness has you covered. The late night shop has unveiled a new Hella Sized 'chos option. The five-pound (!!!) boat of nachos can be customized with your choice of meats, cheeses and toppings.
The Alvarado Street Brewery family took home three medals at the Great American Beer Festival in Denver this past weekend. Alvarado Street Brewery's Citraveza scored a bronze medal in the Contemporary American-style Pilsener category and its Double Cone landed gold in the Imperial India Pale Ale category. And the Saison Apothēca from sister brewery Yeast of Eden snagged the bronze medal in the Belgian-style Lambic or sour ale category. Cheers!
PSA: Sushi Fly has Fly Hour happy hour from 5-6pm Monday-Thursday. Snag half-priced sake bombs and $5 hand rolls.
Looks like The Butter House has secured the liquor license from The Dunes bar. Once the transfer is complete, new spirited concoctions could soon be on the menu at the popular new Seaside brunch spot.
Seventh & Dolores Steakhouse kicked off another season of its popular 7D Mixology Throwdown cocktail competition this week. Salt Wood Kitchen and Oysterette's Melissa Crisafulli faced off against Carmel Valley Ranch's Michael Searles. Crisafulli won people's pick, but Searles narrowly scored the judges' votes. Tied, the pair competed in not one, but two tiebreakers: After a tie in the first tiebreaker contest for a precise 2-oz. pour while standing on a chair, each had five minutes to make a cocktail to woo the judges. Searles ultimately won over the judges to advance to the semifinals taking place in the new year. The next round of the competition will be on Monday, Nov. 4, and feature Cibo's Ryan Feliciano vs. Portola Hotel's Lindsey Grebolo. More information and tickets at 7dsteakhouse.com.
MEarth is sharing the bounty of its organic gardens with U-Pick Community Harvest Market on Mondays from 3-5pm. Bring a reusable bag and pick your own produce, with selections like apples, kale, potatoes, peppers, herbs and much more. The event is free and open to the public, with donations appreciated to support MEarth's environmental education programming for local schoolkids.
October is Breast Cancer Awareness Month. Many local restaurants are Pink Partners helping raising money for local charities, including the Breast Cancer Assistance Group of Monterey County, an all-volunteer nonprofit led by breast cancer survivors that provides need-based grants to help patients in active treatment for breast cancer with their basic living expenses. Drink pink to support the Breast Cancer Assistance Group: McIntyre Vinyards will donate 15 percent of sales revenues from its 2017 Rosé of Pinot Noir this month and Scheid Vineyards is donating 15 percent of sales of its award-winning 2017 Pinot Noir Rosé. Monterey Portola Hotel and Spa is donating $1 for every Pink Lemonade Drop cocktail sold at Jack's Monterey and Peter B's Brewpub this month. Print the Pink Partner flyer from bcagmc.org and Sur restaurant in the Barnyard will donate 20 percent of every dollar spent for lunch or dinner and 10 percent for happy hour to the Breast Cancer Assistance Group. And on Saturday, Oct. 12, Waypoint Bar + Kitchen at Carmel Valley's Quail Lodge will host the fourth annual Quail in Pink afternoon tea to benefit the Breast Cancer Assistance Group of Monterey County. Enjoy a selection of finger sandwiches, plus sweets, scones and jams, with your choice of Palais des Théas teas. 2-4pm, $28, reservations required: 620-8910. Over at Caraccioli Cellars in Carmel, the winery will donate $1 for every bottle of its Rosé of Pinot Noir sold this month to the Carol Hatton Breast Care Center of Monterey County.
Explore the wines of Baja California's Valle de Guadalupe—a region that's been making wine since the 16th century, but only recently become a darling of wine aficionados—at The Annex on Tuesday, Oct. 8. The tasting includes Casa de Piedra Blanc de Blancs, Palafox Mission Rosé, Casa Magoni "Manaz" Viognier/Fiano, Fluxus Grenache/Syrah and Palafox "Pionero" Tempranillo/Cabernet/Merlot, plus a complimentary taco bar (5-8pm, $25). And on Thursday, Oct. 10, The Annex dives into wines a little closer to home: The shop will pour some Napa Valley gems from Miner Family Winery (5-8pm, $20). 
Class is in session at Aubergine this week. On Thursday, Oct. 10, Pastry Chef Yulanda Santos will share her secrets to the perfect pumpkin cheesecake: roasting fresh pumpkins, making a gingerbread cookie crust and making the cheesiest cheesecake (11am-1pm, $125). And if you were lucky enough to snag a spot, Executive Chef/Director Justin Cogley will tackle traditional French cooking on Wednesday, Oct. 16 (11:30am-1:30pm, $145). Cogley's monthly cooking classes have proved popular and all remaining dates this year have sold out, but there's still room for Santos' pastry classes. To sign up for a class on sweet treats—or plead your way onto the waitlist for the savory cooking classes—call 624-8578.
PigWizard hosts its final pig roast of 2019 on Saturday, Oct. 12 and Sunday, Oct. 13 alongside Out to Sea Monterey's Bring the Ling fishing tournament. The shop promises pulled pork sandwiches, plates and nachos and irreverently invites one last chance "to protest and try to convince us to change to a completely vegan menu" this year. The roast will go from 11am-7pm or until sold out.
Joullian Vineyards' 17th annual Harvest Feast is Saturday, Oct.r12. The fall celebration at the winery's vineyards in Cachagua includes a catered lunch, tractor rides, barrel tastings and live music. Don't forget to sign up for the winery's popular grape stomp competition. Noon-4pm, $60 wine club members, $70 guests, $15 children, round-trip transportation from the tasting room available for $30, more information at joullian.com.
The second annual Meet the Makers Art and Wine Walk in Carmel is Saturday, Oct. 12, from 5-8pm. Tour 16 art galleries, meet local artists and sip on wine from eight local wineries. Wine tasting begins at two locations—the Su Vecino Courtyard (Dolores Street between 5th and 6th) and San Carlos Square (San Carlos Street between 5th and 5th)—and features DeTierra Vineyards, Holman Ranch, KORi Wines, Scheid Vineyards, Scratch, Talbott, Trio Carmel, Windy Oaks Estate and Wrath. The tour is free, but wine tasting is $25 per person, with proceeds benefiting the Peter Figge Memorial Scholarship Fund. More information at carmelcalifornia.com, advance wine tasting tickets available via Eventbrite.
The Foundation for Monterey County Free Libraries' 25th annual Words & Wine fundraising event is Saturday, Oct. 12, at the Embassy Suites Monterey Bay in Seaside. Doors open at 5pm, followed by a silent auction, drinks and hors d'oeuvres starting at 5:15pm, a plated dinner at 7pm and a presentation author and roboticist Grant Imahara at 8pm. The event benefits the foundation's literacy efforts throughout Monterey County and proceeds support local libraries' free homework centers, summer reading programs and online tutoring services that support 48,000 individuals each year. 5-10pm, $150, more information and tickets at fmcfl.org.
Benvenuti to Italy. Stave Wine Cellar offers a grand tasting of Italian wines on Wednesday, Oct. 16. Try more than a dozen Italian wines from every major wine-producing region in the country, from Piedmont and Veneto to Umbria and Tuscany. Explore wines ranging from intense to subtle, earthy to floral, full-bodied to light and still to bubbly espumoso. 6pm, $50, 644-7997 to sign up, 21+ only.