The countdown to the release of the famed Michelin Guide's inaugural California guide is on. The gastronomy guide will drop its star selections next Monday, June 3, recognizing standouts across the state for food and service. To whet palates for the main event, the guide's Bib Gourmand recommendations were released this week. These highlight more affordable dining options where you can enjoy two courses and a glass of wine or dessert for $40. Surprisingly, Michelin bestowed Bib Gourmand recognition to just one restaurant here on the Central Coast: Yafa. The casual Carmel restaurant specializes in Mediterranean and Middle Eastern fare with a menu of favorites like Jordanian hummus, grilled octopus, kebabs, Moroccan mishmish chicken and more. (Corner of Junipero and Fifth, Carmel. 624-9232, yafarestaurant.com. 5-10pm daily.)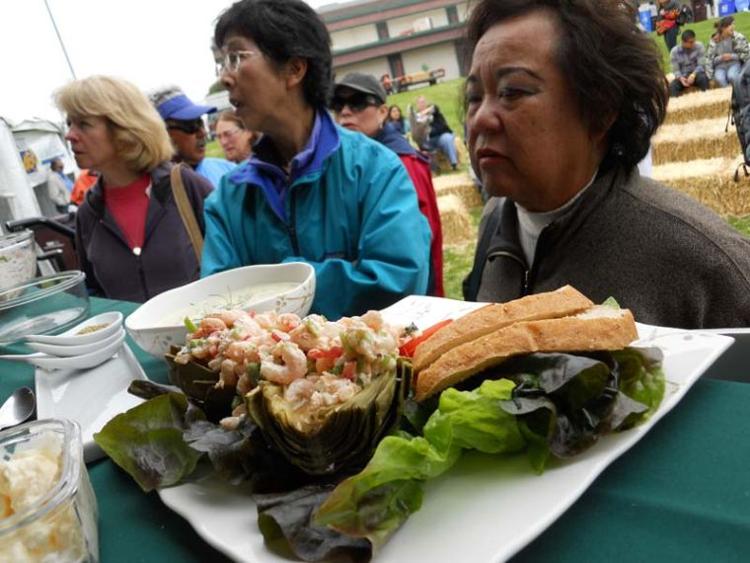 The 60th annual Castroville Artichoke Festival lands at the Monterey County Fairgrounds this weekend. The annual 'choke celebration features food, a wine expo, cooking demonstrations, farmers market presented by Ocean Mist Farms, agro-art, arts and crafts and live music. Field tours also return this year, with round-trip transportation to Castroville artichoke fields and a tour with an artichoke expert. 10am-6pm Saturday, June 1 and 10am-5pm Sunday, June 2. $15, $5 children 6-12, $10 seniors/military, $40 with wine tasting pass. More information and tickets at artichokefestival.org.
Also this weekend: the 43rd annual Monterey Wine Festival at the Monterey Conference Center. The festival kicks off with a VIP party on Friday, May 31, from 6-9pm featuring high-end wines and specialty foods ($150). The weekend includes wines and small bites from local restaurants. Looking for something a little stronger? Stop by Cocktail Camp with bartender and hospitality pro Reza Esmaili at 12:30 and 2:30pm on Saturday and noon and 2pm on Sunday. Saturday also sees the West Coast Clam Chowder Competition with chefs putting their best "chowdah"—clam, seafood and creative chowders—for a panel of judges. 11am-4pm Saturday, June 1 and 11am-3pm Sunday, June 2. $45 general admission, $55 early admission, $90 two-day early admission. More info and tickets at montereywine.com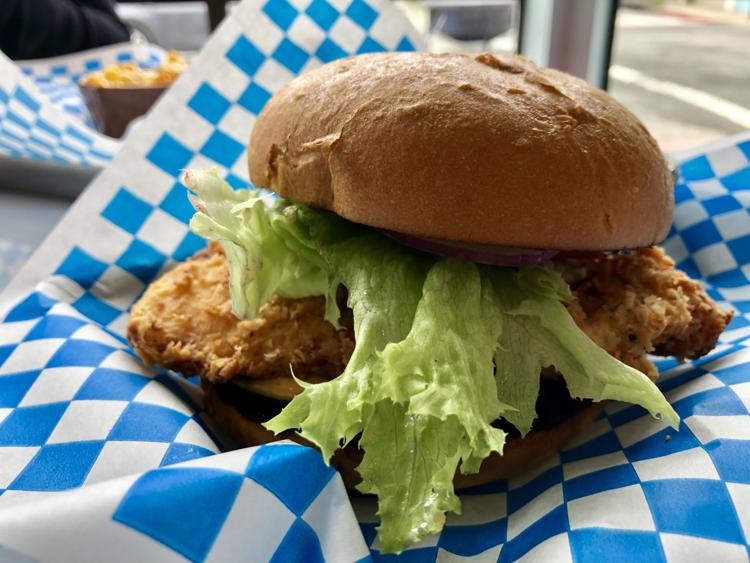 Nancy Dean's is now open in New Monterey. Inspired by the all-American diner, the concept comes from chef/co-founder Joseph Talley and team as they move beyond catering to establish a brick-and-mortar eatery. The menu features American comfort foods available for dine-in, take-out and catering. At lunch, there are salads, sandwiches, burgers and "fried fun"—crispy chicken sandwich, chicken strips and fried cauliflower. Dinner sees small bites like tater tot nachos, mac and cheese, bacon jalapeño poppers and tri-tip fries. "Big bites" include baby back ribs, pulled pork, fried chicken, meatloaf, chicken pot pie, burgers and more. The lunchtime salads and many of the sandwiches are available at dinner too. Beer and wine will be coming soon. 598 Lighthouse Avenue, Monterey. 920-1940, nancydeans.com. 11am-9pm Tuesday-Sunday, closed Mondays.
The Beerded Bean is expanding beyond local farmers markets with the arrival of its hotly anticipated shop in Old Town Salinas this week. Look for a soft opening on Friday, May 31, from 6am-5pm. The grand opening follows the next day, Saturday, June 1, from 6am-9pm. Promising "the best of both brews," The Beerded Bean will have coffee, espresso, their cult favorite cold brew and beer. 210 Main Street, Salinas. 578-2085, thebeerdedbean.com.
Surfs up: Pacific Bowls and Rolls should be arriving in downtown Monterey late this week. The newest addition to the Folktale Winery family replaces The Poke Lab on Alvarado Street. The menu by chefs Todd Fisher and Eddie Martinez draws from Asian street food favorites. Choose rice bowls, salads, banh mi sandwiches or sushi hand rolls (more like burritos, really) with kalbi-style barbecue beef, char siu pork belly, lemongrass-tamari chicken, ahi da'kine tuna, garlic-ginger tofu or togarashi-roasted carrots, then your choice of extra "good-goods," "awesome" sauces and "crunchies." Also look for house favorites, like the Nor-Cal tuna poke bowl, Chop Chop chicken salad, PacBibimbap rice bowl, pork belly banh mi and So-Cal beef hand roll. 475 Alvarado Street, Monterey. 583-8433, pacificbowlsandrolls.com. 11am-9pm Sunday-Thursday, 11am-11pm Friday-Saturday.
Alvarado Street Brewery has debuted a new side project steeped in history: Monterey Beer. Three years in the making, the brewery is resurrecting an iconic brand founded by Armin Neubert Sr. and his son Albert Neubert Jr. and produced in Salinas from 1934-1942. The all malt, light lager is 4.5 percent alcohol and arrives just in time for summer backyard barbecues. Six packs of Monterey Beer are available for $8.99 at Alvarado Street Brewery's restaurant in downtown Monterey and Salinas tasting room. A number of local retailers will also offer Monterey Beer for sale, including: Bottles N Bins (Monterey), Bruno's Market & Deli (Carmel), Grove Market (Pacific Grove), Lopez Liquors (Toro Park and Carmel), Pacific Grove Bottle Shop (Pacific Grove), Spreckels Emporium (Salinas), Star Market (Salinas), Surf N Sand Liquors (Carmel) and 10th Street Liquors (Monterey). And some local restaurants will also have the beer for sale: Brophy's Tavern (Carmel), Cafe Lumiere (Monterey), Crossroads Barbecue (Carmel), East Village Coffee Lounge (Monterey), Gianni's Pizza (Monterey), Gino's (Salinas), La Playa (Carmel), Old Fisherman's Grotto (Monterey), Pizza My Way (Pacific Grove) and The Otter's Den (Marina).
The art and atmosphere at Rio Grill is as much a signature of the locals' favorite restaurant as Executive Chef Eduardo Coronel's Southwestern cuisine. Bummer to hear someone made off with one of the restaurant's prized pieces. Security cameras caught a man leaving with a colorful porcupine sculpture by artist Marc Davey on Wednesday, May 22 at 2:30pm. The restaurant has posted a photo of the thief and stolen artwork on Facebook and Instagram, call Rio Grill at 625-5436 with any tips on the purloined porcupine.
Don't sleep on brunch at Salt Wood Kitchen and Oysterette. New weekend brunch additions include a Amiee's banana bread French toast (with banana-pineapple compote), croque madame sandwich (with truffle mornay sauce and a sunny side up egg), shrimp and grits and duck biscuits and gravy (with duck hash, duck and sausage gravy and sunny side up duck egg). And for a boozy brunch, try new cocktails like the Cucumber Smash (with Ketel One Botanical cucumber and mint, blackberry, lime, agave and basil) and the orange blossom bellini (Ketel One Botanical peach and orange blossom, Prosecco, peach and citrus). Brunch available 10:30am-2:30pm Saturday and Sunday.
Knuckles Sports Bar at the Hyatt Regency Monterey Hotel & Spa has debuted June's Burger of the Month. The Caprese Burger includes a beef burger with creamy burrata cheese, basil, heirloom tomato and a balsamic reduction, served with a side of fries. Pair with a Sierra Nevada Brewing Company Hazy Little Thing IPA.
This year marks the 113th anniversary of Pacific Grove's Feast of Lanterns. The Beach House is donating $1.50 from each Sunset Special to help fundraise for the Feast of Lanterns. Available 4-5:30pm daily.
The Annex has a tasting with Rombauer Vineyards on Thursday, May 30, from 4-7pm. Try a flight through selections from the famous Napa winery, including: 2017 Sauvignon Blanc, 2017 Napa Valley Chardonnay, 2017 Napa Valley Zinfandel, 2016 Napa Valley Cabernet Sauvignon and the exclusive Napa Valley Diamond Select 2015 Cabernet Sauvignon that's usually only available at the winery. $25, tickets available at theannexcarmel.com. All wines will be available for purchase, with wine club members snagging a 20 percent discount.
The Annex also has a tasting with Drench Wines coming up on Tuesday, June 4, from 4-7pm. Meet Drench owner and winemaker Emily Hunt, taste Drench's current releases and snack on pizza made by The Annex's own Ashleigh Hutchison. $10 tasting, $5 pizzas. And head's up: In June, The Annex will shift its hours to 1-7pm daily. Sunday brunch is also on the horizon, with bottomless mimosas, sangria and a prix fixe brunch menu starting at 11am. Stay tuned for more details.
Reminder: On the last Thursday of the month Barmel names a guest Celebrity Bartender of the Month for the evening to raise money for local charities. This month's bartenders are The Clubhouse coaches Sean Carr, Mo Mann and Joey Parigi. Half of the night's proceeds will go to Central Coast Youth Baseball.
The Portola Hotel welcomes DAOU Vineyards and Winery for a wine dinner on Thursday, May 30, at 6pm in The Club Room. Executive Chef Danny Abbruzzese will prepare a five-course dinner paired with selections from the family-owned Paso Robles winery: Cypress Grove goat cheeses (with 2018 Sauvignon Blanc), swordfish (with 2018 Chardonnay), lobster tail (with 2017 Cabernet Sauvignon), ribeye collar (2016 Cabernet Sauvignon Reserve) and blackberry lava cake (with 2017 Pessimist Red Blend). Master Sommelier Fredrick L. Dame is the host for the evening. $90 inclusive, reservations required: 649-7874.
PS. Next door, Jacks Monterey has debuted a new Healthy Hour menu, with lighter bites available 5-6pm daily. The menu features hummus and organic vegetables with grilled flatbread ($10), grilled chicken bo ssam wrap ($12) and Ketel One Botanical cocktails (grapefruit and rose, peach and orange blossom or cucumber and mint, served with soda and fruit garnish, $12).
The C restaurant + bar hosts a wine dinner with I. Brand Family Winery on Thursday, May 30, at 6:30pm. The evening starts with hors d'oeuvres (Maine lobster potstickers, duck croquettes and prosciutto and melon with mozzarella) with the 2018 Le P'tit Paysan Pierre's Pirouette Rosé. Dinner by Executive Chef Matt Bolton includes Chilean sea bass (with 2018 La Marea Albariño), duck breast (with 2017 I. Brand Family Old Vine Mourvèdre), American Wagyu New York steak (with 2015 I. Brand and Family Cabernet Sauvignon) and chocolate cherry financier (with 2016 Le P'tit Paysan Le P'tit Pape Red Rhone Blend). $95, reservations required: 375-4800.
Stave Wine Cellar in Pebble Beach has a pair of wine events on the calendar this week. On Thursday, May 30, it's Flight Night with Brooks. Janie Brooks Heuck will share her signature Rieslings and Pinot Noirs from Oregon's Willamette Valley (5:30, 6:15 and 7pm, $25). And on Tuesday, June 4, class is in session for Bubbles Beyond Champagne. Jeff Birkemeier and Jackie Shearn will lead a tasting of six sparkling wines from around the world (6pm, $40). 644-7997 for reservations to either tasting. 21+ only.
The Meatery is firing up the smoker for its next pop-up: Barbecue Night on Friday, May 31, from 5-10pm. The menu draws from iconic barbecue styles across the country: western North Carolina (pulled pork shoulder), Texas (smoked brisket and hot links), Kansas City (pork spareribs, beef back ribs and smoked half chicken) and central California (Santa Maria tri-tip). Meats will be sold by the pound for dine-in or carry-out. Also look for sandwiches (smoked brisket, pulled pork or hot links), sides and desserts.Reservations not required, but RSVPs are encouraged to make sure there's enough barbecue for everyone, visit themeatery.us to RSVP.
Happy birthday, Monterey! Estéban Restaurant inside the Casa Munras Garden Hotel & Spa celebrates the city's 249th birthday on Friday, May 31. Executive Chef Gus Trejo will prepare a special tasting menu for the evening and raise a toast with three signature cocktails: Spanish Heiress, Estéban Love Potion and Spanish Paradise. Available 5-9pm. The restaurant will donate 10 percent of all food sales to the Old Monterey Foundation to promote, support and enhance the artistic, cultural and historic environment of downtown Monterey. 
Pasta Mia in Salinas has a winemakers dinner with Morgan Winery on Saturday, June 1. Dinner includes seared scallop (with Metallico Chardonnay), clam chowder (with Sauvignon Blanc), Mediterranean salad (with G17 Syrah), coconut prawns with pineapple sauce (with Highland Chardonnay), seared rack of lamb (with Twelve Clones Pinot Noir) and strawberry crème brûlée (with Cotes du Crow's). 6pm, $65, 998-8310 for reservations.
Local pastry chefs Michelle Lee, Ron Mendoza and Yulanda Santos are teaming up for the Bakers' Pride Pop-Up Bake Sale at jeninni kitchen + wine bar in Pacific Grove on Sunday, June 2. The trio are promising a full lineup of baked treats. Lee and Santos will bring the sweets: Lee's lineup will include Mexican conchas, brown butter banana bread, apple fritters and honey cake inspired by San Francisco's 20th Century Cafe, while Santos is making crunchy choux cream puffs with elderflower-white chocolate cream and strawberry, gluten-free mochi doughnuts and chocolate babka. Mendoza has the savory side covered, offering a tease of items coming to his new bakery, Ad Astra Bread Co., in Seaside this summer: tomato pie focaccia, market vegetable focaccia, olive oil cake and sourdough loaves (limited availability). 10am-1pm or until sold out, cash only. Proceeds will benefit Monterey Peninsula Pride.
The American Red Cross of the Central Coast's 2019 Farm to Table dinner is on Sunday, June 2, from 2:30-7pm at Carmel Valley Ranch. The evening honors World Central Kitchen and the group's work in California in partnership with the Red Cross. Local chefs Soerke Peters (Etats-Unis French American Bistro and Mezzaluna Pasteria and Mozzarella Bar), Fabrice Roux (Roux and Carmel Valley Chophouse), Tim Wood (Carmel Valley Ranch) will prepare a multi-course, family-style meal with wine pairings. The evening also features live music by the Brian Fitzgerald Trio and a live auction. Proceeds benefit the American Red Cross' programs and services here on the Central Coast. $200, call 626-5255 or visit redcross.org/farmtotable for tickets and more information.
The inaugural Pacific Grove Restaurant Week is June 3-9. Celebrate the hometown charm of Pacific Grove at downtown restaurants, cafes, bakeries and pubs. Participating restaurants include Crema, Fandango, La Mia Cucina, International Cuisine, The Monarch Pub & Restaurant, Petra, Poppy Hall and Wild Fish.
The knives are ready for the final round for Folktale Winery's Chef Duel culinary competition on Monday, June 3. Chefs Estevan Jimenez (Rancho Cielo), Stephen Paulson (formerly of Yeast of Eden) and Sophina Uong (formerly of Lucky Cricket in Minneapolis) will face off for the title of culinary champion. The evening also features a dessert duel between pastry chefs Jessica Haney (Monterey Plaza Hotel & Spa) and Edward Martinez (formerly of Sacramento's Beast + Bounty and San Francisco's Lazy Bear). 6-9pm, $25, tickets via Folktale, 21+ only. 
Grasing's teams up with wine distributor Planet Wine for a pair of events on Wednesday, June 5. First, sample wines from Champagne, Burgundy, Bordeaux, Rhône and Armagnac with small bites like salmon bruschetta, potatoes and caviar, lobster mac and cheese, soup shooters and steak bites (5-6:30pm, $25, waived with $100 wine purchase). Later that evening, chef Kurt Grasing will prepare a five-course dinner paired with Planet Wines' selections (7pm, $125 inclusive). Snag tickets to both the tasting and dinner for $150. Call 624-6562 for reservations and more information.
Travel back in time with Aubergine's next Redefining Flavor dinner on Wednesday, June 5. This month celebrates medieval times and the foundation of western European cuisine with wheat, game, verjuice and saffron. The dinner features four courses by Executive Chef Justin Cogley, Pastry Chef Yulanda Santos and team, with wine pairings by Beverage Director/Lead Sommelier John Kiely. $125, reservations required: 624-8578.
Aubergine's Thursdays in the Courtyard return for the summer. The first is coming up on Thursday, May 30, from 3-6pm. Each beverage purchase (cocktail, wine or beer) snags you two complimentary Morro Bay Oyster Company Pacific Gold oysters on the half shell. Cogley and crew are also putting together a menu of serious snacks for the courtyard, including grilled oysters and lobster rolls.