Pacific Grove's reinterpretation of "street food" takes place Saturday, Nov. 2. Salud Pacific Grove is an al fresco dinner with tables and lighting set up on Grand Avenue and prepared by some of P.G.'s top chefs. 5pm. $75, cityofpacificgrove.org, ages 21+ only.
Get ready to welcome two new restaurants to Pacific Grove. A Taste of India is close to opening on Forest Avenue, next door to Trader Joe's. Construction has wrapped, final permits are pending and the restaurant is recruiting staff. Still a bit further out is Café Guarani, which will be taking over the former Tillie Gort's location on Central Avenue.
Cantinetta Luca welcomes new Executive Chef Eddie Moran. Moran graduated from the California Culinary Academy in San Francisco in 2002, then worked in top restaurants around the city before moving to Washington DC in 2011. In DC, he helmed the kitchens at Sou'Wester in the Mandarin Oriental Hotel, then Woodward Table. Most recently, he was culinary director for F10 creative, a Palm Springs hospitality group. The new gig is a homecoming for Moran, who was part of Cantinetta Luca's opening crew 13 years ago. Don't expect Moran to make drastic changes to Luca's menu—he'll keep the signature pastas, pizzas and proteins, and draw inspiration from rustic Italian cuisine to highlight fresh flavors for diners. 
PS. Mark your calendars for Cantinetta Luca's White Truffle Festival, Nov. 9-19. Moran has crafted a special four-course menu featuring Urbani white truffles: soft scrambled egg crostino with uni and white truffles, Wagyu beef carpaccio with hen egg bottarga and white truffle conserva, tagliatelle al tartufo bianco pasta and vanilla bean gelato with shaved truffles. The prix fixe menu is available for $150 per person with selections available a la carte too. Supplements include a white truffle risotto and shaved truffles by the gram.
There's a familiar face leading the kitchen over at The Bench: Benoit Petel is now chef de cuisine for the popular Pebble Beach restaurant. Born and raised in Paris, France, Petel attended culinary school in Versailles, then worked in kitchens in France, England and Norway. Locals will remember Petel for stints at notable Carmel restaurants including Andre's Bouchée, la Balena, Il Grillo and Lafayette Bakery. Most recently, Petel was executive sous chef at California Market at Pacific's Edge at the Hyatt Carmel Highlands.
The beer taps will soon be flowing at The Beerded Bean. The shop's long-awaited beer license has finally been approved. To celebrate, The Beerded Bean hosts a Re-Grand Opening party on Saturday, Nov. 2. The shop will feature Alvarado Street Brewery and Firestone Walker Brewing Company beers on tap, plus raffles, prized and live music throughout the day.
PS. Look for a new organic matcha super latte at the Salinas coffee shop. But this is a matcha latte wholly like any other in town: The matcha is loaded with adaptogens and probiotics. The powdered tea is mixed with ashwagandha and lion's mane and reishi mushrooms—for sharp focus, stress support and a mood boost—then whisked into steamed oat milk and coconut milk.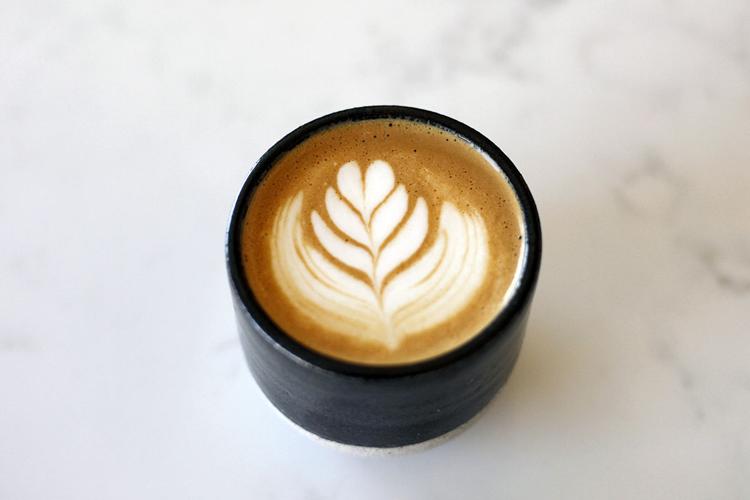 Savor new seasonal sips at local coffee shops. Monterey's Captain + Stoker has a trio of new drinks for fall: the spicy El Fuego mocha, the pumpkin spice Leg Warmer and the cinnamon Snickerdudes. And over in Carmel, Stationæry is offering a maple cinnamon latte for a limited time this fall.
Monterey's Alvarado Street Brewery & Grill has new cocktails for fall. New seasonal additions include #SquashGoals (añejo rum, Batavia arrack, falernum, allspice dram and spiced squash syrup), Take Flight (spiced pear liqueur, Batavia arrack, cardamaro and lemon) and Forbidden Apple (gin, pear brandy, allspice dram, orgeat, apple and lemon).
With football season in full swing, The Annex is pairing Sunday football with a gourmet bloody mary bar, micheladas, bottomless mimosas and a build-your-own bagel bar.
Mezzaluna Pasteria & Mozzarella Bar partners with the Friends of the Pacific Grove Library for the next Dine Out with Friends on Wednesday, Oct. 30. The restaurant will donate a portion of proceeds from lunch and dinner to the Pacific Grove Library to support programs and expenses. Lunch is served 11:30am-2:30pm, dinner from 5-9pm, reservations recommended: 372-5325.
Folktale Winery is opening early on Sunday, Nov. 3, for a special Bubble Brunch. Chef Danny Leach and team have a menu of brunch bites—short rib huevos rancheros ($20), duck egg and brioche toast ($18), Meyer lemon-blueberry pancakes ($15) and muesli granola bowl ($13)—to pair with Folktale bubbly. And yes, there will be mimosas, either $10 apiece or bottomless for $20. 10am-2pm, reservations not required, but recommended: 293-7500.
Puma Road Winery's End of Harvest Celebration is Sunday, Nov. 3. Sip Puma Road wines and snack on Zio Brand Sausage at the winery's Soledad tasting room. Noon-3pm, $45, $35 wine club member, $20 designated driver, $55 at the door, advance tickets available at pumaroad.com.
Tarpy's Roadhouse hosts a "FUN-draiser" for the Food Bank for Monterey County on Sunday, Nov. 3. The party includes bites from the Tarpy's culinary team and wines from Carmel Road, Cima Collina, Joyce, Michael David, Scheid, Spicy Vines and Zonin, plus live music from Grove Acres. 11:30am-2:30pm, $50, tickets via Eventbrite.
The next round of the 7D Mixology Throwdown cocktail competition lands Monday, Nov. 4, at Seventh & Dolores Steakhouse. This month, Ryan Feliciano from Cibo takes on Lindsey Greblo from the Monterey Plaza Hotel. 8-10pm, $20, 21+ only.
Aubergine's Redefining Flavor dinner series returns on Wednesday, Nov. 6. Mushrooms are the star of this month's menu. Executive Chef/Director Justin Cogley and team have an umami-rich menu planned for the four-course dinner, capped off with a sweet treat by Pastry Chef Yulanda Santos. 6-9pm, $125 (includes wine pairings), 624-8578 for reservations.