The hotly anticipated Alta Bakery + Cafe is getting ready to make its debut this week at Monterey's historic Cooper Molera Adobe. Culinary Director/Partner Ben Spungin and Head Baker Matt Somerville are making the final preparations for opening—possibly as soon as Thursday, April 4.
SUR Burger has opened in downtown Monterey. The burger spot is a spinoff from local restaurateur Bill Lee's SUR restaurant in the Barnyard. Look for various takes on the all-American classic, from the signature SUR cheeseburger ($10.95), a reuben burger on a pretzel bun ($11.75) and even a Belgian waffle burger sandwiched between, yep, sweet Belgian waffles ($14.50). And don't worry, if beef isn't your thing, other options include housemade veggie burger ($11), a spicy Southern-style fried chicken sandwich ($11.50), chicken and waffles ($13), crispy sand dab sub sandwich ($11), fish and chips ($13) and a tuna sashimi slider ($11), plus appetizers and salads. The restaurant serves beer and wine, with happy hour daily from 3-5pm featuring a quarter-pound SUR cheeseburger and eight-ounce draft beer for $10, a sashimi slider and eight-ounce draft for $12 or an eight-ounce burger and 16-ounce draft for $14. Friday and Saturday nights bring Veuve and a Burger Nights with the SUR cheeseburger and a glass of Veuve Clicquot Champagne for $24. 409 Alvarado Street, Monterey. 241-6064, surburger.com. 11am-10pm Sunday-Thursday, 11am-midnight Friday-Saturday.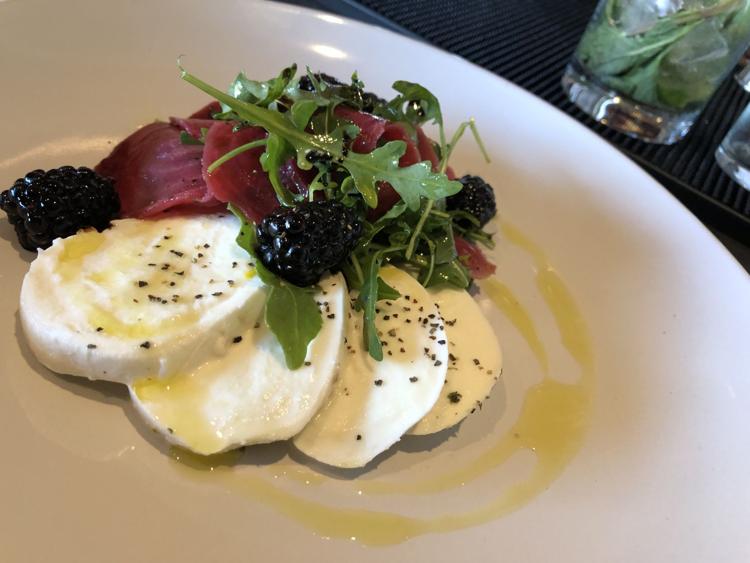 Mezzaluna Pasteria and Mozzarella Bar is now open in Pacific Grove's Forest Hill Shopping Center. The new restaurant finds chef-owner Soerke Peters returning to Italian cuisine. Start with antipasti like salumi ($24), salads ($12), lamb meatballs ($14) and vitello tonnato roasted veal loin ($18) or with a selection from the mozzarella bar like burrata with roasted asparagus ($14), fior di latte mozzarella with baked beets ($14), buffalo mozzarella with prosciutto and arugula ($16) and mozzarella with roasted carrots and duck egg ($14). Pastas are made in house with selections like butternut squash mezzaluna ($20), spaghetti al carbonara ($19), chicken sausage lasagna ($20), braised rabbit pappardelle ($24) and more. Gluten-free pastas are also available. The restaurant has a full bar and offers a selection of low-alcohol aperitivi cocktails, various interpretations of the iconic Negroni, several gin and tonics and a handful of nonalcoholic, spirit-free cocktails. Mezzaluna also hosts aperitivo hour in the bar and lounge from 4:30-6:30pm with select cocktails for $8. 1188 Forest Avenue, Pacific Grove. 372-5325, mezzalunapasteria.com. Open for lunch 11:30am-3pm, open for dinner 5-9pm Sunday-Monday and Wednesday and until 10pm Thursday-Saturday, closed Tuesdays.
As Industry Outlaw wine broker readies its new wine bar—The Annex—in the Crossroads Shopping Center, owner Ashleigh Hutchison has opened up membership for the new Wine Social Club. The wine club has two membership levels: The Nouveau for the "more daring wine enthusiast" highlights fun blends and esoteric varietals from small and boutique producers ($50 per month), and the Traditionalist celebrates true wine varietals from esteemed producers that aren't available from mainstream retailers ($100 per month). Both feature three bottles per month for pickup in store or shipping. Sign up for either—or both—at annexcarmel.com/wine-club-sign-up. Look for The Annex to make its debut later this month. 237 The Crossroads Boulevard, Carmel. 574-8372, annexcarmel.com.
Joyce Vineyards has reopened its tasting room at the Salinas facility. Hours are limited for now, open 3-6pm on Fridays. 1341 Dayton Street, Unit G, Salinas. 754-8733, joycevineyards.com.
Carmel Food Tours has a new Happy Hour Tour that visits some of downtown Carmel's favorite spots for cocktails and wine for a chance to meet local bartenders and learn about Monterey County wines. As with the signature food tour, each guide crafts a personalized two-hour tour that visits their favorite three to four drinking destinations from the menu of participating restaurants and wineries, including Brophy's Tavern, Cantinetta Luca, Caraccioli Cellars, Grasing's, La Playa Hotel, Scheid Vineyards and Trio Carmel. (And don't worry, small bites are also provided along the way.) $69, book at carmelfoodtour.com, 21+ only.
Il Vecchio has launched a new weekend breakfast menu, available 7:30-11:00am Saturday and Sunday. But the popular eatery's new breakfast selections aren't Italian—they showcase regional favorites from across the United States. Look for breakfast plates with vague connections to a region, like the Vermont (pancakes, eggs and meat with maple syrup of course, $11.50), Chicago (smoked ham and egg skillet, $9.50), Nebraska—known for beef and corn—(breaded chicken thigh with mushroom gravy, $12.50) and more. Representing the home front there's the Hollywood Benedictine with smoked salmon ($14.50) or spinach and mushrooms ($12.50) and the Mendocino focaccia French toast with meat ($10.50). All plates come with coffee or OJ for 50 cents.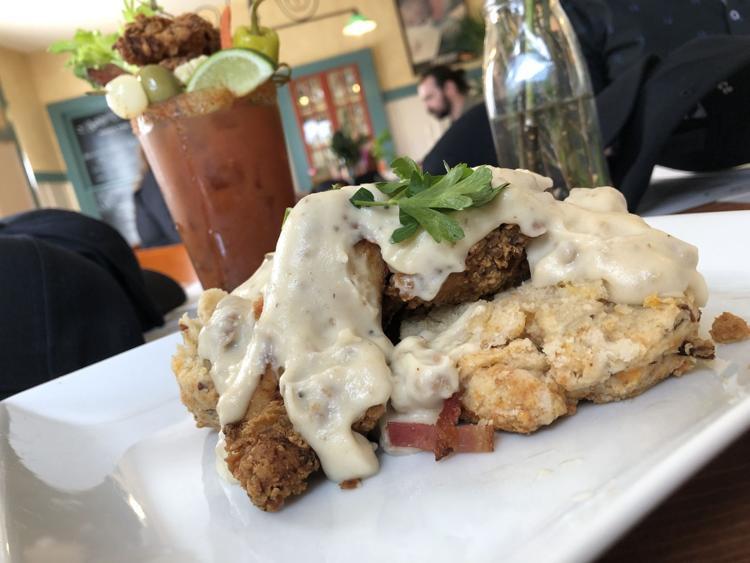 Can you keep a secret? Crema has a new secret menu of favorite off-the-menu combinations. Inspired by In-N-Out's famous word-of-mouth menu, the secret's out for locals to try favorite off-the-menu dishes. Try the Bene fries with poached eggs, ham and avocado ($14), the Wet & Wild chile verde breakfast burrito stuffed with pork, hash browns and a fried egg then smothered in salsa ($14), chicken 'n biscuits with Crema's famous fried fowl over bacon-cheddar biscuits with owner Tamie Aceves' signature "slightly spicy" sausage gravy ($12). Also look for new takes on the bacon and egg breakfast sandwich, like the Roll It Up breakfast sandwich wrap ($14) and a croissant breakfast sandwich ($14). Wash things down with a Bantam Bloody Mary that takes Crema's signature bloody (voted Best Bloody in the Weekly's Best Of readers' poll) and adds crispy chicken strips and jalapeño-pickled veggies ($19) or the Russian Roulette with Verve cold brew coffee, vodka and Kahlua ($14).
Over at Rio Grill in Carmel, Executive Chef Eduardo Coronel and Assistant General Manager Gabe de la Vega have debuted new lunch items for spring. The new additions were inspired by California's regional cuisines and include smoked New York steak empanadas, crispy rock shrimp salad (with chopped Romaine lettuce, smoked avocado ranch, crispy black beans, chile-Cotija cheese and blue corn tortilla chips, butter lettuce salad (with blood orange mimosa vinaigrette, grapefruit, crispy quinoa, pickled red onions and mint, a six-ounce wood-grilled prime Harris Ranch sirloin steak (with blue cheese butter, grilled asparagus and green chile polenta tots, Southwest vegetable risotto (with vegetable ratatouille, ancho chile broth, guacamole and lime pepitas,and a Dungeness crab roll (with celery, carrots, pickled jalapeños, apple-jicama slaw and lime-fingerling potato chips.
April brings the arrival of a new Burger of the Month at Knuckles Sports Bar. The Calexico burger features a beef patty, avocado, Cotija cheese, pickled red onions, iceberg lettuce and cilantro aioli with a side of fries.
Curious about Chardonnay? The Wine Experience hosts an educational tasting dedicated to the iconic grape with Show Me the Way to Chardonnay on Wednesday, April 3, at 6pm. Certified Sommelier Aaron Hoops will lead a tasting of different Chardonnays from around the world, exploring regions from Chablis to Napa Valley and styles from sparkling to dessert. $30, 324-4974 to sign up, 21+ only.
Jacks Monterey inside Monterey's Portola Hotel turns two this year and will celebrate with a birthday bash on Thursday, April 4, from 4:30-6pm. The party includes live music and complimentary beer, wine and passed appetizers (while supplies last). Afterwards, grab a table for dinner.
Marina is a diverse dining destination. Get a taste at the International Flavors of Marina festival on Thursday, April 4, from 5:30-8:30pm at the SpringHill Suites by Marriott. Organized by the Marina Chamber of Commerce, the evening will feature food from Cheesecake Dreamation, I'm Thai Cuisine, Irie Catering, Lola's Kusina, Menchies Frozen Yogurt, Siam Marina Thai and Springhill Bistro, plus beer and wine from English Ales Brewery, Lepe Cellars, Flywheel Wines and Sinecure Wine. $45, more information and tickets at marinaflavors.com.
On Thursday, April 4, Folktale Winery transforms into an interactive golfing experience for Sip and Swing, benefiting the Special Olympics Northern California. The winery's Barrel Room and Rose Vineyard will be the stage for a nine-hole mini golf course that promises fun for golfers and non-golfers alike. The evening will also feature wine, small bites by chef Todd Fisher and crew, a meet-and-greet with Special Olympics athletes and staff from Monterey and Santa Cruz counties, and an auction. 5:30-9pm, $75 advance tickets available online via folktalewinery.com, $95 at the door, $40 for under 21.
Experience the future of jazz on Friday, April 5, at Estéban Restaurant inside the Casa Munras Garden Hotel & Spa. The restaurant welcomes young musicians from the Next Generation Jazz Festival for live music in the outdoor courtyard from 5-7pm. No cover, but reservations are recommended for dinner: 375-0176.
Join The Meatery for its next popup—A Mediterranean Feast—on Friday, April 5. The evening features a three-course, family-style dinner. The menu will include specialties from the Mediterranean and highlight lamb raised locally in Carmel Valley. Seatings are at 6 and 8:30pm. $150 (inclusive), advance tickets required, purchase at themeatery.us by April 3.
PS. Learn all about beef with The Meatery's Beef 101 cooking class on Wednesday, April 10, from 6-9pm. Explore different types, grades and cuts. The evening will include a Q&A discussion forum on hot topics like conventional vs. grass-fed beef, dry aging, Wagyu and more. And of course the instruction will be interactive with opportunities for tasting. $100 (inclusive), register at themeatery.us, registration deadline is Sunday, April 7.
Good Old Days is April 6 and 7 in downtown Pacific Grove. The annual street fair includes live music, arts, crafts and food from 10am-5pm each day. Favorite food vendors from local farmers markets will set up shop for street bites. And don't forget Crema will bring back its popular beer garden—a perennially popular stop for suds and snacks.
The finale for Seventh & Dolores Steakhouse's Mixology Throwdown is Monday, April 8. The epic throwdown pits Josh Perry (Cultura Comida y Bebida) against Olana Sullivan (Pour Girl Bartending). The final competition will be a bit different, with Perry and Sullivan preparing three cocktails to woo the judges' and the people's votes: Round one features Hennessy Cognac, round two features a secret ingredient and round three will be for most creative cocktail showcasing the mixologist's specialty. Doors open at 7pm, competition begins at 7:30pm, $40, includes three cocktail samples and passed appetizers, tickets via 7dsteakhouse.com, additional food and drink available for purchase, 21+ only.
Aubergine's next Redefining Flavor dinner will take diners to Mexico on Wednesday, April 10. Executive Chef/Director Justin Cogley, Pastry Chef Yulanda Santos and team will prepare a four-course dinner highlighting Tulum's tropical flavors. Dinner will begin with tropical cocktails in the courtyard, then move into the dining room for a meal featuring ceviche, octopus tostadas, barbecued cochinita pibil pork and a dessert of masa and Melipona honey. $125, reservations recommended: 624-8578.