MEarth celebrates sustainable living with its annual MEarth Day on Saturday, April 27, from 10am-4pm. The daylong event at the Hilton Bialek Habitat adjacent to Carmel Middle School sees local chefs preparing bites featuring fruits and vegetables from MEarth's gardens. Participating chefs include BD Singh (Aabha Indian Cuisine), Ron Mendoza (Ad Astra Bread Co.), Cameron Falls (Basil Seasonal Dining), Danny Leach (Folktale Winery), Pablo Khano (Gusto), Brian Kearns (Quail Lodge), Paul Corsentino (Salt Wood Kitchen and Oysterette), Adam Wulf (Seventh & Dolores Steakhouse), Kari Bernardi (Super Natural Foods Company) and Pamela Burns (Wild Plum Cafe, Bistro & Bakery), Also look for live music, a plant sale and eco-exhibitors and more. $5 admission fee, children 12 and under are free, proceeds benefit MEarth's environmental education programs.
Say goodbye to Planet Gemini and hello to The Jade Lounge. The revived lounge comes from owner and longtime entertainer Mo El-Sherif, who has been a fixture of the live music scene in Santa Cruz and beyond for 12 years. Live music and entertainment is the focus, but the lounge also has happy hour, dinner and late-night food. The Jade Lounge has a full bar and offers lounge-style eats, including tri-tip, burgers, grilled chicken, tacos, salads and more. In the future, the side room may host a café for breakfast and lunch. The new name honors Big Sur jade with a large mural of the Big Sur coast now the centerpiece of the main room. 2110 North Fremont Street, Monterey. 241-6805, thejadelounge.com. Open 6pm-2am.
As the Folktale Winery team settles in at The Poke Lab, the concept and menu are expanding beyond the namesake Hawaiian raw fish bowl. That change means a new name is on the horizon: In May, The Poke Lab will rebrand to Pacific Bowls and Rolls. Look for new dishes from chefs Todd Fisher and Eddie Martinez, including rolls and salads.
As reported last week, Monterey's Tricycle Pizza is closing. But the closure will only be temporary: With the lease at the New Monterey location expiring this month and a new opportunity to grow the popular pizza business on the horizon, owner Danica Alvarado opted to shutter Tricycle's physical storefront and move to a delivery-only model. Look for delivery to launch sometime next month on Uber Eats and Grubhub. In the meantime, business at the Lighthouse Avenue shop continues through Saturday, April 27.
Coast Big Sur has landed a new chef for its cafe: Nick Balla. Balla earned critical praise during his tenure at the now-shuttered Bar Tartine in San Francisco, then moved onto experimental restaurants Motze and Duna and started the Smokebread pop-up. His menu for the combination gallery, cafe and boutique in Big Sur will focus on dips, spreads, spoon salads and sandwiches—all portable provisions for a hike or picnic. Coffee, pastries and local wines will also be available. Balla's fellow Bar Tartine alums Tyler and Andrea Rue have also joined the Coast Big Sur team. Tyler comes aboard as wine director and general manager and Andrea will manage cafe operations and events. 49901 Highway 1, Big Sur. coastbigsur.com. Open 11am-6pm Wednesday-Monday.
Captain + Stoker coffee shop has debuted new Campin' Stoker kits to take your coffee into the great outdoors. The kits include a campfire-safe mug, ready-to-drink Steeped Coffee packets, plus matches and wood to start your campfire. Kits are available in the downtown Monterey shop or online at captainandstoker.com.
Alta Bakery + Cafe is getting settled in downtown Monterey with new selections popping up in the pastry case. Beer and wine are available too, with both draft and bottled beer and wine by the glass and bottle. Grab a bottle of wine and enjoy your lunch al fresco in the outdoor courtyard nestled in the Cooper Molera gardens.
Executive Chef Matt Bolton has shaken up the lunch menu at the C restaurant + bar inside the InterContinental The Clement Monterey hotel on Cannery Row. New lunch additions include a choice of two seafood towers—the petit plateau with six oysters, six cocktail prawns and ceviche ($48) or the plateau with added half Maine lobster ($78)—an Asian-inspired chopped chicken salad ($16, also available with grilled tofu for vegetarians), a corned beef reuben sandwich ($19), a seared ahi tuna sandwich ($21) and a housemade vegan black bean burger ($17). Lunch available 11:30am-3pm daily.
The Meatery now offers rotating daily sandwich specials. Mondays bring meatball sandwiches, Tuesdays feature Italian beef sandwiches with mozzarella and spicy giardiniera pickles, and Wednesdays are Philly cheesesteaks. Thursday-Saturday, it's build-your-own with barbecue pork on Thursdays, tri-tip on Fridays and smoked brisket on Saturdays. On Sundays, snag sandwiches with The Meatery's popular fried chicken. Of course old favorites are available on the daily menu, including the reuben, muffaletta, pork belly banh mi, roast beef and chicken breast sandwiches. Sandwiches available 11am-3pm. And don't forget, you can skip the wait and order online at themeatery.us.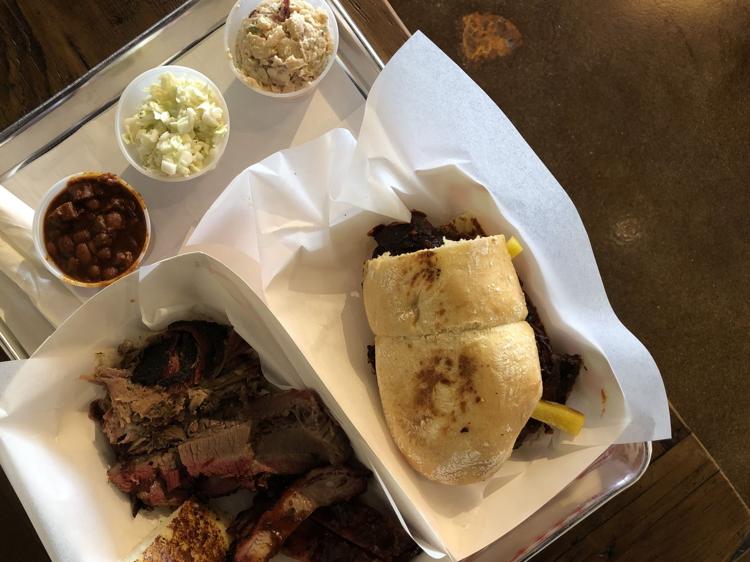 Crossroads Barbecue now offers seniors discount on Tuesdays. Seniors 55 and older get 15 percent off food and non-alcoholic beverages all day, 11am-9pm.
April is National Child Abuse Prevention Month and Tortas Al 100 has been raising money in support of the Monterey County Rape Crisis Center. A favorite of local festivals and farmers markets, owner Orlando Osornio is donating 20 percent of proceeds this month to the center's child abuse prevention programs. Look for Tortas Al 100 at the downtown Salinas farmers market on Saturdays from 10am-2pm. This weekend's farmers market is canceled, but Tortas Al 100 will be at Día del Niño festivities at Cesar Chavez Park (250 North Madeira Avenue, Salinas) on Sunday, April 29, from 10am-5pm.
April is also Autism Awareness Month. Don't forget Salt Wood Kitchen and Oysterette hosts a benefit dinner for Autism Speaks on Thursday, April 25. The evening starts with a cocktail reception at 6pm, followed by dinner at 7pm. Executive Chef Paul Corsentino will prepare a blue-themed menu, paired with wines from Napa Valley's Far Niente Winery. $175, tickets must be purchased via Eventbrite.
Eddison & Melrose kicks off new spring classes at the Pacific Grove tea shop. On Tuesday, April 23, the shop welcomes Chai Five Tea. Chai Five's creator, Anita Joshi, will share educational tea tales to pair with tastes of the 100 percent organic farm-to-table tea, Eddison & Melrose's citrus tea refresher and tandoori chicken scones. $25, reservations recommended as space is limited, 601-4851.
Twisted Roots Spring Happy Hour is Friday, April 26 from 5-7pm in the winery's Carmel Valley tasting room with live music from Ace de la Vergne. Free admission, wine available for sale by the glass and bottle.
Mark your calendars: Michelle Rizzolo—Big Sur Bakery founder and former baker—returns to Pacific Grove's Poppy Hall for a doughnut pop-up on Saturday, April 27. The pop-up kicks off at 9am and continues until sold out. If past pop-ups are any indication, get there early to make sure you're not sold out of signature selections like banana cream pie doughnuts, chocolate pot de crème doughnuts, blueberry fritters and more. Cash only, doughnuts $4-5 apiece.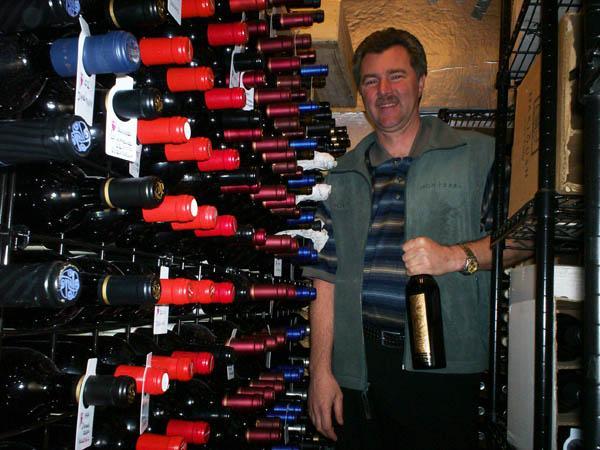 Carmel's Grasing's Restaurant welcomes Catena Zapata for a wine winner on Sunday, April 28. The Argentinean winery has pioneered high-altitude viticulture, making wine in Andes Mountains since 1902. The evening starts with a reception at 6pm—with passed appetizers and 2015 Vista Flores Chardonnay—followed by dinner at 6:30pm. Chef-owner Kurt Grasing will prepare a four-course dinner featuring manila clams (with 2016 Adrianna Vineyard Chardonnay White Stones), roasted quail (with 2015 Catena Alta Cabernet Sauvignon), grilled Tasmanian ribeye (with 2015 Malbec Argentino) and warm chocolate soup (with 2014 Nicolas Catena). $125, reservations recommended, 624-6562.
Aubergine's next cooking class heads to Baja California on Wednesday, May 1. Executive Chef Justin Cogley will highlight Mexican cuisine, with a special focus on Baja's signature flavors. 11:30am-1:30pm, $145, 624-8578 to sign up.