More than two years in the making, The Meatery made its debut in Seaside this week. It's been a labor of love for owners Jason Balestrieri and Kevin Hincks, the brains and brawn behind the new specialty butchery.
Both are alumni from Cantinetta Luca—an early local champion for charcuterie —and experienced butchers. Joining Balestrieri and Hincks is Jasper Ramirez, formerly of Restaurant 1833 and, more recently, the shuttered-too-soon Oasis Tasting Room & Kitchen in Santa Cruz.
An illustration of a cow's face welcomes diners to the slick space lined with subway tiles. The meat counter, of course, commands the attention of the room. The case is packed with favorite picks like San Daniele prosciutto, pancetta, salami, Jidori chicken, halal duck, and more from prized purveyors like Niman Ranch, Fra'Mani, Molinari, Olli, and Maple Leaf. Retail shelves offer an array of other artisan products, like olive oils and spices, and a large wood communal table provides ample seating for snacking.
Behind the scenes, Balestrieri and Hincks have built out a large kitchen for curing, dry aging, and meat processing. Once state inspections from the California Department of Food and Agriculture are completed in the next month or two, The Meatery expects to kick off a cured meat program with housemade charcuterie for retail sale. (In the meantime, Balestrieri and Hincks are curating salumi selections from their favorite purveyors.)
"Eventually the fun part, the cool part, is eventually we'll be as self sustainable as possible. We'll be curing, brining, smoking everything in house. That means hams, salamis, mortadellas, everything will be made here," says Balestrieri.
The focus won't be strictly Italian, as with Balestrieri's previous gig helming the kitchen at Cantinetta Luca and the neighboring Salumeria Luca.
"I can do a little bit of everything," he says. "It could be Spanish, it could be Italian, it could be American, it could be German, it could be whatever."
The Meatery is the first specialty butcher on the Monterey Peninsula. Balestrieri and Hincks will use their relationships with purveyors to bring more niche selections to home cooks.
"I'd like to bring in A5 Wagyu, lobes of foie gras," explains Balestrieri. "Kevin and I have built relationships with vendors over the years at Cantinetta Luca, at 1833, and we have multiple sources to find rabbit, foie, squab, quail. We just need a day or two notice if we don't have it here available already."
Alongside the meat counter are prepared foods for dining in or takeout. The current menu during soft opening includes salads and sandwiches. Salad selections are prepackaged and include a market salad with carrots, cucumbers, and sunflower seeds ($6) and a classic Caesar with anchovies ($6). Also look for deli salads, like macaroni salad, potato salad, quinoa vegetable salad, and coleslaw (all $8.99/pound).
On the sandwich front, there's a corned beef Reuben ($12), a hearty warm pork shoulder banh mi ($11.25), a muffuletta with mortadella, salami, ham, and fresh mozzarella ($14) that's emerged as an early favorite, pesto chicken breast ($10), ham and Gouda with caramelized onions and Dijon mustard ($13), roast beef ($13.50) and roast turkey ($10). There's also an option for build-your-own custom sandwiches, starting at $10, with your choice of bread, protein, cheese, three veggies, and two spreads, also available toasted.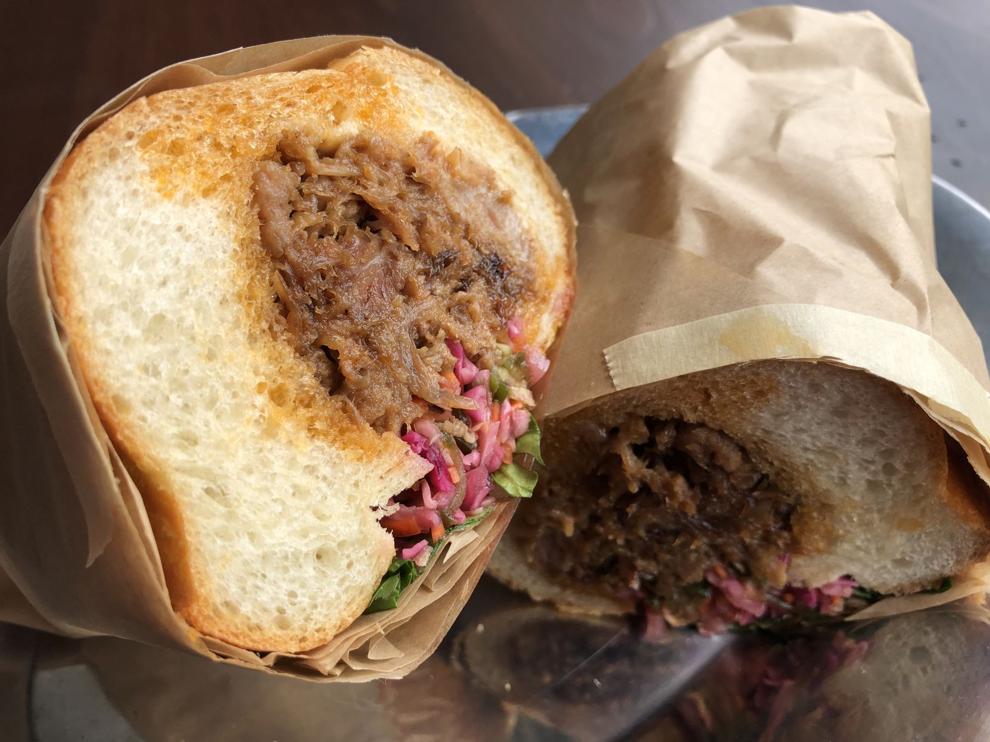 Hot deli items will be coming soon, with Balestrieri teasing savory comfort foods like stews, bolognese pasta sauce, meatballs, mac and cheese, and more. And look for local beer (both bottled and draft) and wine in the future too. Catering, online ordering, and delivery are also in the works.
The Meatery 1534 Fremont Blvd., Seaside. 11am-7pm daily. 656-8810, themeatery.us.