Monterey County has enjoyed such a strong run of restaurants over the last few years—easily the best in a generation—that it has spilled into neighboring states.
(For more evidence of the great surge in solid spots, check out my favorite 20 [!] new restaurants a year ago with "The Top 20 New Restaurants of 2013, revisited and re-evaluated.")
Yes, other states.
Or at least you could make the case after the first new Monterey County restaurant of 2014 appeared in Las Vegas, Nevada, when Cannery Row-based Coastal Luxury Management opened Rose.Rabbit.Lie Jan. 1, 2014.
That seems like forever ago, which speaks to how much has happened in an epicureanly eventful 2014.
(So much was happening, in fact, that I ranked the biggest food news stories of the year so far in July, including a stunning change at the top of Coastal Luxury and the introduction of my top new 2014 restaurant.)
Keep an eye out for a rundown the runners up on the blog in the next few days.
Without further ado, sink your teeth into the top 10 of 2014: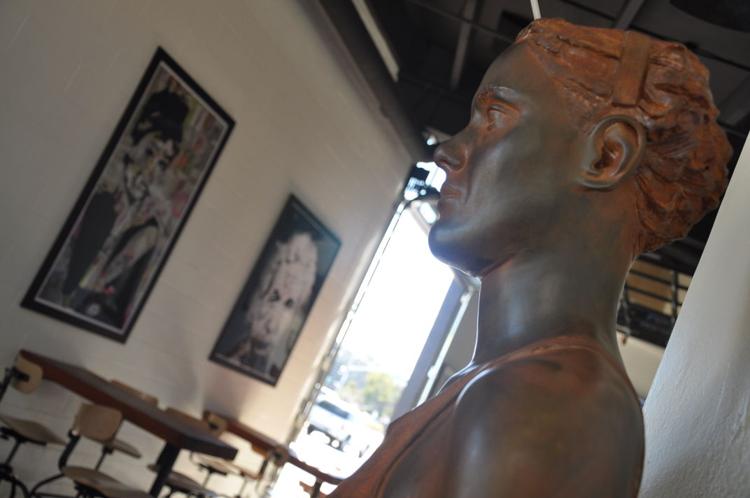 10 • The Press Club 
1123 Fremont St., 901-3900 • www.mcweekly.com/pressclub
The groundbreaking project from the Weekly's own Bradley Zeve, in partnership with art curator Chris Winfield (who rotates through the large-format art) and Perfectly Pressed creator Monica Berriz (who does the cold-pressed juice, slow-drip coffee and fresh snacks) is so ripe with possibility in an area starved for event-driven, youthful and health-conscious venues that it gets a nod despite not being a traditional restaurant. In fact, being so many things besides that is one of its super-powers. (Dubber's in Oldtown Salinas and Barmel in Carmel also get points for huge progress food- and community-wise despite being bars primarily; as mentioned, the runners up get recognition on the blog by Monday.)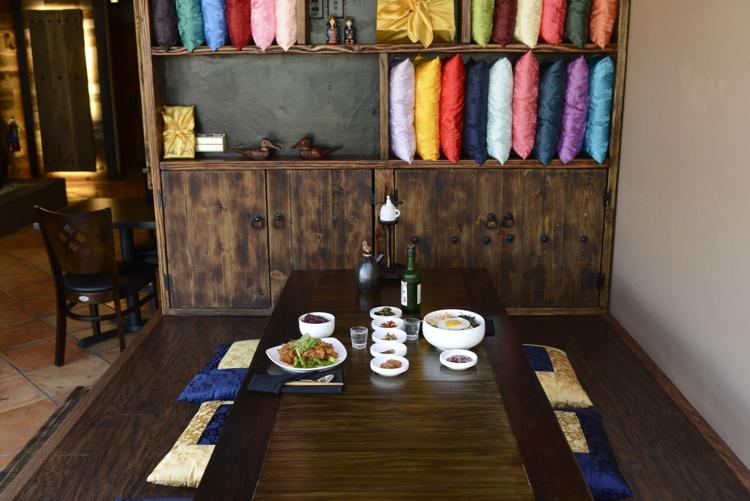 9 • Soban Grill & Bar
Barnyard Shopping Center, Carmel, 624-3318 • www.sobancarmel.com
Speaking of the things the area needs, clever upscale Korean—fusion and otherwise—would be one. Owner-operator Hank Kim does well with a much smaller spot in downtown Monterey, Sushi Moto (646-1109), and went big with the beautiful setting, spendy, MSG-free, organic ingredients. The service has proven a little uneven, but the tea and food—galbi! soy bean paste stew! banchan! dolsot bibimbab in a sizzling stone bowl!—and the setting are so spot-on I'm hoping it can hold on in a traditionally tricky spot to thrive.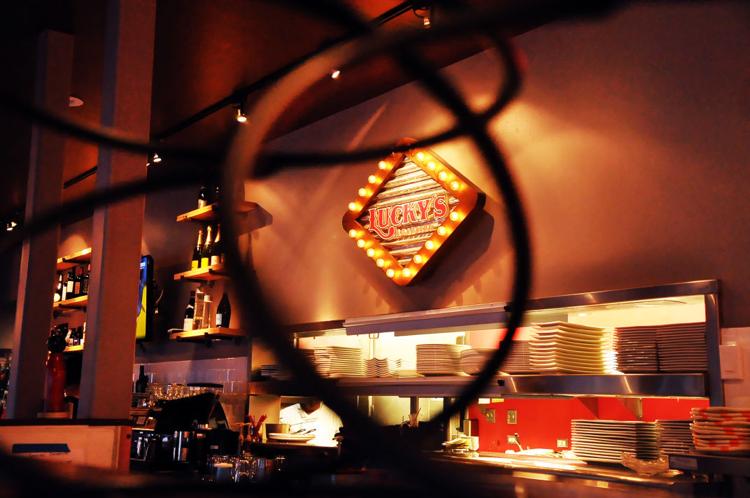 8 • Lucky's Roadside 
1901 Fremont Blvd., Seaside, 899-5825 • www.luckysroadside.com
What do you want for Christmas? If it's a restaurant, here is an awesome choice to wedge beneath the tree or Menorah or Quanza obelisk. Lucky's finds itself for sale because the man who gave it beauty and buzz also spent a ton of money and canned its best chef. But Seaside needed a younger, progressive, fun, non-ethnic spot badly, and this place does some great American fusion and Italian with warm and enthusiastic service. The Szechuan green beans, honey-drizzled fried chicken and pizzas are all yummers.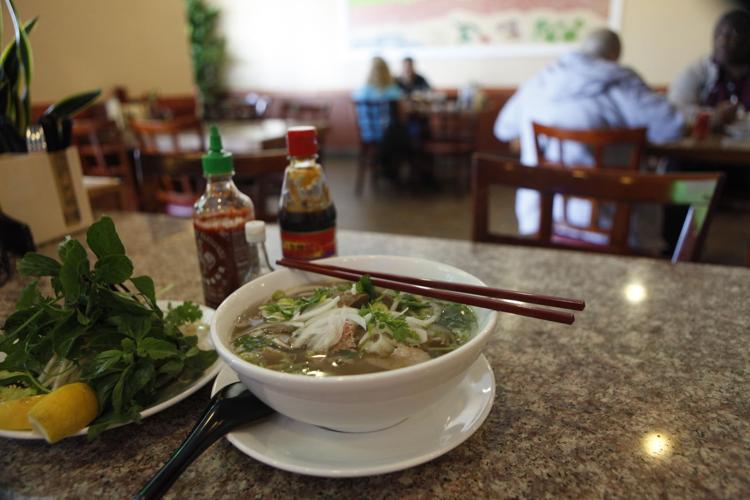 7 • Mr. Noodles
1176 S. Main St., Salinas, 272-3024
Despite its melting pot of cultures and sheer volume of 150,000 people, the county seat was without a noodle shop until this year. Mr. Noodles sets up modestly in a South Main Street strip mall near, but the harder-than-they-seem simple fundamentals of a true institution—familial warmth, very solid values and fresh, crunchy, authentic flavors—mean this place will outlast at least several on this list, if not more. The special pho ranks among the most serviceable symbols of the positivity, with a generously portioned and umami-soaked soup of flank steak, eye of round, tendon and tripe for $7.50.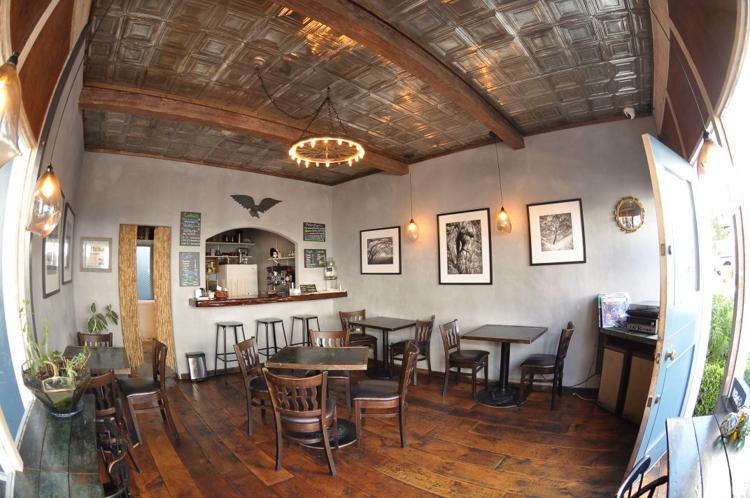 6 • Monterey Bagel Co.
San Carlos between Ocean and Seventh, Carmel, 236-6550
This would be a coup: A "restaurant" that serves little more than bagels and coffee—and closes around 2pm—lands on the list of 2014's top spots. That would also be an indication of how many things there are to recommend it. Those items include a hands-on owner, a gorgeous spot from the designers behind neighboring Barmel and Mundaka, Ritual coffees and espressos, organic teas, new inventive breakfast cocktails and a young vibe. Most importantly, they include incredible from-scratch, small batch schmears (including the house-cured lox and the zatar-infused) and pioneering bagel flavors and sandwiches. That's simply something I haven't seen at other bagel spots, and something tasty and worth celebrating. His newest flavors, in fact, include a turkey stuffing bagel sandwich and some pumpkin-spice cream cheese. So we can get our holidays started that much sooner.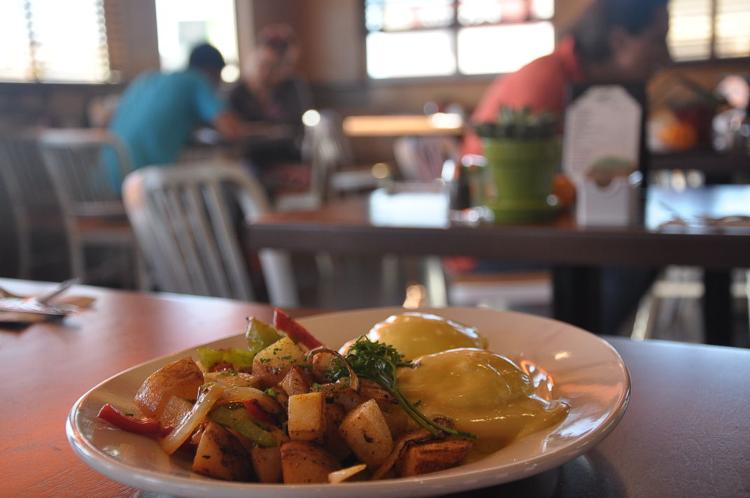 5 • Googie Grill
1520 Del Monte Blvd., Seaside, 392-1520 • www.googiegrill.com
Local family-owned-and-operated Googie takes over a critical gateway spot to Seaside on Del Monte in Seaside, which would've been enough to capture the attention of the eater scene. Then the unique-to-the-area architecture and baby talk name—which is the actual moniker for the Jetsons design style that dominated L.A. in the 1960s—promptly made it impossible to ignore. The diner-esque menu features casual Cali-American breakfast and lunch from Chef Teodulo Pinto (Norma Jean's and Anton & Michel), with dinner having just joined the party. Signature Benedicts, beignets and other rib-sticking fare like Frikadeller meatballs and big burgers—plus lighter things like panko-crusted sandabs with lemon caper sauce and rice pilaf—comfort diners (skip the biscuits and gravy), while the chamber-within-a-chamber dining room, vivid carpets and angular windows makes for plenty of conversational content when mouths aren't full of Mad Men meatloaf and zucchini sticks.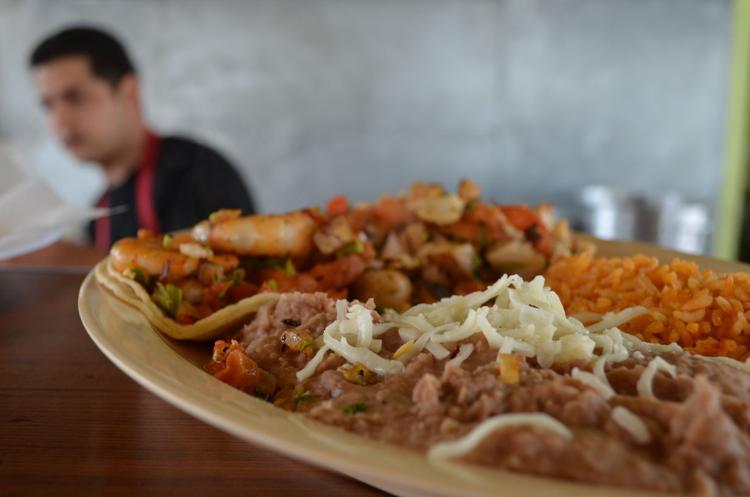 4 • Taqueria Zarape
1107 Fremont Blvd., Seaside, 899-1125 • taqueriazarape.com
There is no shortage of superb taco spots in Seaside, which makes the fact that Taqueria Zarape has the longest line of any of them—often twice a day—all the more impressive. The setting is clean, the atmosphere approachable, the prices reasonable (though inching up as its popularity widens). An industrious and close-knit family, led by young husband-and-wife Carlos and Alma Ruiz, makes it go, depending on a formula that proved successful at sibling spots in Scotts Valley and Santa Cruz. The generous salsa bar adds to the value, and they've got all the Mexican tortas and enchiladas covered, but it's the shrimp tacos, fish tacos and wet burritos that make it a keeper. Bottled beers just joined the mix, and go great with the patio and the spicy radishes.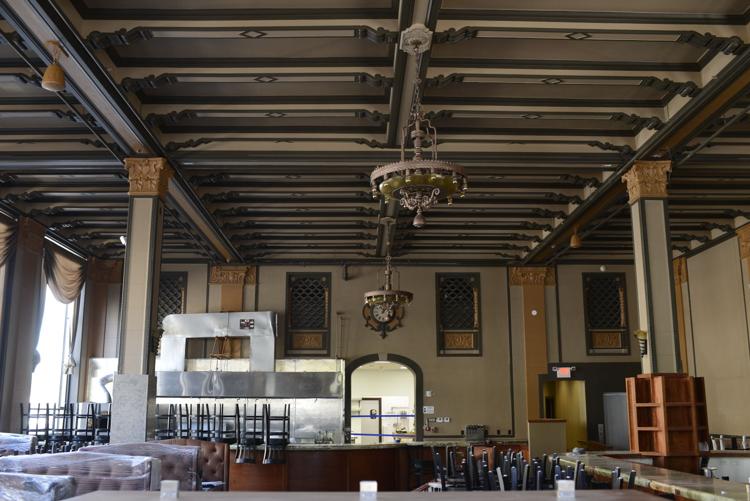 3 • Giorgio's
201 Main St., Salinas, 800-7573 • www.201complex.com/
A new brunch with fried chicken and thick waffles makes for just the beginning of the bigness here. The wait for multi-flavored 201 Main St. was huge (seven years), the budget XXL (unofficially $7 million), the format massive (including 26,000 square feet of wine tasting bar, deli, restaurants, dance club and fire-pitted patio at play). The crowds will have to match it to get this Gerry Kehoe/Berkeley Inc. project thrumming, particularly at the the 225-seat modern Italian restaurant Giorgio's, directed by Tuscany native AlessioGiannuzzi, the primary piece of the two-story, multi-restaurant puzzle. Spendy upscale cocktails like the Tuscan pear martini beckon, as do the Brunello-braised short rib pappardelle, the six-seafood stew, gourmet pizzas, and pretty much anything prepped at the 17-seat show kitchen and its glowing green onyx-bar. Plenty of potential pitfalls await, but sheer potential earns it a top three spot, and a linchpin place in an Oldtown's renaissance that included the arrival of Patria and a reinvented Salinas Sports Bar in 2013.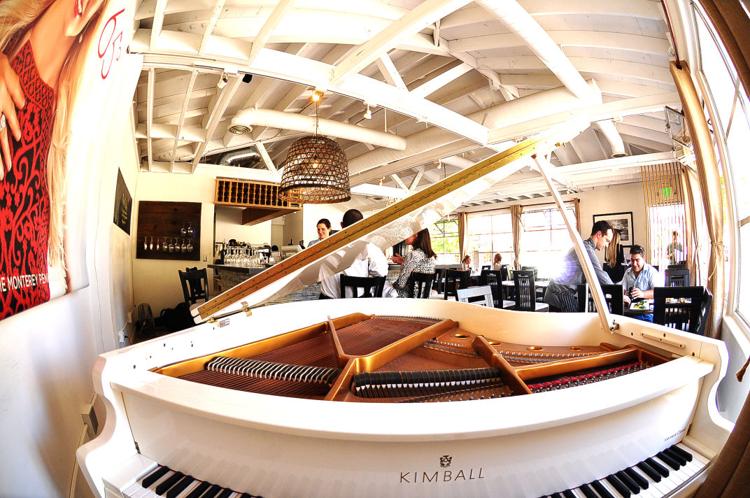 2 • Affina
San Carlos and Sixth, Carmel, 915-4756
New and youthful Affina, which means "workshop" in French, can make a good case for number one, given the simple fact that its team has created a similar buzz with a fraction of the resources as my number one. Premium farmers market fare stars in designed-to-share small and big plates from co-owner and France native Nico Izard and James Anderson (formerly of La Bicyclette), who use every ounce of product to make its higher costs manageable. An open kitchen looks out over a comely dining room brought together by designer Carissa Duncan's clever canvas curtains and trapezoidal metal lighting details, while a super social 20-seat wine bar (with a dynamic and far-ranging wine list) and a white Kimball Viennese classic grand piano in the corner provide further chic. Recent highlights landing on the plate include heavenly pumpkin soup with creme fraiche, rabbit pot pies and a tender Wagyu steak with white chanterelles and wild huckleberries. Melty Kurobuta farm pork rillette and wild coho salmon with a reinterpreted buerre blanc and crispy skin too.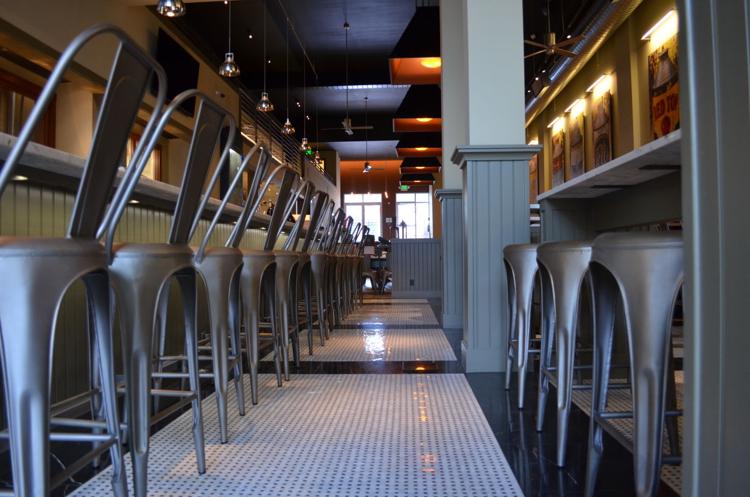 1 • Alvarado Street Brewery & Grill
426 Alvarado St., Monterey, 655-BEER • www.alvaradostreetbrewery.com/
Many of the best new local beers of the year were found here, but the Duane's World IPA, jalapeño cream ale and Doc Brown Begian browns are only part of what's brewing. The 20-foot ceilings soar above vintage tile floors, a stately bar, a robust menu of house beers (typically eight, rotating quickly) and choice guest beers (another 10 or so), 110 high-top, bar and table seats, a shiny open kitchen and windows revealing the gleaming fermenting tank space. The food proves almost as exciting as the beer, even if it doesn't change as much (or as much as promised). Regular highlights range from whatever fresh catch Exec Chef Aaron Haas (jeninni kitchen + wine bar, C restaurant, Evergreen Lodge) is working, salumi-beer melon salads, indulgent poutines and memorable flatbreads, and specials like the loco moco ramp up the creativity. All told Alvarado Street Brewery is simply the best thing to happen to downtown Monterey since Restaurant 1833. Affina (see last entry) could earn the top nod, but as much as Carmel needed a younger restaurant, Alvarado was far more thirsty for a new tenant in the blighted Regency theater.