Adapt. Do whatever it takes. Survive.
The first two represent how restaurant owners and chefs are responding to the coronavirus pandemic. The last is a hope, a best-case scenario for a crisis of unknown duration and severity.
"I'm holding my breath to see where it goes," says Travis Childers, chef and owner of The Cork & Plough in King City.
With self-quarantine and social distancing now commonplace, and a recommendation March 15 from Gov. Gavin Newsom to close bars and reduce capacity at restaurants, restaurateurs must deal with uncertainty. Folktale Winery had a gathering of 300 guests cancel, but meat and vegetables for the event had already been ordered and stocked. Standing in a nearly empty dining on Saturday, March 14, Taqueria Zarape manager Cesar Gonzales could only shake his head.
"Monday through Friday it was still pretty good," he says of business at the Seaside restaurant. "This morning it was dead."
So places must adapt. At Happy Girl Kitchen Co. in Pacific Grove, co-owner Jordan Champagne is creating a tab on the website that will allow guests to order takeout boxes. She is also considering offering discounts for pickled goods or jellies ordered by the case, and may start home delivery. Fly Away Cafe in the Monterey Regional Airport created a special menu for curbside takeout and delivery to nearby businesses. Chef Todd Fisher, who oversees the kitchens at Seventh & Dolores, Rise + Roam and Folktale Winery is also looking at delivery as an option. Even before the governor's announcement, the three locations removed 15 percent of seating from dining rooms to increase distance between diners and added hand sanitizer to common areas. At Acme Coffee Roasting Co. in Seaside they are no longer refilling customers' personal cups in order to guard against splashing from a potentially tainted mug.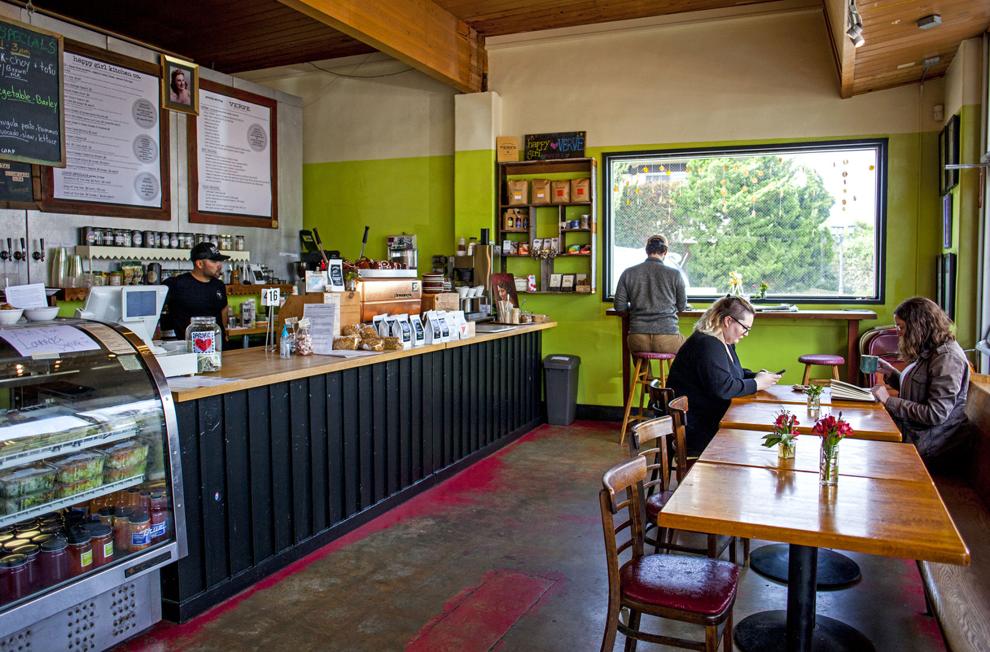 The Centers for Disease Control report there is no evidence linking food to the transmission of COVID-19, and there are state and local codes governing restaurant cleanliness. Yet the local establishments I spoke with all say they are sanitizing surfaces and washing hands more often.
"We are seating people at every other table," Bobby Richards of Fly Away Cafe in the Monterey Regional Airport says via text. "I am ringing a bell in the kitchen every 15 minutes for cooks to wash their hands."
"Most of it is what restaurants should be doing anyway," Childers adds. "I've been cooking through SARS, the swine flu, H1N1—the response is the same."
Childers says that his restaurant had yet to be affected by COVID-19 as of March 13, but the situation is changing moment by moment. Over the weekend of March 14-15, France and Spain sent shivers through an already worried industry by shutting down public gathering spaces, including restaurants. In the U.S., data from the online reservation platform Open Table showed a 20-percent drop in business in early March, plummeting to 30 percent on March 13. 
That's the day Fisher first noticed reservations tailing off. Champagne saw a "dramatic" plunge the day before.
"We're assessing it every day," she says. "You need to do everything to keep at full staff."
For now, restaurants are adapting to the new reality and thinking about what's next. Passionfish in Pacific Grove made the decision to close for the duration. On Tuesday, March 17, Tony Tollner shut down his three destination restaurants, Montrio Bistro, Tarpy's Roadhouse and Rio Grill after earlier indicating they would remain open.
At Taqueria Zarape, Gonzales explains that the restaurant may shut down temporarily if things slow down, but they have a steady take away business. But Chefs Philip Wojtowicz and Brendan Esons at Poppy Hall in Pacific Grove decided after the governor's Sunday announcement that it would be a wise precaution to close up shop. Still, they plan to begin take out and delivery of food and wine, just to keep going.
"We've been through it before," Fisher says. "In the hospitality industry we're not easily knocked down and kept down."