There's one more thing climate change and rising sea levels are affecting: salt marshes. 
Between crabs burrowing into the marshes and rising oceans, a recent study led by Elkhorn Slough National Estuarine Research Reserve in collaboration with NOAA's National Estuarine Research Reserve System found that it is not crabs alone that are potentially causing problems for the nation's salt marshes. 
Just as gophers can wreak havoc on parts of your lawn, crabs were thought to be responsible for destroying sections of salt marsh vegetation. In this case, elevation was determined to be the bigger threat to vegetation die-off in salt marshes than crab burrows. (Rising sea levels are also correlated with more crabs.)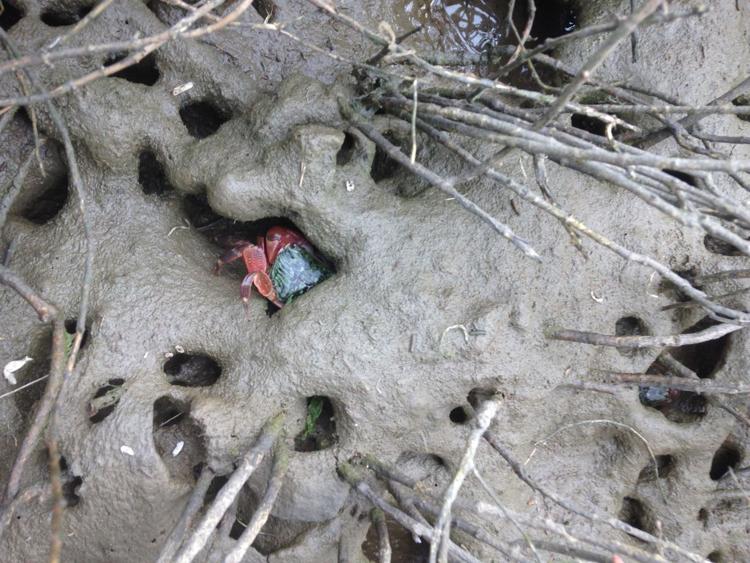 Like real estate, it seems location is everything for crab research. Previous research studying crabs' relationship to estuarine destruction was focused on sites with a significant amount of crab burrows, often at a lower elevation near tidal creek banks. Instead, this research focused on a broader area across salt marshes, and the research team found that crabs are not as significant of a problem as previously thought to be, according to a press release from Elkhorn Slough Foundation.
Kerstin Wasson, research coordinator at Elkhorn Slough National Estuarine Research Reserve and an adjunct associate professor at UC Santa Cruz, was the lead author on the study. It was co-authored by a graduate student, Kat Beheshti, who is working with Wasson.
For now, the research team suggests the best way to protect salt marshes like Elkhorn Slough is to elevate them to avoid susceptibility to rising seas. The Tidal Wetland Program at Elkhorn Slough Reserve recently completed a 60-acre restoration project at Hester Marsh to do just that. 
Meanwhile, Raposa and Wasson are also leading a research team with eight other reserves to determine the effectiveness of adding soil to the marshes to help them survive.
The study marks a new way of thinking about protecting salt marshes not just in coastal California, but elsewhere, given that rising sea level is a more immediate threat than crabs. Both are a connected problem: the higher the seas, the more crabs to eat away at the vegetation. 
"This is what being part of a network of reserves is all about, with science-based restoration ensuring that tomorrow's coasts will thrive," Elkhorn Slough Reserve Manager Dave Feliz said in ESF's statement.