For months, state health officials have updated the California Blueprint for a Safer Economy every Tuesday, reflecting the latest county-by-county data on transmission of the Covid-19 virus. 
Purple is the most restrictive set of guidelines, in counties where the virus is "widespread"; next comes the Red Tier, where it is "substantial" and more activity, included modified indoor activity, is permitted; then Orange for "moderate" risk, and Yellow for "minimal." 
Ever since the state released this blueprint concept last year, Monterey County has remained stuck in the most restrictive Purple Tier. On Tuesday, March 9, new data put Monterey County close to Red Tier status—we had 7.2 new Covid-19 cases per 100,000 population, just shy of the 7 per 100,000 threshold. 
But also on March 9, California Department of Public Health officials announced the metrics were changing. Their goal: to get 2 million vaccinations into the quarter of California zip codes that experience the worst health, a corrective measure meant to help with an inequitable distribution of vaccines to date, which has favored the healthiest California zip codes.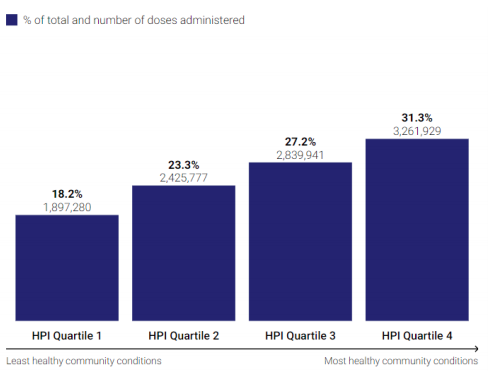 Just three days later, today, March 12, CDPH officials they'd met that 2 million vaccine threshold, so new metrics are now in effect. Instead of having to reach 7 or fewer new cases per 100,000 population, the new target is 10 per 100,000—putting Monterey County squarely in Red Tier category. 
The catch is that to qualify to drop down into a less restrictive tier, data has to hold for two weeks steady. But based on projections, Monterey County is likely to meet Red Tier criteria when the CDPH updates its data on Tuesday, March 16, and our new status would take effect the following day, March 17. 
(Based on today's announcement, CDPH moved 13 counties into a less restrictive tier today, and expects a total of 11 counties—including Monterey—to move from Purple to Red next week.)
The likely change means that as early as Wednesday, March 17, some industries can move into new reopening territory: Indoor dining can reopen at 25-percent capacity (although bars remain closed); the Monterey Bay Aquarium can be open for indoor visitors, at 25-percent capacity; retail store capacity would go from 25 percent to 50 percent; grocery store capacity would go from 50 percent to 100 percent; in religious services, the maximum number of people singing or chanting is no longer limited to 10; hotel fitness centers can reopen at 10-percent capacity; and more. 
The state blueprint will be updated again once 4 million vaccines have been administered in the hardest-hit communities. 
"While we have reached a milestone today, we still have a lot of work ahead of us to help ensure we can put an end to this pandemic," CDPH Director and State Public Health Officer Tomás Aragón said in a statement. "We must all do our part by getting vaccinated as soon as it's our turn and continue to wear masks and practice physical distancing to keep our communities safe."