Officials from Monterey and Santa Cruz counties gathered on Sunday afternoon, Jan. 8, during the calm between storms. Their message, delivered outside of Casa da la Cultura in Pajaro, was to encourage residents to prepare for the next storm—the weather isn't over yet. 
They advised residents to brace for more rain and high winds predicted to begin Sunday night and  last through Tuesday, Jan. 10, and to be prepared for potential flooding and other hazards.
Shortly after the press conference, the Monterey County Office of Emergency Services issued evacuation warnings for residents who live near three major rivers: the Pajaro, Big Sur and Carmel rivers, including the Carmel Lagoon, where officials issued an evacuation order for a few hours on Jan. 6. 
The Pajaro community is under an evacuation warning, and officials have been conducting outreach in the neighborhood since last week in three language: English, Spanish and Mixteco, an indigenous Mexican language.
In addition, the National Weather Service issued a flash flood warning for the burn scars of the Dolan, River and Carmel fires of 2020, noting "Wet soils combine with heavy rain and thunderstorms could lead to debris flows." The advisory goes through Tuesday afternoon, Jan. 10.  
The warnings come based on forecasts predicting the Carmel River and Big Sur Rivers will reach flood levels on Monday, and Pajaro River might reach that point as well. In Pajaro, the warning affects 1,000 residents and 330 structures; along the Carmel River, it impacts 500 addresses, and 963 near the Carmel River Lagoon. 
As of yet, there isn't an evacuation warning for people living near the Salinas River, but it might reach flooding levels on Tuesday.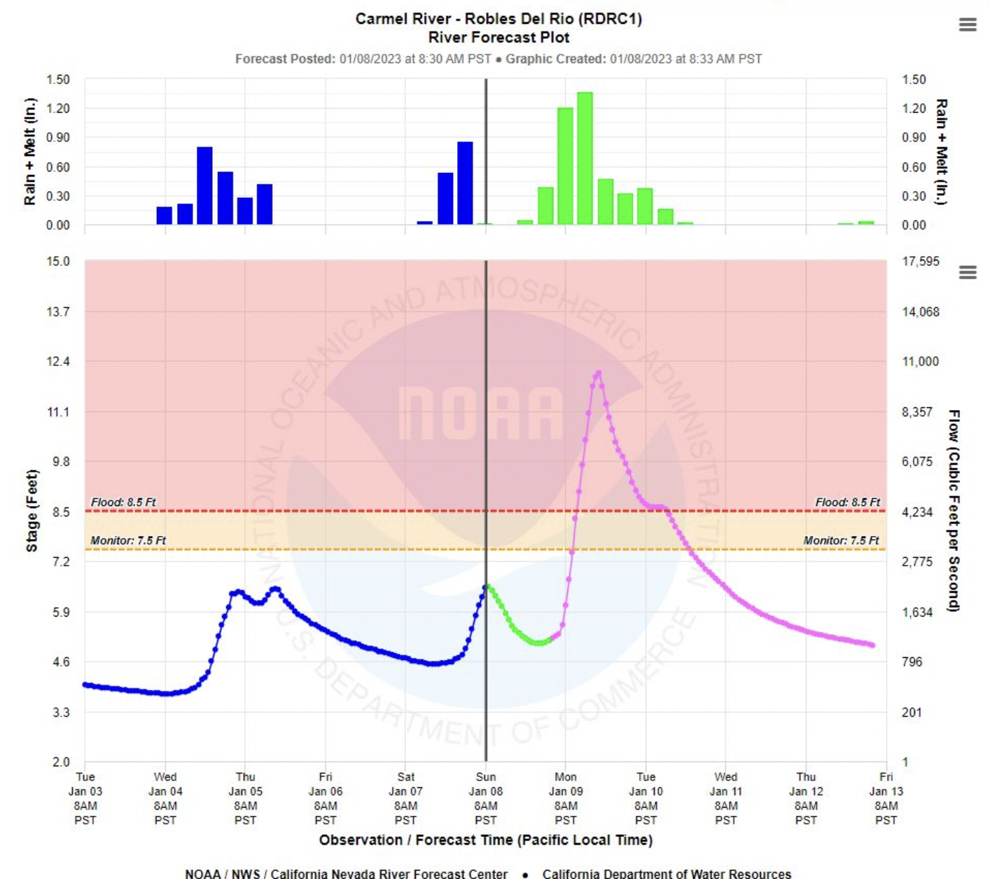 Government representatives who spoke in Pajaro on Sunday urged residents to abide by official advisories and orders. 
"We are living under the protection of an antiquated system and we need everybody in both of these communities to take this storm seriously," said Santa Cruz County Supervisor Zach Friend, also a board member of the Pajaro Regional Flood Management Agency (PRFMA).
"It might be flooding we haven't seen in the last generation," he added.
Monterey County Supervisor Luis Alejo, who is also on PRFMA's board, stressed the importance of getting ready and preparing for "the worst-case scenario."
Residents had concerns about water releases in the Pajaro River watershed and elsewhere, as occurred in previous floods. "We are aware of the things that went wrong in '95 and we are hoping not to repeat those," Sheriff Tina Nieto said. 
The PRFMA is a joint agency with members from Santa Cruz and Monterey Counties and the city of Watsonville, with a mission to prevent flooding along the Pajaro River. 
There are several reasons why the Pajaro River is monitored closely during heavy rains and storms. The Pajaro River is a watershed of about 1,300 square miles that spans four counties and multiple agencies need to work together as and community to prevent flooding and manage water resources. Several tributaries feed into it including Corralitos Creek from the Santa Cruz Mountains; Llagas, Uvas, Pacheco, and Santa Anna creeks from Santa Clara County; and the San Benito River from San Benito County.
The area has a history of flooding. Since the Pajaro Levee was built in 1949, it has broken several times. In 1995, flooding from winter storms caused $95 million in damage; in 2017, the levee almost broke again.
Crews from both Santa Cruz and Monterey counties on either side of the river have reinforced vulnerable areas along the Pajaro Levee. Alejo says the Monterey County Resources Water Agency has reinforced two low areas of the levee: "We've been proactive to try to strengthen those two areas that have the greatest risk."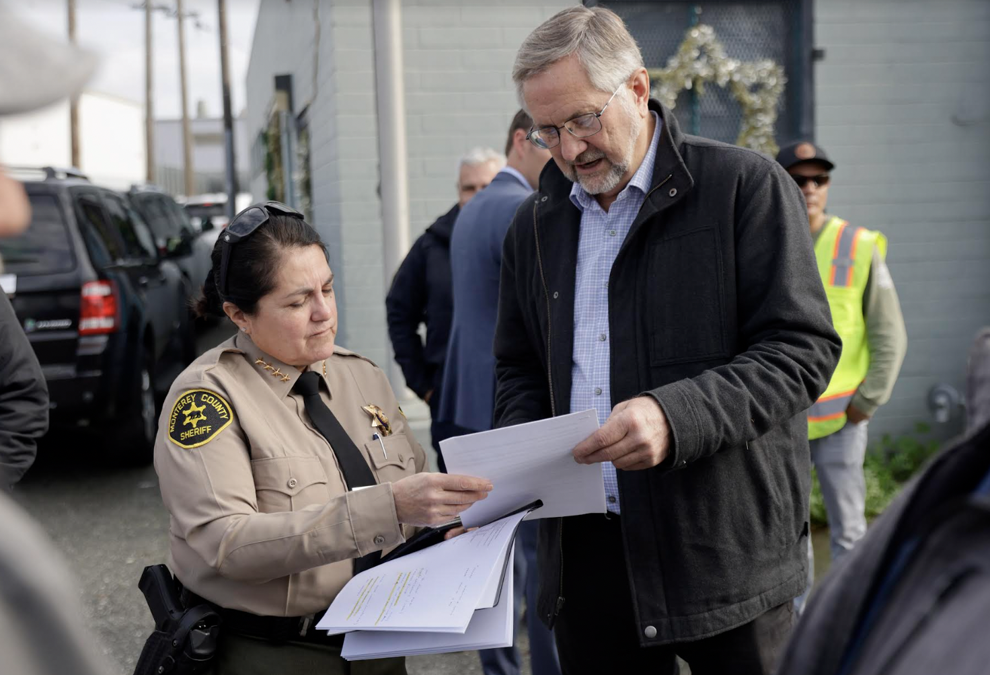 Nieto explained an evacuation warning means people should be ready for evacuation and may evacuate if they choose to; an evacuation order, on the order hand, means people's lives are in danger and structural damage may occur and people must evacuate.
Joel Mendoza, fire chief of North County Fire Protection District of Monterey County, said people should prepare an evacuation plan including: choosing a route and meeting point, packing food (for people and pets) and essential belongings (clothes for three days, IDs, credit cards, pets). Before leaving home, Mendoza recommends people disconnect and turn off appliances (TV, fridge, etc.) and move things like trash cans, furniture or machinery—such as mowers—indoors.
Mendoza said southbound of  Salinas Road is the best route to evacuate Pajaro because it's elevated. He suggest not using either Trafton or San Juan Road (both are perpendicular to Salinas Road).
One message, no matter what a planned evacuation route is, is to obey all road closure signs: Downed trees and flooding can create hazards, sometimes invisible hazards. 
Monterey County has activated its emergency operations center and the Public Works Department operation center, bringing together different departments that are working during the storm.
Officials also encourage residents to enroll to get the latest alerts and warnings, and evacuate if necessary. In Monterey County, people can register to get notifications from Alert Monterey County or visit the page of Monterey County Office of Emergency Services.
For shelter information—and how to get a free ride from Monterey-Salinas Transit—click here. 
This story was updated to include additional information about the Big Sur river.