While some of the championship contenders gambled and others played a high speed chess game, rookie Colton Herta put on a show, dominating the field on his way to victory at Sunday's Firestone Grand Prix of Monterey.
The 19-year-old driver of the no. 88 Capstone Honda led 83 of the 90 lap race on the 2.258-mile WeatherTech Raceway Laguna Seca course, only conceding the front-running position during pit stops. Herta took the checkered flag half a second ahead of Will Power (no. 12 Verizon Chevrolet).
Meanwhile an 8th place finish was enough for emotional Josef Newgarden (no. 2 Hitachi Chevrolet) to claim the 2019 NTT IndyCar Series crown, the second championship of his career.
Newgarden came into the weekend with a 41-point lead over Andretti Motorsport driver Alexander Rossi (no. 27 Napa Auto Parts Honda) and a 42-point buffer over his Team Penkse teammate Simon Pagenaud (no. 22 DXC Technology Chevrolet). But with double-points on offer for the season finale and severe rear-tire wear slowing his pace, Newgarden's hold on the title seemed tenuous at times.
"There were moments I didn't think it would go our way," he said. "As soon as I went to black tires something happened. We lost a lot of downforce."
Tires options and tire wear haunted the 24-car field throughout the day. Firestone brought black and red sidewall rubber to the track. The primary blacks balance speed and cornering ability for longer wear while the softer reds degrade quicker, but give cars better pace and grip.
Rossi took a gamble, starting the race on used reds. But he quickly lost sight of the leaders, falling to the back of the top ten. Afterward he explained that practice sessions on worn rubber suggested the tires would hold up.
"It was a risk that didn't pay off," he said. "The first stint was pretty diabolical."
Rossi's issues put Newgarden in trouble. Team Penske's strategy had Newgarden following Rossi so as not to risk too many championship points. As the two drifted back, Pagenaud charged to the front, looking to have a go at Herta.
"The mission for me was simple—go to the front and be aggressive," Pagenaud explained. "I tried everything I had."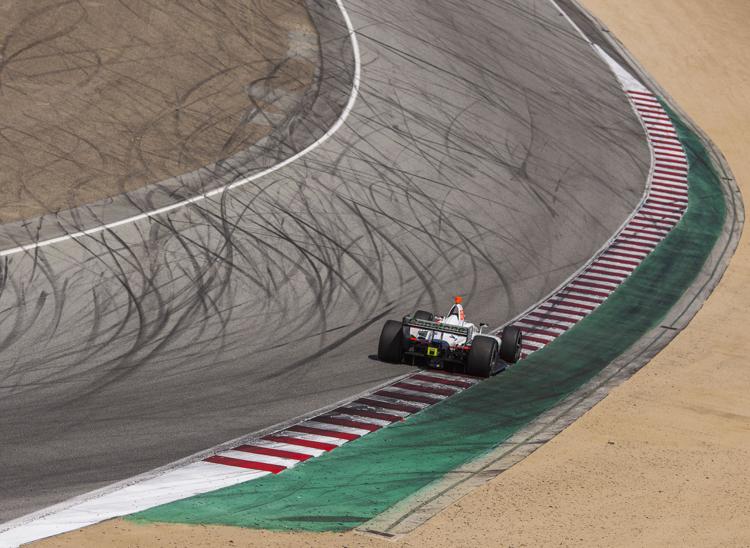 Herta was able to fend off Pagenaud, but had a little more trouble with Power at the finish and Scott Dixon in the no. 9 PNC Bank Honda in the early stages. Needing a win to have any championship hopes, Dixon charged after Herta from the green flag. The Chip Ganassi team then played a pit stop gambit that almost paid off.
Dixon pulled into pit road early, leaving Herta on the track. When Herta finally hit the pits, Dixon managed to close the gap. Herta reentered the race inches ahead of his challenger and on cold, slippery tires.
There were some desperate moments before Herta gained a few car-length's advantage.
"It was a tough race," Herta observed. "It was either getting hounded by Dixon or Pagenaud or Power the whole time, so they definitely didn't make it easy on me."
Despite the win—his second on the year—Herta failed to capture Rookie of the Year honors. That title went to Dixon's teammate, Felix Rosenqvist piloting the no. 10 NTT Data Honda. Rosenqvist drove with equal parts anger (after having been penalized in qualifying and dropped to 14th place on the starting grid) and skill, taking the checkered flag in 5th place. That was enough to claim the rookie crown by 5 points—and give Rosenqvist 6th in the overall season championship.
There were some harrowing moments along the way. He made contact with Marcus Ericsson (no. 7 Arrow Schmitt Peterson Honda) trying to pass out of turn 2, then beat Ericsson into the same corner two laps later by going in deep and braking late. He took Newgarden in the Corkscrew and made an aggressive move in Rossi out of turn 2 after a duel lasting several laps.
"You had to pick your moments," Rosenqvist said. "We were really good on reds. I tried to use that anger to go forward."
The other rookie contender, Santino Ferrucci (no. 19 Cly-Del Honda) suffered suspension damage from a collision with Takumo Sato (no. 30 ABeam Honda) and did not finish the race.