At the end of a long day in the fields, Ricardo comes home to a one-story East Salinas apartment. He enters through the front, where the green paint is cracking, then snakes through two crowded bedrooms, where kids are chatting on beds and doing chores, and walks into a sun-lit 40-square-foot room.
His room was designed as a laundry room. But now, his twin bed fills most of the space and two scuffed nightstands occupy the rest. He doesn't own many things, conveniently enough, because there is no storage in the room. Near his bed, a small portable radio plays rancheras, songs that give Ricardo a little piece of Mexico, the country he left 14 years ago in search of a more fruitful life.
(The Weekly agreed to use first names only for tenants interviewed in this story because they fear retaliation from landlords.)
For $600 a month, Ricardo calls this room home. He moved here four months ago, and it's an improvement from where he was before, though more expensive: For a couple of years, he rented a couch for $250 a month in a three-bedroom house shared with 18 strangers.
"It's uncomfortable not knowing who you are living with," he says. He is reserved about admitting that; Ricardo only shares details about his living arrangement when pressed.
Though his situation is not ideal, it's the most he can afford: $600 rent is already stretching his budget. He is only able to pay this amount because he shares rent with Rocio, a single mother of eight. Together, they pay $1,500 a month for this apartment, which is meant for three or four people, based on city code regulations.
All 10 of them share one bathroom, which is never to be locked in case someone needs to use the toilet, sink or shower, even if one of those is already occupied.
After daily 10-hour workdays in the fields, Rocio sleeps on a dusty gray couch in the living room. Her eight children organize themselves every night in two bedrooms. Their options: a twin-sized bunk bed, a queen-sized bed or the floor.
During warm nights, children who get to sleep on the top bunk bed usually opt for a space on the floor. They say it's cooler and more comfortable. A 12-year-old says she sometimes sleeps underneath the dining table to avoid the heat and have more legroom.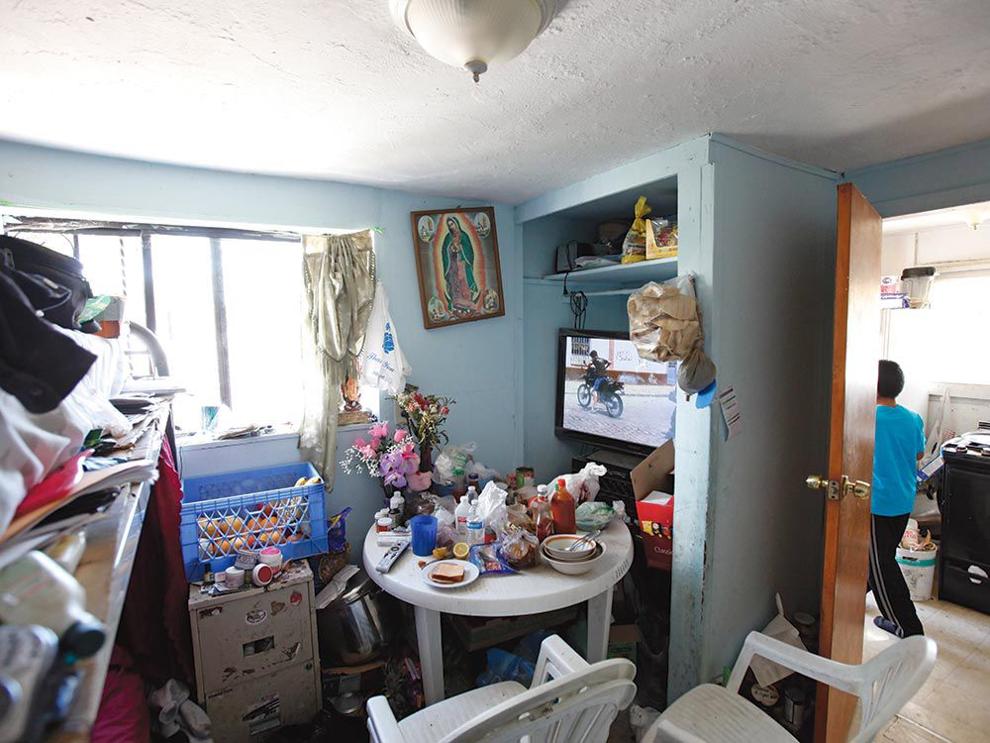 Rocio says these sleeping arrangements are better than what the family used to have. For two years, the family rented a bedroom in a three-bedroom house with three other families, and several single adults who worked in the fields. One of them was Ricardo.
The family paid $600 a month to have a bedroom for themselves. While they had privacy, they didn't have much space – let alone furniture. The nine of them slept on the floor, used clothes as pillows and shared blankets. They also shared one bathroom.
"Viene con la necesidad," Rocio says, the Spanish equivalent to the idiomatic expression: "It comes with the territory."
That necessity Rocio speaks of is one that thousands of farmworkers and low-income workers in Salinas understand. As rent becomes more expensive and housing options grow scarce, more and more people are living in windowless, cramped spaces – many of them illegally converted and not originally meant for living.
These atypical living conditions have become the new normal in portions of Salinas, where there are a myriad of stories of people sleeping under leaky roofs and in homes with broken smoke and carbon monoxide detectors. Another concern is the growing network of people forced to share homes with drug users and gang members, or that become victims of landlord exploitation.
~ ~ ~
On a summer afternoon, while school is out, third-grade teacher Oscar Ramos sits in the driver's seat of his white Prius, overlooking East Salinas' Sherwood Elementary School from the parking lot.
He's troubled by the way students' tough living conditions play a role in their education.
He leans his head back onto the seat.
"This affects them in school, you know?" he says. "It really does."
Over the years, the stories stack up. He's collected anecdotes from kids who do their homework on top of laundry baskets instead of desks, who are woken up at 5am by housemates readying themselves for work in the fields, and who stay up late because the small room they share with family members is abuzz with activity.
When school starts, some kids fall asleep as Ramos explains math problems or grammar.
"They are tired because they don't have their personal space where they can get comfortable, concentrate on their homework and rest," he says.
Once the first recess ends the kids start to wake up.
Dr. Bruce Becker, a child psychologist and former counselor at Sherwood Elementary, says he worked with numerous kids dealing with educational obstacles as a direct consequence of their life at home. While these children have tremendous academic potential, he says, they are continuously set up for failure.
"By the time they are in high school, sometimes they just quit – they quit trying," Becker says. "It's hard to keep fighting when they don't have a study section, or someone to help them with their homework."
Families who live in these circumstances tend to live in poverty – a third of East Salinas residents do, according to a 2015 study commissioned by the city. Both parents usually work, and sometimes the kids do too, helping out with rent and living necessities.
"This too affects their education, because that makes them give up an hour or more of homework," Becker says. "They will have that obligation first before homework, but then they come back and they're tired."
Children raised in crowded homes have a tendency to carry educational, behavioral and physical health disadvantages with them throughout their lives, Becker adds. Their poor performance in school then diminishes their chances to access higher education and eventual socioeconomic success.
"If you don't catch these issues early, they will catch up to them later on," Becker says.
Rocio's eldest daughter, also named Rocio, is 18 years old. At one point in her last year of high school, she worked two jobs, picking crops in the morning and working at a restaurant at night.
"These are smart kids and a lot of the time what makes them succeed at school is their thought of a better future," Ramos says.
Now, post graduation, Rocio works in the fields and makes about $550 per week­ – if she works seven days a week. She uses that money to help support her family. Most of it goes to rent.
But she has big aspirations. She says she is applying to Monterey Peninsula College to study political science. She envisions herself as president one day, but adds she'll start with a more realistic goal: mayor of Salinas.
Ruben, a 10-year-old and former student of Ramos', is still in school. He lives with a sibling and his two parents in a one-bedroom unit that costs the family $700 a month. His bed is an old, torn-up mattress on the floor. His parents sleep on the bottom level of a twin-sized bunk bed next to him. The top bunk bed is used to hoard backpacks, clothing, cups and other household items.
His sister sleeps on another twin-sized bunk bed stationed in the living room, next to a round plastic table used in lieu of kitchen cabinets.
In Ramos' classroom, with 25 students, there are a dozen children who live in similar conditions.
Two of his former students, now ages 10 and 15, live in a small, washed-out yellow-colored trailer with their parents. This has been their home for 10 years.
The trailer is packed into a lot with nine other trailers, with only about 10 or 12 feet separating them. The string of vehicles stick out in the midst of a residential street with small houses and apartment complexes.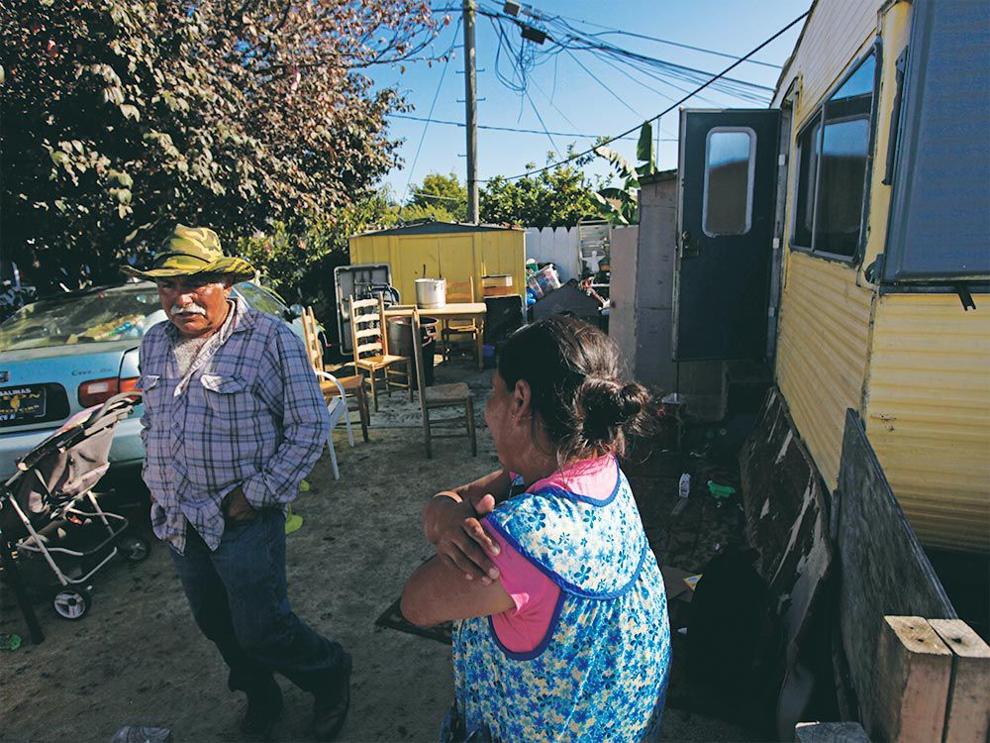 Inside the trailer, the parents, Hortencia and Manuel, don't have a private bedroom. They've placed a queen-sized bed at the end of the vehicle, where dozens of teddy bears hang from the walls as decoration, caving into the tight quarters.
"My husband loves them and he started collecting them," Hortencia says. There's barely enough standing room for one person as a dresser invades floor space next to the bed.
A narrow hallway connects the parents' sleeping space to the entryway of a tight bathroom and spits you out into a compact kitchen and a living space that has been turned into the sleeping area for the children.
The kids share a twin-sized bunk bed. It's squeezed so closely next to a tall dresser and a TV that kids have to climb through and over furniture to get into and out of bed.
In the kitchen, food is prepared and cooked on top of the stove because the counters are covered with plates, a microwave, a blender and bags of chips. The only available table is a small wooden one outside, which doubles as a desk and dining area.
When it rains, homework and meals take place inside, which makes things even more cramped.
The trailer is clearly compact from the outside. Nevertheless, Hortencia says single men who come work in the fields during the summertime knock on her door almost every week, requesting a space to rent.
"I say no, because I don't want strangers living here," Hortencia says.
She doesn't address the fact that there is no more space for one additional adult, unless he or she sleeps on the kitchen floor.
The family pays $540 a month for the trailer, including utilities.
~ ~ ~
On weekdays after 5pm, hundreds of parked cars fill driveways, streets and sometimes even front yards in residential areas of East Salinas.
"It's dense out there. It feels crowded just driving through the neighborhoods," says Salinas City Councilman Tony Barrera, whose district includes part of East Salinas.
The numbers reinforce the problem. In a city with an estimated 160,000 residents, there are 43,000 housing units. Of those, 23,085 are rentals. The average rent in the city is $1,019 for a one-bedroom unit and $1,241 for a two-bedroom.
In Salinas, the median household income last year was $50,000, according to the U.S. Census Bureau. Based on a 2015 study conducted by the city, the median per capita income in East Salinas – the district with more prevalent overcrowding issues – is just $17,396.
About 9,000 residents – half of East Salinas residents – work in low-wage jobs, often field work, as part of the region's number-one industry: agriculture. It is estimated that the average monthly income for a farmworker is $1,500 a month, according to Mike Meuter, an attorney with the nonprofit California Rural Legal Assistance.
According to a report by Harvard University's Joint Center for Housing Studies, people should spend no more than 30 percent of their income on rent, or it gets very hard to make ends meet.
The math for the average farmworker is often higher than 50 percent.
During peak harvest in the Salinas Valley, residential areas tend to become even more crowded. More than 60,000 workers have seasonal jobs in field work, some of them coming from out of town and looking for places to live for a few months.
During the summertime, Barrera, who lives in a three-bedroom house in the Alisal, witnesses this firsthand.
"Sometimes I feel guilty because I have two extra bedrooms for guests," he says. "There are people out there without a home and they come knocking on my door every week. They are everywhere."
Some landlords and subletters see the shortage of housing as an opportunity to lease substandard units at above-average prices. A call to one landlord renting a two-bedroom apartment sheds light on the trend.
She admits the place, which has a peeling facade, is "in desperate need of remodeling," but still charges $1,400 per month. To get it, applicants need to prove their monthly income is three times that amount, undergo a background check and pay first and last months' rent in addition to a security deposit of the same amount. That comes to $4,200 up front.
"There's no housing out there," the landlord says on the phone. In fact, the current tenants, the landlord says, have been searching for a place for more than a month.
In order to comfortably afford the advertised apartment, a family would have to make $4,700 a month.
At least one agribusiness employer has been able to help alleviate housing pressure in high-density communities. Tanimura & Antle invested about $17 million to build furnished units in Spreckels, stocked with linens and cookware, to lodge up to 800 workers on temporary agricultural visas from Mexico.
The doors to Spreckels Crossing opened in mid-April, and as of press time, 264 T&A workers had moved in, paying $125-$500 a month, depending on whether they share with a place up to three roommates or have a single.
Of those workers, none are from Mexico. They are from the U.S., mostly other parts of California, some even from Salinas.
"They tell us they would not have come to work here if it were not for housing," says Wesley Van Camp, T&A's vice president and general counsel, "because they could not find anything, or the cost would be prohibitive, or it would not be a condition they would want to live in."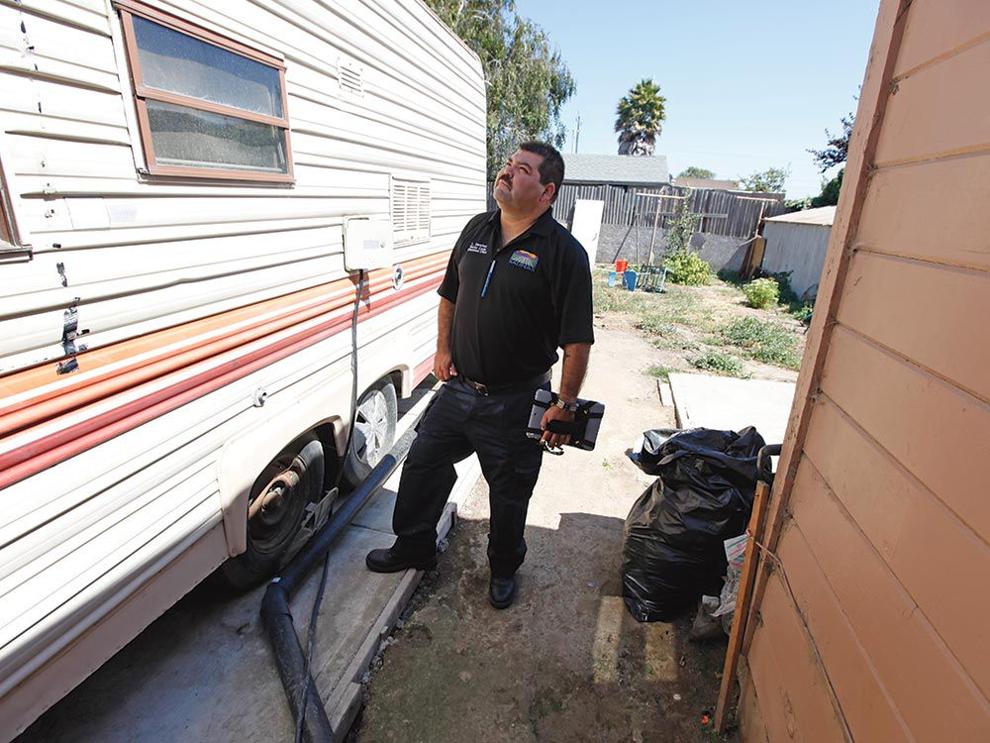 Salinas' senior code enforcement officer, Lorenzo Sanchez, walks into an East Salinas garage and takes photos of the walls and ceiling on a recent afternoon. He notices illegal hookups that feed a stove and fridge in the room and observes a lack of ventilation ducts, meant to circulate air in the room. He scribbles his observations down in a notebook.
People are living here, he notes. Illegally converted garages are a direct violation of city code.
Every day, Sanchez takes calls from neighbors complaining about situations such as this garage.
"I would say converted garages and sheds are 25 percent of our complaints in Salinas," Sanchez says.
His department gets about 1,000 complaints per year. And there is a backlog of about 1,500 more – some complaints stretch back 10 years due to the department's workload and a data system change, he says.
When code enforcement officers respond, they sometimes find blue tarps taped to the ceilings to serve as room partitions. They respond to complaints about uncut weeds or too many cars in a driveway, that hint at overcrowding behind closed doors – but to open those doors, they're required to notify the owner in advance.
It's common for Sanchez to encounter apartments with patchy roofs, zero smoke alarms and limited ventilation systems in place. His main concern is that these small code violations can translate to deadly scenarios; Sanchez reports people have been hospitalized due to carbon monoxide poisoning.
"Our intent is not to go in and get them kicked out for being there," he says. "It is to give them the minimum requirements for having a habitable place, somewhere with heat – a safe home."
Tenants fail to report poor living conditions for fear of eviction and – when undocumented – fear of deportation, which leaves the city with fewer complaints to attend to than conditions would suggest, Sanchez says. Most come from neighbors or tenants who are already moving out. Sanchez believes there are thousands of unreported illegal conditions. Still, a backlog of complaints exists.
When a tenant reports an issue to their landlord, and he or she refuses to fix it, code enforcement should be called, Sanchez says. But this could potentially increase the chance of landlord retaliation via increased rent or eviction, despite state laws protecting tenants.
Barrera wants to help, but he believes it's a catch-22 scenario.
"We have ordinances in place, but we don't enforce them for the fear that we might get people displaced," he says. "If we enforce it we will be to blame for their displacement, but we can't not enforce it, because then we are allowing landlords to exploit them."
Rocio and Ricardo know this predicament well. Their living space has bigger problems than the lack of legroom: The bathroom floor is caving in from moisture and mold, there are no smoke detectors, and there is no heating or ventilation system.
They know these issues are illegal, but they stay quiet, fearing their landlord will kick them out or raise the rent.
Perhaps the biggest challenge plaguing the complaint-driven Code Enforcement Department is making sure people understand they don't have to live in these non-compliant living quarters. "There are rules and regulations in place to protect them from that," Sanchez says.
By not reporting these situations, tenants feed a vicious cycle of thousands of people living in an illicit housing market.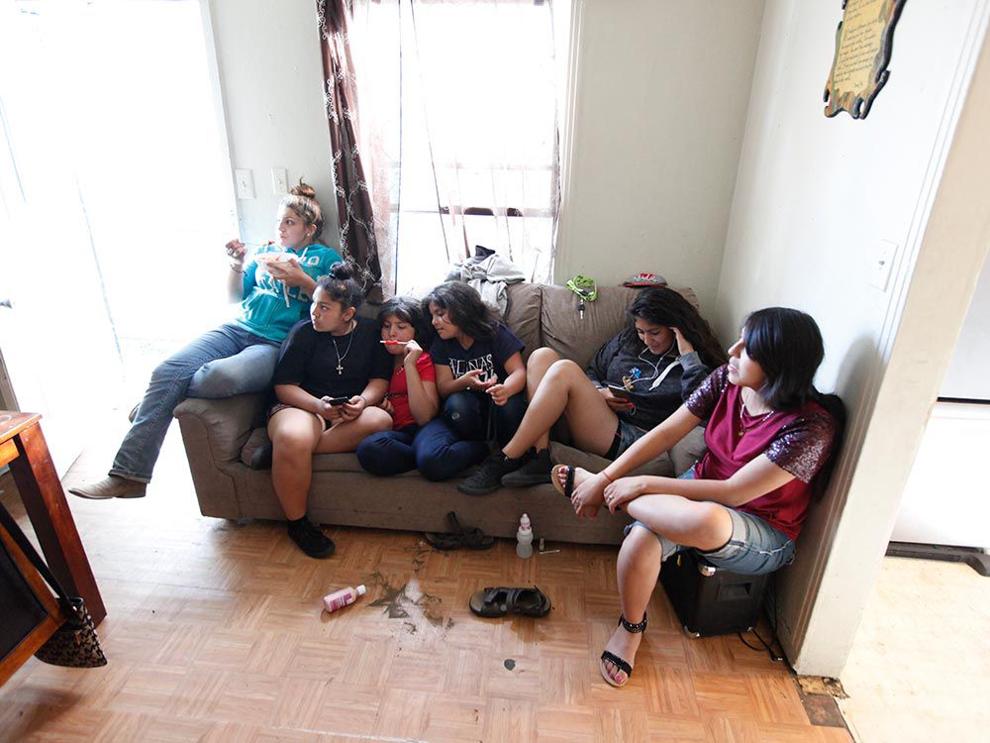 Away in the corner of the Roosevelt Townhomes development, there is a three-bedroom townhome with a spacious kitchen and a wide living space. The front of the house is dotted by flowering bushes and patches of bright green grass.
The neighborhood is quaint during the day, but gunshots are frequently heard at night. Still, for $660 a month, these townhomes represent a vision of hope in a city with soaring rents.
For Gloria Santiago, a 40-year-old mother of two, finding this place was the stuff of Salinas lore: an affordable residence where her children can grow up with their own rooms and a space to play and do their homework.
To get here, though, it was a three-year wait.
Prior to landing here, Santiago paid $40 more a month for a studio apartment two blocks away.
Her daughter, Galilea, was 8 years old when the family got the news they had been approved to move into the two-story townhouse.
The unit is one of 44 units in the complex, developed by Community Housing Improvement Systems and Planning Association (CHISPA), a private nonprofit housing developer in the county. CHISPA rents these units to families based on earnings. Santiago says the household can't earn more than $40,000 annually to live here.
In Salinas, there are 22 public housing complexes owned and administered by the nonprofit Housing Authority of the County of Monterey. Of those, 19 are in East Salinas neighborhoods.
In July, a new $10 million housing trust sponsored by the Monterey Bay Economic Partnership, along with the Housing Trust Silicon Valley, launched to help fund affordable housing projects in Monterey, Santa Cruz and San Benito counties.
There are other efforts to lighten the load on populous neighborhoods, like T&A's new farmworker housing complex; and in Chinatown, a project to build up to 90 two-person affordable housing units, proposed by the nonprofit MidPen.
According to a city plan on housing approved last December, the city needs to build 2,093 affordable units in an eight-year period to keep up with demand. That's a 261-unit production per year, an amount the city is not even close to meeting.
City officials and businesses widely agree there is an affordable housing crisis in the community. And while nonprofits and city officials work on solutions, the problem persists.
In the meantime, children continue to sleep on floors and do homework in crowded rooms; teenagers grow increasingly stressed and anxious; and parents work strenuous schedules to afford costly rents and provide for their families.
"One has to adapt to these living situations," Santiago says. "But you never get used to it. People say they do, but I don't believe people can."